#PowerOfMusic by Tuned Global

in : Music & Brands
Coke's innovative "drinkable ad's" flow from TV to Mobile with Shazam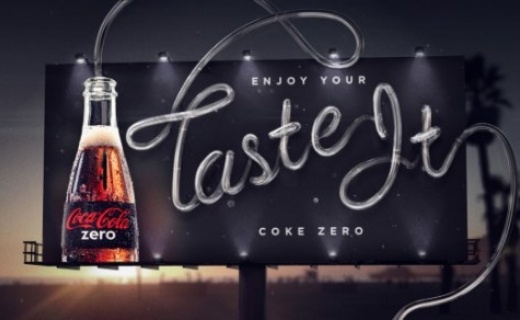 May 2015, Coke Zero launched a completely interactive campaign as part of it's sponsorship at the NCAA Mens Final Four competition. The idea was to use cool, new technology as a means of inducing consumers to try Coke Zero. In conjunction with their "drinkable billboard" the marketing strategy for Coke requires consumer interaction and offers of coupons, which is key in getting the consumer interested and engaged in the advertisement.
"By partnering with Shazam, that most millennial's are familiar with and have installed on their phones, we are able to use their sound recognition as a way to communicate how delicious a Coke Zero is and seamlessly deliver a coupon to try one." said Danielle Henry, group director of integrated content marketing at Coca-Cola North America.
Doing something bold with The "Drinkable Billboard"
The gigantic 26-by-36 foot drinkable billboard which is the same height as two-and-a-half basketball hoops, spells out the tantalising words "Taste It." Coke have discovered a new and interesting way for brands to engage with their consumer with a massive drinkable billboard situated at White River State Park in Indianapolis, where the games of the NCAA Final Four of College Basketball are being held. Through the four and half thousand feet straw of Taste It, has Coke Zero flowing through it, the liquid travels from the bottom of the billboard to a sampling area for consumers with six fountains.
"This campaign is based on the simple insight that many people think they know the taste of Coke Zero, but they actually don't", said Racquel Mason, Vice President, Coca-Cola North America. "Drinkable advertising is an innovative approach to removing barriers and making it ridiculously easy for those who are open to try Coke Zero to enjoy it in fun and unique ways."
Unlock additional content with music app Shazam
During the broadcasting spots, Coke Zero used interactive TV ads which included audio recognition. The consumer was required to have the music identification app Shazam on their smart phone so that they may be able to unlock additional content .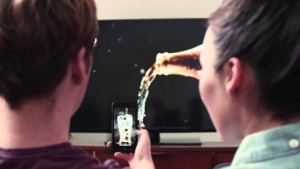 Coke have used Shazam's sound recognition as a way to communicate how delicious a Coke Zero is Click to tweet
The giveaway in this marketing strategy was a risky one , which Coke was relying on enticing die-hard sports fan to whip out their smartphones whilst watching the game. This has shown great incentive moving forward for marketers in general to use the Shazam app or similar technology in the future for brands willing to try something new and bold as part of their core brand strategy.
Follow Tuned Global and always be in the know.
A fun & interactive smartphone game to entice the sense's
Attendees at semi-final and national championship games at Lucas Oil Stadium were also able to compete using their smart phones, in a virtual race to drink a bottle of Coke by simply blowing into the microphones of their phone. Winners were then able to quench their thirst by receiving a real soda as part of their efforts. T housands of spectators were able to simultaneously participate in this smartphone giveaway by just being in attendance and using their phones.
A 15% conversion rate for this powerful campaign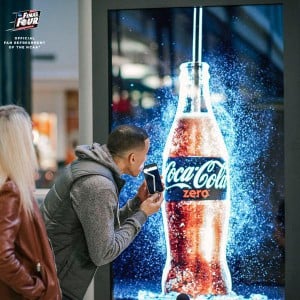 The drinkable TV ads seemed to have been a success for both brands, it prompted traffic to CokeZero.com, where users were instructed how to use the Shazam app and receive coupons. Shazam told Coke that it registered 166,000 hits from three Final Four TV spots , with 24,000 coupons redeemed, a 15 percent conversion rate. Coke said it considers 3 percent to be standard.
Coke's drinkable ads got 166K hits from #Shazam and 15% conversion rate #PowerOfMusic Click to tweet
This campaign saw the brand identity of Coke assert themselves through sound, and it worked! This was achieved by a well-balanced campaign which saw a specific targeted audience be exposed to media, social, digital, TV and interaction. And don't take our word for it, Cannes Lions awarded the groundbreaking ad with the highly coveted award!! Well done for this first of a kind campaign which quenched the thirst of fans!
Copyright Pictures Property: psfk.com, youtube.com, coca-colacompany.com
Category: Music & Brands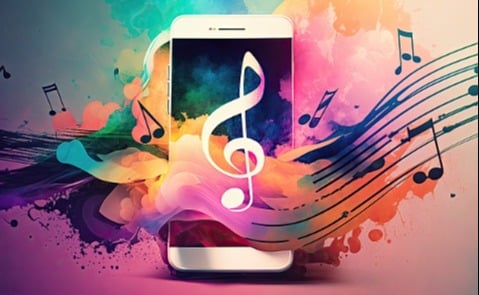 Written by Tuned Global
We create a brand experience customers love with the #PowerOfMusic. Tuned Global is the leading B2B provider of white label music streaming solutions in Asia Pacific. We enable brands, labels and enterprises to harness the music as a potent marketing tool in their digital strategy to engage customers and collect valuable data to better know them. McDonalds, Coca Cola, Samsung, Virgin Mobile, JB Hi-Fi and L'Oreal have already trusted us.
Follow blog
Creating a Streaming app (9)
Customer Engagement (23)
Faces behind the Music Industry (2)
Innovation & Technology in Music (12)
Mobile Marketing (4)
Music & Brands (55)
Music & Technology (11)
Music consumption habits (10)
Once Upon a Sound (3)
Quirky: fun facts (1)
Stream by Stream (2)
Posts by Authors
Tuned Global (83)
Virginie Chelles (11)
Spiro Arkoudis (11)
Con Raso (11)
Ryan Blakeley (1)
Mario Forsyth (1)
WHO WE ARE?

Tuned Global is the leading B2B provider of white label music streaming solutions in Asia Pacific. We enable brands, labels and enterprises to harness the music as a potent marketing tool in their digital strategy to engage customers and collect valuable data to better know them. McDonalds, Coca Cola, Samsung, Virgin Mobile, JB Hi-Fi and L'Oreal have already trusted us.
www.tunedglobal.com
Follow Blog
Enter your email address to follow this blog and receive notifications of new posts by email.
#ThePowerOfMusic
© Copyright 2016 Tuned Global. Click here to read our Privacy Policy . - The Skeptical Theme

'Drinkable advertising' - Coca-Cola - USA
To encourage more people to try Coke Zero they created an entire campaign around drinkable ads. They created special build poster sites which dispensed Coke Zero at major sports events and developed a partnership with Shazam which allowed TV ads to download free drinks to mobile phones. Radio ads worked with sound only, print ads became cups and flyers became straws. They created the most Shazamed ad ever and with 155,000 free drinks redeemed over the first weekend they also created the most successful Coke sampling campaign ever.
Equity, Diversity and Inclusion
Drinkable Advertising Campaign by Coke Zero
Coca Cola and Ogilvy & Mather created entire advertising campaign called "You Don't Know Zero 'Til You've Tried it." that you can actually drink, whether it's on TV, Magazine, print ads, billboards or even on radio!
A few of the other elements of Coke Zeros Drinkable Campaign included:
Drinkable Stadium HD Video Boards that played video content live in the stadium. The Video Board offered viewers a chance to receive a coupon for a free Coke Zero on their mobile.
Drinkable Flyers. Flyers that became an innovative straw for drinking your Coke Zero at an event. The flyers also featured a coupon for a Coke Zero.
Drinkable Challenge at Coke Zero Countdown Concert which asked opposing fans from the final four teams to compete to see who can finish their bottle of Coke first, competitors had to use the microphone in their smartphone as a straw in order to complete this task. The winner of the competition earned their teams fans a Coke Zero.
Coke Zero: Drinkable billboard
Drinkable advertising behind-the-scenes
What if you could drink a TV commercial? A billboard? A radio spot? More than talking about taste, Coke Zero™ is making advertising you can drink. Because You Don't Know Zero 'Til You've Tried It™.
Drinkable billboard behind-the-scenes
A billboard that doesn't just talk about Coke Zero™ but actually pours you one. Coming to the NCAA® Final Four® in Indianapolis.
Coca Cola says, "next time you're thirsty drink an ad!"
Credits Client: Coca-Cola Advertising Agency: Ogilvy & Mather , USA Chief Creative Officer / East Coast: Chris Garbutt Chief Creative Officer: Corinna Falusi Creative Directors: Milton Correa, Jones Krahl Creatives: Andreas Hoff, Abe Baginsky, João Paz President, Ogilvy & Mather New York: Adam Tucker Worldwide Head of Planning: Colin Mitchell Group Planning Director: Kristian Baek Senior Planner: Ned Sonnenschein Executive Director of Digital Production: Angela Fung Executive Producer: Ami Moore Executive Director of Technology: Jason Wurtzel Application Developer: Joseph Laquinte Technical Manager: Jordan Saletan DevOps: Greg Jones QA Lead: Raul Morales Executive Producer: Patti McConnell Producer: Jenna Gartland Associate Producer: Kelly Allen Design and Technical Development: Bossa
Truecaller Unveils a Bold Vision: Red Is The New Black in the Fight Against Online Threats!
The Responsible Manhole – TVS and Mumbai Municipal Corporation's Innovative Solution to Open Manholes
The Waste Auction: Hellmann's Creative Bid Against Food Waste in Brazil
The Lawsuit for Survival – Global Action on Gun Violence
Leave a reply.
Your email address will not be published.
The Most Expensive Commercials Ever Made
10 Best and Memorable Holi Advertising Campaigns in India to Inspire Your Marketing Strategy in 2023
Coca-Cola Treecording | Your voice turned into Real Magic
13 Best Diwali Campaigns of 2022
IRL Trashcan – A physical bin that raises awareness about the impact of digital waste
Sirona Menstrual Cup – Print Advertising Campaign
Privacy Policy
submit campaigns
© 2023 Campaigns of the World®
Advertisement
The Drum Awards Festival
- d - h - min - sec
Anatomy of an Ad: Behind the scenes of Coke Zero's 'drinkable advertising' campaign
By Minda Smiley | Reporter
June 4, 2015 | 7 min read
Listen to article 4 min
This spring, Coke Zero rolled out a massive campaign during March Madness. Kicking off in Indianapolis during the NCAA Final Four but rolled out nationwide, the campaign made it easy for consumers to get their hands on a free Coke Zero through multiple touchpoints. Whether drinking from a billboard that dispensed the diet soda through a giant 'Taste It' straw or using Shazam during a Coke Zero ad to receive a coupon for one free Coke Zero, the campaign not only promoted the drink but actually gave consumers a number of opportunities to try it out for themselves.
When Ogilvy & Mather's New York office won Coke Zero's account last September, there wasn't much time to celebrate – for good reason. The client was so impressed with the agency's unusual 'drinkable advertising' pitch that they were told to go straight into production and have the campaign ready for the NCAA Final Four in March.
The idea for what essentially ended up becoming a digitally-focused sampling campaign began when Coke Zero asked the agency to come up with a way to get more people to try the drink. 80 per cent of millennials say they have not tried Coke Zero, but 60 per cent of people go on to re-purchase it once they've had a taste of it, according to the company.
Ogilvy initially pursued multiple different paths when trying to think of a way to encourage young people to try the ten-year-old soda brand, ultimately landing on the unconventional idea of a sampling campaign featuring traditional, digital, and social elements.
"People think that they know what Coke Zero tastes like and what it's all about, but they really don't," Danielle Henry, group director of integrated marketing communications at Coca-Cola North America, told The Drum. "Every piece of content that we developed was designed to put a Coke Zero in your hand," she said of the campaign.
The Drum spoke with Ogilvy & Mather New York's chief creative officer Corinna Falusi and president Adam Tucker to find out more about what exactly drinkable advertising means, the campaign's roots from a hothouse in Brooklyn to its March Madness debut, and how its television ads caused Shazam to break down.
Coke Zero is marketed as a zero-calorie, zero-sugar drink with the same taste as regular Coke, which distinguishes it from its sister soda Diet Coke's distinct flavor. Yet Coca-Cola has found that many people have pre-conceived notions of the beverage and assume they won't like it even before taking a sip of it.
To fix this, Tucker said that the client gave Ogilvy a very open, back-to-basics brief which asked them to help increase penetration of the brand in order to accelerate growth.
At first, Falusi said the creative team was thinking of how to create a type of communicational advertising that would literally let people experience the product – and that's where the idea of a drinkable billboard came in.
"It started with one idea where we thought, how great would it be if we could have a physical billboard that people could literally drink from? It's the most direct and instant experience of a product you can have," she said
Although the billboard was a big undertaking in itself, it was just the beginning of what would become a campaign that managed to make every type of media drinkable.
"We felt that was quite a big challenge, but that's what got us really excited," Falusi said.
It was a challenge worth taking, as it was this idea that ended up winning Coke Zero over.
"Usually work that you create in a pitch is really to give clients the confidence that you can do the work. so you win the pitch and then the real work starts," Falusi said. But in this case, the work they did during the pitch period ended up being the same work that went right into the production phase.
Tucker added that while a lot of times coming out of a pitch there's extensive testing, revisions, and modifications, the prototypes and ideas that the team initially came up with in a hothouse in Brooklyn were the same ones that ended up being executed mere months later.
When it came to actually executing the campaign, Falusi said the developers and partners that the creative team worked with along the way were crucial in making the campaign a success.
While she called Shazam an "unusual partner" for an advertising campaign, consumer familiarity with the audio recognition tool helped increase engagement with the TV and radio ads – so much so that it became the most 'Shazam'ed' ad ever and ended up breaking the mobile app for a brief period of time.
Falusi acknowledged that the tweet was the easiest execution, since users just had to simply retweet the sound of a Coke Zero being poured to receive their free Coke Zero coupon, but said that the others were not so easy to do.
Between working out the kinks of a two-screen experience for the TV ads to making sure partners including Shazam, Target, and the NCAA were on board, the size and scale of the campaign proved to be a challenge.
"To be ambitious and to do that scale of a campaign, especially a digital campaign, requires that you really have a great partnership with your client. It is much more demanding than if we would have done a traditional campaign," said Falusi.
Henry said that in the past, Coke Zero's advertising has mostly just involved telling people to try the beverage or enticing them with it.
"I've been working on Coke Zero for a while and we've talked about trials for a while. I think the big difference here is in thinking about the content differently and really using the technology to aid getting cans in hands," she said.
What surprised Henry most about the campaign? That it all worked and actually came together. "It was a huge risk with technology," she said.
So far, it looks like the risk was worth taking. The goal of the campaign was to simply get more people to try the beverage, and Henry said that the amount of people who have redeemed their coupons at Target to get a free Coke Zero has been way above benchmark.
"We're at about a 25 per cent redemption rate, which is kind of crazy for coupon redemption," she said.
And the campaign isn't over yet. Henry said that Coke Zero plans to build on the successes that it has seen so far.
The billboard has been traveling around since its debut and is expected to be seen at other events, while similar elements of the initial campaign will be brought to college football this fall.
More from Coca-Cola
Industry insights.
CASE LIBRARY /
BRAND EXPERIENCE: LIVE + AR/VR/DIGITAL /
UNITED STATES /
2016 FINALIST COKE ZERO
You can view videos online by purchasing a subscription. Videos are not available for download. Some cases only have a video. If there is no written PDF, only the video is available for the case. Subscribe here OK
Please log in to view content.
Don't have an account?
Subscribe to receive instant access to the Effie Worldwide library of finalist and award-winning case studies. Learn more >
2016 FINALIST BRAND EXPERIENCE: COMBINATION (LIVE, VIRTUAL/360) UNITED STATES
Coke zero drinkable advertising, ran in: united states, the coca-cola company, ogilvy & mather *lead agency.
Colin Mitchell, Worldwide Head of Planning Patti McConnell, Executive Producer Jordan Saletan, Director, Technology Management Ami Moore, Executive Producer, Digital Production Marissa Guerra, Account Supervisor Nicole Pinochet, Executive Group Director Jones Krahl, Creative Director Adam Tucker, President Milton Correa, Creative Director Corinna Falusi, Chief Creative Officer
Our challenge: drive game-changing trial of Coke Zero - a drink everybody thought they knew, and had essentially dismissed. But people are constantly asked to try new products, and such invitations are easily ignored. Whats more, the difficultly of re-igniting interest years after a launch is considerable; we knew that we needed an immersive experience of the Brands best qualities to achieve liftoff. Drinkable Advertising was our solution, literally putting a Coke Zero into the hands of our audience at every touchpoint. It became the most successful sampling campaign in the brands history.
Hero Medium: Interactive/Online
Medium Featured On Video: Branded Content, Direct, Events, Interactive/Online, OOH, Print, Radio, Social Media, Sponsorships, TV
Audience: Other
Objectives: Gain trial
Type: Business to Consumer
Classification: National
Language: English
Judge Tags:
You can view videos online by purchasing a subscription. Videos are not available for download. Some cases only have a video. If there is no written PDF, only the video is available for the case. Subscribe here .
Case Study: Taking Coca-Cola's campaign to the next level
In 2018, the global drinks brand Coca-Cola , launched an ad campaign in Sweden for its new flavoured Coca-Cola Light Exotic Mango drink.
Understanding Coca-Cola's audience
The brand produced a 10 second long video creative to promote the new flavoured drink.
The ad shows a couple drinking the new Coca-Cola flavoured drink in their lounge, and then transitions to a man sitting on a plane and drinking the passenger's Coke who he is sitting next to whilst they sleep.  
To achieve brand awareness and optimal completion rates, Coca-Cola partnered with us to help them harness the power of emotional data .
With women aged 30 to 44 being the intended audience, Coca-Cola used our proprietary content research and testing tool UnrulyEQ.
Measuring the video's impact on brand metrics allowed us to improve campaign success by understanding emotional, behavioural and cultural characteristics.
UnrulyEQ found that the creative evoked strong emotions of pride , warm heartedness , and happiness in viewers.
The power of environment
The ad was then distributed at scale via UnrulyX, across our Premium Publisher Network and appeared on premium Swedish sites including Elle, Metro, Topphälsa, Tara and styleby.nu.
At Unruly we believe that the environment you deliver your ad in is extremely important as the content it sits next to can greatly affect how it's perceived. Not only this, but studies show that ads shown in premium environments produce greater levels of engagement and long-term memory encoding amongst consumers compared to ads on other sites.
The results
By pre-testing, identifying and using data targeting against the initial target audience, we managed to increase campaign results dramatically.
The campaign delivered an outstanding 521,622 completed views , a huge 126% uplift in Brand favourability, and a 108% uplift in Brand Promoters. It also boasted a 112% uplift in Purchase Intent and an enormous 76.28% completion rate !
Get in touch with our team by clicking here to find out how we can help supercharge your next ad campaign.