7 Ways to Boost Your Resume as a College Student
​as a college or university undergraduate, how can you build skills that will impact your future job marketability—when your ....
DATE: Apr 24th - 2023
​As a college or university undergraduate, how can you build skills that will impact your future job marketability—when your work is still being evaluated by letter grade, and your food options are still largely limited to your school cafeteria's daily specials?
It's never too early to start thinking about learning new skills, participating in volunteer opportunities, and earning certifications that you can add to your resume. With Gen Z set to make up 25 percent of the workforce, finding ways to stand apart from your peers now will pay off immensely when you're ready to showcase your qualifications in the post-graduate working world.
Here are 7 ways to boost your resume (when you're not hitting the books):
1. complete an internship..
Whether you land at a law firm, your local newspaper, or a remote dude ranch, your internship experience will help you gain valuable skills and experience for a future job, as well as give you a taste of what a post-college job will be like. Internships can also provide college credit or actual paychecks to help offset college expenses. These experiences can open doors to more internships, glowing letters of recommendation, and, if you work hard and the stars align, even a job upon graduation.
Internships typically last the duration of an academic quarter or semester (or over the length of a summer or winter break). They are available in all kinds of industries including finance, technology, publishing, construction, legal, and performing arts. To find an internship with the duration, benefits, and field that fits with your criteria, start by making an appointment with your academic department office or college career center. They are a key resource for internship advice and access to available opportunities. Let professors and your personal and professional networks know what kind of an internship you're seeking, and attend on-campus internship events and job fairs to meet potential matches.
2. Get a summer job.
Although lazy days at the pool may be tempting, getting a summer job is a smart move, and unlike pool-lounging, you can get paid for your time. Whether you stick around school for the summer and work on campus (and even take a summer class or two to get ahead) or find a job back home, a summer job can give you structure, responsibility, and another opportunity to add valuable skills and experience to your resume.
3. Take online classes and earn certifications.
The online education market has exploded, which is great news for students interested in learning a new skill and seeking an edge in the job market. On free-to-join sites like Coursera , you can choose to take a course, or dive deeper to earn a certification or even a degree. UDemy has courses to help people gain professional skills in all types of disciplines—from office productivity, to design, to teaching and academics, to personal development–and the courses can be downloaded and completed anytime. While your college workload may be heavy enough on its own, adding a course or two to complement your schoolwork shows potential employers that you have initiative, commitment to a field of interest, and a desire to learn and grow.
4. Become a Resident Assistant (RA).
Aside from the often free room and board, there are other compelling reasons to become an RA. An RA's job is to welcome new residents to college life, be available as a resource for them on their dormitory floor, enforce school policies, and help handle tricky situations or roommate conflicts that arise. It's a great way to not only meet new people, but also to give you experience dealing with real-life situations and building valuable leadership, communications, and problem-solving skills that will be valuable in a future workplace.
5. Volunteer.
Donating your time to a greater cause and helping others is a commendable venture. If you're not sure where to start, first consider what kind of a cause you're interested in and then research non-profit organizations that work with that type of cause. Your volunteer activity of choice may be becoming a Big Brother or Big Sister for Big Brothers Big Sisters of America , or you might enjoy building houses for Habitat for Humanity, or tutoring middle-schoolers who want to go into STEM fields.
Tap into your campus' volunteer groups and opportunities as well—often times you won't have to look far to find a group working to clean up the environment, assisting at-risk youth, collecting food/supplies for those in need, or a myriad of other volunteer efforts. You can also check out online sites geared specifically toward young people who want to make a difference.
As an added bonus, when you volunteer with a cause that's meaningful to you, your interest and commitment will shine through on your resume and be evident to potential employers in interviews.
6. Join professional associations and clubs.
Professional associations and clubs are made up of people in the same or similar fields who meet regularly to network, host guest speakers, and discuss issues important to their professional community. Joining a professional association or club offers networking opportunities with people in your chosen major or intended career, and can lead to future internship or job offers, access to potential mentors and an intellectual community of like-minded people, career advisement, and a chance to learn more about changes in the industry.
Your major likely has a related pre-professional group on campus. Many of these groups are affiliated with regional or national associations that have on-campus branches, such as Public Relations Student Society of America or The American Medical Student Association. Ask your professors and department heads about which groups are available to you, and look into clubs related to your major (or that you're simply interested in) such as debate club, the school newspaper, theater club, or the college radio program to name a few.
If a club you want to join doesn't exist, start one! The initiative, creativity and entrepreneurship you show will prove impressive to future potential employers.
7. Study abroad.
The benefits of studying abroad are endless:Venturing across the world for a semester, year or summer term can offer you the opportunity to see a new part of the globe while gaining exposure to a new culture, picking up a new language, learning practical life skills, making lifelong friendships, and much more.
Studying abroad can show potential employers that you're adaptable in new environments, globally competent, emotionally intelligent, resourceful, responsible, and open-minded. It can also show employers that you're ready for new challenges and opportunities, and that you value learning and growth in your personal and professional life. The Erasmus Impact Study showed that 64 percent of employers consider study abroad experience to be important , and 92 percent look for transferable skills that are typically gained from the experience.
While study abroad programs aren't often free, financial assistance and scholarships are often available. Contact your school's academic advisor or study abroad department to find out what kinds of programs and financial aid are offered.
Tap into your career center
Your on-campus career center is often an untapped resource, offering services that can help you with everything from choosing a major to polishing your resume and prepping for interviews. They are also skilled in placing students with internships and general job-hunting. Make an appointment with career center to discuss your goals and find out about additional opportunities to set yourself apart.
Related posts
How agile and improv improve teamwork, getting really agile at digital transformation (instead of faking it), creating a failure-safe workplace for employees, laid-off workers are knocking. here's why you should answer..
How to Write a Resume for College
High school and college students need a resume when applying for academic and career opportunities.
Students should include standardized test scores, Advanced Placement and honors courses, awards, activities and talents that show depth in educational endeavors. (Getty Images)
A resume is no longer reserved for after graduation. Students may want to craft one as early as the ninth grade for everything from college admissions to scholarships and internship opportunities.
Impress College Admissions Counselors
Arlene Weintraub Sept. 13, 2017
The resume should continue to evolve over the course of one's academic career, shaped by experiences and reflecting the student's interests and activities, experts say. Both high school and college students should keep a well-polished resume up to date.
"It's a really valuable thing for a student to have," says Kelly Fraser, owner and principal consultant at Green Apple College Guidance & Education, which has offices in Boston and the Washington, D.C., area.
Some colleges require a resume with the application, while others welcome the document in the supplemental materials section. Some internship, scholarship and study-abroad applications also require resumes.
Fraser says a high school resume should be complementary to a college application but students should avoid repetition and cramming all of the same information onto the document.
"Each document that you submit to a college does not have to have everything about you in it, but all of the pieces of the puzzle should come together to make a nice picture," Fraser says.
Resumes for High School Students
While a resume in ninth grade isn't an absolute must, students should at least be thinking about it, says Nancy Polin, president and senior college counselor at Educational Excellence in Florida. "It doesn't have to be a formal resume, but I recommend that they start some sort of formal record-keeping system in the summer before ninth grade," Polin says.
Marjorie Hansen Shaevitz, founder and director of adMISSION POSSIBLE in California, sees resumes as pieces of information that allow students to communicate who they are.
"More and more, college admissions officers are now looking for how and where people spend their time, including the quality, depth and length of involvement," Shaevitz says, noting that the value of a good resume is the ability to compile this information succinctly.
She recommends that students include standardized test scores, if available, Advanced Placement and honors courses, awards, activities and talents that show depth in educational endeavors. Grade point averages and other accomplishments also should be highlighted, such as leadership roles and work experience.
"Colleges want to know who you are," Shaevitz says, adding that the same is true for students who may have family responsibilities such as caring for younger siblings or working.
"There are many students who have to work, who have to go home to family responsibilities. Colleges understand that, and (students) should put those on their resume," Fraser says.
And in the time of COVID-19, when many extracurriculars melted away during the pandemic, colleges want to know how students waxed creative. What opportunities did they pursue on their own? What interests emerged during the pandemic? As one example, Shaevitz points to virtual dance classes created by two of her students with the aim of bringing the arts to underpriveleged kids.
Experts advise high school students to mine their entire academic career for experiences and accomplishments.
Yuridia Nava, who works in college and career counseling for the Riverside County Office of Education in California, wrote in an email that she asks her students to reflect all the way back to kindergarten for their experiences, urging them to consider lengthy volunteer commitments and passions they've held for years.
Advisers also insist on sincerity, cautioning students to not embellish their resumes.
"If you're applying to a college and you're submitting anything in your application that's not true, then it's a big problem," Fraser says, adding that students also should avoid listing experiences that they will have trouble talking about in a college admissions interview .
Nava also cautions students against including social media profiles "unless it's clean of any negative images or memes" and to avoid using email addresses with unprofessional language.
Resumes for College Students
Experts encourage college students to continue to build their resume and keep it current with recent and relevant experiences. As they gain skills through classes and student organizations, those should be added to their resume, as should job experiences.
Jeremy Fisher, director of the John P. Fahey Career Center at Creighton University in Nebraska, says resumes for college students may be more career-specific than in high school.
"A college-level resume will be more focused on relevant experiences, skills, leadership, service and other activities that may be more important to a potential employer," Fisher wrote in an email.
For high school and college resumes alike, students should follow many of the same rules. Experts emphasize writing clearly and concisely, personalizing the resume for applications, proofreading diligently for spelling and grammar, and soliciting feedback. Resumes should also contain clearly identifiable information so readers know who is presenting themselves and how to contact them.
Experts also encourage students to keep it simple and straightforward, avoiding flashy text or graphics. Generally, they suggest a one-page resume as the standard for college students, though a high school activities resume may have some leeway to stretch a bit longer.
"Employers scan and review resumes very quickly – typically in 15 to 30 seconds or less initially, so it is important to have a resume that looks professional (style, format, font, etc.) and is very easy to read," Fisher says. "The use of proper spacing, bullet points for descriptions, bolding, underlining, or italicizing important information such as the resume categories, school, degree, major, employer name, job titles, etc. is very helpful."
Some consultants and counselors provide model resumes for students to follow, though templates are typically discouraged at the college level, according to Fisher.
Fisher says templates can be helpful as a guide, but resumes created from templates are not unique and don't stand out.
"Why would you want your resume to look exactly like hundreds of others?" he says.
Creighton lists guidance on its website showing resume examples for those early in their academic careers as well as those in graduate and professional programs. For first- and second-year students, Creighton's career center offers a simple one-page example that focuses on education, including major and GPA, experience, and activities and service.
Whether for high school or college, experts stress the need to have a resume handy.
"The earlier a student has a professional resume developed," Fisher says, "the more ready they will be to pursue opportunities as they arise."
Steps to Building a Resume
Need to develop a resume for college admissions or other oppotunities? Use the basic details below as a starting point.
Identify activities and accomplishments to include.
Detail relevant academic accomplishments and work, internship or volunteer experience.
Include high school or college information and contact details.
Verify key dates and details for accuracy.
Spell check and proofread.
Searching for a college? Get our complete rankings of Best Colleges.
10 Resume-Boosting College Jobs
Tags: students , colleges , resumes , careers , college admissions , education
2024 Best Colleges
Search for your perfect fit with the U.S. News rankings of colleges and universities.
College Admissions: Get a Step Ahead!
Sign up to receive the latest updates from U.S. News & World Report and our trusted partners and sponsors. By clicking submit, you are agreeing to our Terms and Conditions & Privacy Policy .
Ask an Alum: Making the Most Out of College
You May Also Like
11 colleges with the lowest admit rates.
Ilana Kowarski and Cole Claybourn Dec. 1, 2023
What to Wear to a College Interview
LaMont Jones, Jr. Nov. 29, 2023
College Rankings of the Big Ten Schools
Cole Claybourn Nov. 29, 2023
Are Private Student Loans Worth It?
Erika Giovanetti Nov. 29, 2023
Huge Rise in International Students
Anayat Durrani Nov. 28, 2023
Surveys for 2024 Best Graduate Schools
U.S. News Staff Nov. 27, 2023
35 Colleges With the Highest SAT Scores
Sarah Wood Nov. 22, 2023
Differences Between B.A. and B.F.A.
Andrew Warner Nov. 21, 2023
15 Colleges With the Most Undergraduates
Sarah Wood Nov. 21, 2023
Colleges With Cheap Out-of-State Tuition
Cole Claybourn and Travis Mitchell Nov. 21, 2023
How to Build Up a Resume in College
Last Updated: May 13, 2021 References
This article was co-authored by Christopher Taylor, PhD . Christopher Taylor is an Adjunct Assistant Professor of English at Austin Community College in Texas. He received his PhD in English Literature and Medieval Studies from the University of Texas at Austin in 2014. There are 9 references cited in this article, which can be found at the bottom of the page. This article has been viewed 21,772 times.
College is the perfect time to start building up your resume. After you graduate, you'll need a good resume when you're applying to internships, jobs, and graduate schools. Stand out from other applicants with a resume that shows you're well-rounded and already have relevant skills. Make your resume great by joining clubs, studying abroad, and getting jobs and internships while you're in college.
Gaining Experience
Network and work hard during your internship. If you show you're good at the job, you can get a letter of reference from your supervisor. Also, if you impress the people where you intern, they may offer you a job in the future.
Connect with the staff at your campus' career center and internship office on campus. Employers often ask for direct referrals from these offices. If the staff members know you, they can refer you. They can also let you know about internships for which you can earn class credit.
Speak with your professors about possible internships for students in your department or school and ask their advice about interning. They might offer you helpful contacts. If you have a small field of focus, don't be afraid to reach out to your ideal employer directly to let them know about your skills and interests.
Talk to your professors. They often know about jobs students get on campus. Many also hire editorial, research and lab assistants.
It's a good idea to get a job related to your studies, for example as a tutor or lab assistant.
Many non-profit organizations have volunteer positions that require professional skills, like accounting, translating, or working in environmental sciences.
Network with different people in the organization where you volunteer and demonstrate that you are a good worker - your volunteer position might lead to an internship or job.
Look for service-learning programs that organize volunteering in communities overseas. You'll learn exciting new skills and it will look terrific on your resume.
Apply for funding through prestigious scholarship programs, like the Boren, Gilman, or Critical Languages Scholarship. These will look very impressive on your resume and you will learn important proposal writing skills. [5] X Research source
Learning New Skills
If you are interested in working in international business or banking, consider studying Mandarin, Japanese, or German.
If you want to work in foreign relations, you could study one of the official United Nations languages, like Russian, Arabic, or Spanish.
If you are athletic, you can join a team or play intramural sports. If you have a special talent, use it: act in a play, write for the school newspaper, or illustrate the yearbook.
Look for clubs that fit your major. For example, join the Biology Club if you are a Biology major.
Start your own club if you have a good idea. This level of initiative and leadership will look great on your resume.
Putting Your Resume Together
College career centers often offer resume-writing workshops.
For example, if you see that many employers are looking for "a highly resourceful team player," you could use that in your summary section. You could also use phrases like "demonstrated high level of resourcefulness" or "successfully collaborated on a team" to describe one of your experiences.
Include specific job responsibilities that you have done, like "compiles and analyzes financial information to prepare general ledger entries" on your resume.
Use this information to tailor your resume to whatever jobs you are applying to.
Some sections that appear in student resumes are: summary or objective, education, related experience, related coursework, activities/leadership, honors and awards, skills.
Some professions have field-specific templates or expectations regarding resume formatting. For example, graphic designers often have creative resumes that go beyond plain text. Look over sample resumes from your field to get an idea of common organization.
Keep it concise because you only have one page.
Proofread it very carefully. You can also ask a professor or someone in career services to do a final review.
Use a standard font.
Expert Q&A
Video . by using this service, some information may be shared with youtube..
You Might Also Like
↑ http://www.cnn.com/2010/LIVING/worklife/04/14/cb.why.internships.important/
↑ https://www.pugetsound.edu/about/offices-services/ces/students/building-experience/student-employment/why-work-during-college/
↑ https://www.forbes.com/sites/jacquelynsmith/2012/05/09/when-an-employer-requires-experience-and-you-have-none/2/#7652b726415f
↑ http://www.cnn.com/2014/03/25/travel/irpt-study-abroad/
↑ http://www.studyabroadfunding.org/
↑ http://www.thesimpledollar.com/how-to-build-your-resume-in-college/
↑ https://www.usnews.com/opinion/blogs/economic-intelligence/2014/01/29/the-business-benefits-of-learning-a-foreign-language
↑ http://www.naceweb.org/career-development/trends-and-predictions/job-outlook-2016-attributes-employers-want-to-see-on-new-college-graduates-resumes/
↑ http://careers.unl.edu/resumes
About this article
Reader Success Stories
Robin Ceres
May 29, 2019
Did this article help you?
About wikiHow
Terms of Use
Privacy Policy
Do Not Sell or Share My Info
Not Selling Info
Nevada Today
7 ways to build your resume in college
Landing your dream job requires more than just doing well in your classes. read on for seven college experiences that can help prepare you for professional success..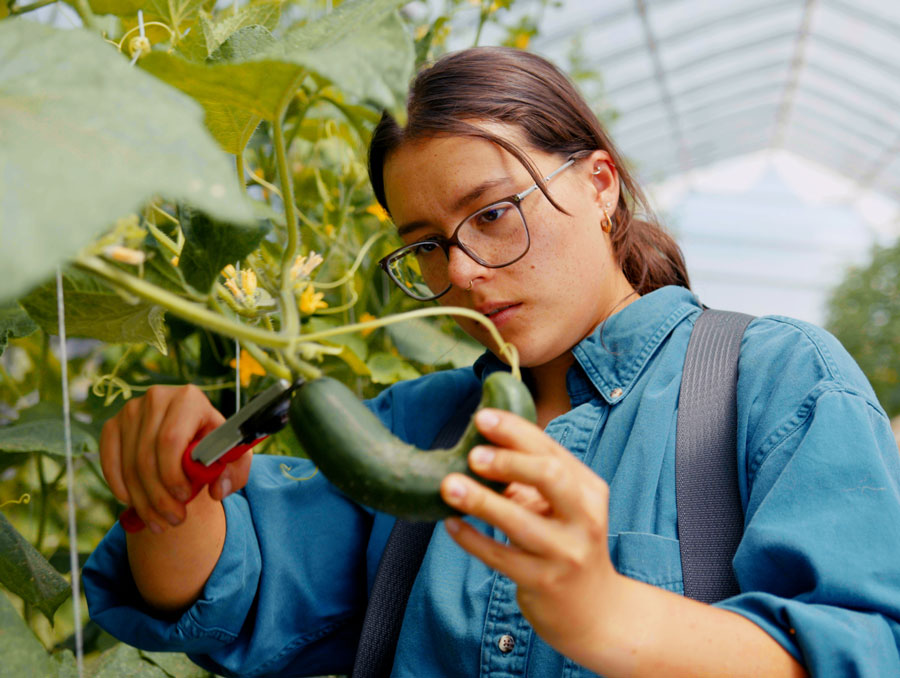 At the University of Nevada, Reno, we prepare our graduates for successful careers. But graduating with your dream job offer in hand requires more than getting good grades. College is a time to gain hands-on experience, develop your leadership potential and explore opportunities across campus and across the world.
Here are seven ways you can add valuable experience to your resume while you're in college.
#1. Think outside the box
Earn your share of $65,000 in research grants. The University's Office of Undergraduate Research provides competitive grants for creative undergraduate students to begin innovative projects of their own.
#2. Start a business
Win $50,000 writing your own business plan. The annual Sontag Entrepreneurship Competition develops the entrepreneurial capabilities of University students with $50,000 awarded to the top team to build their business.
#3. Apply for The Honors College
The Honors College provides academically talented and motivated students an education that nurtures their ability to think competently, understand deeply and act ethically. Honors participants complete a senior thesis or project that develops an independent, original, scholarly or creative topic of interest to the student in their major.
#4. Gain international experience
There's more than one way to study abroad at the University of Nevada, Reno. The University Studies Abroad Consortium , Nevada Global Business Program and Consortium for Overseas Student Teaching (C.O.S.T.) all give students cross-cultural experiences and memories to last a lifetime.
#5. Be a leader. Join a club.
Developing life and career skills takes practice. Join one of 250+ clubs, organizations or activities to hone "soft skills" that employers value, including communication, teamwork, adaptability, problem-solving and leadership.
# 6. Get on-the-job training. Apply for work on campus.
Many of our student on-campus jobs do not require prior experience. Student positions are offered across campus, from admissions to academic departments. We empower students to work collaboratively with full-time faculty and staff as they become an important part of the University's dynamic community.
#7. Learn your way to a dream job
The Nevada Career Studio provides students with tools for success. Students can get help creating a résumé and preparing for interviews as well as have professional headshots taken. Handshake, the Career Studio's online job board, allows students to apply for local, out-of-state, and international jobs and internships.
Request more info
Do you have more questions we can answer? Are you interested in receiving additional information about the University, the admissions process, applying, financial aid or more?
Sign up to learn more!
Now offering graduate certificates 👉 LEARN MORE 
1 (866) 989-5432
AM I A CANDIDATE
How to Write a Resume When You're Still in College (With Examples)

PEARSON ACCELERATED PATHWAYS
You know the battle. You need experience to get a job, but you need a job to get experience. It's a conundrum many college students face when trying to start their careers. Searching through endless job postings that require at least two years of experience can be frustrating, but don't get discouraged!
Here's the good news. As a college student or recent grad, you've probably already developed a lot of the knowledge and qualifications to ready yourself for the professional world. Even without prior job experience,  a college student can still create a strong impactful resume  that gets employers' attention. In fact,  Career Alley  confirms that most employers want to see evidence of leadership, problem-solving, and communication skills. Luckily, these are all things you can prove you've developed in college.
Ready to show hiring managers that you have what it takes to land your dream job? Here's some handy college resume tips and examples to help.
1. Choose a well-organized resume format
In the past, classic resume formats followed a boring standard layout with limited flexibility. In today's market, pertinent information and good design have set the standard for catching employers' attention. Why not stand out from other candidates with a catchy design? If you're looking to get your creative juices going and develop a resume format that stuns while also fitting your aesthetic,  Canva  has some very cool designs to get you started. Check out this one by Stella.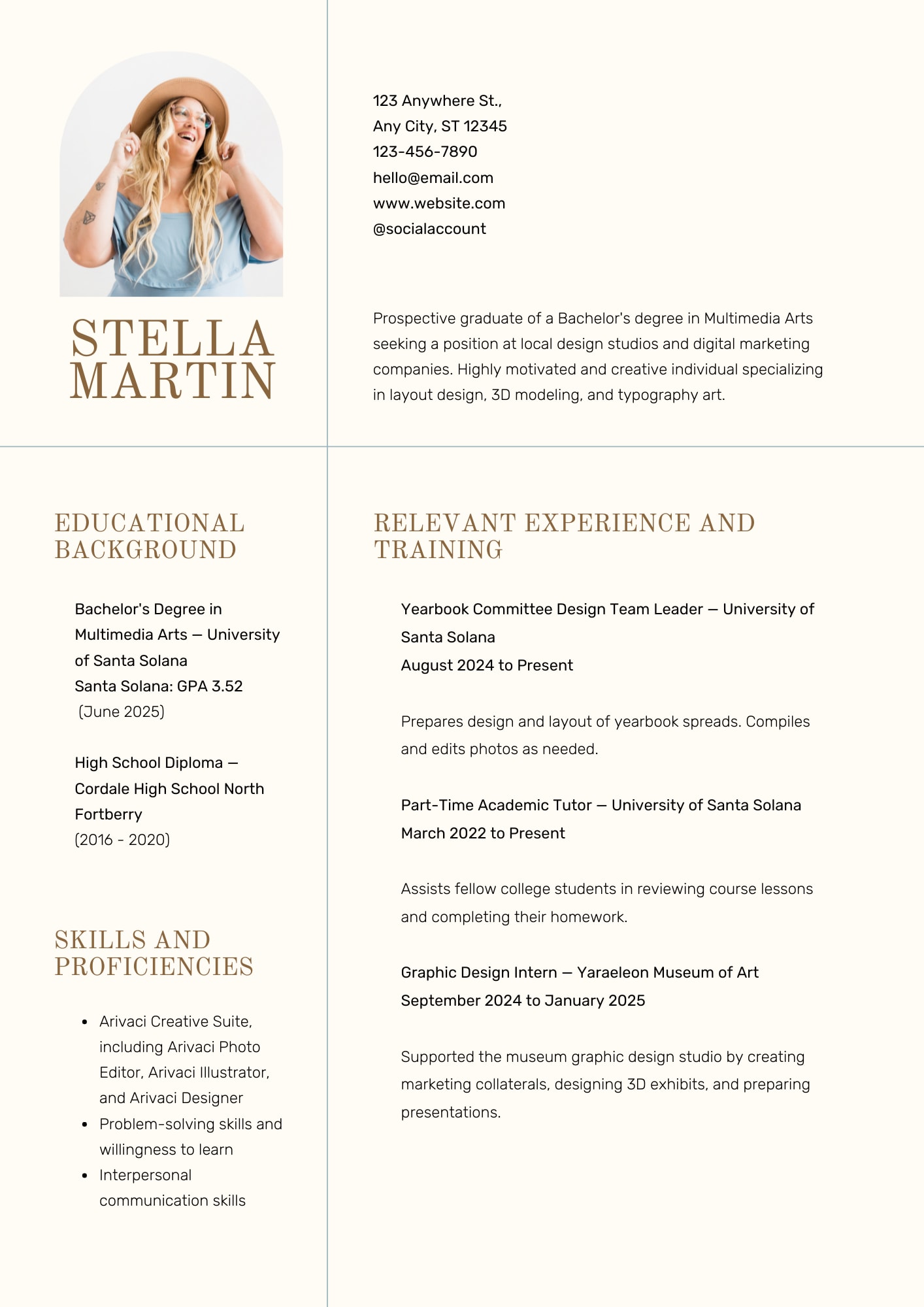 According to  Indeed , "The best  resume formats  are well organized with only the most relevant information and should make efficient use of blank space to avoid clutter." Stella has made great use of the one-page space, even including a photo to showcase her unique style and personality. She's also included a section labeled "Relevant Experience and Training" in place of the traditional "Job Experience" to emphasize her involvement in school teams and committees that have provided her with applicable skills in lieu of an official job.
Keep in mind that if you include a photo on your resume, it should reflect the style and dress for your industry. If you're entering a more formal career, be sure to adjust your resume accordingly. You can still have a great design while keeping it professional, like in Avery's resume below. As a new face in the accounting and finance world, Avery wants to make an impact on employers while still representing himself as a reputable professional. His resume stands out yet also does a great job of fitting the expectations and standards for his career.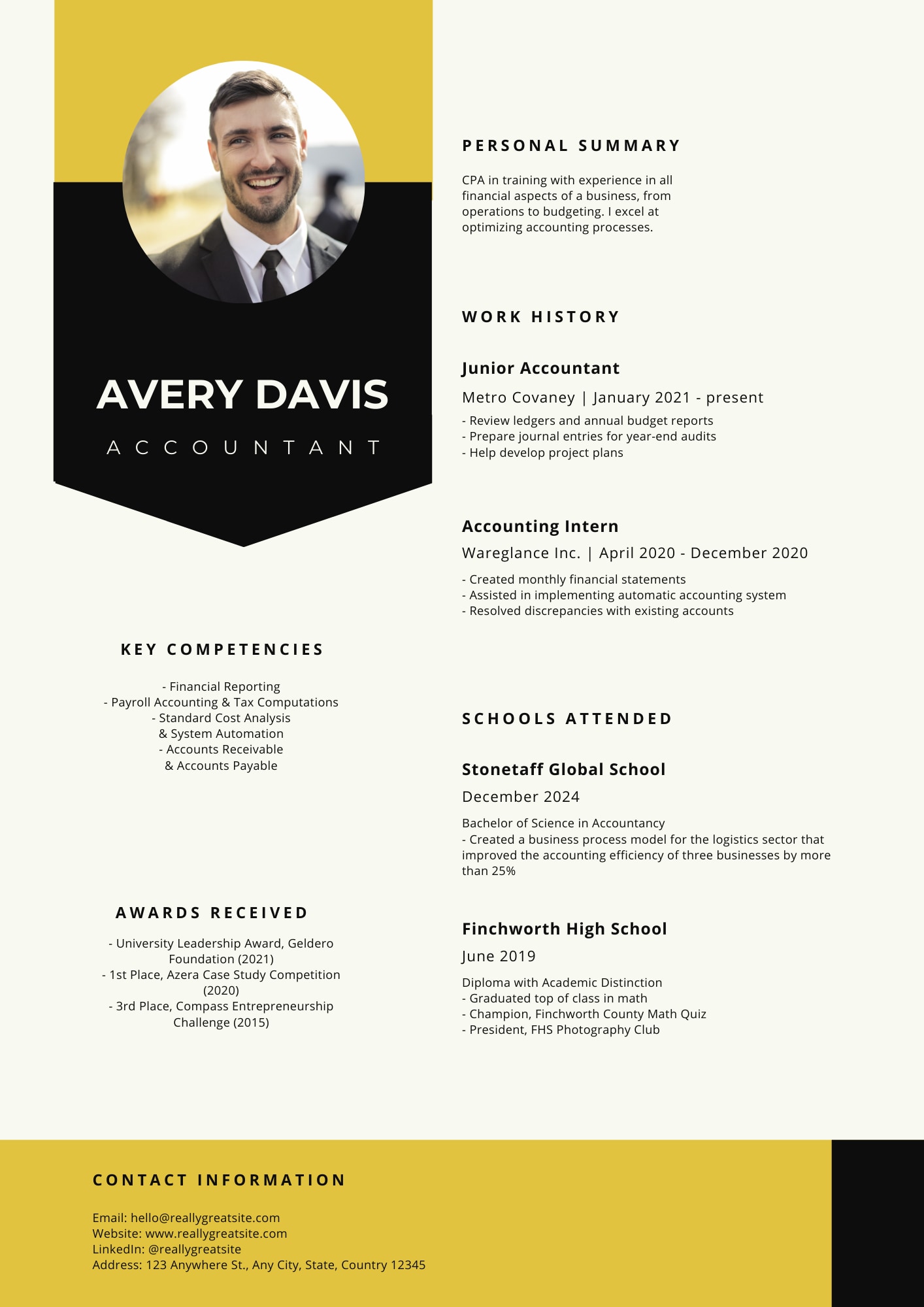 2. Create a summary focused on the employer's needs
A summary, objective, or "About Me" statement is  an excellent way to introduce yourself  and quickly advertise your qualifications.  This statement should be brief (1-2 sentences)  and focus on your relevant experience as well as your career-developed skills. It's also a great idea to tailor your summary according to the employer's needs, rather than your own. If the employer mentions specific desires in their job posting, figure out a way to incorporate the highest priority ones into your statement. Not only does this show the employer that you've paid attention to what they want, but also that you're responsive and willing to meet their needs.
3. Prioritize education vs. experience
For college students or recent graduates, it can be difficult to decide whether to list your education or experience first. Notice in Jonathan's resume below, he lists his education history first to showcase his student activity and accolades, like the  Best Student Web Developer Award . That's because his educational accomplishments demonstrate more enthusiasm and mastery of his technical abilities than his limited experience as a freelance web developer – with just two work projects completed.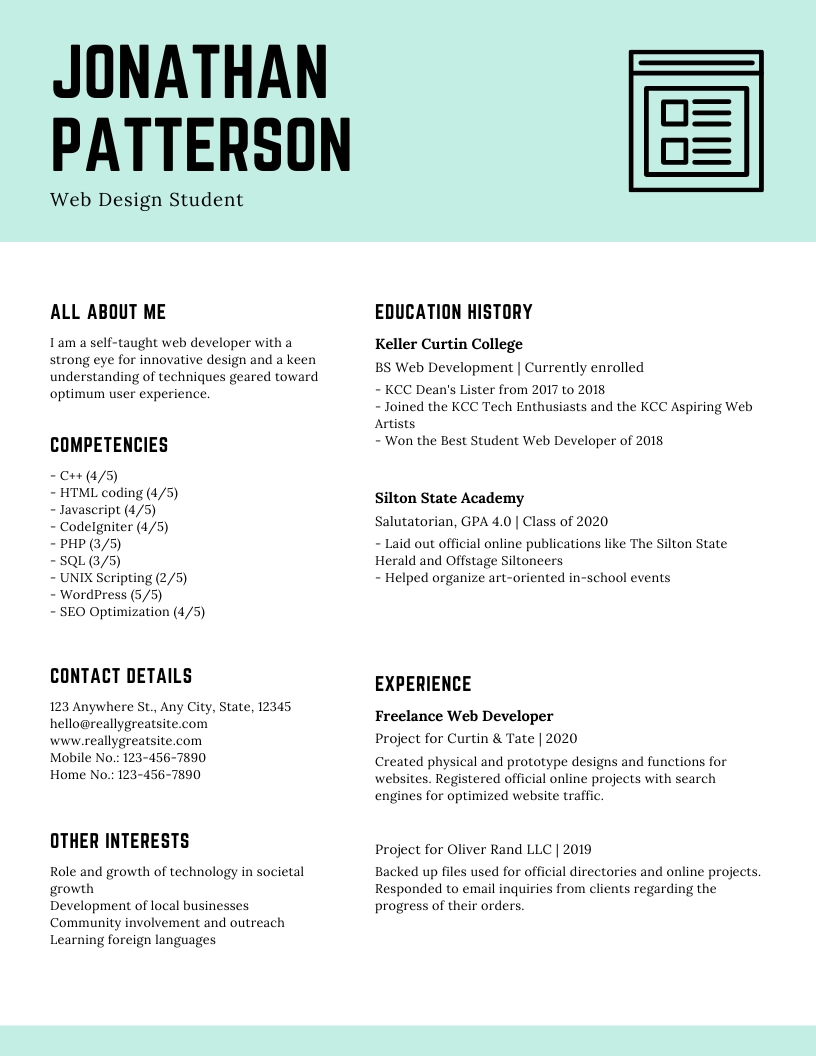 Not sure whether to list your education or experience section first? Figure out which one allows you to present your most pertinent and remarkable information. If your main selling points come from your college experience, then be sure to list your education section first. Then you can get really creative in emphasizing your academic history and accomplishments, as discussed next.
4. Get resourceful in your education section
Don't feel intimidated if your degree doesn't exactly align with the job you're applying. By showing a commitment to your education, you can still demonstrate the qualities employers are looking for like strong work ethic, dedication, leadership, commitment, and desire to improve.
According to  Live Career , "Not only should the  education section of your resume  be concise, but it should also relate to the job you are seeking." This is a good time to brainstorm and make a list of your best student accomplishments. Any relevant honors or academic recognition, coursework, activities, or other achievements obtained during your education should be included to build up what may be lacking in your experience section. You can even add in relevant coursework and school projects you've completed to establish your training qualifications and special areas of study, particularly if your major or minor doesn't readily indicate it. 
5. Keep your experience section relevant
Employers don't need to know about the summer job you had at a pizza shop or about that one time you sold perfume at the mall. Your experience section shouldn't be limited to just paid jobs nor does it need to include every job you've ever had. Hiring managers will be looking to see whether you have job experience that's relevant to the position they are hiring.
In Jonathan's resume above, notice how he only includes his work as a Freelance Web Developer. This is his only experience that's relevant to the positions for which he's applying. Jonathan doesn't need to include his part-time job stocking shelves at Costco or his sales associate position at Champ's during his first year in college. Not only can that distract from his qualifications, but it can clutter up his resume and make it seem like he doesn't understand the employer's wants or needs.
If you have very limited or no work history at all,  you can change the name of this section  from "Work Experience" to "Relevant Experience." Then add in internships, volunteer work, leadership experience, extracurricular activities or any other related involvement or training you can think of to compensate for your lack of workplace experience.
6. Include a skills or strengths section
Including a skills, key strengths, or competencies section on a resume is a great way to let employers know what hard skills and soft skills you bring to the table.  Indeed  defines  hard skills  as abilities specific to the job (like proficiency in technical software systems) and  soft skills  as abilities that can be applied in any job (like problem-solving and time management).
So how do you know which of your many talents to list on your resume?  According to The Balance Careers , " Some skills are in high demand  for employers hiring college graduates, and there are  other skills that specifically relate to the job  for which you're applying." Try reviewing several job descriptions specific to the industry or role you're applying. Be sure to focus on the key desires and requirements employers emphasize for candidates. Jot down a list of the ones that stand out, then review how their desired skills match your core competencies. From there, you can decide which key strengths to include on your resume.
Check out Ed Stewart's "Key Strengths" section in the below resume. Notice how he only lists hard skills or technical abilities. This is a good move for Ed as he's positioning himself as a Search Engine Marketing expert and targeting companies looking to hire someone with a technical approach to their marketing strategy. He also does a great job of keeping his bulleted section short and scannable. Bulleted lists should only include about 5-7 items, so be sure to add only the most important and relevant skills to your resume. Anything that you feel you've left off can be included in your cover letter.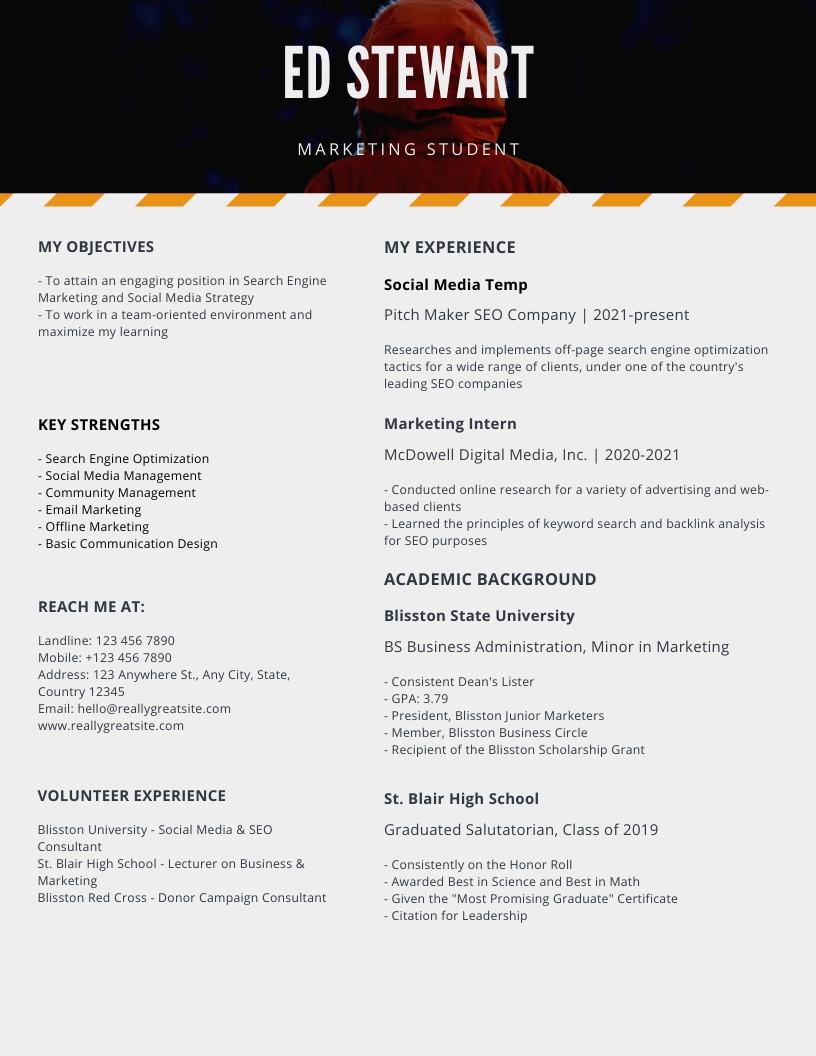 7. Always submit a custom cover letter
Did you know  around 250 resumes are submitted for each corporate job listing  and only about five candidates will be called for an interview? According to  Pongo , "without a  cover letter , you're relying solely on your  resume  to make a big enough impact that the hiring manager will call you back for an interview." As an applicant just starting out in the job market, you'll need a good cover letter to make up for the lack of experience on your resume.
By submitting a custom cover letter specific to the company and role for which you're applying, you can let employers know why they should hire you over a candidate with more experience. This is your chance to tell them that you're a fast learner, hard worker, or willing to go the extra mile to gain experience and to help their company succeed. Don't count on your resume to get you through the competition. By including a cover letter, you'll get noticed quickly, show you've put in extra effort, and demonstrate how much you want the job.  You only have 7.4 seconds to make an impression , so make it good!
8. Get a friend to proofread
After staring at the same resume and cover letter for hours, it can be easy to gloss over your own writing and mistakes that a fresh pair of eyes can detect. After completing these documents, try a few proofreading tricks like reading them slowly and out loud. Then, ask for help! You'd be surprised at what someone else may pick up on.  TopResume  states, "Have a friend — preferably one who writes for a living or studied English in college — review your resume for contextual spelling mistakes, missing punctuation, and inconsistencies in your resume format." Once all final details are confirmed, then you're ready to apply. Good luck!
Want to check out more college resume and cover letter examples?  Zety  has some excellent templates and guides. And check out  this blog  if you need help obtaining  reference letters . At Pearson Accelerated Pathways, we love helping students on the journey to their brightest future and best career.  We'd love to help you create your own college experience  that develops the background qualifications and skills needed to land your dream job!
Pearson Accelerated Pathways

We think college can be affordable, flexible, and purposeful. And we're here to show you how.
How to Write a Resume
Editor & Writer
www.bestcolleges.com is an advertising-supported site. Featured or trusted partner programs and all school search, finder, or match results are for schools that compensate us. This compensation does not influence our school rankings, resource guides, or other editorially-independent information published on this site.
Turn Your Dreams Into Reality
Take our quiz and we'll do the homework for you! Compare your school matches and apply to your top choice today.
College students and recent grads must learn how to craft engaging resumes to land jobs.
A strong college resume uses simple fonts, clear organization, and action verbs.
Be sure to proofread your final resume and have somebody look it over for you.
Formatting and writing a professional resume is a challenge that even seasoned workers often struggle with. As a college student or recent graduate, you likely have limited work experience, making the resume-writing process all the more difficult.
But don't get discouraged — there are several steps you can take when putting together a college student resume or college graduate resume to help you stand out from other applicants.
Below, we've compiled a comprehensive list of tips and examples to teach students and recent college graduates how to write an effective resume.
Table of Contents
What sections should you include on a resume.
Your resume should include the following sections in a similar order as this:
Name and Contact Information
Work Experience
As a college student or recent graduate, you'll probably want to add additional sections to showcase your relevant achievements and skills. Here are some examples of optional sections you could include:
Extracurricular/Volunteer Activities
Honors and Awards
Certifications, Skills, and Training
Digital Proficiency
Foreign-Language Proficiency
Hobbies and Interests
Tips for formatting a college student resume.
Choose a Professional Font and Font Size
Selecting the right font and font size ensures your resume looks presentable and professional. Stick with simple fonts, such as Calibri, Cambria, Helvetica, or Georgia. For example, you could use Georgia for your name and section headings, and Calibri for the rest of your resume.
Many contend that 12 pt is the ideal font size for the resume body, though if you're having trouble fitting in some of the text, you may go down to 11 pt. What's important is that you don't make your font so small that it's difficult to read at a glance.
For headings and subtitles, increase the font size about 4-6 pts larger than your body text. For section titles, consider using bolding, underlining, or capitalization to provide even more visual emphasis.
Use Appropriate Margins
Setting your margins correctly is crucial to presenting an organized and readable resume to potential employers.
Microsoft Word's default page margins are 1 inch -- the standard margin size for resumes. If you need a little more room, however, you can move your margins within a range of 0.5-1 inch. For instance, you could drop your top and bottom margins to 0.5 inches and your left and right margins to 0.75 inches.
Left-Align Key Content
Making your college student resume easily accessible means aligning your content in an effective manner. In most cases, you'll left-align the bulk of your resume, including your contact information, as people's eyes naturally move from left to right when reading in English.
That said, not everything has to be left-aligned. You might prefer to align job titles, company names, and responsibilities to the left, and align secondary information, such as dates and locations, to the right. Stay consistent throughout your resume and left-align anything you want to stand out.
Strategically Apply Bold, Italics, and Caps
Use bold, italics, and caps to draw a hiring manager's attention to important information on your resume -- but don't go overboard. The key here is to choose what to emphasize wisely.
If you're a recent college graduate with some internship experience , you might decide to bold the names of the companies you interned at rather than your job titles. If, however, you believe your titles better convey your qualifications for the position, you could do the opposite.
You might also bold your college degree or your school's name depending on what you want to draw more attention to.
A good rule of thumb is to use bold to emphasize important titles and italics for secondary information relating to the bolded titles. Caps should generally only be used for your name and section headings.
How to Write a Resume Header
Create a professional email address.
If you're still using an old email address from high school, it's time to create a new professional account. Choose a popular email provider like Gmail or Outlook and keep your address simple by using your full name or a variation of your first and last name.
Update Your Contact Information
Your contact information must be up to date so that potential employers won't have any issue reaching you. Make sure to include your first and last name, phone number, and email address in the header of your resume, and double-check that these are correct.
If location is important or relevant to the company, you may also include your city and state in your header. You can usually skip putting down your full home address.
Insert Relevant URL Links
If you don't have a lot of work experience but do have a portfolio of relevant work you can show, you should insert links to your personal website and/or online portfolio in your resume header.
You might also consider including a link to your LinkedIn profile to help the hiring manager get a better sense of your professional presence. Steer clear of adding links to any other social media accounts unless the job specifically requires social media skills.
How to Write a Resume Body: 8 Essential Tips
1. tailor your resume to the job description.
Tweaking your resume so that it aligns with the position is vital. Start by carefully reading the job description to identify keywords and key phrases. Next, insert these terms throughout your resume wherever applicable. Most hiring managers will search for keywords related to critical skills , even if the resume is processed through an applicant tracking system.
If you're having trouble finding keywords, you can run the job description through a word cloud generator, which should help you identify prominent words and phrases. Once you've finished crafting your resume, run it through that same generator to see whether its keywords align with those in the job description.
2. Focus On Education
For a college student or recent grad, your academic history should come first in the body of your resume, since your educational background will be one of the most important factors for employers.
In each education entry, include your major and degree, the institution's name, your (prospective) graduation date, and any minors. You can also add relevant coursework, favorite fields of study, thesis/dissertation titles, honors and awards, or academic achievements (e.g., dean's list).
Bachelor of Arts, Digital Technology and Culture Washington State University | Pullman, WA Minor: English Rhetoric and Professional Writing
Relevant Coursework: Writing and Rhetorical Conventions, Technical and Professional Writing, Electronic Research and the Rhetoric of Information, Advanced Multimedia Authoring, Usability and Interface Design
3. Include Work Experience
While your previous work experience might not relate exactly to the jobs you're applying for, it's still important to show hiring managers that you are employable, can complete tasks effectively, and can develop new skills. Ideally, you'll discuss internships and jobs for which you can highlight transferable skills and experiences .
For each work entry, put down your job title, the company's name and location, the dates you worked, and 2-4 bullet points summarizing your responsibilities and achievements in that role. Start each bullet point with a strong action verb (see tip 7 below) instead of the first-person "I."
If you don't have any work experience, you'll need to include additional sections that illustrate your achievements and skills in a non-work-related setting.
Writing Consultant, WSU Writing Center Washington State University — Pullman, WA
Created and maintained lists of media contacts.
Researched opportunities across online media channels.
Produced product pitches and press kits.
Supported event organization.
4. Showcase Your Skills
Put down your strongest and most relevant skills that will help you perform well in the job you're applying for. Don't shy away from discussing soft skills — those personality traits and handy life skills , such as public speaking and time management, that many employers look for when hiring.
5. Consider Adding Additional Sections
Adding additional non-work-related sections after the skills section on your college resume can help you stand out from other applicants with similar educational backgrounds and skill sets.
Here are some examples of sections you could add to the end of your resume:
Extracurricular Activities
An activities section is ideal for students or recent grads who have limited to no prior work experience. Listing relevant activities gives you the chance to show where and how you developed certain skills outside your education. Just make sure your activities reflect the type of work you'll be doing in the position you're applying for.
You'll want to list any academic-related honors and awards you've received in your education section. If you've earned any honors outside your college experience that are relevant to the job, you can create a separate section that briefly explains the significance of each award.
Certifications and Training
If you've received any training and/or certifications that prove you have specific skills or knowledge relevant to the position, put these in a separate section.
Those applying for a job that requires experience with specific software, digital tools, or web languages should include a digital proficiency section at the end of their resume to prove they're technologically qualified. You could also include this section in place of a standard skills section if digital proficiencies are more relevant to the role.
If you have any space left at the end, consider throwing in some hobbies and interests. Companies are increasingly emphasizing work culture and prefer to hire candidates whose personalities fit well with their environment. Research the company and choose hobbies and interests that clearly echo the company culture and/or support the position you're applying for.
6. Quantify Wherever Possible
Numbers included in conjunction with job responsibilities can pique hiring managers' interest by providing a clearer idea of what it looks like when you apply your knowledge and skills. For example, you might put down that you increased sales 20% over a six-month period, or that you assisted around 50 customers each day at your retail job.
7. Stick With Action Verbs
Many resumes are littered with the same trite words, which is why you should make an effort to switch up common words and phrases with stronger action verbs. This is especially important when writing the first word for each bullet point in your work experience section, as you want to immediately catch the hiring manager's attention.
Use verbs such as "converted," "analyzed," and "composed" to portray your achievements in a more engaging manner. You might even consider using a thesaurus to help you find stronger synonyms for common words, or referring to this list of action verbs created by Harvard .
8. Use Reverse Chronological Order
Always use reverse chronological order, which means listing your entries starting with the most recent (and then working your way back in time from there). This organizational trick gives hiring managers a clearer sense of what you're currently doing, what you recently accomplished, and how these experiences might translate to the open position.
Last Steps for Finalizing Your College Resume
Take time to edit and proofread.
Carefully edit and proofread your resume before you submit it. A resume that's grammatically correct will make you look more professional and appealing than a resume filled with typos. While both Microsoft Word and Google Docs do a decent job of detecting technical errors, other tools, such as Grammarly , are better at catching minute grammar mistakes.
After you've cleaned up your resume, slowly read it over to look for any awkward phrases, inconsistencies, ambiguous descriptions, or poor word choice and tweak as needed.
Get Another Set of Eyes to Look It Over
The final step is to show your resume to someone who can provide you with constructive feedback. If you're still in college, you might turn to your university's career or writing center; otherwise, take your resume to a mentor , friend, or family member you trust.
You'll want them to check your grammar and analyze whether the resume sells you as the best person for the role. Ask the reviewer questions like "Does this resume portray me as the best candidate for this job?" and "Is this resume engaging?" If their answer to either question is no, go back and revise your resume.
Feature Image: PeopleImages / E+ / Getty Images
Explore More College Resources
Cover letter tips for college students and recent grads.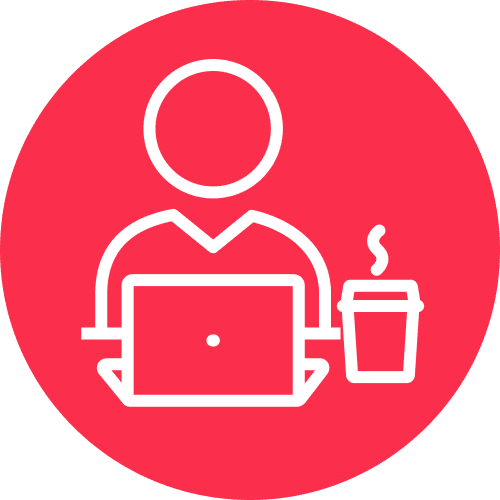 How to Write a Resume for College Applications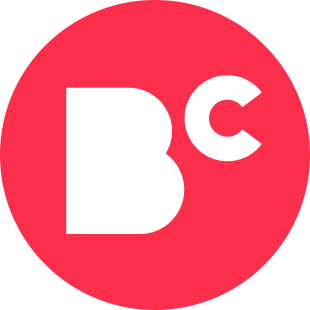 The Student's Guide to Resumes and Cover Letters
BestColleges.com is an advertising-supported site. Featured or trusted partner programs and all school search, finder, or match results are for schools that compensate us. This compensation does not influence our school rankings, resource guides, or other editorially-independent information published on this site.
Compare Your School Options
View the most relevant schools for your interests and compare them by tuition, programs, acceptance rate, and other factors important to finding your college home.
US California
Recently viewed courses
Recently viewed.
Find Your Dream School
COVID-19 Update: To help students through this crisis, The Princeton Review will continue our "Enroll with Confidence" refund policies. For full details, please click here.
Enter your email to unlock an extra $25 off an SAT or ACT program!
By submitting my email address. i certify that i am 13 years of age or older, agree to recieve marketing email messages from the princeton review, and agree to terms of use., write a high school student resume for college applications.
Think resumes are only for job seekers? Think again. A high school student resume gives colleges a snapshot of your accomplishments, extracurriculars, hobbies, and work history. They can also be a useful tool for prepping for a college interview or to give to the teachers who are writing your letters of recommendation .
Not sure how to get started? Follow our tips for crafting a standout resume for college and scholarship applications.
What should go on a high school student resume for college admissions?
Any of the sections below could appear on your resume for college applications. Pick an assortment that works for you!
Heading with your name, address, and e-mail
High school information with your graduation date, GPA (weighted), class rank, and SAT/ACT scores
Academic awards, publications, honors, and other achievements
Coursework (summer programs, college courses, or other specialized workshops that do not appear on your high school transcript)
Extracurricular activities
Community service
Work experience
Special skills (e.g. foreign language fluency or HTML expertise)
When should you submit a resume to colleges?
Some colleges and scholarship committees request or recommend that you include a high school resume with your application materials. (But don't submit a resume if they don't ask for one—following instructions is a key application strategy.) Bring your resume to college interviews and give copies to your college counselor and teachers so that they can write you the strongest possible recommendation letter.
Tips for Composing Your College Admissions Resume
1. keep it concise..
Pare down the activities you showcase to the most brag-worthy and most representative of you as a candidate. Do colleges need to know that you were on the field hockey team for one semester in Grade 9? Probably not. The standard rule of thumb is to stick to one or two pages.
2. Focus on depth and length of commitment.
When deciding which activities and accomplishments make the cut, keep in mind that colleges would much rather see you excited about one or two key experiences than sporadic involvement in 20 clubs. If having an after-school job limited your ability to participate in clubs or sports, make sure your resume plays up your work responsibilities, training, and on-the-job skills.
Read More: Everything You Need to Know About Applying to College
3. Provide detail whenever possible.
The details are what set a resume apart from a list of extracurriculars on a standard college application. For example, when describing your involvement in the French Club make sure to include:
school years/hours per week you participated
specific contributions (e.g. "Organized a successful after-school film series to introduce our community to French cinema and culture" )
leadership roles (e.g. "Treasurer, Grade 12" )
unique details that will make you stand out
4. Highlight things you weren't able to write about in your college essays or short answers.
Use your high school resume to show colleges something new. If your devotion to photography didn't make it on the application but is a big part of who you are, then showcase your photography cred on your resume.
Free SAT Practice Tests & Events
Evaluate and improve your SAT score.
5. Formatting is key.
Make your resume easy to scan. Divide information into sections with clear headings, bulleted lists, and a consistent font. Use a system of organization that works for you. (Chronological, by importance of activity, or by time commitment are a few options.) Don't forget to proofread !
6. Be honest and accurate.
Colleges know how to spot inconsistencies in your high school student resume, and they won't hesitate to call your counselor to verify information that doesn't seem right. So don't tell them that you have practice for the school play for 30 hours per week—unless drama club is somehow your full-time job!
Looking for strategic college advice?
Get one-on-one help from former Ivy League and top tier admission officers . Our College Counselors will help you find, apply, and get accepted to your dream school.
College
Applying to College
Explore Colleges For You
Connect with our featured colleges to find schools that both match your interests and are looking for students like you.
Career Quiz
Take our short quiz to learn which is the right career for you.
Get Started on Athletic Scholarships & Recruiting!
Join athletes who were discovered, recruited & often received scholarships after connecting with NCSA's 42,000 strong network of coaches.
Best 389 Colleges
165,000 students rate everything from their professors to their campus social scene.
SAT Prep Courses
1400+ course, act prep courses, free sat practice test & events, 1-800-2review, free sat prep try our self-paced plus program - for free, get a 14 day trial, what would you score on the mcat today.
Thank you! Look for the MCAT Review Guide in your inbox.
I already know my score.
Enrollment Advisor
1-800-2REVIEW (800-273-8439) ext. 1
1-877-LEARN-30
Student Support
1-800-2REVIEW (800-273-8439) ext. 2
Partnerships
College Readiness
International
Advertising
Affiliate/Other
Enrollment Terms & Conditions
Accessibility
Cigna Medical Transparency in Coverage
Register Book
Mon-Fri 9AM-10PM ET
Sat-Sun 9AM-8PM ET
Local Offices: Mon-Fri 9AM-6PM
Mon-Fri 9AM-9PM ET
Sat-Sun 8:30AM-5PM ET
Academic Subjects
Find the Right College
College Rankings
College Advice
Applying to College
Financial Aid
School & District Partnerships
Professional Development
Advice Articles
Private Tutoring
Mobile Apps
Local Offices
International Offices
Work for Us
Affiliate Program
Partner with Us
Advertise with Us
International Partnerships
Our Guarantees
Accessibility – Canada
Privacy Policy | CA Privacy Notice | Do Not Sell or Share My Personal Information | Your Opt-Out Rights | Terms of Use | Site Map
©2023 TPR Education IP Holdings, LLC. All Rights Reserved. The Princeton Review is not affiliated with Princeton University
TPR Education, LLC (doing business as "The Princeton Review") is controlled by Primavera Holdings Limited, a firm owned by Chinese nationals with a principal place of business in Hong Kong, China.
Request Information
Admission & Aid
Student Life
Information For
Current Students
Faculty and Staff
Alumni and Friends
Parents and Families
Enter keywords below.
Frequently searched keywords:
How to Boost Your Resume in College
November 19, 2021
Resume building while you are in college is one of the keys to your future career success. In today's competitive world, many employers expect students to bring valuable experience and skills to their company. Your college years are an ideal time to gain experience in the fields you are interested in, and you often can find those opportunities on and off campus.
Here are some ways to start building your resume:
Find a work-study or off-campus job. Getting a job is a good place to start. You can begin your research by finding out what work-study positions are available on your campus. Normally there are work-study positions available that suit your interests and can provide you with skills and experience. An off-campus job is another good option if on-campus work study isn't an option or might be more ideal considering the career you want to pursue.
Join a campus organization or create a new one! Joining a student organization can enrich your resume since it shows your ability to work with a group of people that share common interests. It demonstrates to employers that you can balance your schoolwork with extracurricular activities. If organizations on campus do not fit your interests, you can start a new one. The first step is to research the procedures to start a new club or organization on campus. This experience can provide you with leadership expertise which is a transferable skill you can later apply in the workforce.
Find internship opportunities. Apply your knowledge and skills from the classroom to real-world experience through an internship. An internship enables you to experience a job on a professional level in your field of interest, apply your knowledge, and learn new skills that you can add to your resume.
Find service learning/volunteer opportunities. If you are interested in giving back to the community, try to find organizations that fit your interest and values and volunteer for them. Volunteering can provide you with a new set of skills and opportunities while allowing you to be more active in your community. With technology advancements, many organizations are now allowing people to volunteer remotely. If there isn't an organization that interests you in the surrounding area, you should consider remote volunteering as an option.
E-learning. Nowadays you can take advantage of e-learning, and discover new skills and ideas that you are interested in at your own pace from the comfort of home. Many programs have been developed to help prepare you for your career. LinkedIn Learning with Lynda is one example of e-learning (some college campuses offer this for free). You can take advantage of these programs and take online courses or teach yourself new skills by watching tutorials. They are beneficial to help you grow as a professional and are a great addition to your resume!