— Welcome to — The Ultimate Guide to SEO Content Writing!
Open table of Contents
Whether you're an experienced web writer or just starting out, SEO content writing is a must-have skill for anyone who writes for the web.
This guide will take you through the nuts and bolts of what SEO content writing is, the practical skills you'll need to write SEO content, and how to build your career as an SEO copywriter.
We've compiled up-to-the-minute SEO tips and techniques that are being used in the web industry today. With this guide, you can learn the necessary skills to get started as a successful SEO copywriter without the trial and error of piecing it together yourself.
Let's get started.
What Is SEO Content Writing?
SEO content writing is the process of creating high-quality content for websites that is relevant to readers and helps websites get found more easily by search engines.
The term "content" refers to any words, images, audio, or other elements you include on a webpage.
SEO content writing specifically deals with the words that are published on a webpage.
On the surface level, the goal of SEO content writing is to boost traffic to a company's website that comes from Google or other search engines.
But it's far more than that.
When it's done well, SEO content writing can be used to create a website that's truly an asset to a business. With effective SEO content, a company can build authority and influence in their field, as well as increase their visibility on the web.
SEO content writing can also help turn a website into a useful resource for visitors and potential customers. This can make a company's site more "shareable" and respected by other websites and businesses.
In addition, all traffic to a website is not created equal. The use of core SEO principles will prevent "tire kickers" from visiting a site — in other words, visitors who have no real purpose on that site.
Content that has been SEO optimized will target a specific audience of people who are looking for what a company offers. A well-optimized website's traffic may actually be low compared to some sites, but the visitors who do reach the site are high quality and much more likely to make a purchase.
What Is an SEO Content Writer?
An SEO content writer is someone who understands how to write website content that meets the needs of searchers, search engines, and businesses.
Like all good writing, SEO content writing starts with understanding your audience.
And this is where SEO content writers come in.
They intimately know the specific needs of each of the main players involved in the success of a website and how to cater to these needs. The main players include searchers, search engines, and businesses.
1. Searchers
Every time someone types a query into a search engine, they have a specific intent for that search. Their intent typically falls into one of four categories: general research, product comparison, wanting to make a purchase, or looking for support after a purchase.
An SEO content writer knows the best content to create based on each of these intents.
2. Search Engines
Like other websites, a search engine wants to attract as many visitors to their site as possible. The way they do this is by providing searchers with high-quality search results.
SEO content writers have the skills to make a webpage easy to find in the eyes of a search engine, which helps the search engines find quality sites to share with their users.
But this isn't the end goal of a search engine. The main way they make money is through paid advertising. And the more visitors a search engine can get on their site, the more likely it is that someone will click on an ad.
In addition, search engines are finding ways to keep visitors on their sites longer, which will further increase the chances of someone clicking on an ad. One of the ways they do this is with featured snippets on search results pages, which SEO copywriters need to know how to target.
3. Businesses
As a copywriter, businesses are probably the players you're most familiar with. These are the companies and marketers who will be hiring you as an SEO content writer.
Their basic need is obviously for the business to make a profit. But, as an SEO content writer, you can help them with many other areas of their business , such as establishing awareness of their products and brand, building trust with potential customers, generating more leads and sales, and encouraging repeat customers.
By the end of this guide, you'll have a thorough understanding of all these players and how to meet their needs as an SEO content writer.
What's the Difference Between an SEO Content Writer and an SEO Copywriter?
You may see or hear both of these titles used by potential clients and employers.
But, in essence, they mean the same thing.
The confusion may stem from the fact that content writing and copywriting are sometimes viewed as slightly different things.
American Writers and Artists Institute gives the following definition of copywriting :
Copywriting is any writing that offers a product or service for sale or persuades the reader to take action (learn more, buy now, register for a free trial, etc.).
Whereas, some sources suggest that content writing only refers to factual, editorial writing that does not include any element of persuasion.
This definition of content writing doesn't apply to SEO content writers. Webpages naturally contain factual information, but they will also typically contain a call to action.
Depending on what type of webpage you're writing, you may suggest a reader clicks on another page for further information, opts-in to receive an e-newsletter, shares the page on social media, or makes a purchase.
SEO content writers need to have a solid foundation in the fundamentals of copywriting to create compelling, engaging webpages. They also need the skills to make these pages SEO-friendly for search engines.
This is why the terms SEO content writer and SEO copywriter mean essentially the same thing.
So, whether a client or employer calls you an SEO content writer or an SEO copywriter, this guide is for you.
Why Does SEO Content Writing Matter Today?
The face of advertising on the web is changing rapidly.
For online businesses, Facebook and Google used to be the go-to sites for cheap advertising.
But their advertising rates have gone up exponentially in the past couple years.
Add to that the fact that governments throughout the world are starting to pass tighter legislation around how websites protect their users' information. They're also passing laws to restrict how much information sites like Facebook and Google can provide advertisers.
The legal scrutiny that sites like Facebook have been under came to a head in July 2019, when the U.S. Federal Trade Commission fined Facebook a $5 billion penalty for privacy breaches and mishandling user data.
Paid advertising is no longer the safe bet that it was.
Businesses are now looking for safer, cheaper, and more effective ways of driving traffic to their sites. SEO meets that demand perfectly.
Micro Moments are Changing the Landscape of the Web
As early as 2015, Google reported a fundamental change in the way people were consuming media.
Instead of longer sessions online, people were accessing the internet in fragmented moments throughout the day, largely on mobile devices. Google named these brief interactions "micro moments".
This trend has intensified since Google named it in 2015. Today, the average smartphone user checks their device 63 times per day .
And the average time one person spends on a cell phone and tablet combined is over 4.5 hours per day. Although, Google reports that this is often broken up into short micro moments throughout the day, that often last only 70 seconds.
People take these micro moments to quickly find out things they want to know. Those things typically fall into one of the following four categories: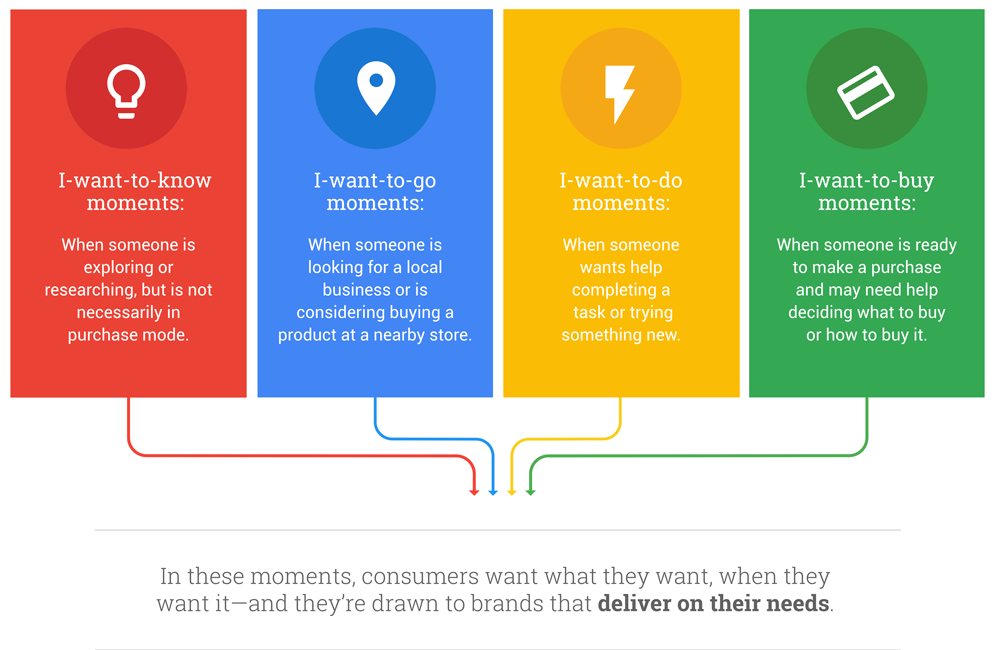 The following are examples of possible search engine queries for each type of micro-moment:
I-want-to-know moment: "How much does it cost to paint a bathroom?"
I-want-to-go moment: "Where is a good used car dealership near me?"
I-want-to-do moment: "How do you write a resume?"
I-want-to-buy moment: "Where can I buy running shoes online?"
Micro-moments are changing the way people access websites.
A site has an extremely short window of opportunity to catch a potential visitor's attention, both on a search engine's results page, and on the site itself.
Today, SEO content writers need to able to create web pages that answer these types of search queries, and do it quickly.
About The Ultimate Guide to SEO Content Writing
SEO content writing is a practical skill that anyone can learn. You don't have to be a computer geek to be a good SEO writer. If you're already familiar with the basics of good writing, SEO is simply another tool you can add to your writer's toolkit.
The Ultimate Guide to SEO Content Writing will provide you with the core principles of SEO content writing that you will be able to use throughout your career.
What you won't find here are flash-in-the-pan shortcuts to simply rank on Google.
But if you're looking for the fundamental skills needed by SEO content writers today, you're definitely in the right place.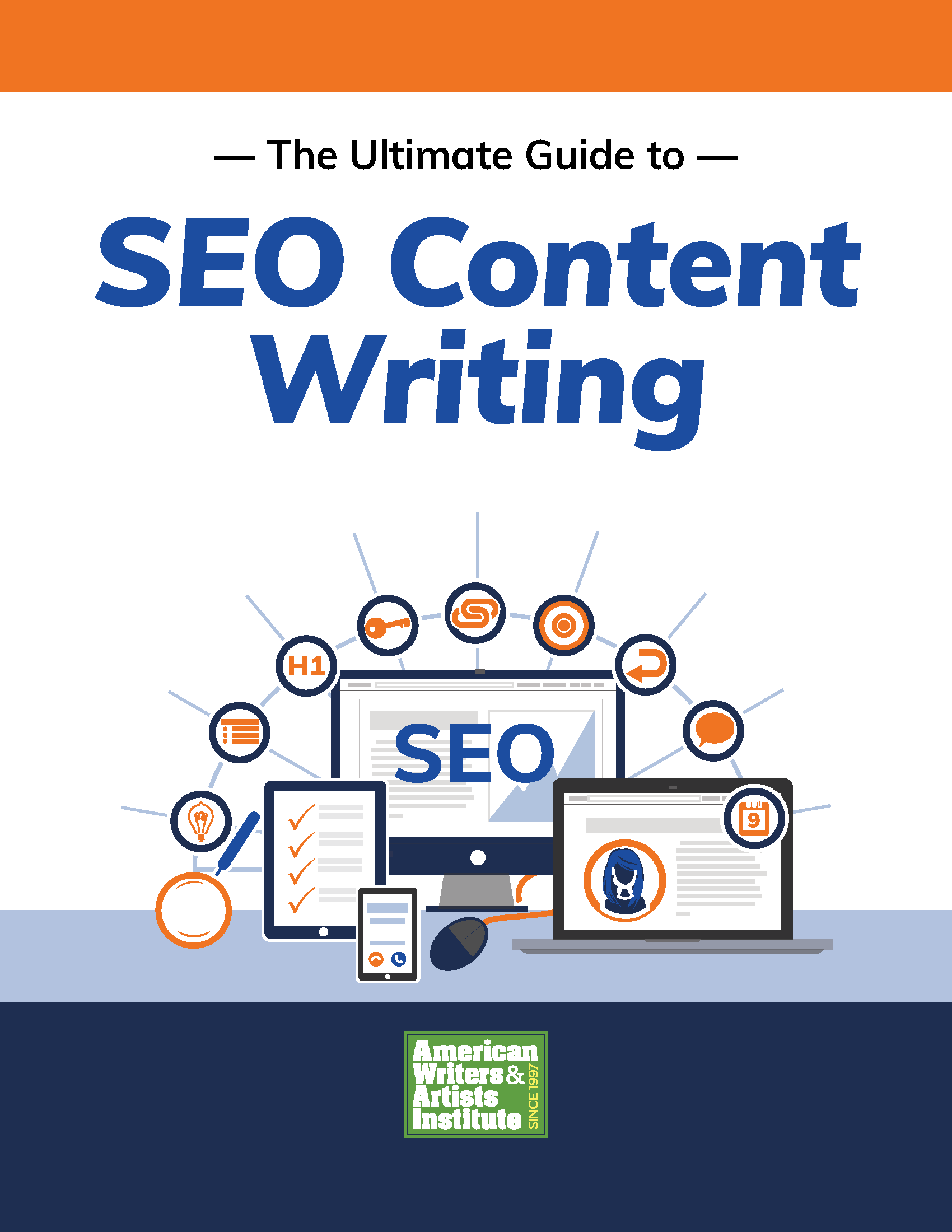 Want to download a free copy of this guide?
Simply click here to enter your email address, and we'll send you a free PDF!
What You'll Learn
The Ultimate Guide to SEO Content Writing has four chapters. Each chapter will take you through a specific aspect of SEO content writing and prepare you for your career as a well-paid SEO copywriter.
The chapters are organized in a logical progression to build on each other, but you can read them in whatever order you like.
What we really want is to hear your success story once you've completed this guide and put it into action.
So, work through the chapters and make sure you practice and apply what you've learned. We'll be waiting to hear from you!
CHAPTER 1 — How to Use an On-Page SEO Checklist (With Download)
On-page SEO is the heart of SEO content writing. This chapter will take you through all the essential elements of on-page SEO and how to effectively optimize them.
These fundamental skills are perennial and can be applied to any webpage.
We've also provided an easy-to-follow On-Page SEO Checklist that you can download and use for all your SEO writing projects.
CHAPTER 2 — 9 Tips to Optimize a Blog Post or Article for SEO
Blog posts and articles are often some of the most popular and high-traffic pages on a website. It pays to know how to optimize these pages as thoroughly as possible.
In this chapter, you'll learn a detailed process for making SEO-friendly blog posts and articles that are loved by both readers and search engines.
CHAPTER 3 — What's the Job Description of an SEO Copywriter?
As you've learned so far in this guide, the core job of SEO content writers and copywriters is to write webpages that are optimized for SEO. But, beyond that, you can almost write your own job description.
This chapter will cover the types of SEO copywriting employment available, what your daily work might look like, and how your role as an SEO copywriter fits into a company's larger business goals.
CHAPTER 4 — How to Make Good Money as an SEO Copywriter
How much money can you actually make as an SEO copywriter? And how can you make it a viable career?
This chapter will delve into these questions, and give you tips and strategies for finding and landing high-paying SEO copywriting work.
Share this Page:
Facebook Twitter Pinterest LinkedIn Email
Thanks for your message! We'll be in touch shortly.
What is SEO Content Writing? The Complete Guide to Writing For Search [Video + Infographic]
Search engine optimization is an $80 billion industry. Are you getting your money's worth?
SEO writing requires analytics proficiency and high-quality copy skills. It's the convergence of data science and art.
So how do you do it right? How do you please readers, search engines and your boss all in one go?
What is SEO Writing?
SEO writing is the implementation of keywords and key phrases within web content. The SEO content writer and marketers use SEO to increase their site's organic visibility and SERP rankings. The best way to write for SEO is to pair high-quality copy with targeted search terms.
With traditional copywriting, the content writer is focused on other goals and not necessarily on having the product come up first as a search engine answer. These types of copy may reach the consumer in the form of a TV commercial or product label — but an SEO copywriter meets readers on a web page. With professional content writing, the goal may be broad enough to encompass both SEO results and traditional marketing outcomes.
Key SEO Terms, Defined
Long-tail keywords: A string of keywords or phrases, often 3-6 words long. Long-tail terms are more specific and are queried less frequently relative to high-level, generic terms. Think "basketball shoes" vs. "2019 basketball shoes for sale Colorado."
SERPs : Search engine results pages. In other words, the Google page contains all the results users can click on after a query.
SERP position : The exact ranking in Google analytics. For instance, Position 12 would refer to page 2 of Google, since only 10 listings typically appear on Page 1.
Anchor text : The words or phrases that are hyperlinked, directing traffic to other web pages.
Meta description : A short summary of a webpage that appears in SERPs — often 160 characters — that can entice searchers to click a result.
Title tag: The title of a webpage that appears in Google SERPs and as the text on browser tabs.
Search queries : Words that users type or say into search engines.
Search volume : The number of times a term is queried per month.
Click-through rate : Percentage of clicks for a SERP result relative to how many times searchers saw that search result.
Conversion rate : Percentage of people who complete the desired action (a click, a purchase, etc.) divided by the total number of people who visited that page.
Organic traffic : The number of users who found your site via a search engine of their own free will and not through paid ads or other sites.
Structured data (schema) : How SEO elements like metadata, keywords and HTML are formatted on the page. Data that is structured makes it easier for search engines to crawl and index pages.
Ranking factors : The general components that search engine algorithms consider when deciding which pages should rank higher than others.
Backlink : A hyperlink that directs traffic to another page, either internally or externally.
Page and Domain Authority : A score that measures how "authoritative" a page or site is on a scale of 1-100.
Pageviews : Number of times a page is viewed.
Pageviews per Session : Number of pages viewed in 1 session by each user, before leaving the site entirely.
Organic keyword difficulty : A metric of how easy or difficult it will be to rank for a given keyword in organic search, on a scale of 1-100.
Subscribe to The Content Marketer
Get weekly insights, advice and opinions about all things digital marketing.
Thanks for subscribing! Keep an eye out for a Welcome email from us shortly. If you don't see it come through, check your spam folder and mark the email as "not spam."
Start With Your Goals
The foundation for any SEO content strategy is to know what you hope to achieve. Set measurable goals before you begin, so that the SEO copywriter, marketing managers and other stakeholders are all working toward the same KPIs.
Here are common metrics to measure:
Click-through rate: This is the number of clicks that the copy and product acquire divided by the number of times it is shown on a search engine results page (SERP).
Conversion rate : The number that results from dividing conversions by the number of total interactions that can be tracked to a conversion during the same time period.
Organic traffic : Readers and consumers who visit a web page through unpaid means.  
Backlinks : Links from one website to a page on another.
SERP position : The positions a website has in organic search.
Dwell time : The length of time a person spends looking at a webpage.
Page and Domain Authority : Search engine ranking score.
Organic keyword opportunity/difficulty : A score that tells you how challenging it would be for the website to rank high on a SERP for a certain keyword.
Pageviews per Session : The website's total page views are divided by the number of sessions that have happened.
The SEO writer should be given the data they need to succeed so that each new page that's created is tied back to a core business goal.
Know Your SERP Presentation
There are a growing number of ways search engines present your webpages to the public, known as featured snippets. This means not every piece of content is presented to the searchers in the same way.
Even if two companies write an SEO article about the same topic, if one of those pages ranks highly in SERPs, it could earn a featured snippet. So while company A is presented as a generic blue link, company B is presented with additional images, bolded text and more.
To stand out from competitors, understand how your quality content is going to appear in Google SERPs — then optimize for that specific format. Here are the featured snippets you're most likely to encounter as an SEO article writer.
Image carousel.
Local 3-Pack.
Knowledge Graph.
People also ask.
Top stories.
Think in Terms of Ranking Factors
In line with your company's own commercial objectives, there are also Google's preferences to keep in mind. The search engine's primary algorithm, RankBrain, helps process web pages and determine where they should rank in SERPs.
So content writing isn't just pleasing your readers; it's about pleasing Google too. That's why it's important to know the specific SERP rankings factors Google looks at. There are more than 200, but 10 of the most prominent are:
Content quality : Is your SEO article writing accurate, relevant and user-friendly?
Backlinks : Do other sites link to your content?
HTTPS : Is your site secure?
User experience : Is your content visually and informationally valuable and easy to engage with?
Mobile-first : Is your site optimized for mobile screens?
Page speed : Does your page load in 2 seconds or less?
Direct traffic : Do users come directly to your site, or do they have to Google you first?
Content depth : Is your content more comprehensive than similar pages on the web?
Behavioral signals : Do people share, comment and mention your content?
Schema : Is your content easily understood by search engines?
Strategic, Not Stuffy: How To Use Keywords
The SEO service has always been an evolving discipline. In the earliest iterations of the internet, the content was ranked and served to users based on repeating the same keywords as many times as possible. This was referred to as keyword density.
Write for the end user, not a magic number of keywords.
However, in the last five years, Google's algorithms have gotten smarter, and they know that keyword stuffing is spammy and not useful to readers. So, copywriters have had to shift their approach: Write for the end-user, not a magic number of keywords.
What this means in practice is that each page should be built around a single keyword. You can use the keyword research tool to find what keyword to target based on the difficulty score and search volume metrics mentioned above. Writers should cover every angle and aspect of that topic and its associated subtopics. Think ahead: What follow-up questions might a reader have after reading your piece? Include the answers to those questions in your writing right from the start.
The intent is to be the single best resource for a topic, providing maximum value to readers. Don't worry about using keywords in every other sentence. If you're doing your job correctly, the keywords will naturally flow in the article.
Top SEO Copy Tips
You are not your reader. Don't write for yourself — write for your target audience .
Mimic the language and voice of your audience , whether that's third-person formal or second-person conversational.
Include keywords where they will have the most impact : metadata, header tags, page title and anchor text.
Use short paragraphs of only a few sentences.
Strategically leave white space so readers can scan content at a glance.
Externally link only to reputable, authoritative sites with high Domain Authority scores.
Internally link only where relevant — not to every single related blog post or possible CTA.
Include as much dat a as possible to support your claims.
Embed relevant imagery so visuals can complement your narrative.
Think of search queries as article titles.
Write for as long as it takes to comprehensively cover the topic (that is, don't aim for an arbitrary word count).
Write with featured snippets in mind.
Optimize the Fine Print: Title Tags, Meta Descriptions and Alt Text
SEO writing is part prose, part process. There are defined steps writers should take to ensure they're thinking about each piece of content holistically, both on and off the page.
One of the most important elements of SEO copywriting is nailing metadata.
Metadata is a cue to search engines: It helps tell the story of what your content is about and how it should be presented in SERPs.
Optimizing title tags, meta descriptions and image alt text may take only 75 words in total, but those 75 words are vastly more important than the rest of the copy that appears on the page.
Here is some guidance:
For the character limits listed below you can use a free AI-powered  character counter  to help optimize each of your metadata elements.
Optimize Title Tags
Use only 1 header tag per page and try to include a targeted, primary keyword.
Keep it to 70 characters or less.
Each page should have a unique title tag — no duplicates.
Optimize Meta Descriptions
Keep it to ~160 characters so that it doesn't get cut off by Google.
Use clickworthy phrasing and don't regurgitate copy already on the page.
Optimize Alt Text
Use descriptive language that closely matches the image.
Include keywords where relevant.
Keep it to 125 characters or less, with tags separated by commas.
Structure Matters: Headers, Subheaders and Sub-Subheaders
Think of header (HTML) tags as the skeleton of your content.
Structurally, headers keep your copy organized and provide readers with a general outline of what your topic entails (without them having to read every single word).
In the eyes of search engines, though, headers are also key elements of code that signal what the article is about. Proper header tags allow search crawlers to quickly analyze your page and correctly index it in SERPs.
Headers are simple because they follow a descending order:
H1: The title of your page (only use one).
H2: Core points or topics within your article (can be used as many times as needed).
H3: Subtopics that fit underneath H2s.
H4+: Anything beyond H4 is rarely used, however most text editors will go up to H7.
According to UppercutSEO , including keywords in your headers is a key SEO tactic as well, so frame your article structure around which keywords and topics are most relevant and useful to the reader.
On-Page Optimization and Re-Optimization
Technical SEO dictates that every piece of content has the chance to outperform another at any given time. While you're writing an article, someone else could be writing the same article — just better.
It can quickly become a rat race.
Often referred to as the skyscraper technique, look for ways to continually optimize your existing pages over time. If an article is ranking in position 3, how can you leapfrog to position 1?
One of the easiest ways to drive more traffic and improve search engine rankings is to start with existing content that already performs reasonably well. You can use content writing SEO tools to spot opportunities and make minor tweaks, such as adding a few more paragraphs of in-depth copy or restructuring header tags to be more clear.
Re-optimizing content takes less time to reap greater rewards than from-scratch pages. Create a re-optimization schedule (say, every three to six months) and adjust your pages accordingly to maintain and enhance SERP share.
Tips for Incorporating SEO Writing Into Your Content Marketing Strategy
The entire process may seem a bit daunting at first, but there are some simple steps you can use to incorporate SEO writing into your content marketing strategy. While it may be helpful to completely revamp your entire work of copy, your team can start by adding important keywords to existing pieces. 
As you begin to work toward more SEO-friendly content, be sure to keep your web pages up to date. SEO is a dynamic process and reoptimization is a key component of any strategy. Start by analyzing where your current content stands and then break it down into a specific plan of action, whether that be creating new copy or adding important keywords. Use the data you collect to create a more concrete content marketing strategy, and you will be well on your way to boosting your business through SEO writing.
How Long Does It Take to Work?
Based on various industry studies and several of our own experiments, it takes about 100 days at minimum for content to mature. "Mature" in this instance refers to how long it will take Google to definitively rank your page in SERPs. Prior to those 100 days, your ranking will fluctuate a lot, sometimes appearing on Page 1, other days dropping to Page 2.
Behind the scenes, Google is testing if your content has staying power — if it's valuable enough to keep on Page 1. If after 100 days or so your content ranks highly, it will likely stay there (until a competitor writes a better piece of content and outranks yours).
Don't base all of your judgments or KPIs on immediate SEO performance. Positive metrics accrue over time, so ensure your commitment to SEO and content marketing is a long-term one.
Editor's Note: Updated May 2022.
By Michael O'Neill
You're subscribed! Look out for a Welcome email from us shortly. If you don't see it, check your spam folder and mark the email as "not spam."
Recommended Reading
8 genius digital storytelling examples (all new for 2023) [infographic].
Learn how digital storytelling can help your marketing team connect with an audience.
How to Write a Testimonial in 5 Steps + 5 Examples (Infographic)
What is a customer testimonial, how do you benefit from it and how can you write one? Here's everything you need to know!
No nonsense. Just really good marketing insights.
Sign up to get free weekly resources.
Thanks for subscribing!
Keep an eye out for a welcome email from us shortly. If you don't see it come through, check your spam folder and mark the mail as "not spam."
Find Keyword Ideas in Seconds
Boost SEO results with powerful keyword research
SEO Copywriting: The Definitive Guide
This is the most comprehensive guide to SEO copywriting online.
In this new guide, you'll learn how to write content that users AND search engines love.
(Including lots of advanced strategies that I've never shared anywhere before.)
Let's dive right in:
Intro to SEO Copywriting
Use SEO Copywriting to Boost UX Signals
Optimize Your Content With SEO Copywriting
Boost Your Organic Click Through Rate
Create Your Own Keywords
Advanced SEO Copywriting Strategies
Chapter 1: Intro to SEO Copywriting
What is seo copywriting.
SEO copywriting is the practice of producing keyword-optimized content that's designed to appeal to human users and search engine algorithms.
In other words:
SEO copywriting is writing content that Google can understand. And, at the same time, that content needs to be the type of content that people want to read, link to and share.
So, if you write content ONLY for Google, your content can sound super robotic.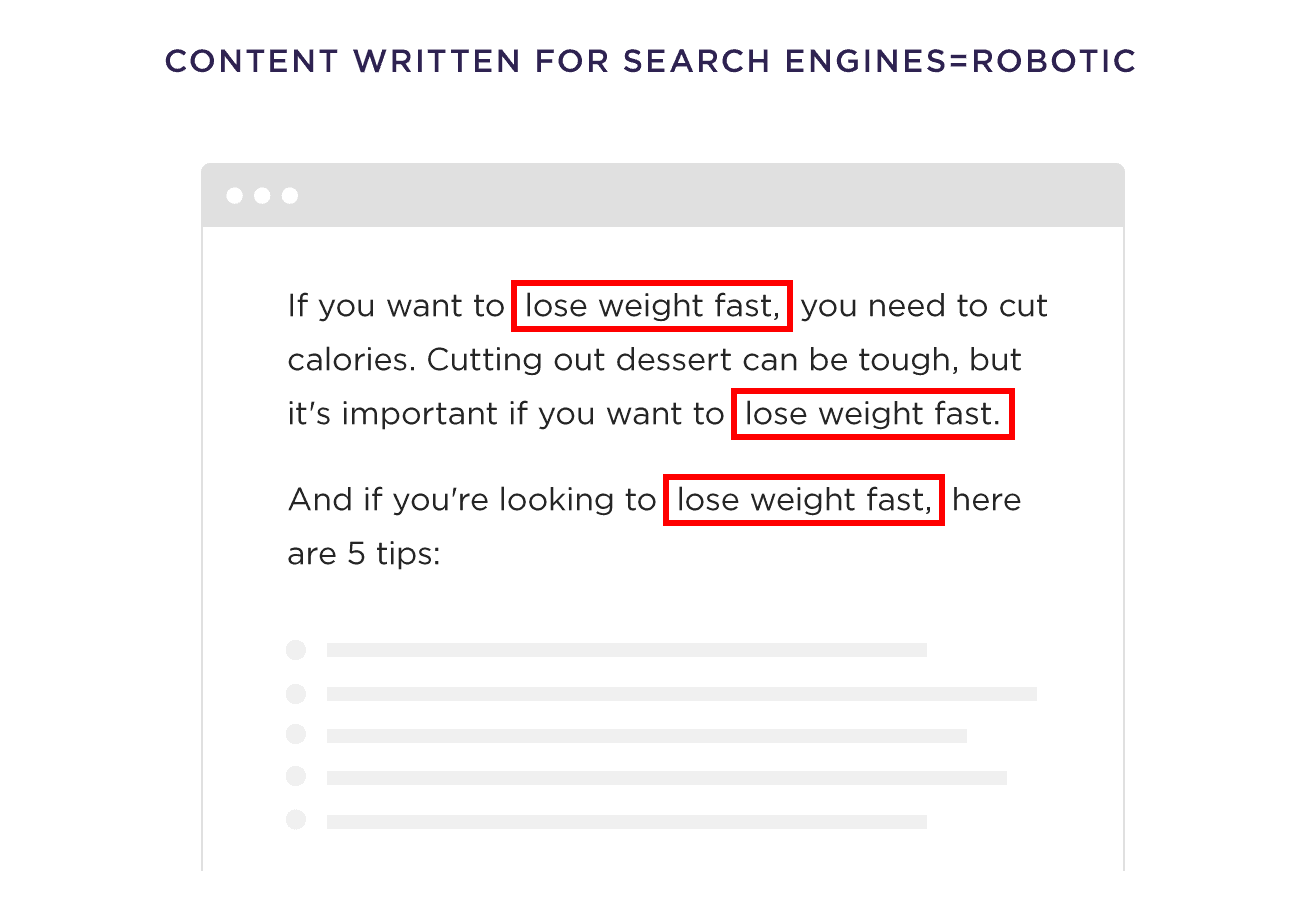 But if you write content ONLY for readers, your page probably won't contain important keywords that people use.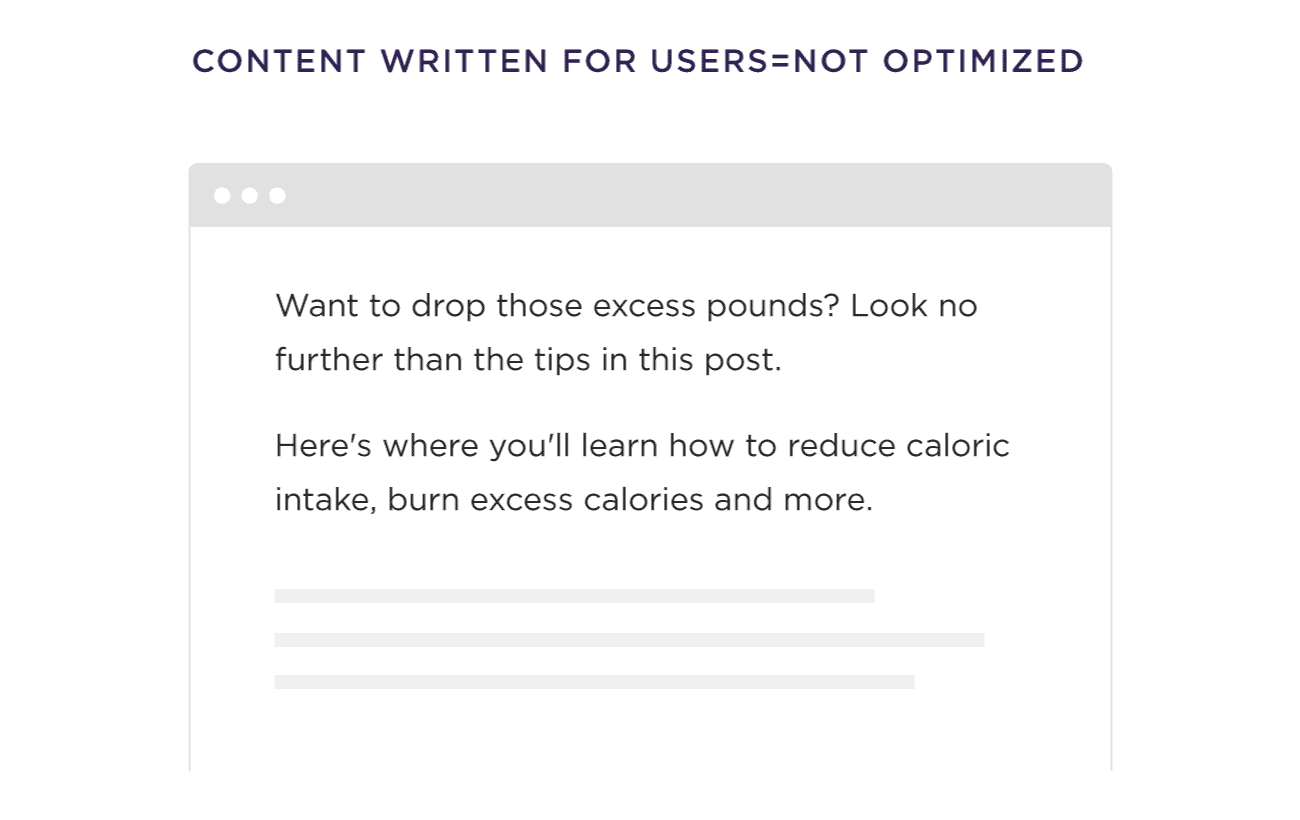 It's a tough balance.
But if you want to master SEO in 2023 , you need to be good at both.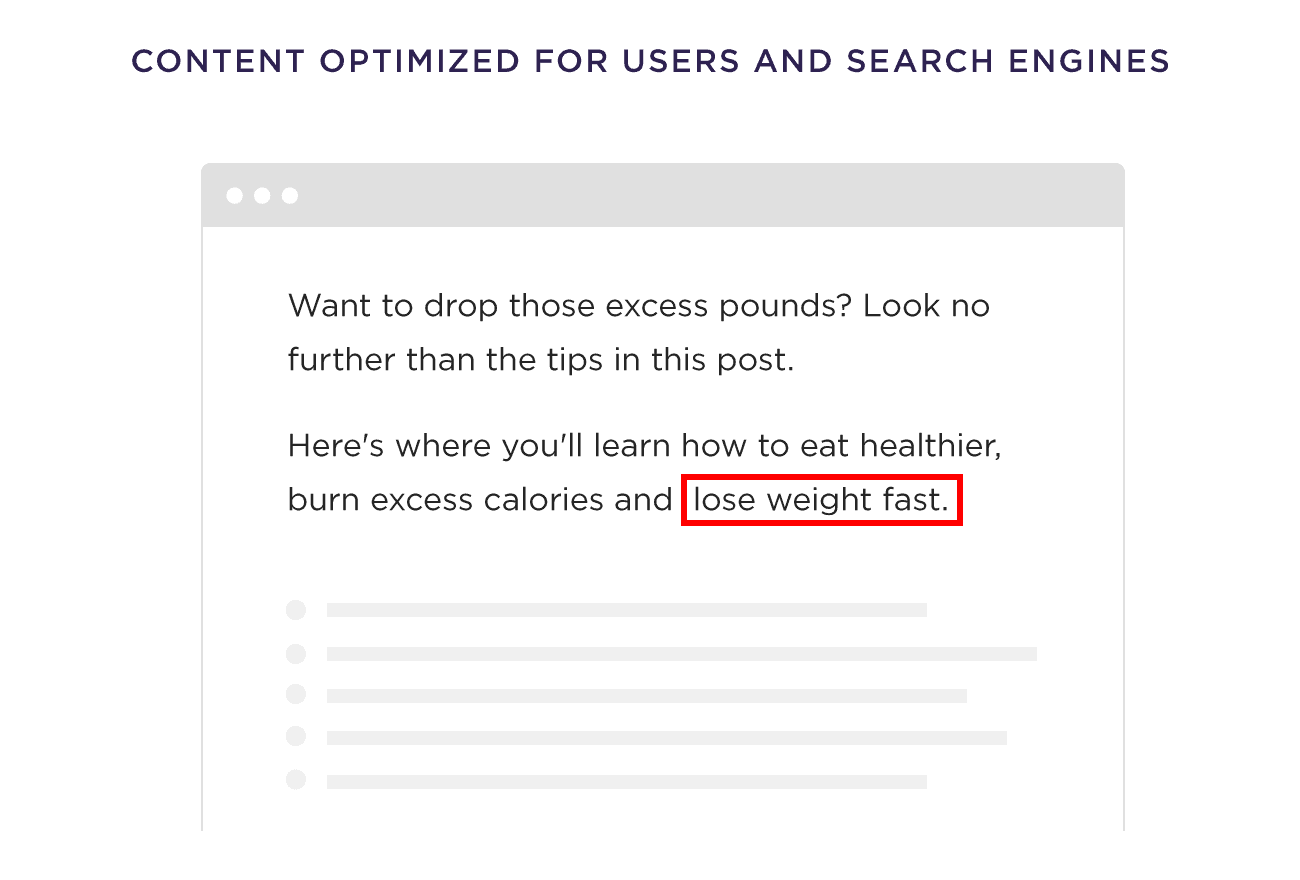 How Does Copywriting Help With SEO?
When most people hear the word " copywriting " they think of stuff like this.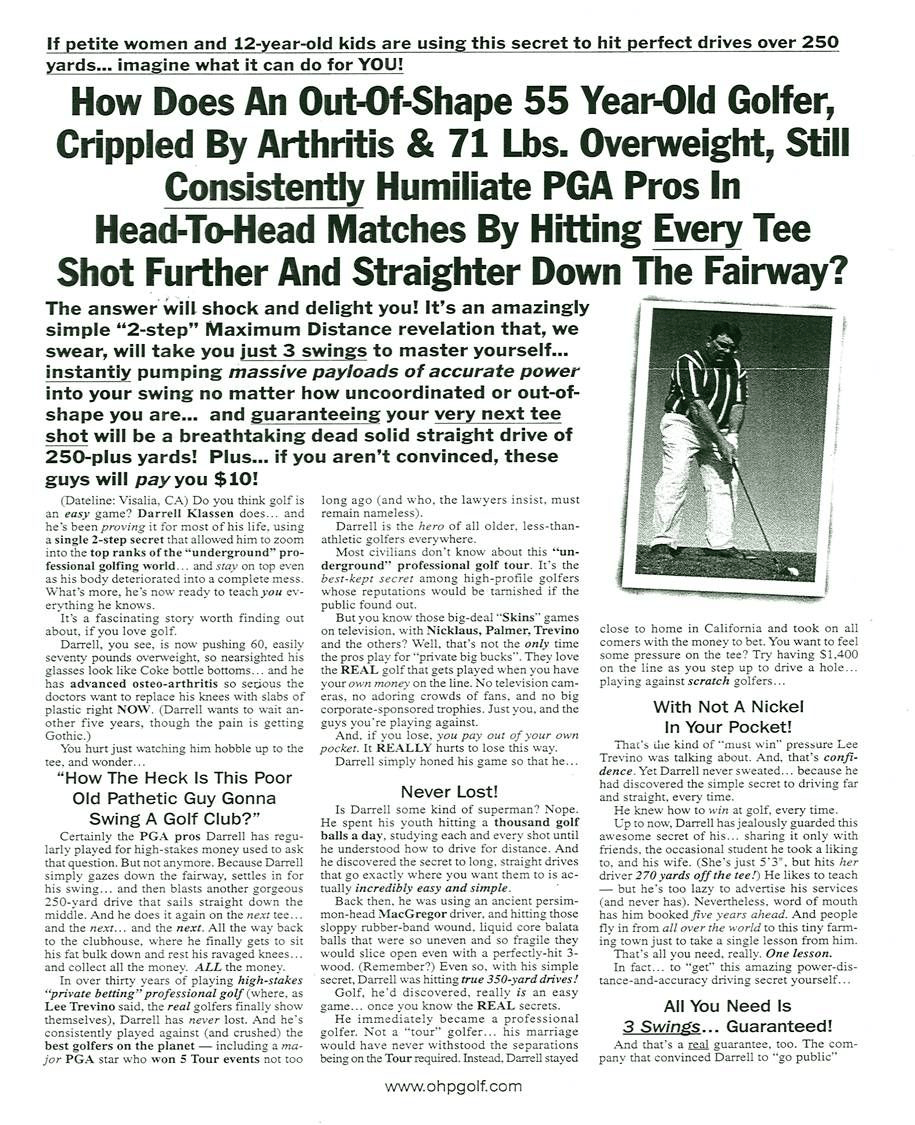 The truth is, copywriting isn't just for ads from the 1950s. Or long-form sales letters.
In fact, great copywriting can directly lead to higher Google rankings .
Well, take Blog Post A.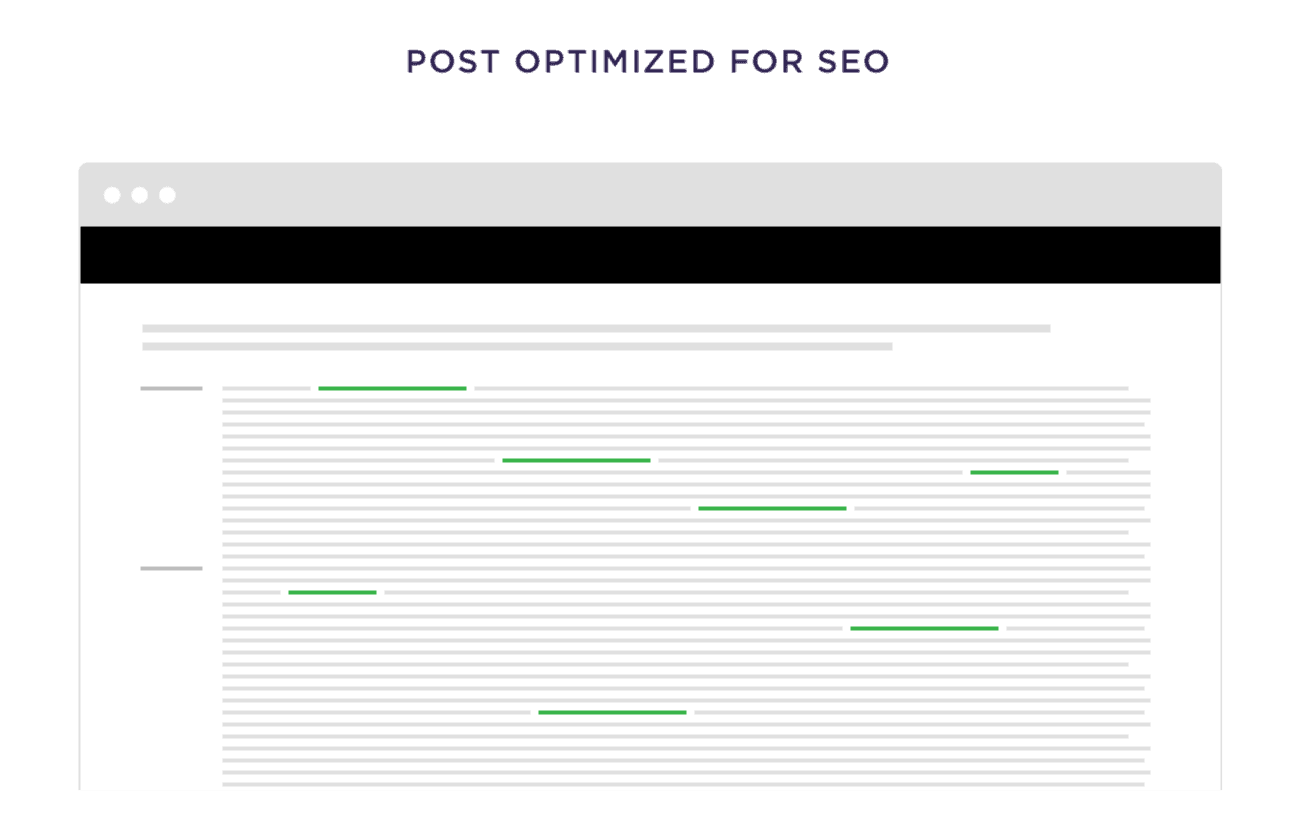 It's optimized with the traditional on-page SEO stuff that we all know and love.
But the writing itself is only so-so.
We also have Blog Post B.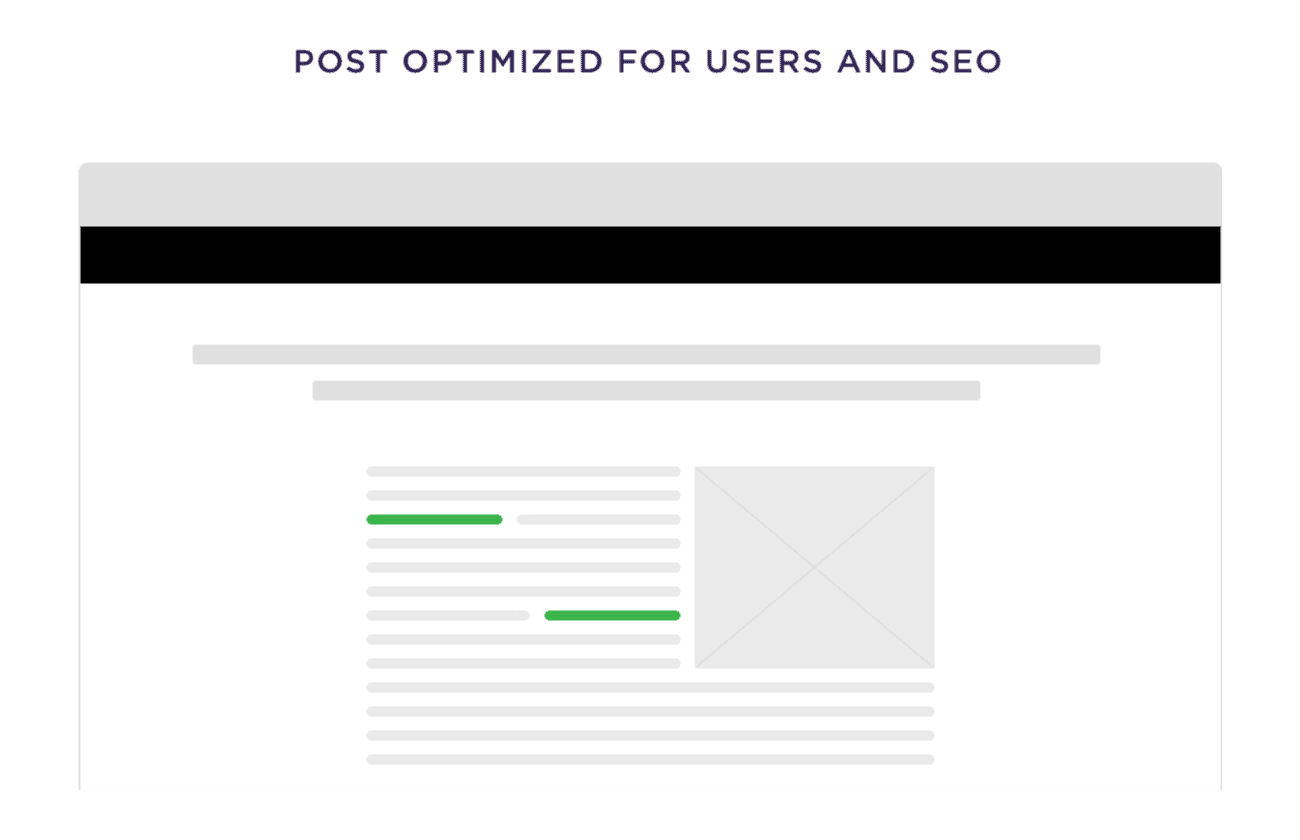 Like Blog Post A, Blog Post B is optimized around SEO keywords .
But it's ALSO super well written.
And because Blog Post B combines SEO with compelling copy, Blog post B is going to rack up a ton of key search engine ranking signals, like:
More backlinks
Low bounce rate
High Dwell Time
Above average click through rate
Lots of social shares
Comments/community
Which means, at the end of the day, Blog Post B is going to CRUSH Blog Post A.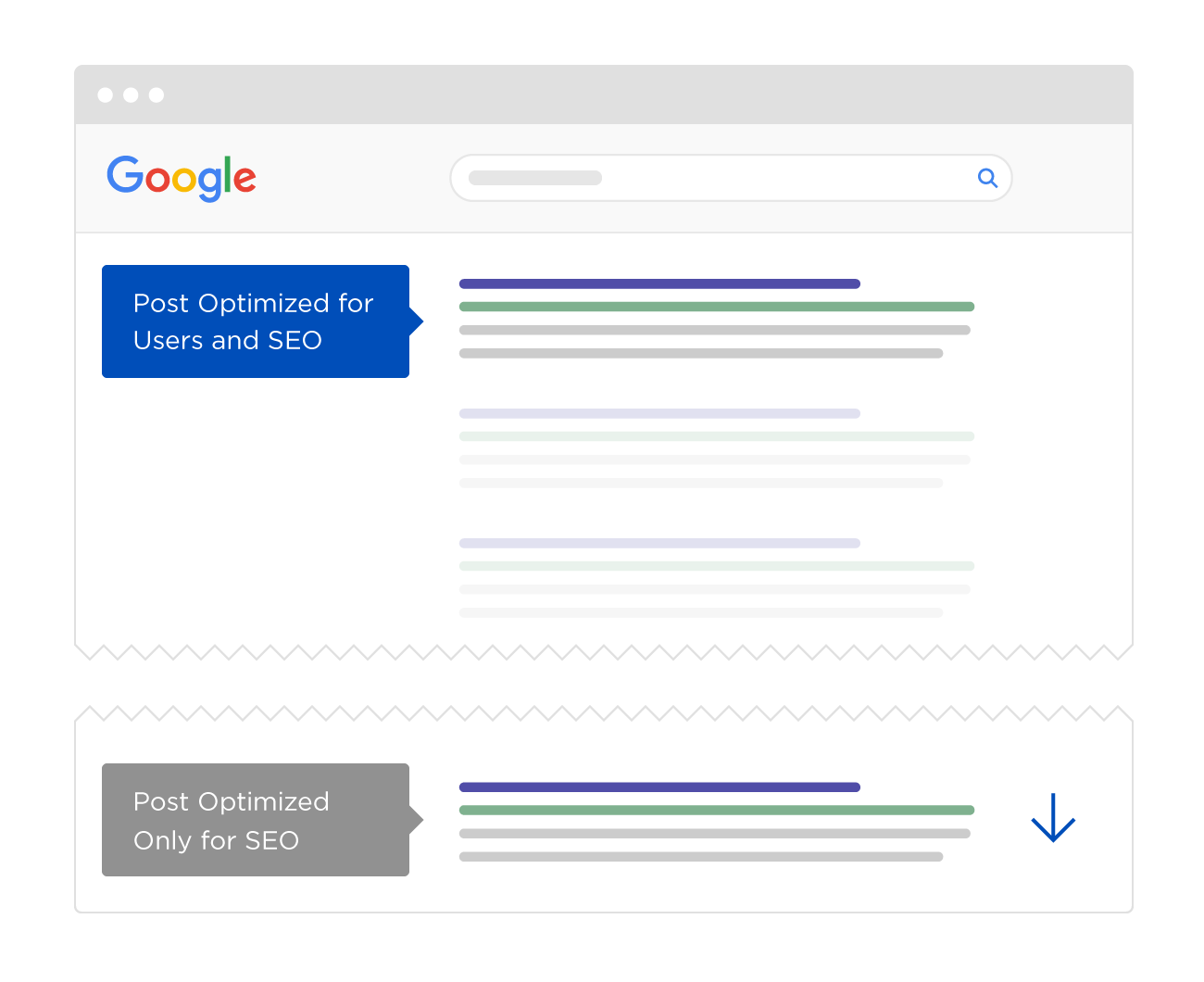 How SEO Copywriting Helped Backlinko Grow
Knowing SEO is great.
Knowing copywriting is great.
But when you can do BOTH?
You've got a powerful one-two punch.
In fact, SEO copywriting is one of the main reasons that Backlinko grew so quickly in a highly competitive niche.

For example, when Backlinko first launched, most SEO posts were SUPER technical, like this:
Sure, these posts were optimized to rank for specific keywords. But they weren't written for living, breathing people.
Which is why I made sure to publish content that hooked readers right off the bat: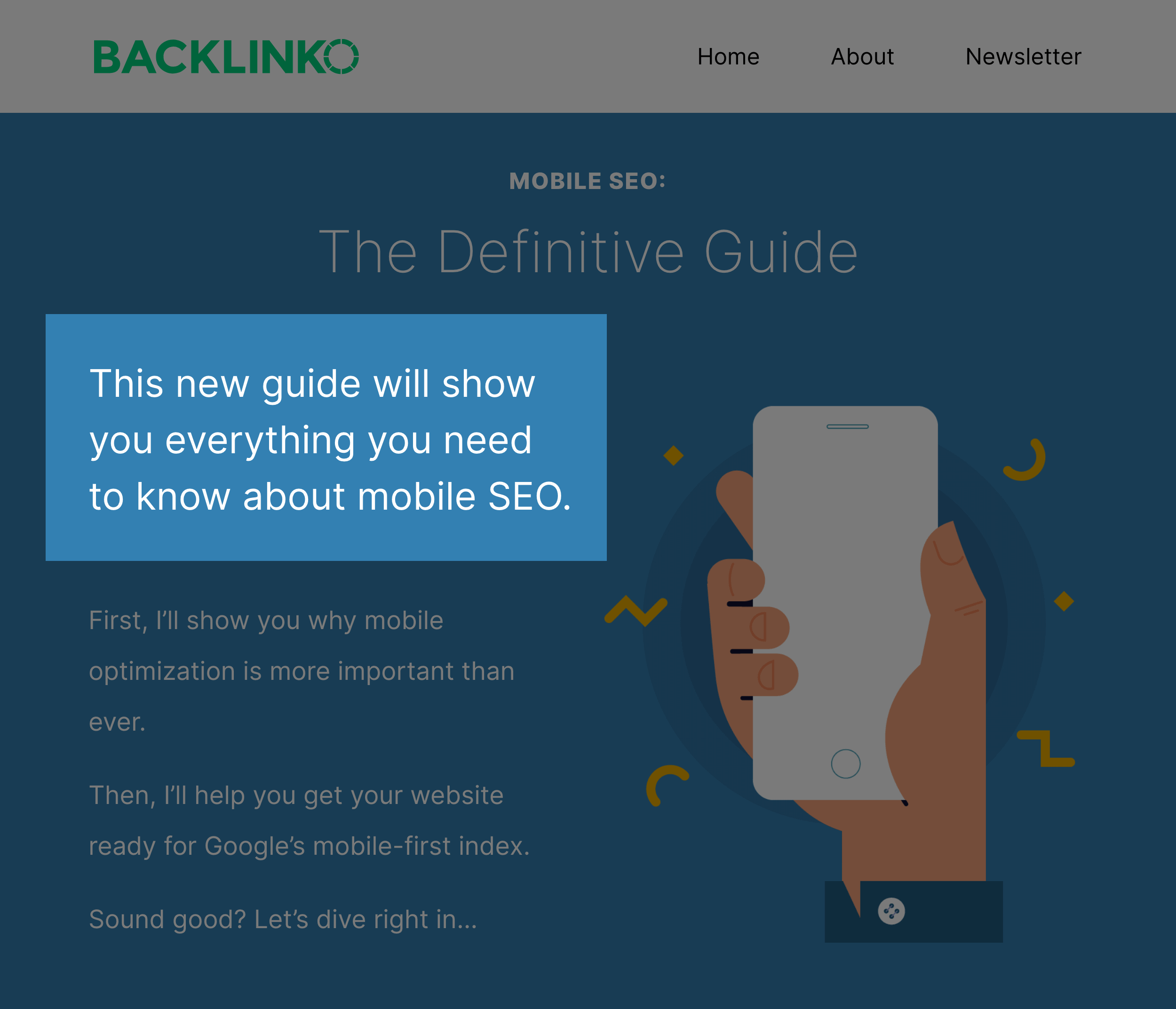 Explained things in plain English: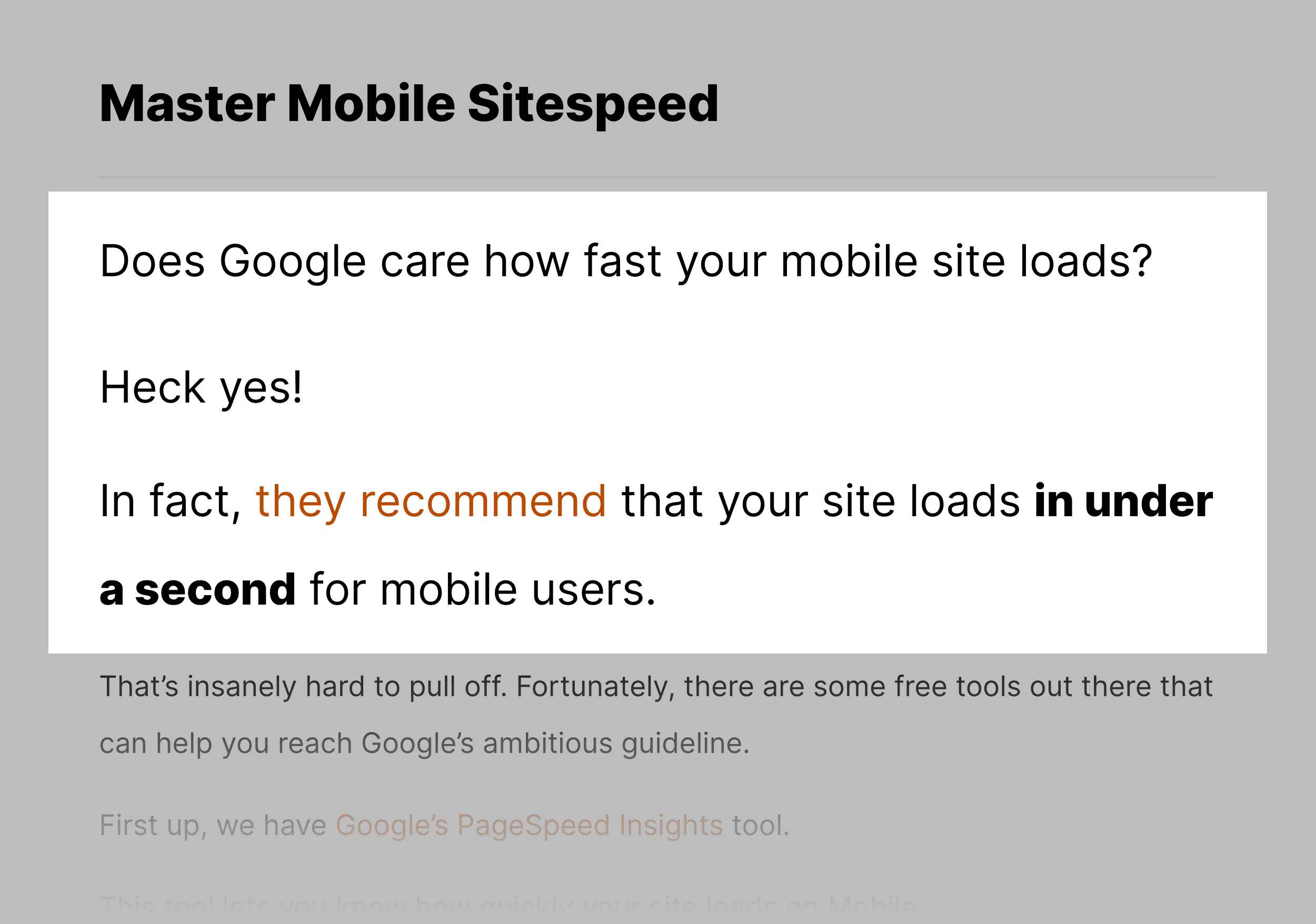 And made SEO more accessible to people that weren't pro developers: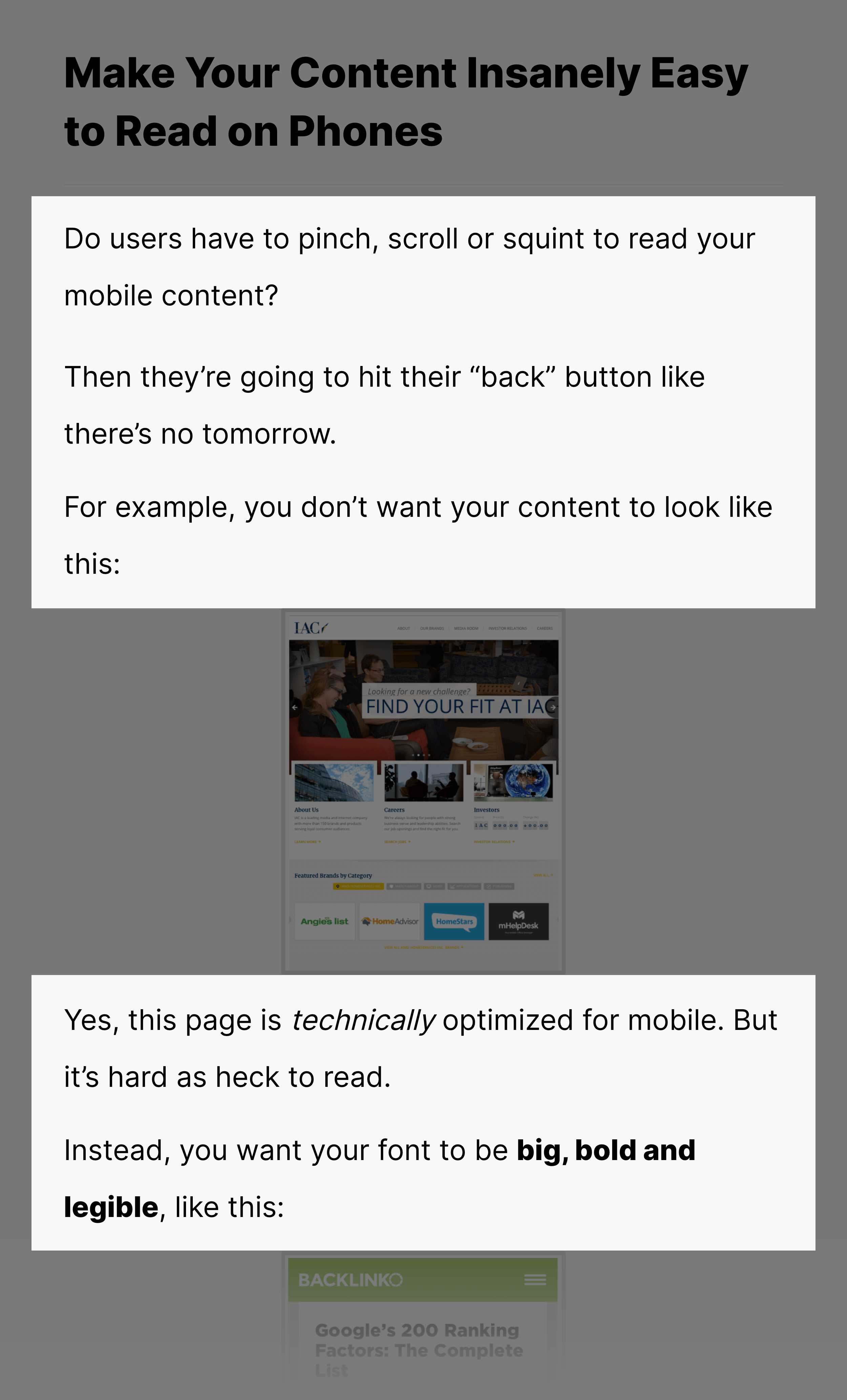 In other words: my copy was optimized for users and Google.
And in the rest of this guide I'll show you exactly how to do it.
Starting with Chapter 2…
Chapter 2: Use SEO Copywriting to Boost UX Signals
One of the big buzzwords in SEO right now is "UX Signals".
This is Google evaluating content quality using bounce rate, time on site and pogo sticking .
SEO experts agree that content with positive UX signals rank better.
(The opposite is also true: content with bad UX signals will struggle to rank).
And in this chapter, Chapter 2, you'll learn how SEO copywriting can help you optimize for key UX signals.
Structure Your Content The Right Way
Most people think SEO copywriting is all about putting words after words.
But in my experience, the STRUCTURE of your content is just as important as the writing itself.
And what better place to find proven content structures than Udemy?
(In case you're not familiar with Udemy, it's a platform with thousands of online courses)
Here's how you can use Udemy to make your next piece of content 2-3x more compelling:
First, head over to Udemy and type in a keyword.
For example, let's say you were writing a blog post about photography. You'd search for "photography":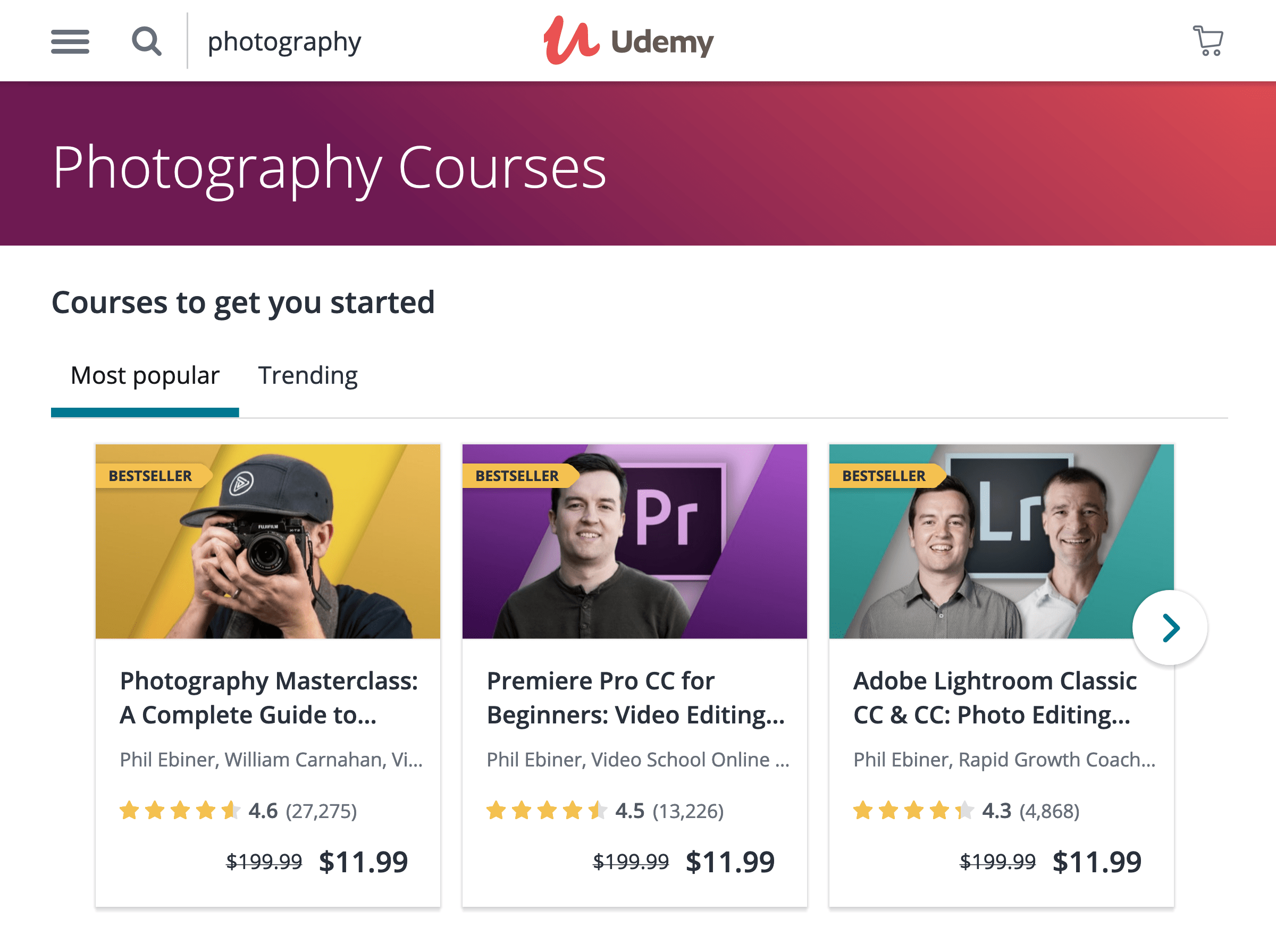 Udemy will show you all of their popular photography courses:
Next, pick a course with a lot of reviews.
Here's one: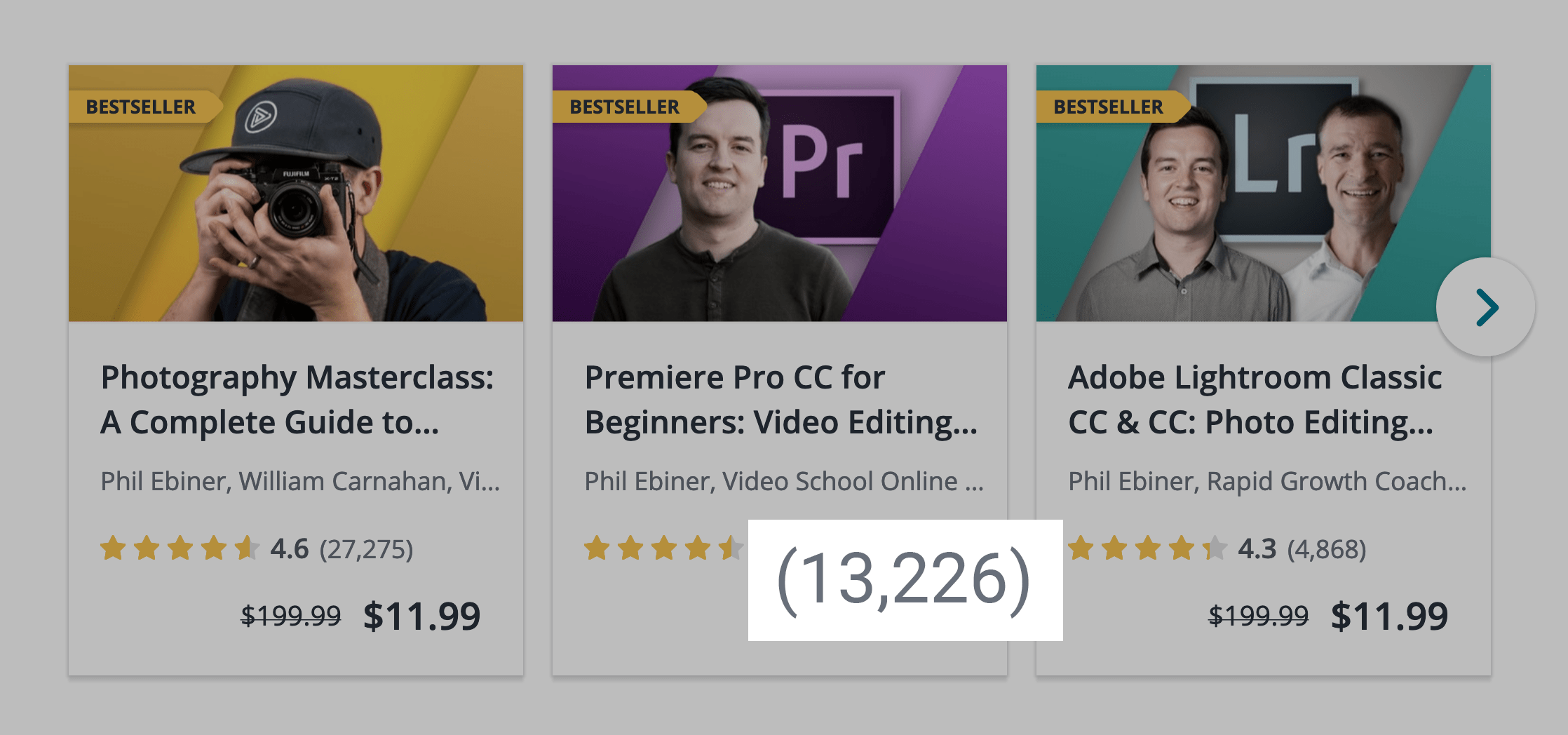 Once you pick a course, take a look at how many people have enrolled.
As you can see, over 149,314 people have enrolled in this photography course: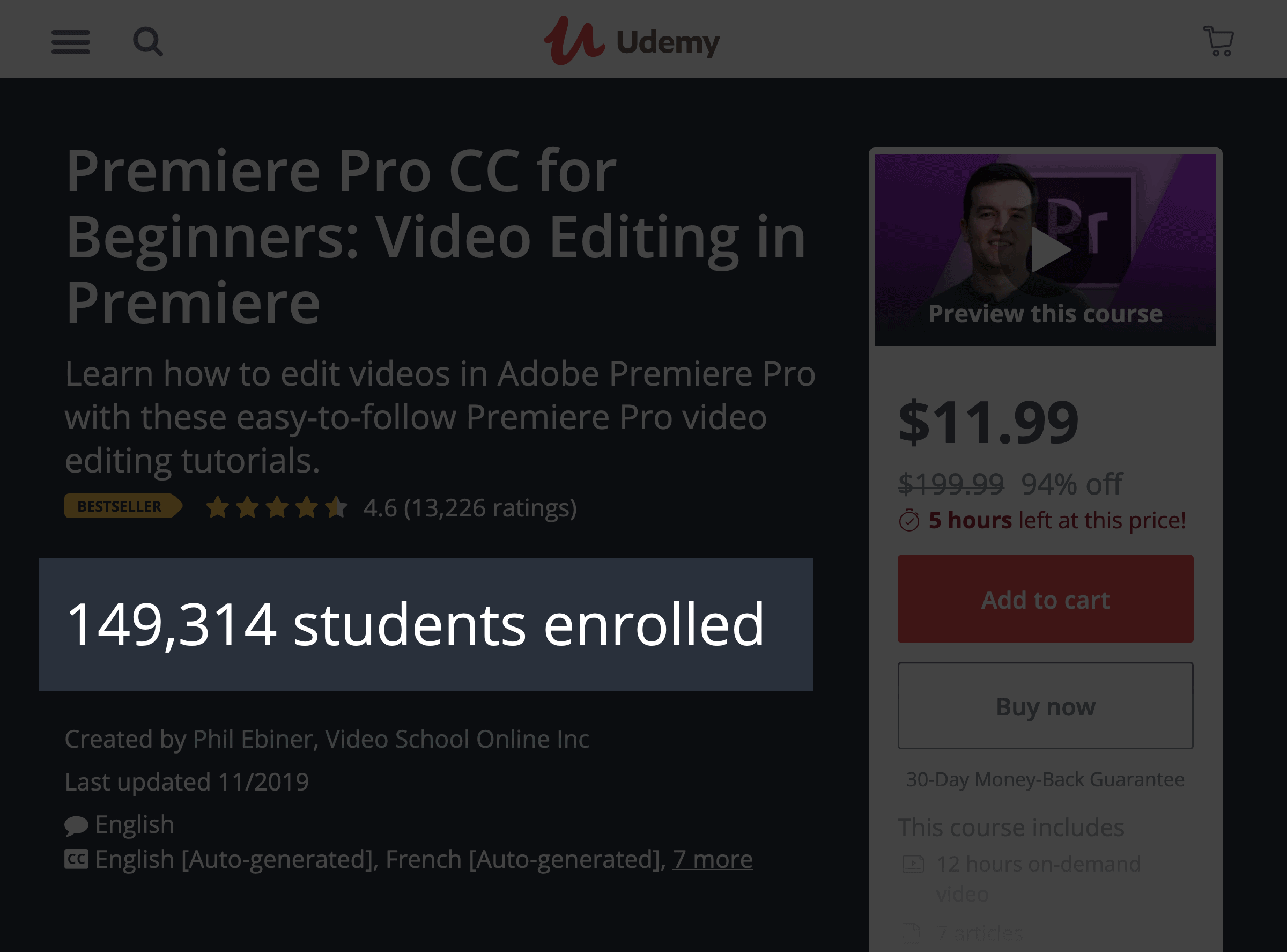 Do you see how huge this is?
You're looking at content that 149,314 people have PAID to access.
That means you don't need to rely on your Spidey sense to figure out what people want.
Thousands of people have already voted…with their wallets.
Once you've found a popular course, scroll down to the "Curriculum" section.
That's where you'll find the proven structure you can use for your next blog post: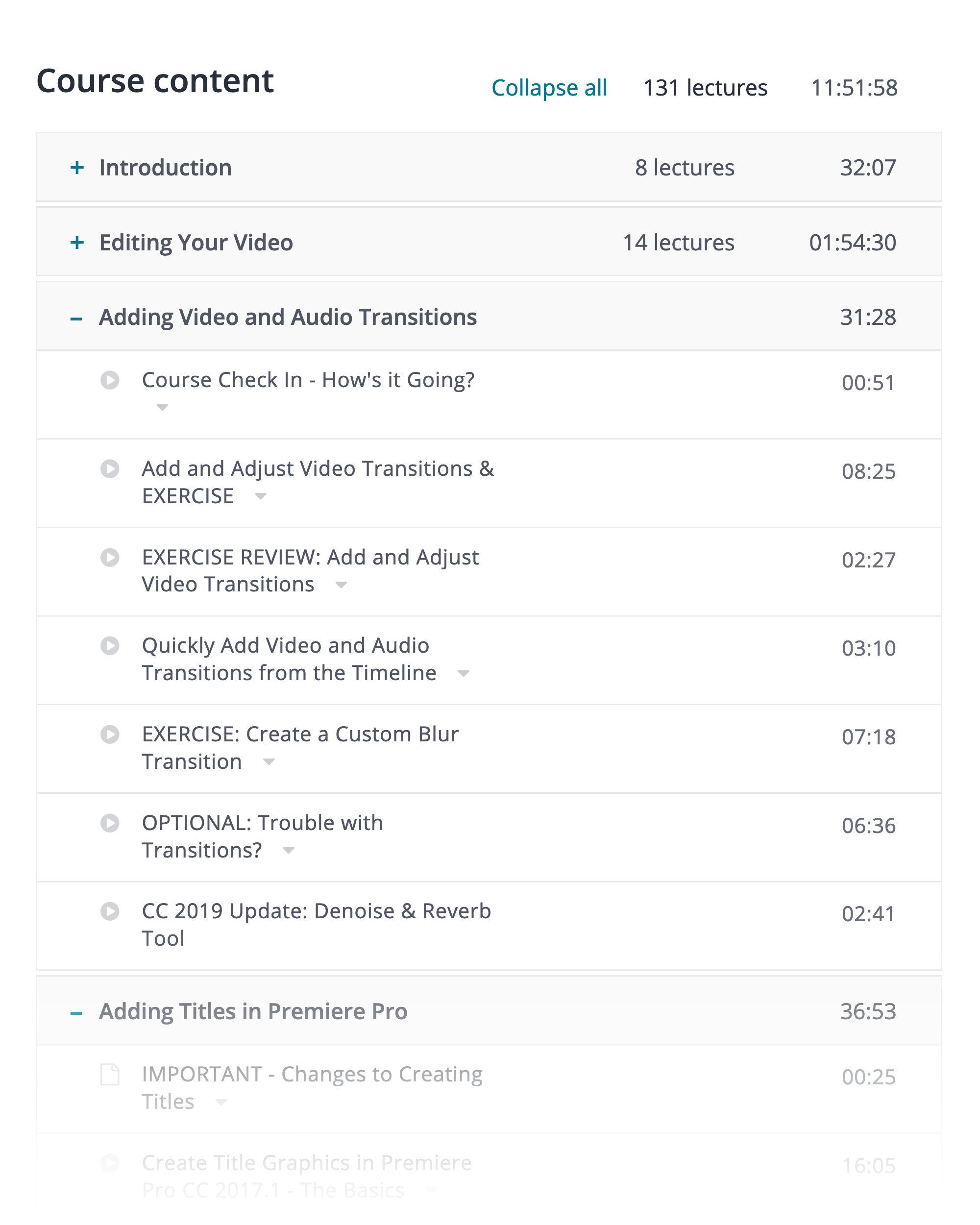 Obviously, you don't want to rip off the instructor's course.
But you can use bits and pieces of the curriculum for your outline: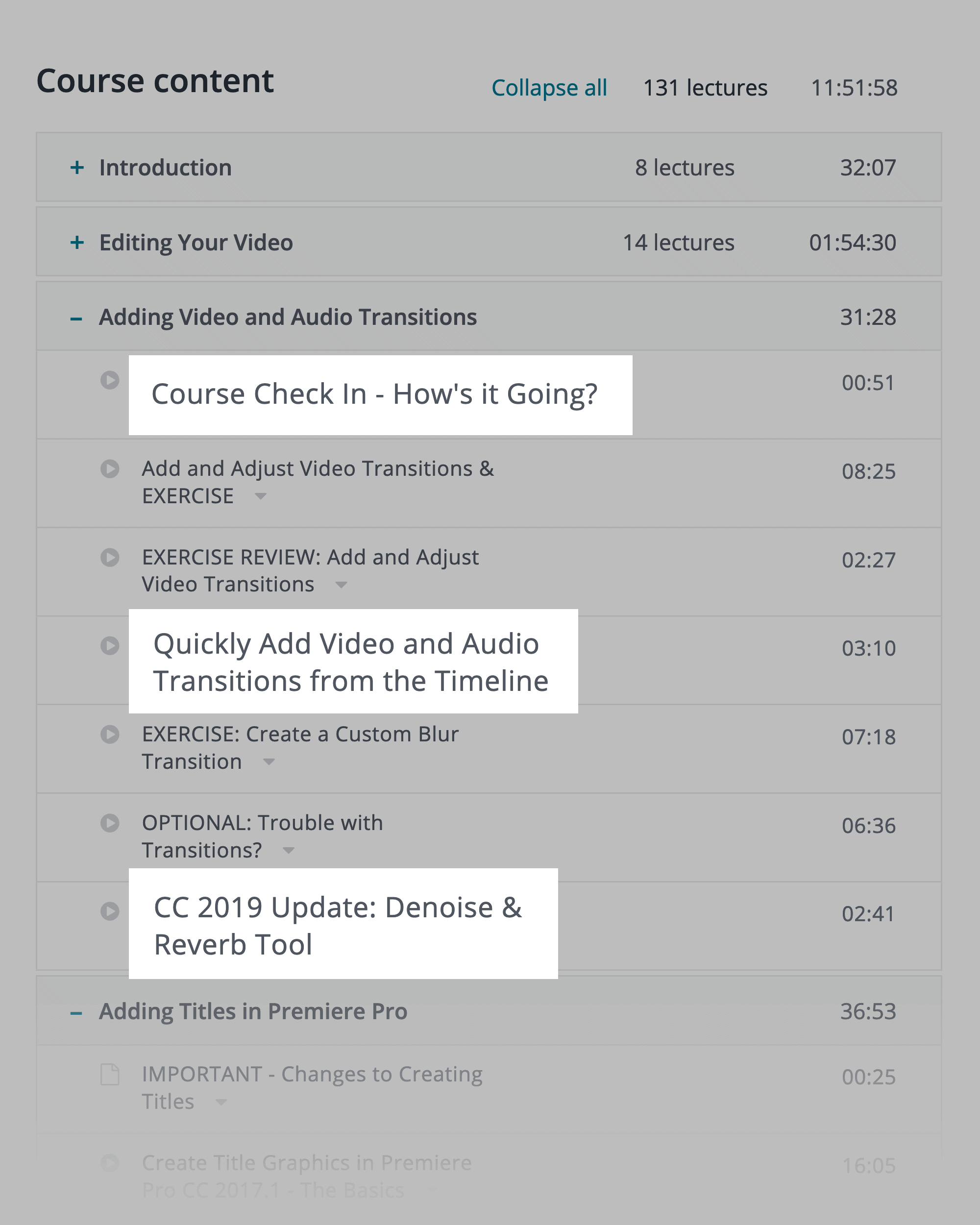 Add "Bucket Brigades" To Your Content
When someone lands on your site from a search engine, two things can happen:
1. They leave right away.
2. They stick around and keep reading.
And when people stick on your page like superglue, Google thinks:
"This is a great page. Let's give it a rankings boost."
But when people leave your site like a sinking ship? Google will drop you like a stone.
Question is:
How do you keep people from bouncing?
Bucket Brigades.
You may notice that I tend to use short sentences that end in a colon, like this: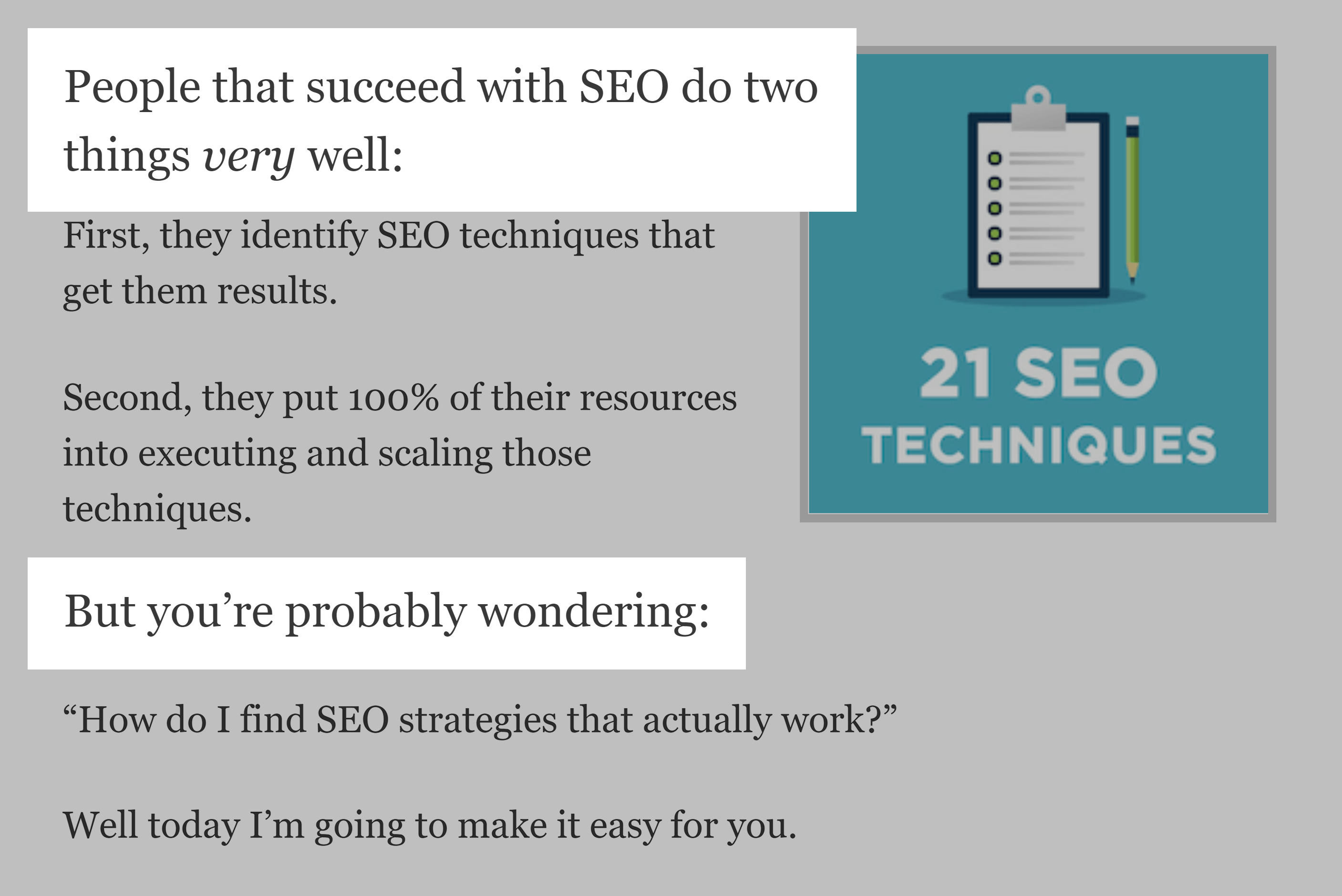 That's a Bucket Brigade.
So: what are Bucket Brigades, exactly?
Bucket Brigades are an old school copywriting tactic that were originally designed for sales letters.
I've adapted Bucket Brigades for SEO content. And they work REALLY well.
For example here's the time on page for a post with lots of Bucket Brigades:

All you need to do is find a spot in your content where someone might hit their browser's "back" button.
Then, add a Bucket Brigade.
Here's an example: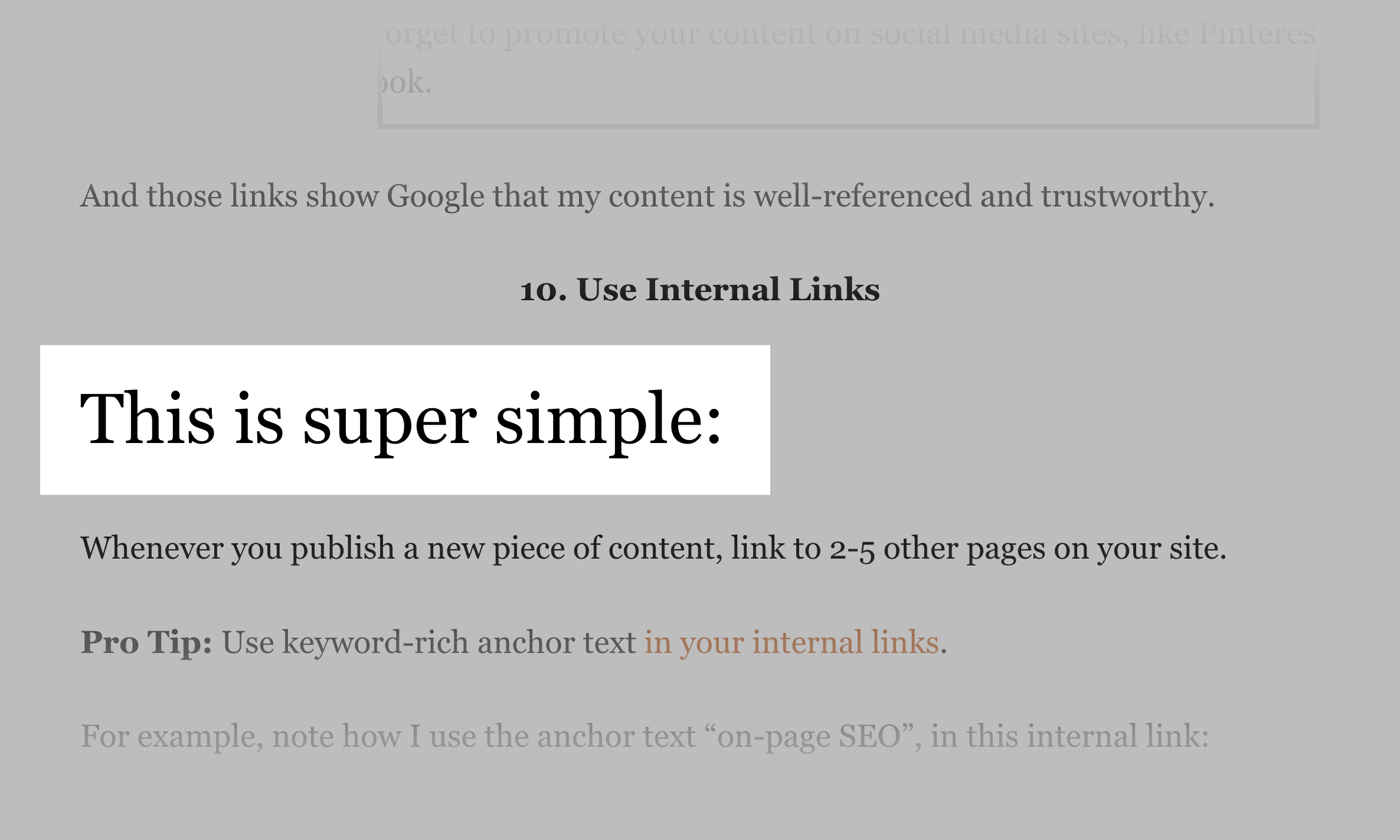 Rinse and repeat until you have around 5 Bucket Brigades per post.
You can make up your own Bucket Brigades… or you can use these tried-and-true classics:
Here's the deal:
What's the bottom line?
You might be wondering:
This is crazy:
It gets better/worse:
But here's the kicker:
Want to know the best part?
The APP Method
You just learned that Bucket Brigades can help improve your average time on page.
Now it's to show you another technique that keeps Google users from clicking away:
The APP Method.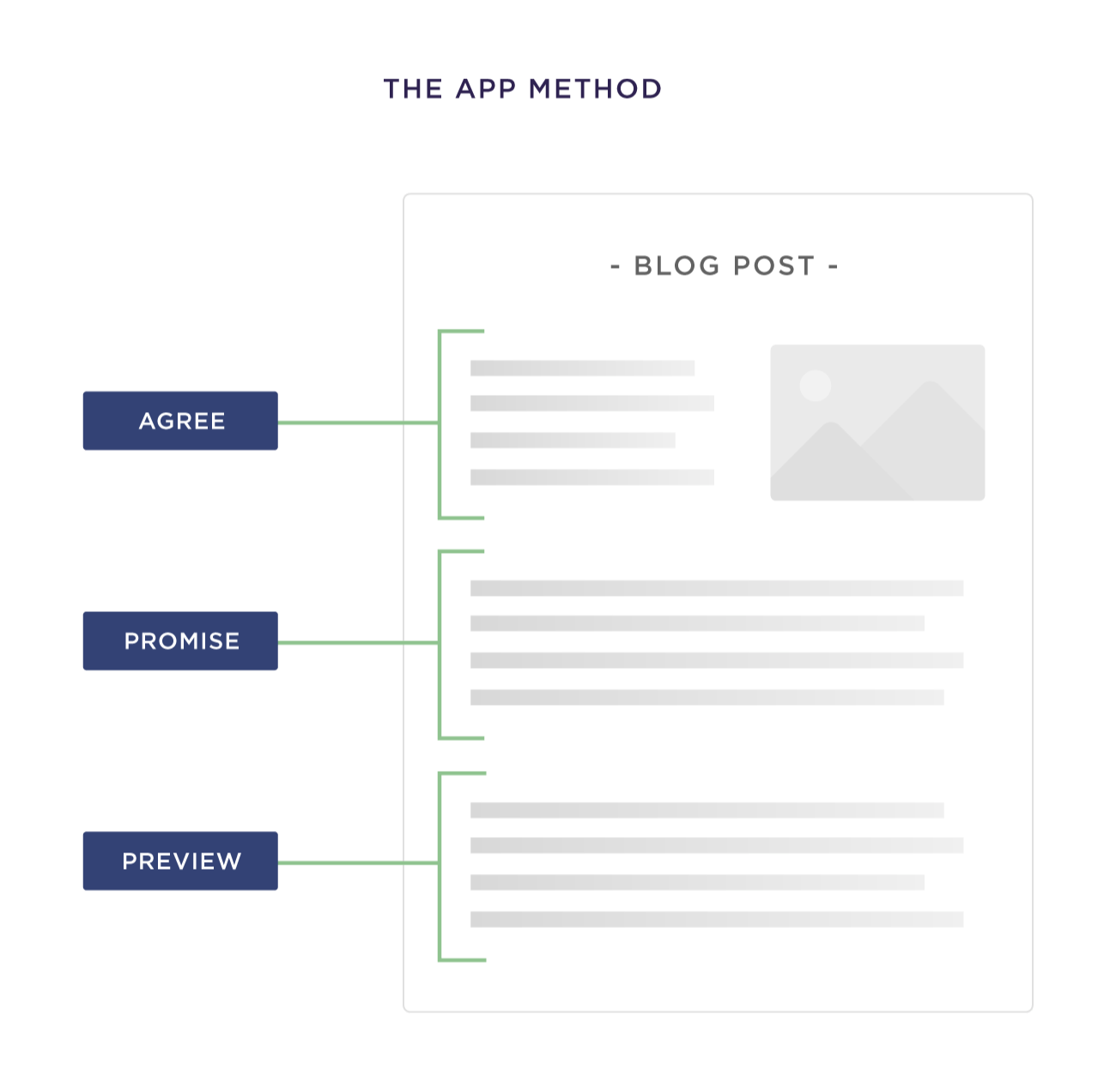 As you can see in the graphic, "APP" stands for: Agree, Promise, and Preview.
Let's break each element down:
First, we have Agree.
This is an idea or concept that a Google searcher will agree with.
This shows them that you understand their problem.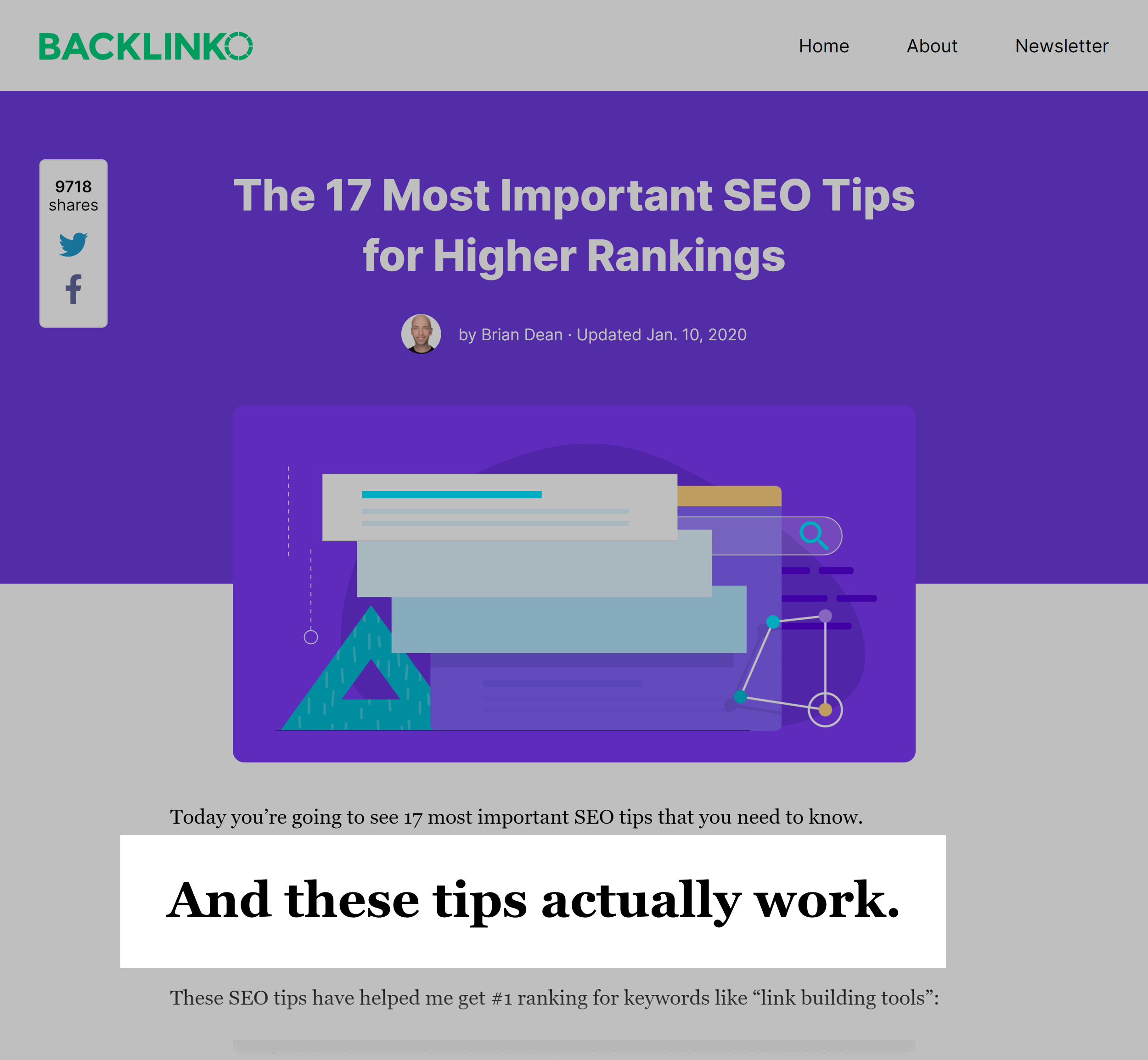 Most people searching for my target keyword ("SEO tips") are frustrated with SEO techniques that don't work.
So by emphasizing that mine "actually" work, it shows that I feel their pain there.
Now that you've got them nodding their head in agreement, it's time for the Promise.
The Promise is where you give them a peek into a better world.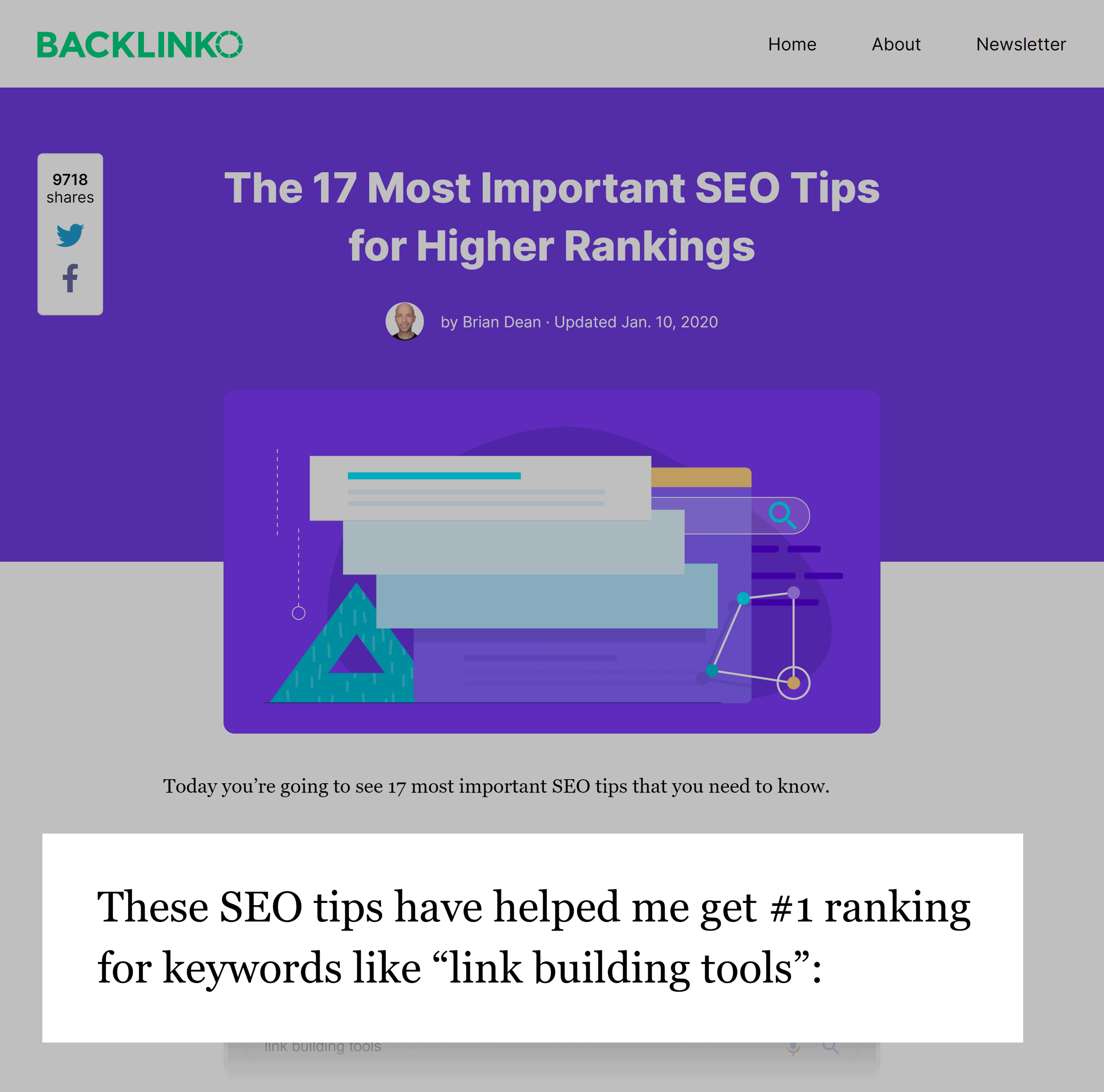 Finally, hit them with The Preview.
Here's where you tell your reader exactly what you have in store for them.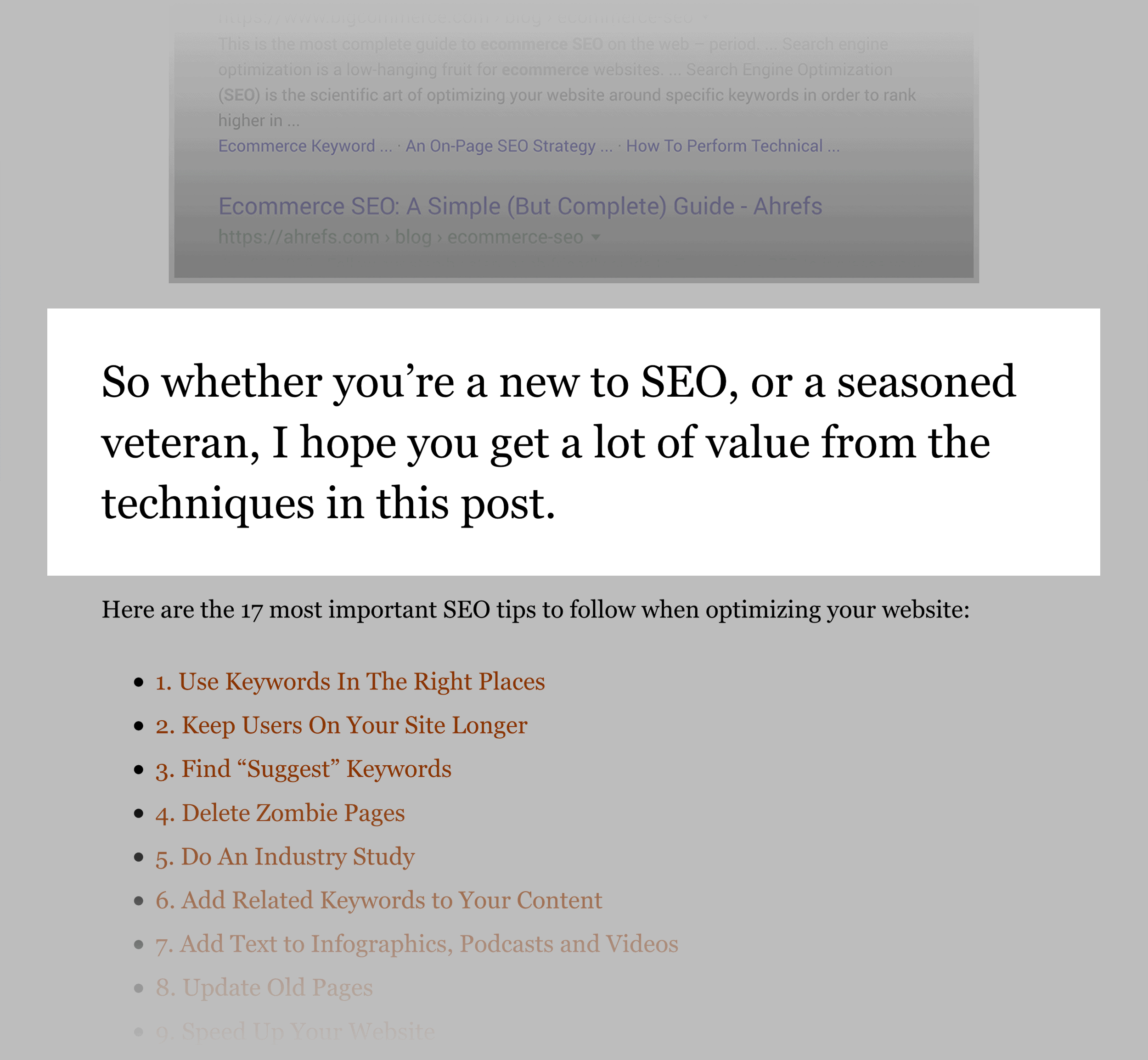 Chapter 3: Optimize Your Content With SEO Copywriting
It's no secret that "adding keywords to your content" is still an important SEO best practice .
SEO copywriting today is MUCH more than just using your target keyphrase a handful of times on each page.
To rank for competitive keywords in 2023, you need to use advanced SEO copywriting strategies.
Lucky for you, that's exactly what I'm going to cover in this chapter.
Let's dive in.
Use Title Tag Modifiers
If you want more traffic from long tail keywords, the solution is simple:
Title Tag Modifiers.
What are they?
Title Tag Modifiers are words that you add to your title tag that are designed to rank for long tail keywords .
Here's a mini case study of this strategy in action:
A while back I published a guide called "Link Building: The Definitive Guide" .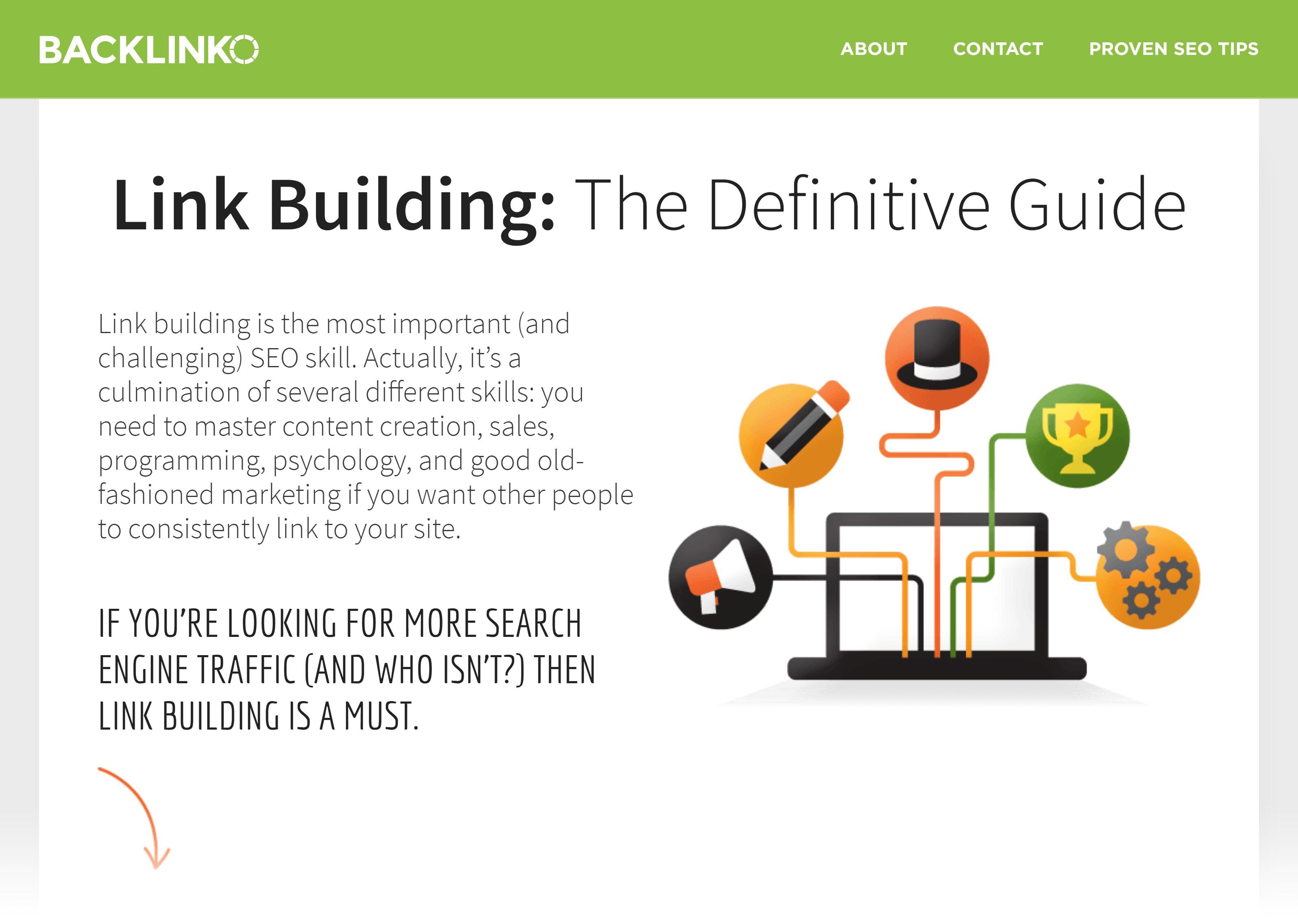 And the title tag I used was simply the name of the guide:

At the time, I thought to myself:
"This title tag is short and sweet. It also includes my target keyword. This is a great title tag."
But I was wrong.
I quickly realized that I could get MORE traffic to that page if I added a modifier.
So I added the keyword "SEO" to my title tag:

Thanks to that simple tweak, my page ranks for a handful of "bonus" keywords, like "link building SEO" (150 searches/month):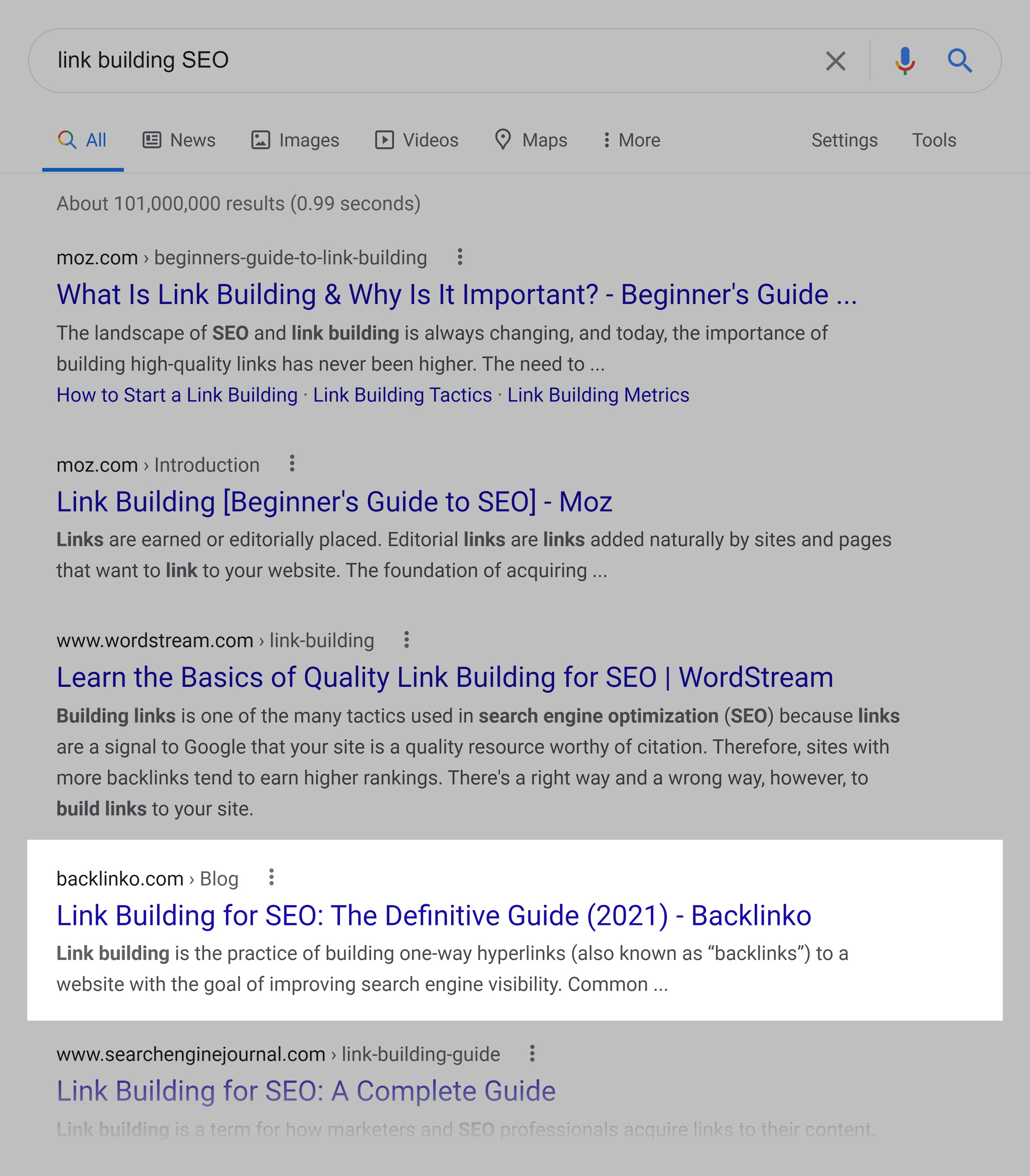 And "SEO link building" (400 searches/month):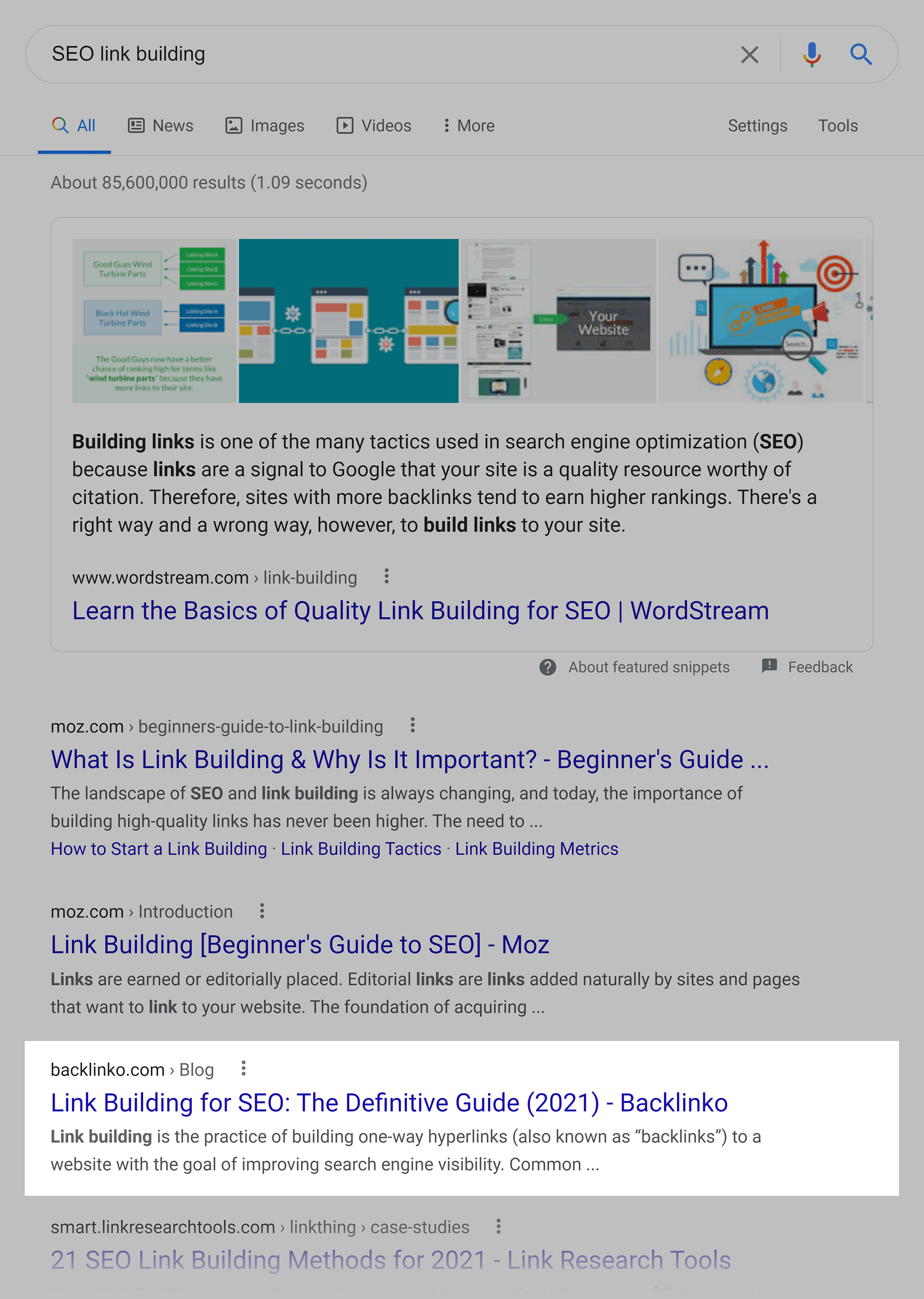 How can you do the same thing?
First, find a page on your site that has a short title tag (between 25-40 characters).
Then add one or two of these modifiers from this list:
You won't be able to predict exactly what keywords these modifiers will rank for.
But you'll get more search engine traffic than you would without them.
And that's what really matters 🙂
Add LSI Keywords To Your Blog Content
Today's AI-powered Google doesn't care how many times you stuff a keyword into your post.
Instead, it pays close attention to Latent Semantic Indexing (LSI) keywords .
(LSI keywords are a fancy way of saying: "synonyms and closely related words")
And these LSI keywords help Google understand what your page is all about.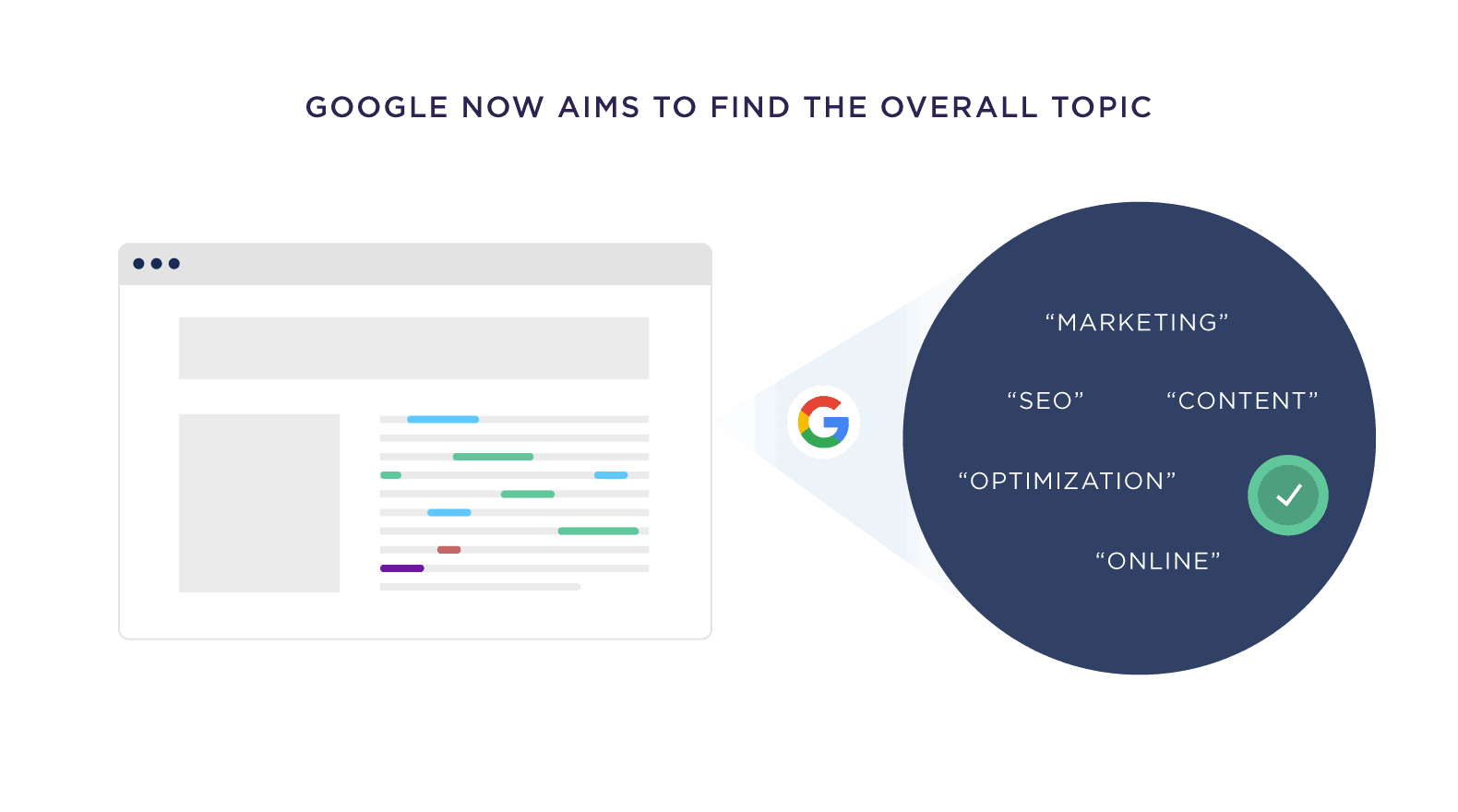 To find LSI keywords, just search for the keyword that you want to rank for. And scroll to the bottom of the first page. This is where Google shows you "related searches" keywords: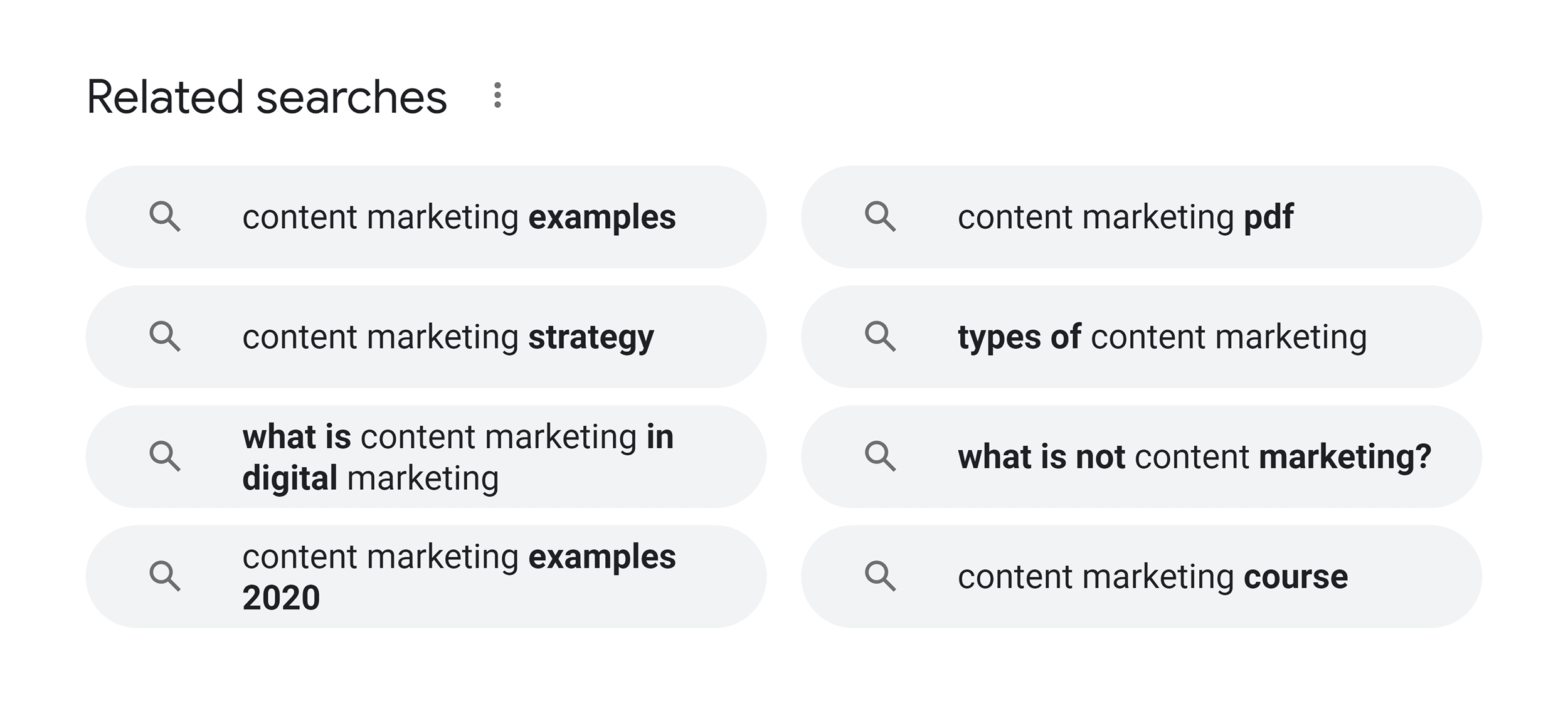 Because these terms come straight from Google, they're PERFECT LSI keywords to add to your content.
Use SEO Copywriting to Get More Traffic to Ecommerce Product and Category Pages
With Amazon dominating Google's first page, it's not easy for smaller ecommerce sites to rank.
Despite that fact, I still see tiny ecommerce sites beat the odds.
Their secret?
They target long tail keywords that most of their competitors don't know about.
Here's how they do it (and how you can do the same thing):
First, search for a product that you sell on Amazon.
For example, let's say you run an ecommerce site that sells dog food.
You'd search for "dog food" in Amazon:

But don't hit enter!
If you wait a second, Amazon will show you long tail keywords related to that keyword (just like Google Suggest):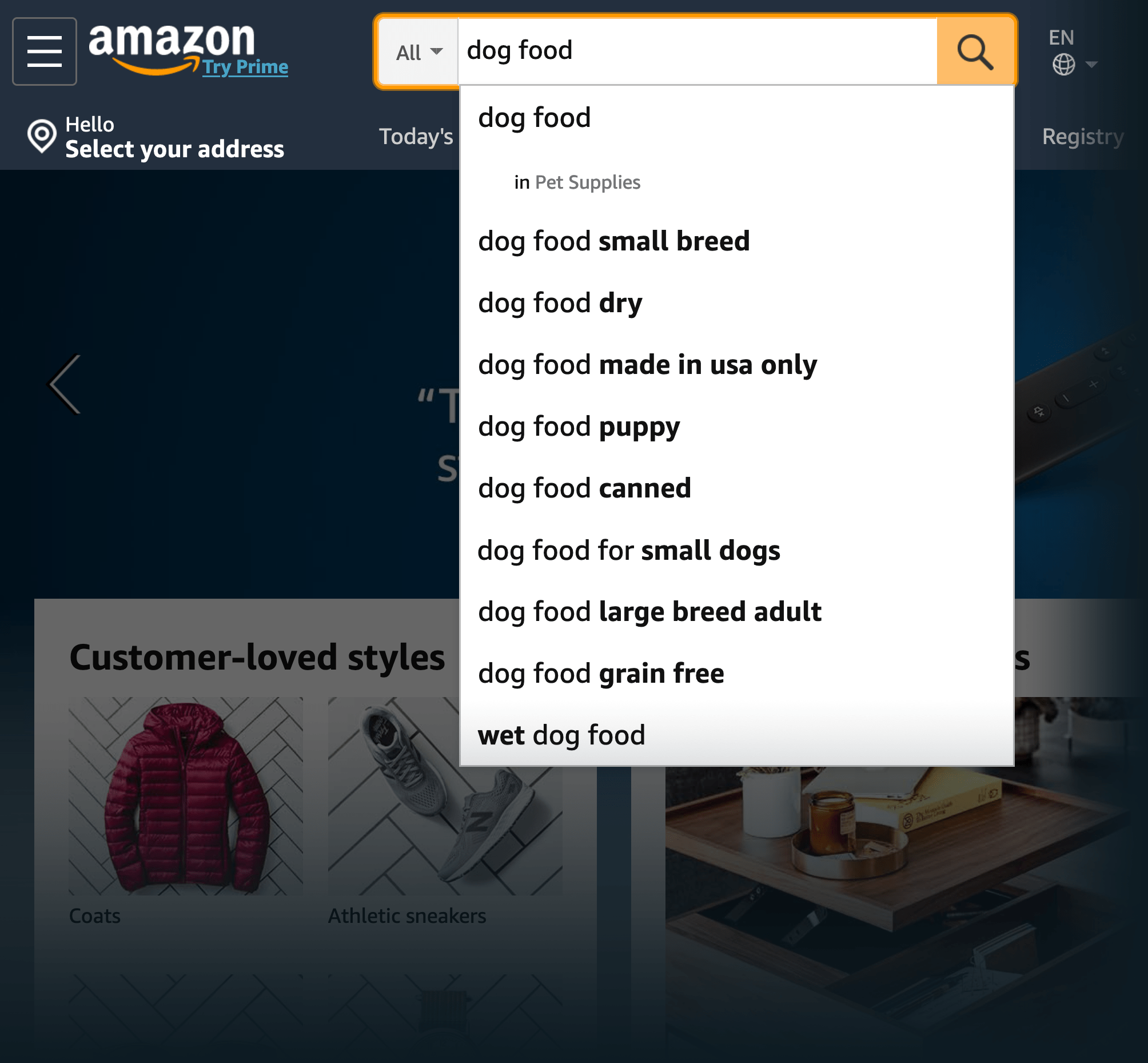 Grab one of those suggestions and pop it into Google.

Check to see if the first page for the long tail keyword is less competitive than the one you're currently targeting.
Usually, it will be: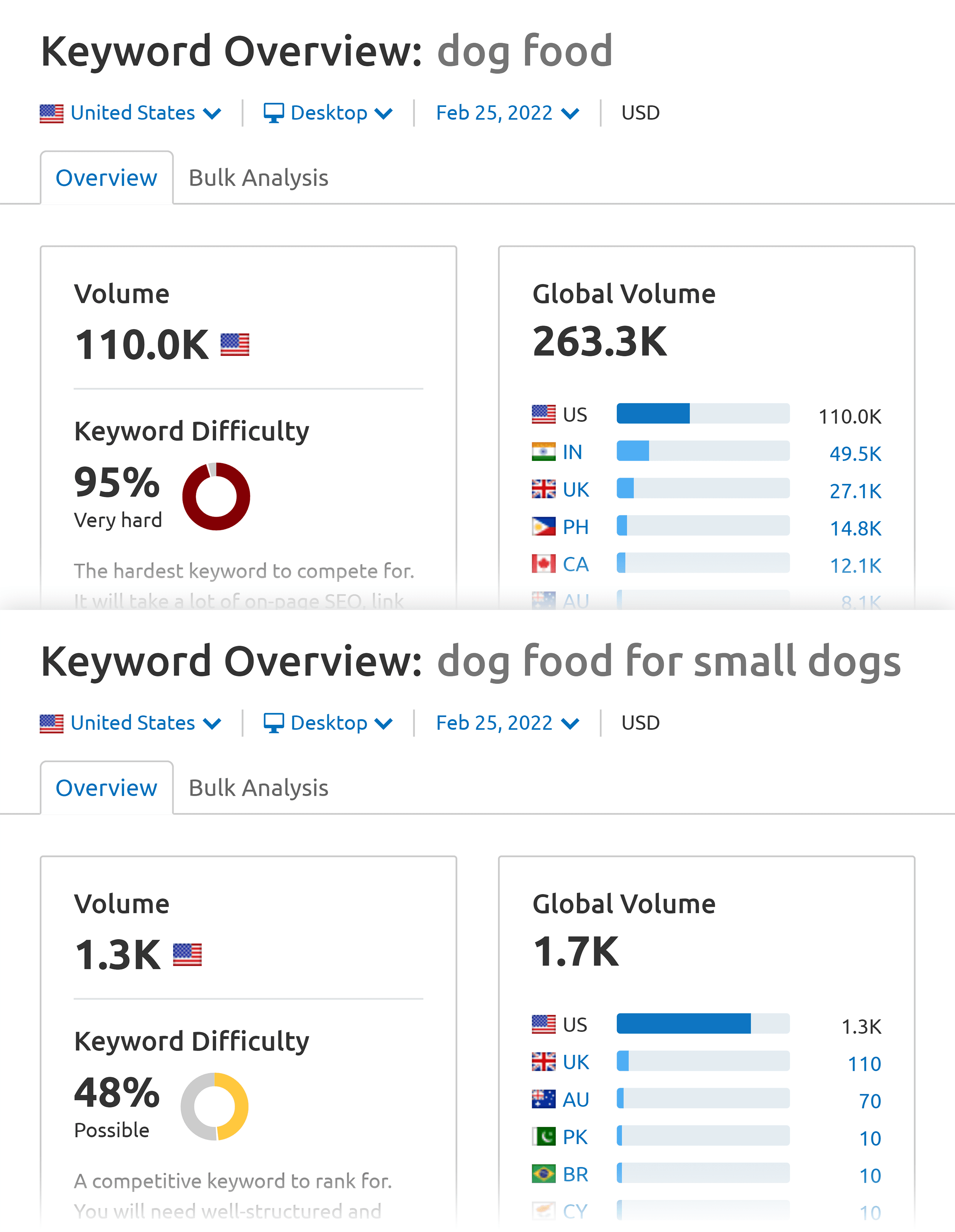 (As you can see above, the Semrush Keyword Difficulty of the top 10 results for "dog food" is 100% higher than the similar, long tail keyword.)
And because Amazon Suggest keywords are laser-targeted, they tend to convert well too.
Finally, sprinkle those keywords into your product and category page copy (and in your title and description tags):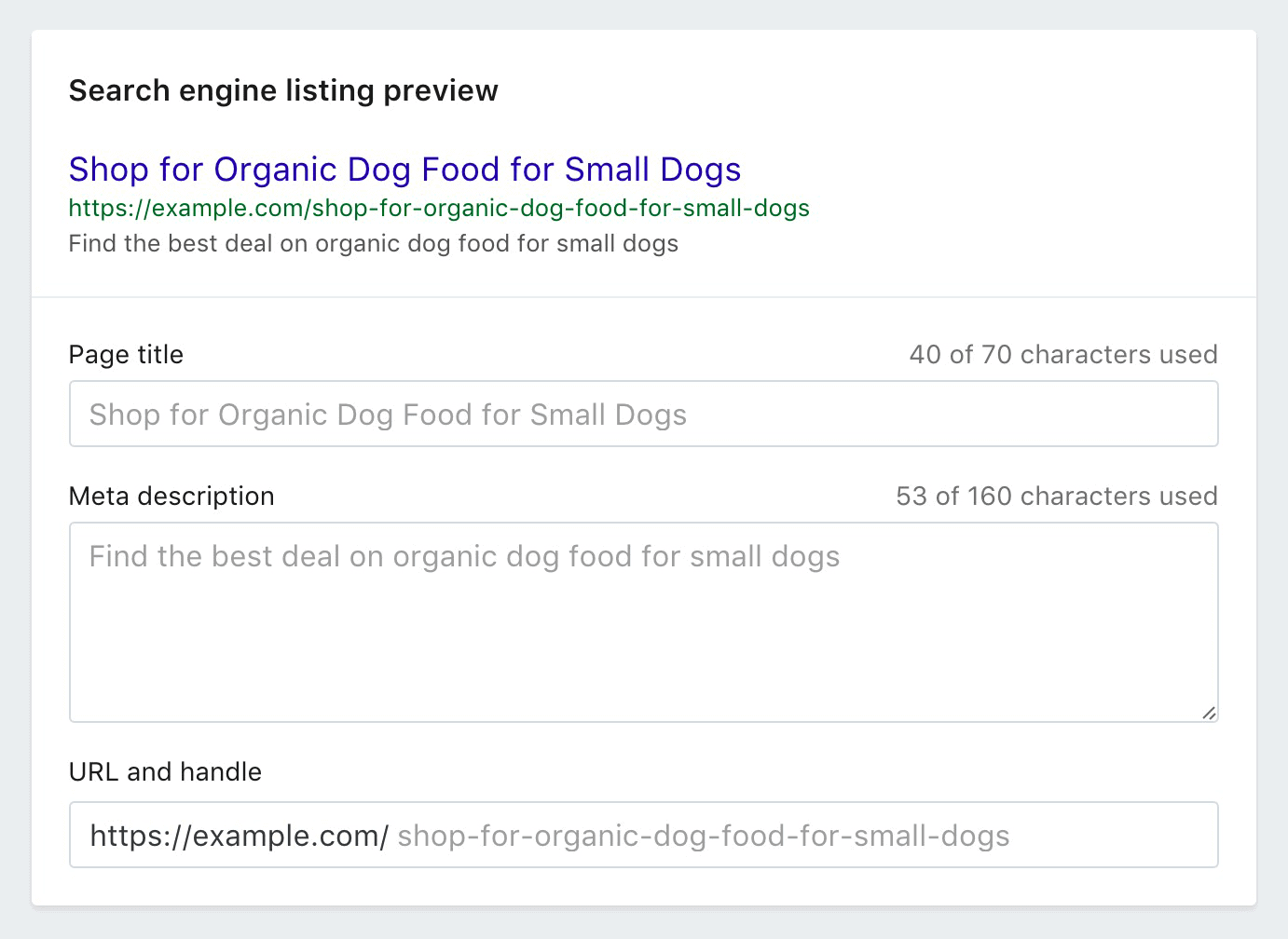 Chapter 4: Boost Your Organic Click Through Rate
Is organic CTR a legit Google ranking factor ?
Even if it wasn't, improving your CTR is one of the few ways that you can get more organic traffic (without needing higher rankings).
And in this chapter I'm going to show you how to make your site a click magnet .
Use Emotion In Your Titles (But Not Too Much)
Industry studies have found that emotional headlines=higher CTR .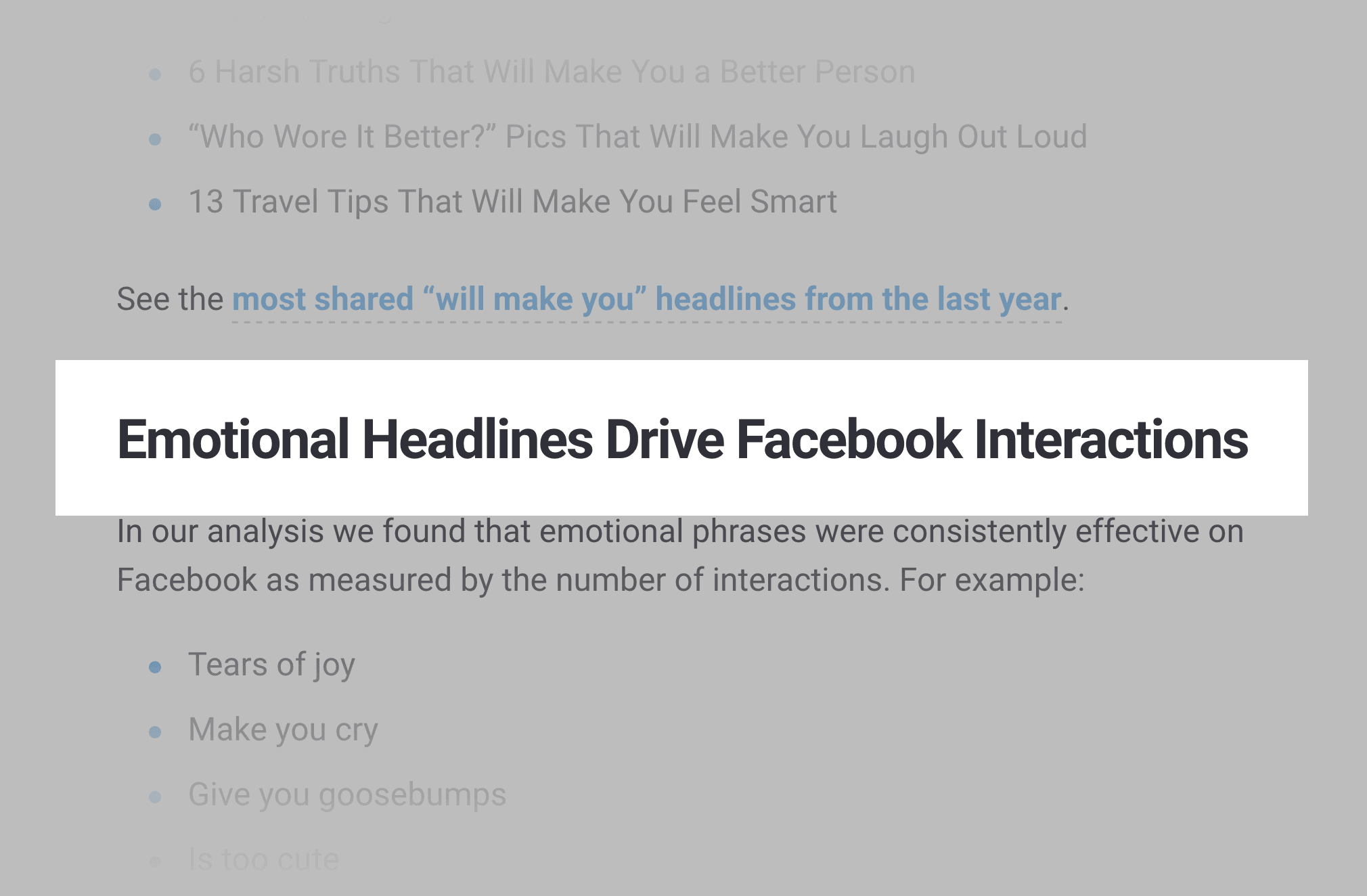 The thing is, most of these studies look at click through rate on social media. This data may not apply to user behavior on Google.
In fact, our recent analysis of 5M Google search results found that emotionally-charged title tags can help CTR.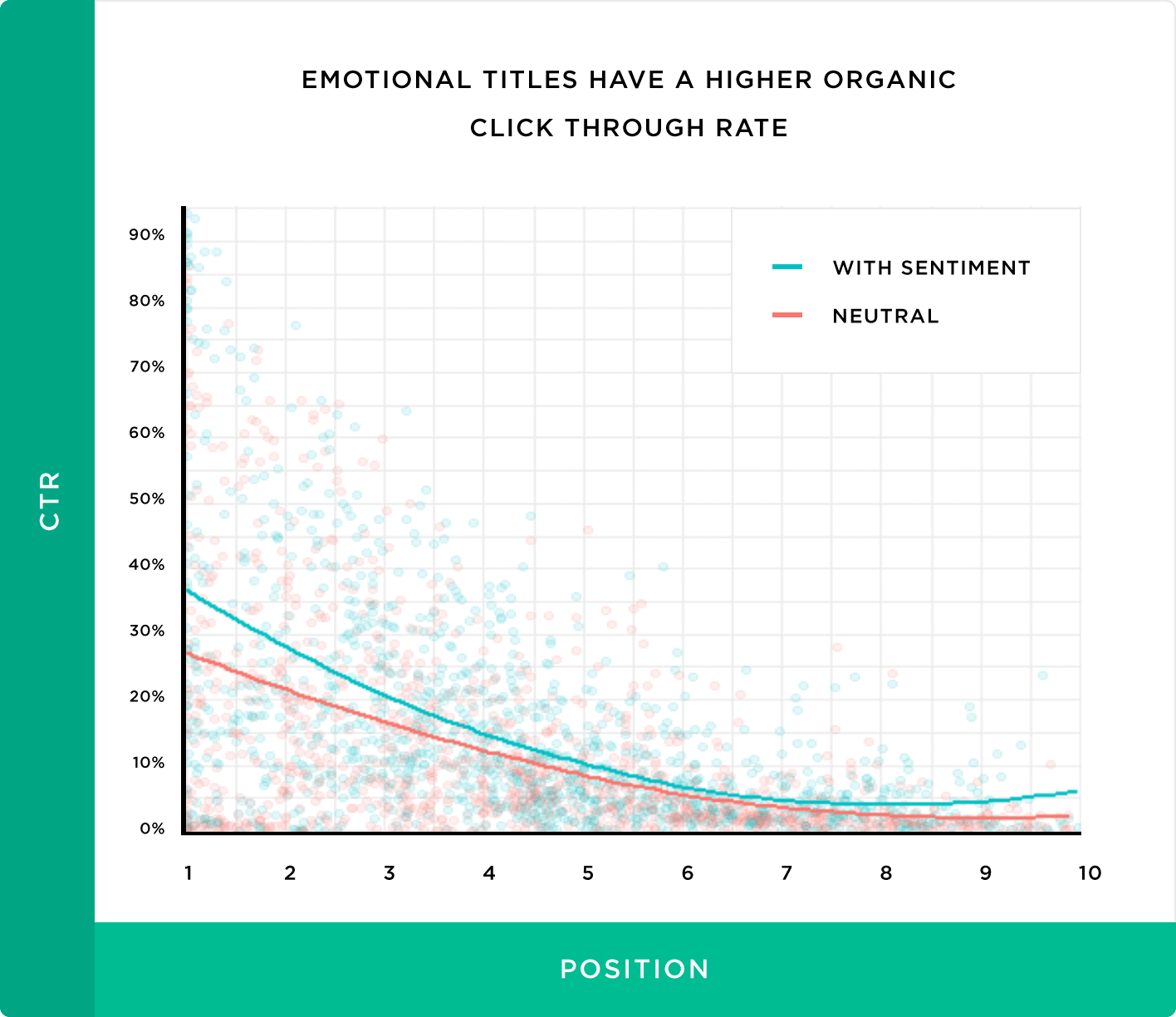 But only to a point. Once the title veers into clickbait territory, CTR plummets.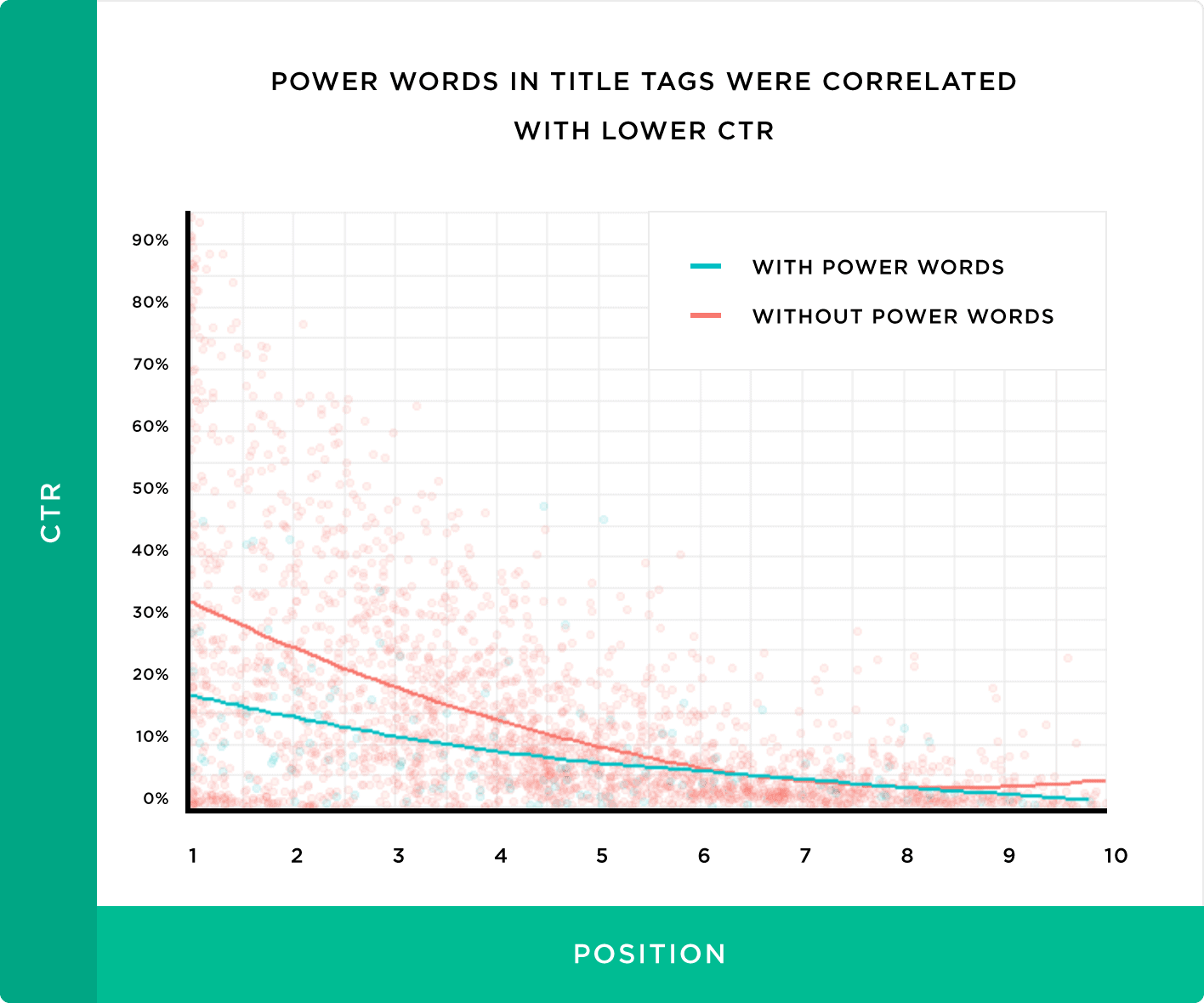 The bottom line here is that you want your title tags and descriptions to have some emotional sentiment (positive or negative both work).
But if you go overboard, Google searchers are going to skip right over your site in the SERPs .
Sell Your Content In Your Meta Description
Google's own data has found that well-written descriptions can lead to more clicks .

Even though Google doesn't always display your description in the search results, it's worth writing a strong meta description for every page.
That way, when they DO use your description, it really sells your content.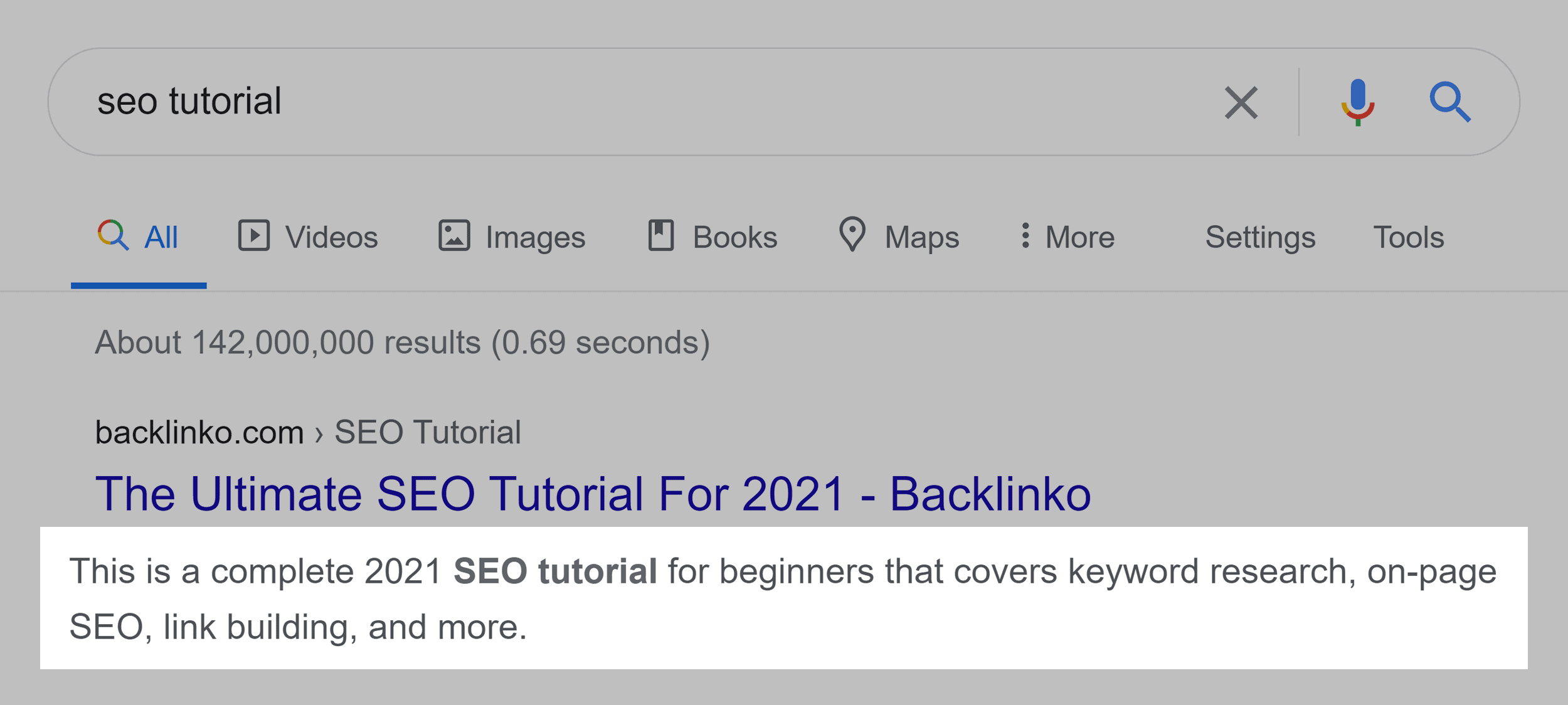 Test Out Questions in Your Title Tags
That same study I just mentioned found that question-based title tags have a 14% higher CTR vs. titles without a question.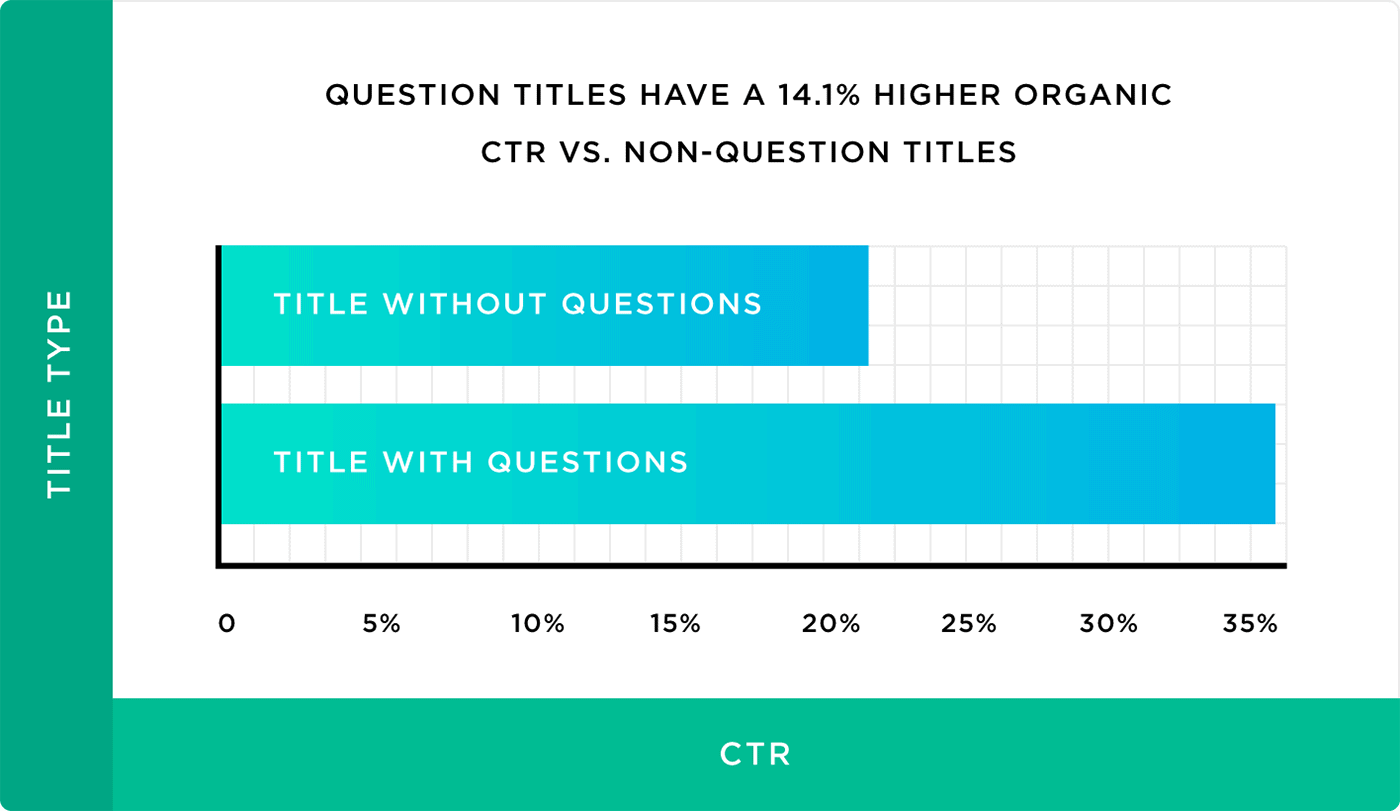 Now: it obviously doesn't make sense to use a question in every single title tag.
But it's worth testing out.
For example, if you search for "social media marketing", the #1 result uses a question in their title.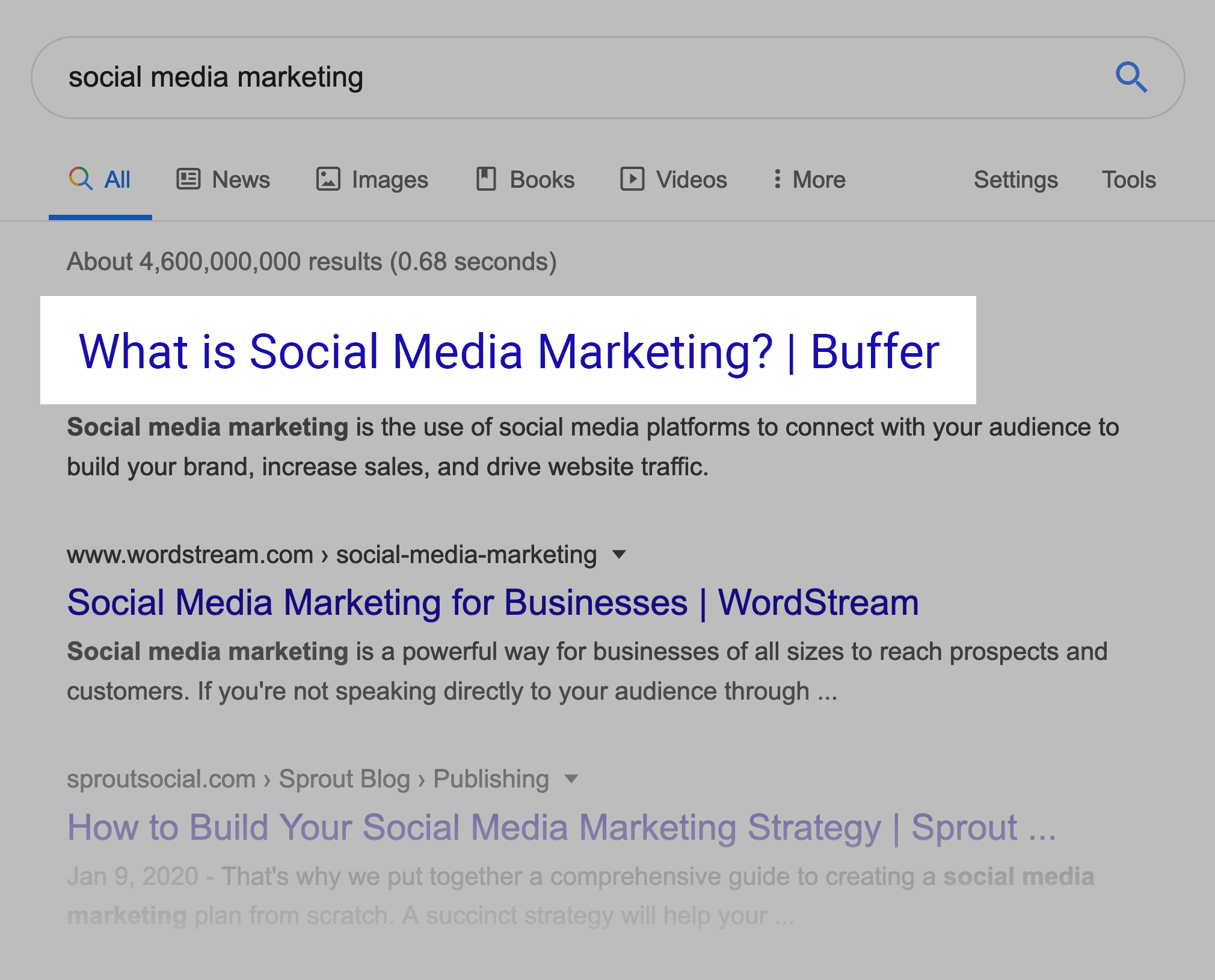 Chapter 5: Create Your Own Keywords
In this chapter I'm going to reveal one of my all-time favorite SEO copywriting strategies:
Creating your own keywords.
This single strategy has directly led to hundreds of backlinks and tens of thousands of visitors to my site.
And today I'm going to show you how it's done.
Why Creating Your Own Keywords Helps With SEO
If you search for your brand in Google, you probably rank #1.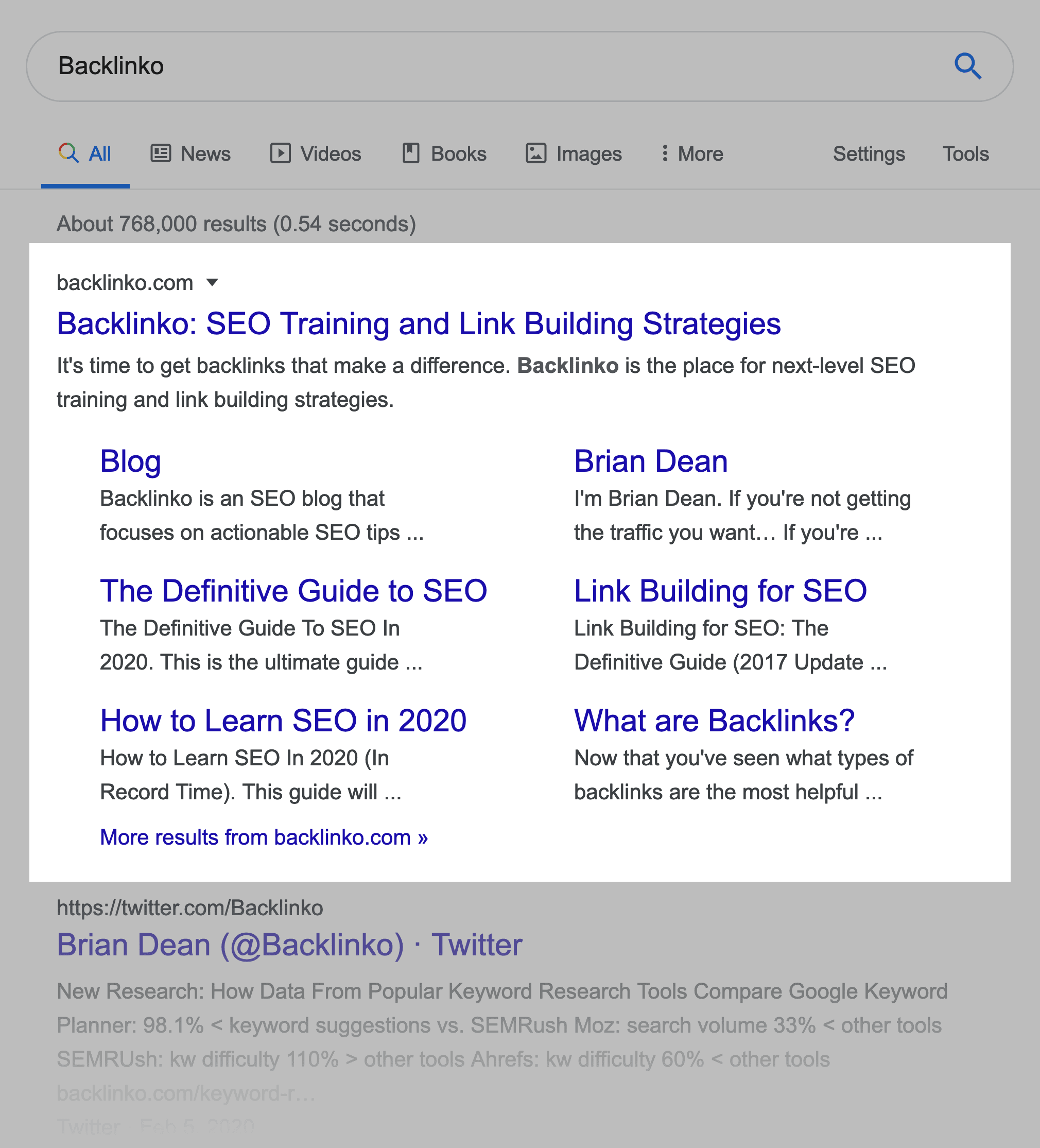 You may not have thought about it, but your brand is a keyword.
(A keyword that you automatically rank #1 for.)
But why stop there?
You can generate boatloads of extra organic traffic when you also brand your techniques and strategies .
For example:
You've probably heard about The Skyscraper Technique , my 3-step formula for getting more organic traffic to your site.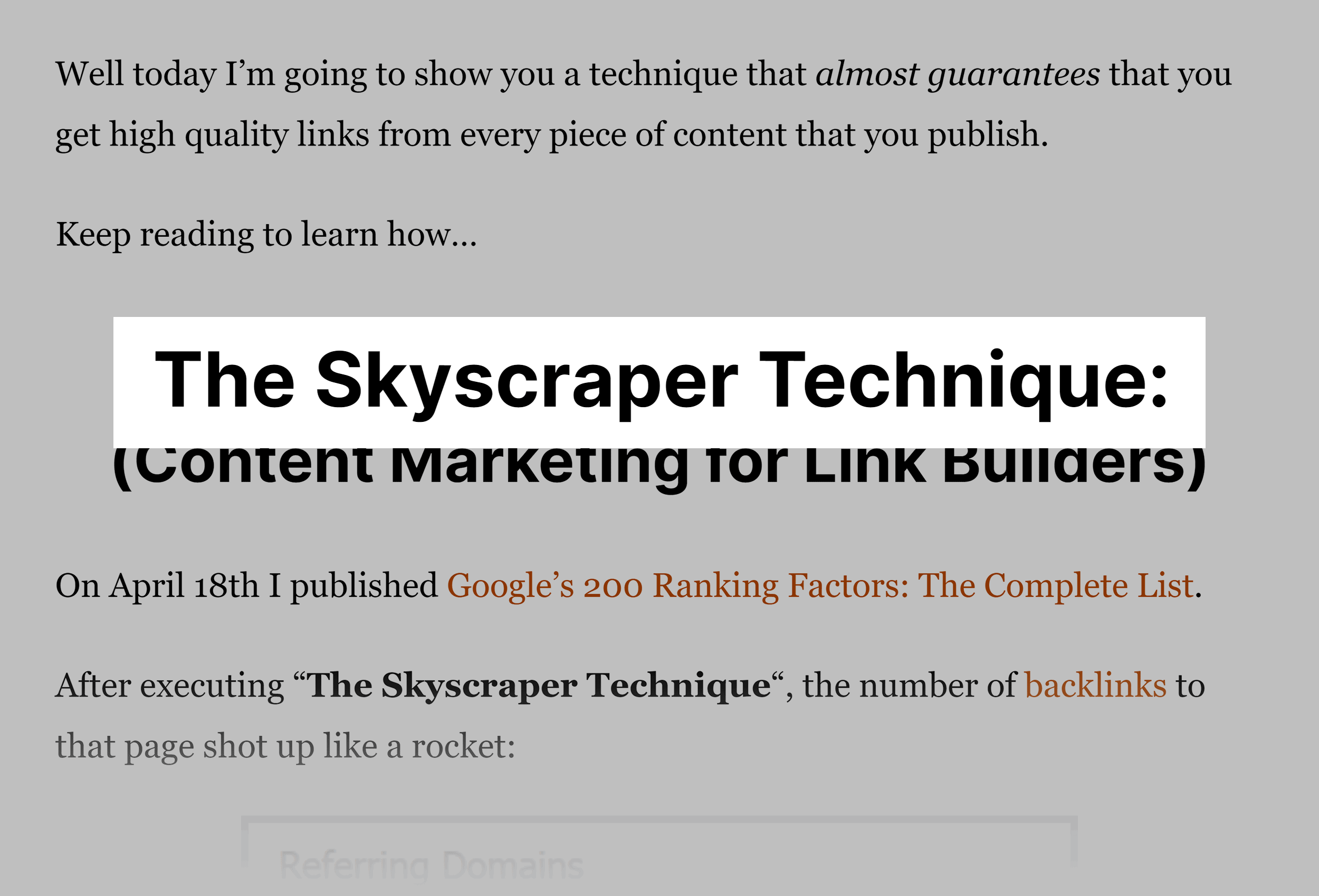 Because I branded my strategy "The Skyscraper Technique", I now have a pipeline of extra visitors coming to my site every day.
In fact, according to Google Search Console , the keyword "Skyscraper Technique" (and close variations of that term) get 2,030 searches per month: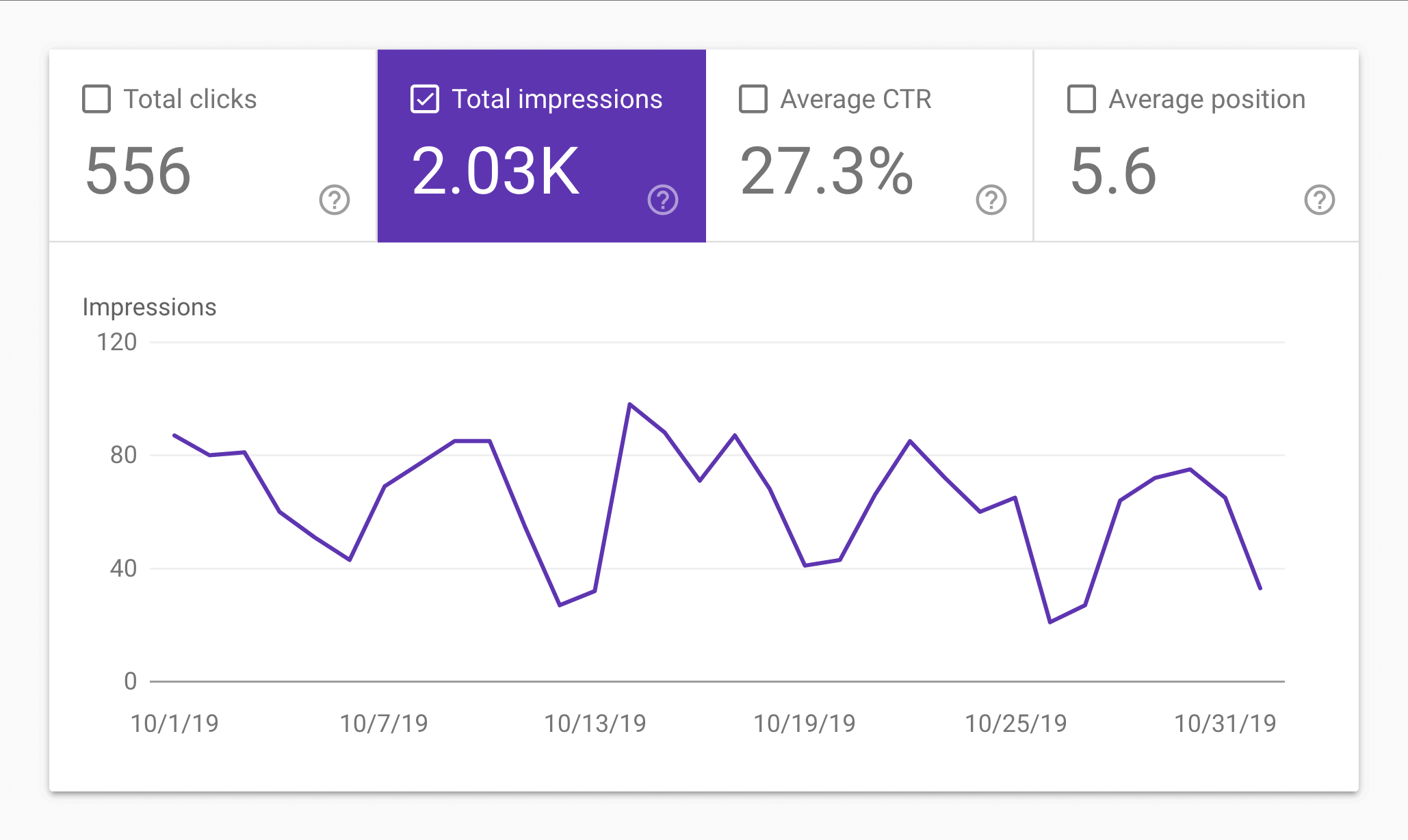 And because I rank #1 for that keyword (and appear in the answer box), I get the lion's share of those 2,030 clicks.
The Skyscraper Technique is my most successful created keyword.
But it's not the only one.
For example, take " The Content Upgrade ".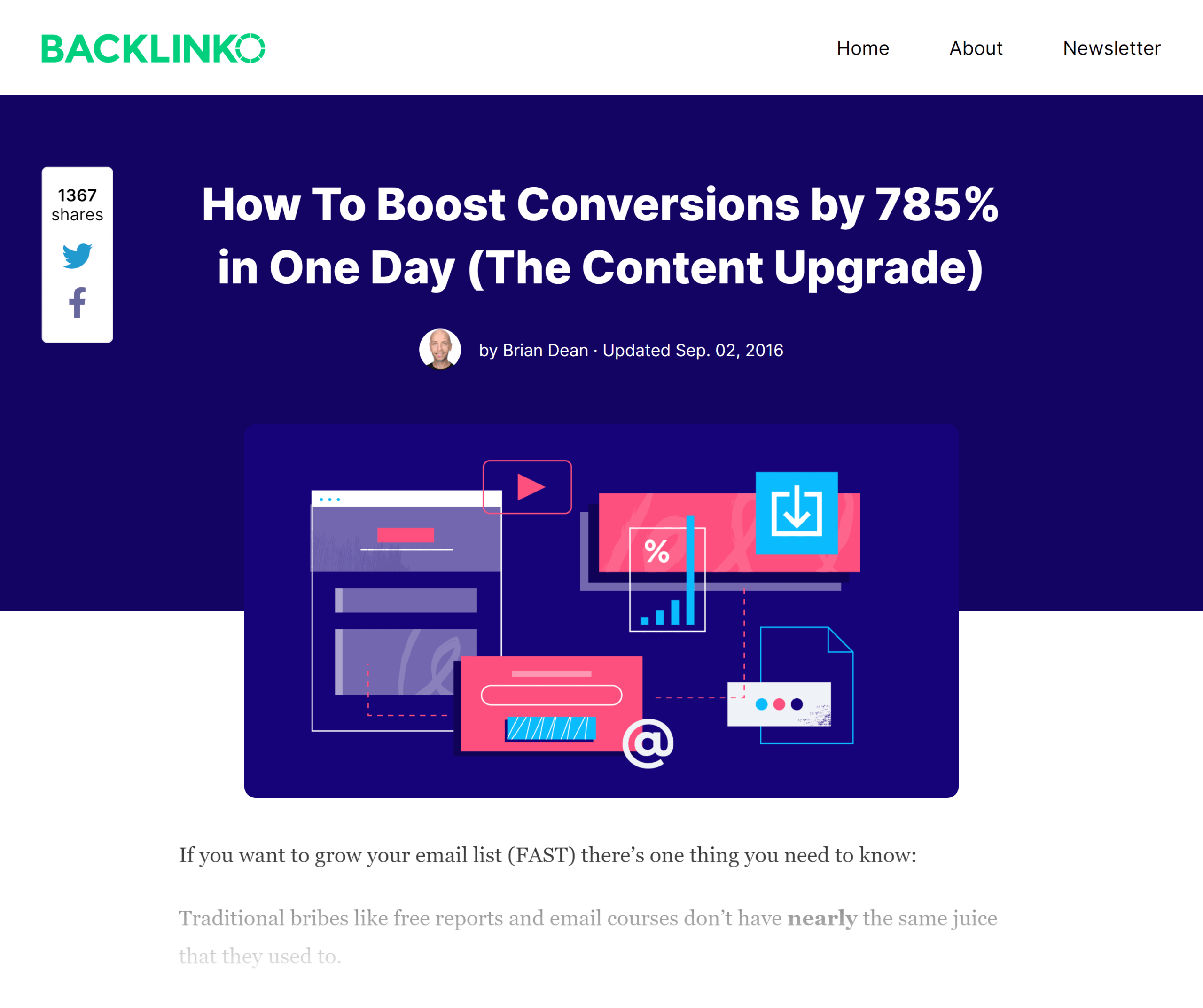 The Content Upgrade quickly went from a little-known technique that I used to get more email subscribers to something that blogs starting writing about left and right.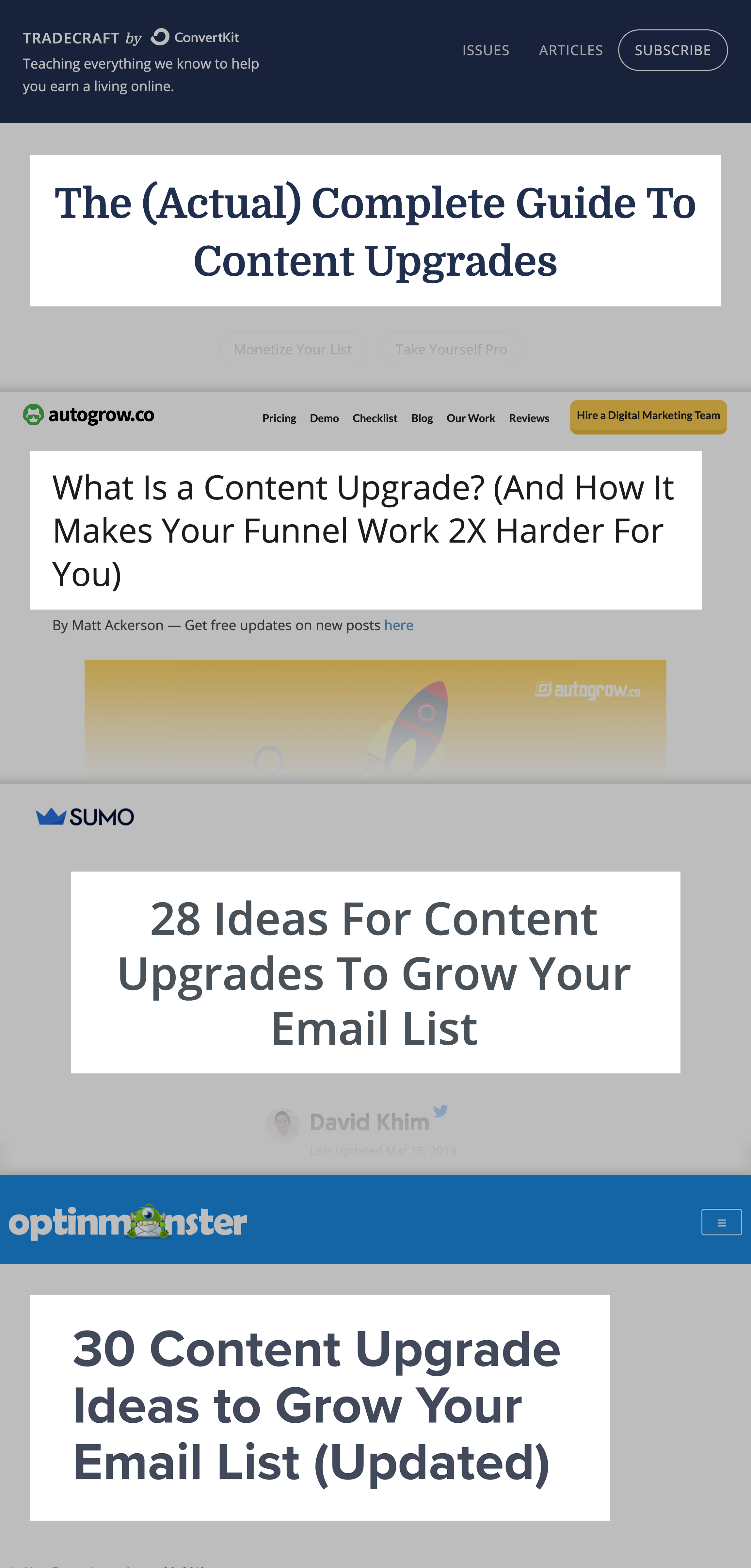 But traffic isn't the only way that creating your own keywords can improve your SEO .
Creating keywords can also lead to more backlinks.
That's because people will link to you whenever they mention your concept.
For example, whenever a blogger writes about The Skyscraper Technique, they usually link back to me: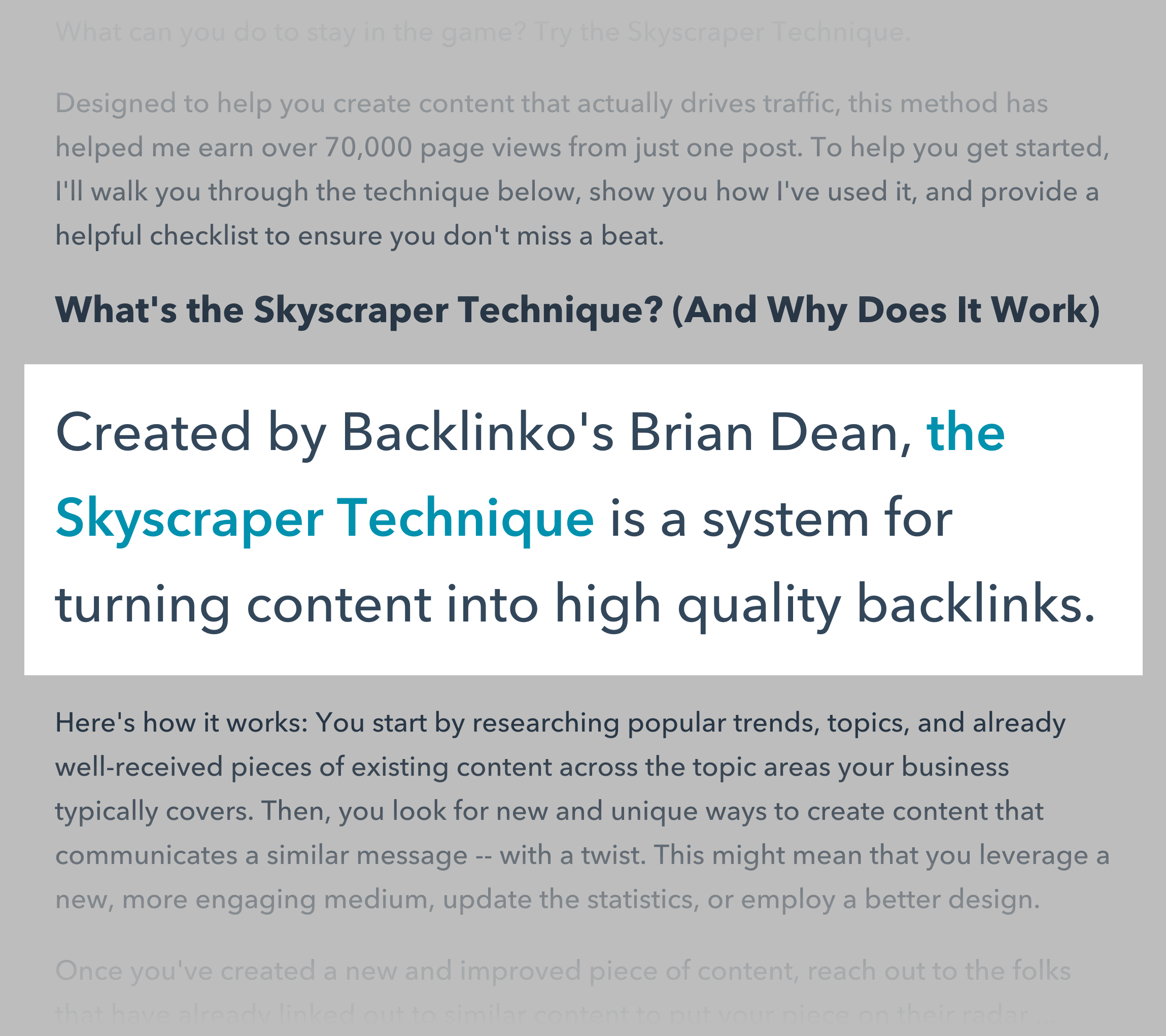 Develop a Strategy, Approach or Concept
So the first thing you need to do is come up with a strategy, approach, or concept that's unique to you. And give it a name.
The Skyscraper Technique is a good example of this.
I took an approach that already existed (improving on existing content) and added a third step that made it more effective for link building.
But it's far from the only one.
For example, in the marketing world, lots of things we take for granted started off as concepts that someone made up:
Inbound Marketing ( HubSpot created this one )
Influencer marketing
Conversion Rate Optimization
Digital marketing
In many cases, these things existed for years. But it didn't become a thing until someone gave it a name.
In other words: when you name something, it becomes real .
Now, there's no perfect formula for giving something a catchy, memorable name. But it is important that you name your idea.
Spread The Word
You can't just name your strategy and call it a day.
In fact, I've seen lots of people create their own strategies. And they rarely get off the ground.
Sometimes it's because their strategy wasn't that original in the first place. But more times than not, they didn't hustle to get the word out.
And if you're serious about turning your idea into a keyword that people search for, you need to promote the heck out of it.
For example, when I first developed The Skyscraper Technique, I went all out to spread the word.
I published a case study that outlined the steps: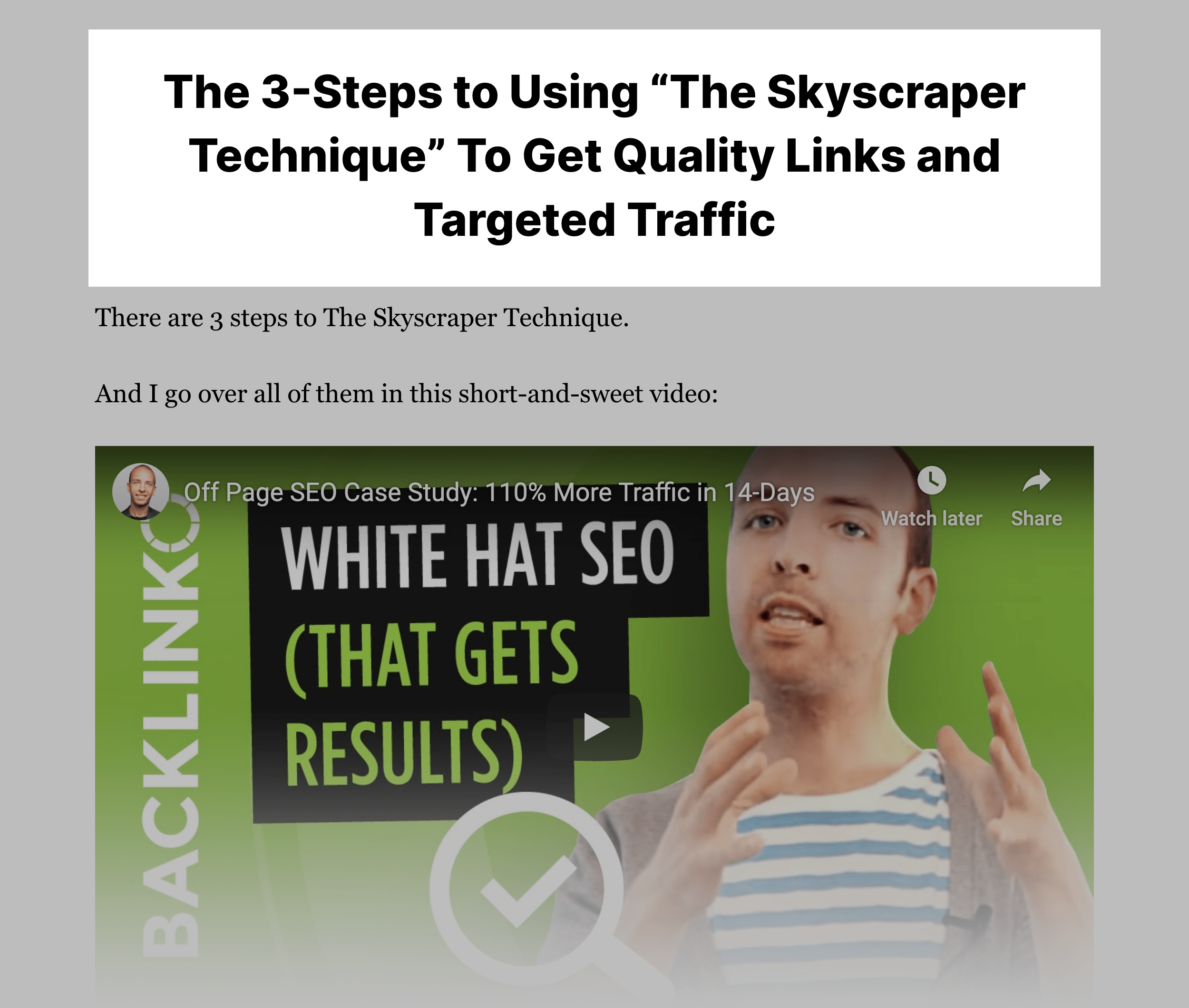 I mentioned The Skyscraper Technique in guest posts: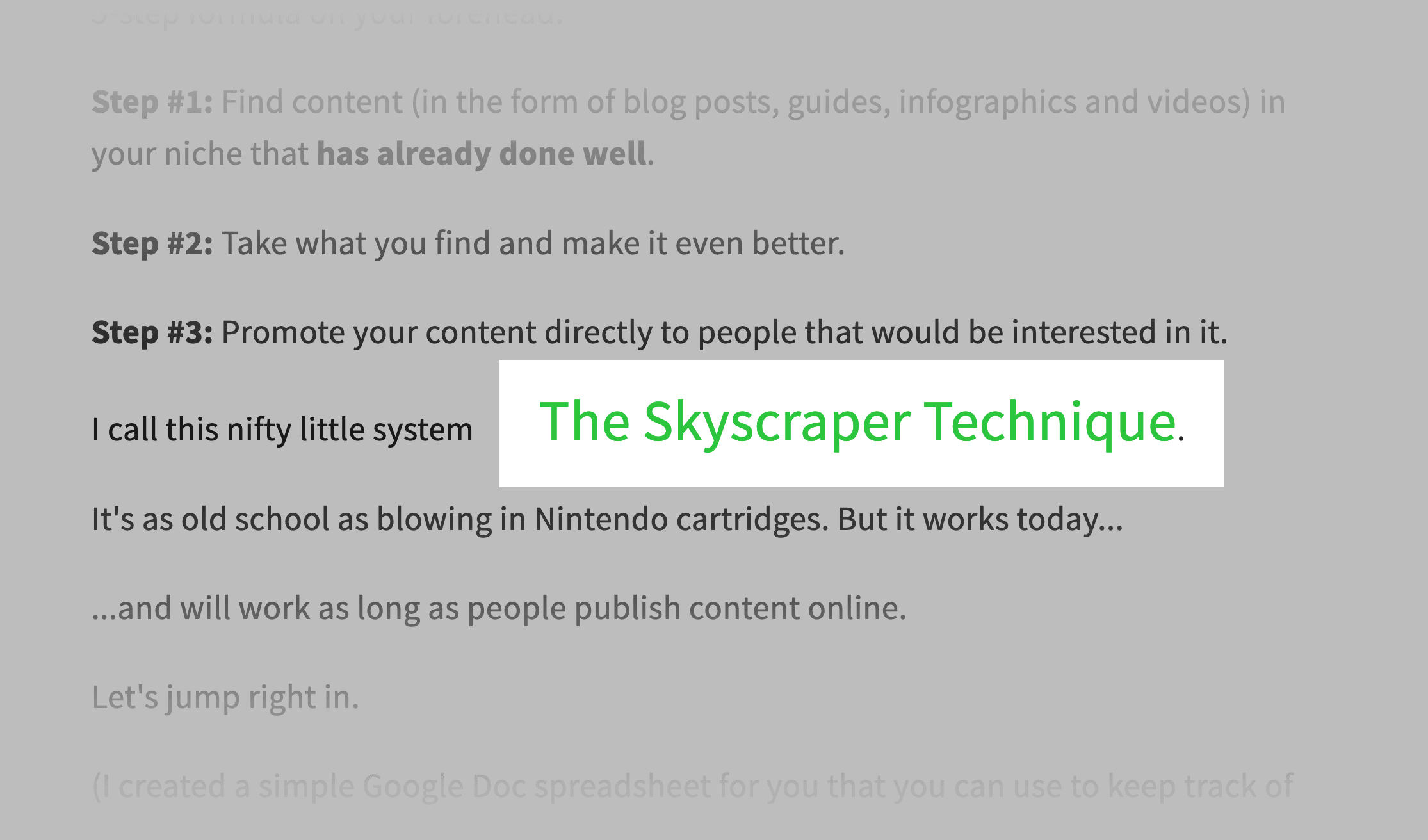 I went on podcasts to talk about how it worked: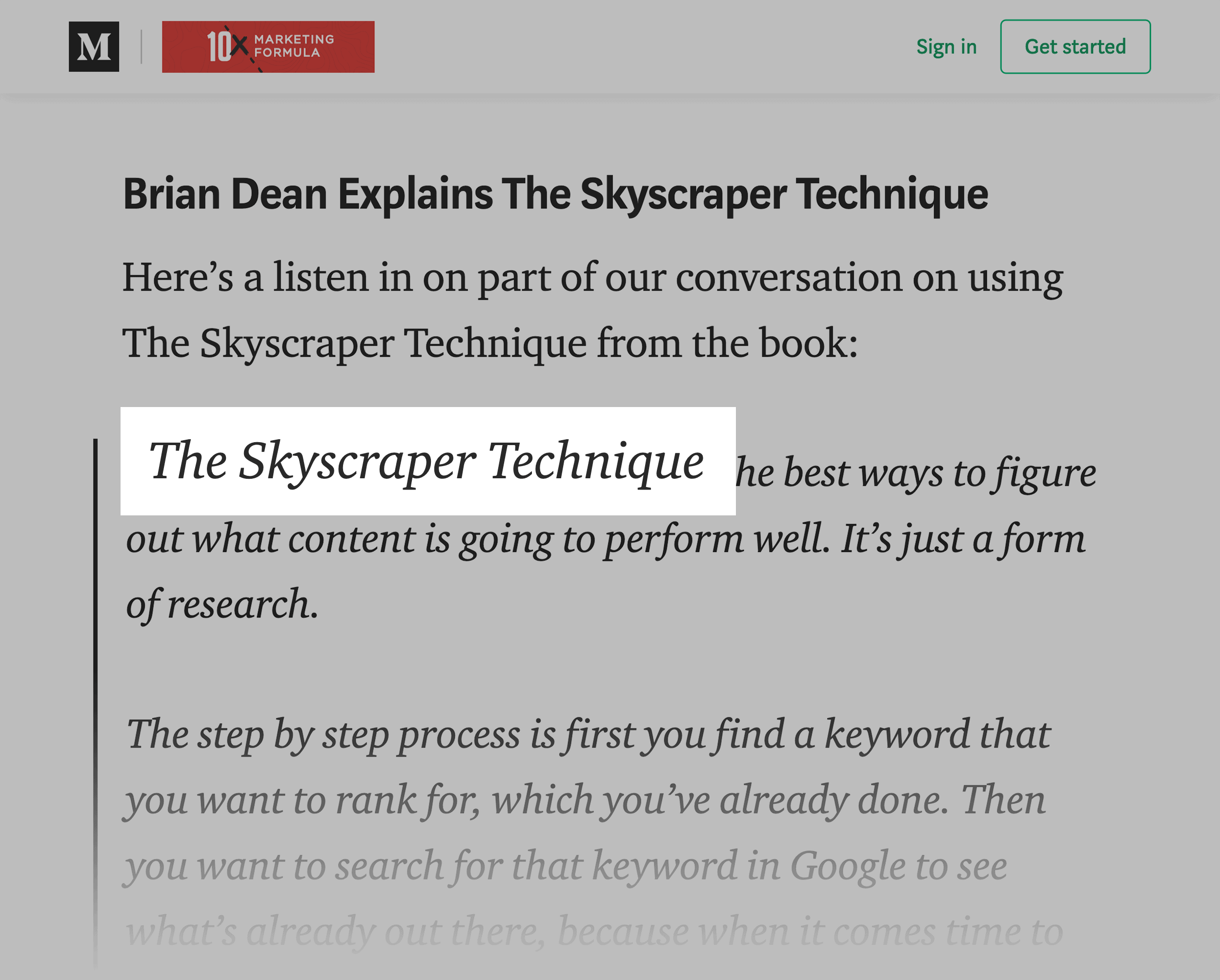 I even made an entire YouTube video about that strategy.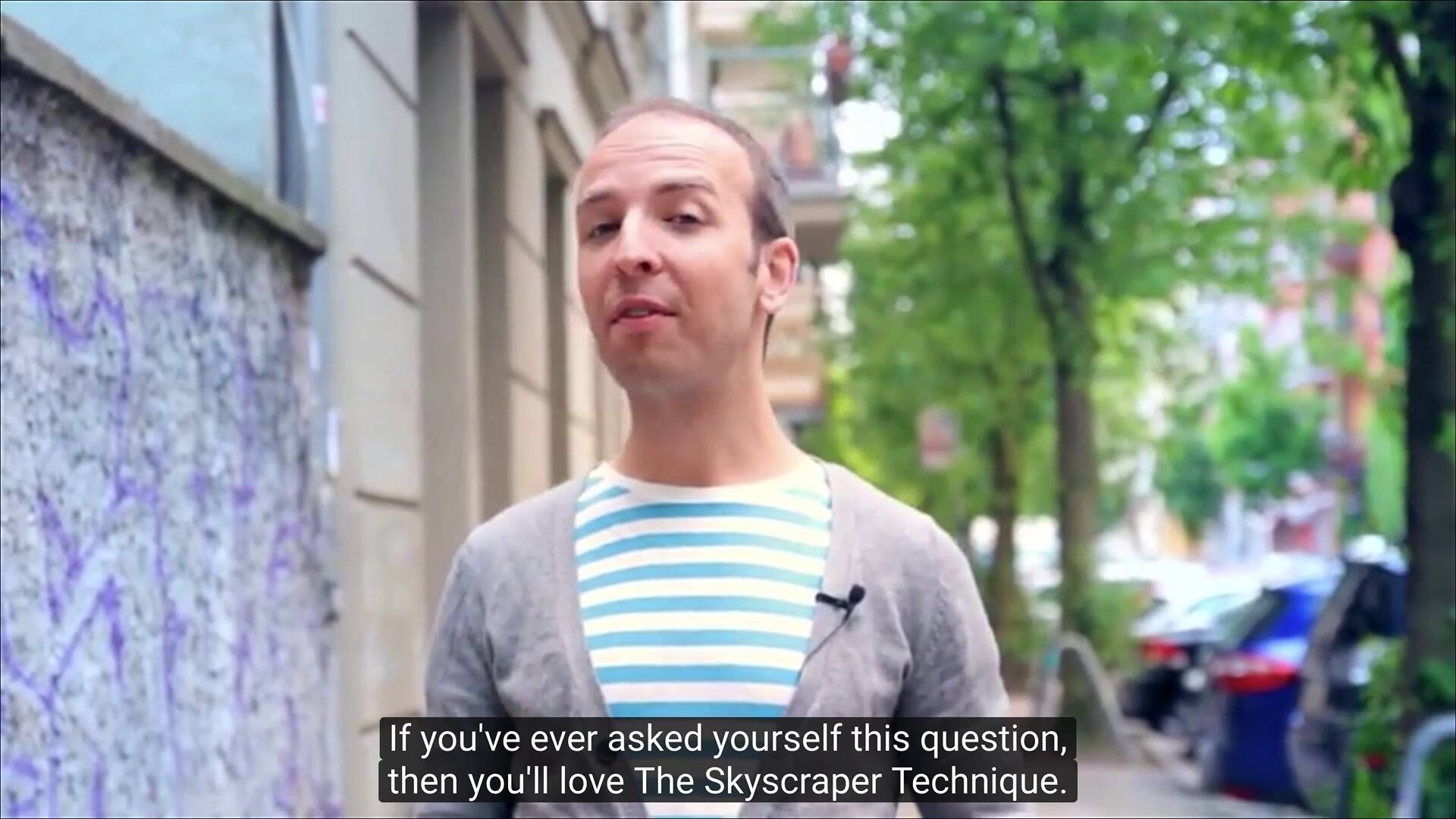 Then, as people started to use The Skyscraper Technique to get more traffic , I featured their stories on the Backlinko blog.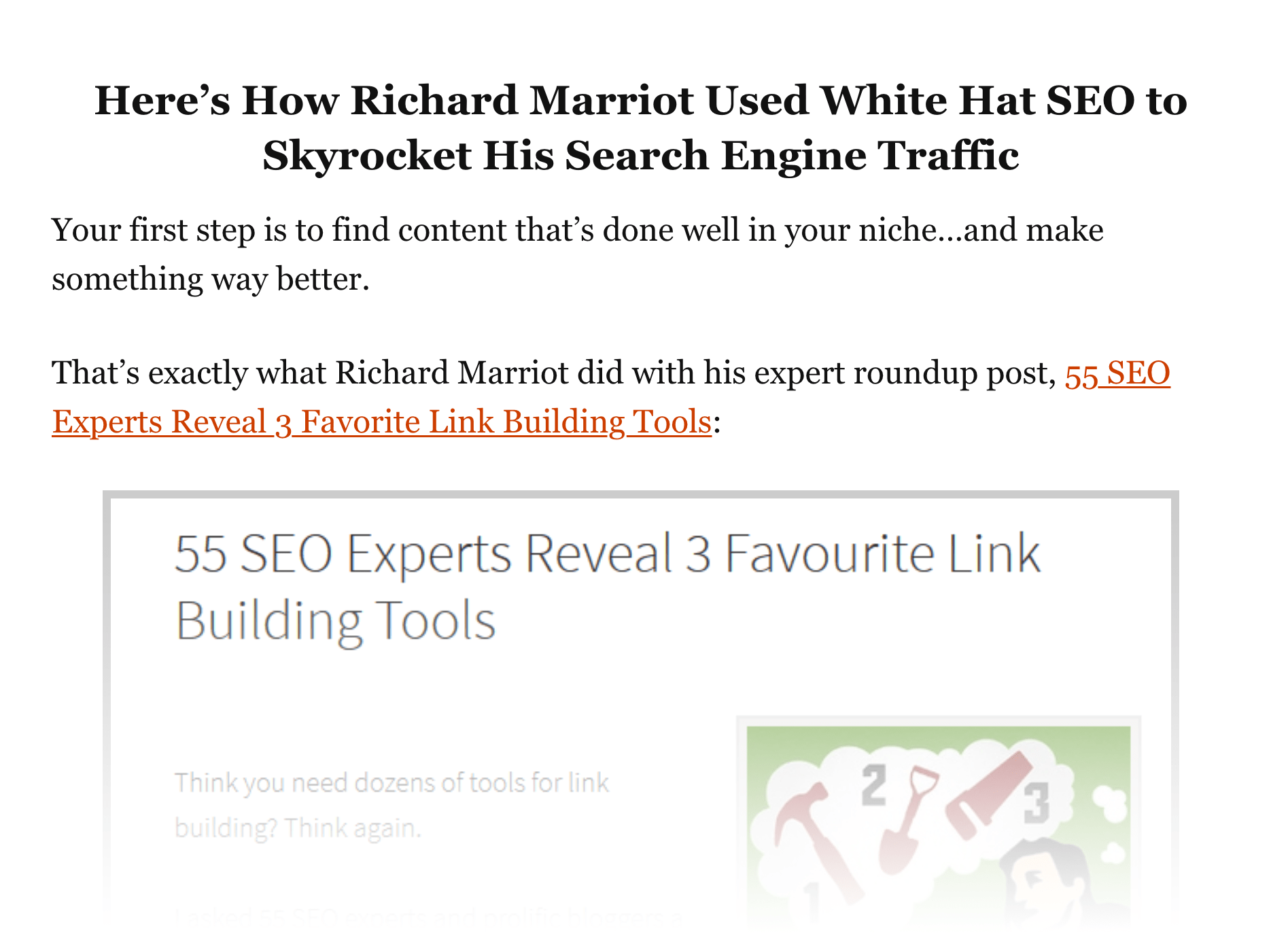 Which eventually helped The Skyscraper Technique become a thing.
Chapter 6: Advanced SEO Copywriting Strategies
Let's close out this guide with a list of my favorite SEO copywriting tips, strategies and techniques.
In this chapter you'll learn:
How to create compelling URLs
An easy way to get more social shares
How to find lots of untapped long tail keywords
Rank in the Featured Snippet "#0" position
Use Short URLs That Contain a Keyword That You Want to Rank For
Can short URLs really help your site rank higher in Google?
Our search engine ranking factors study found a significant correlation between short URLs and higher Google rankings.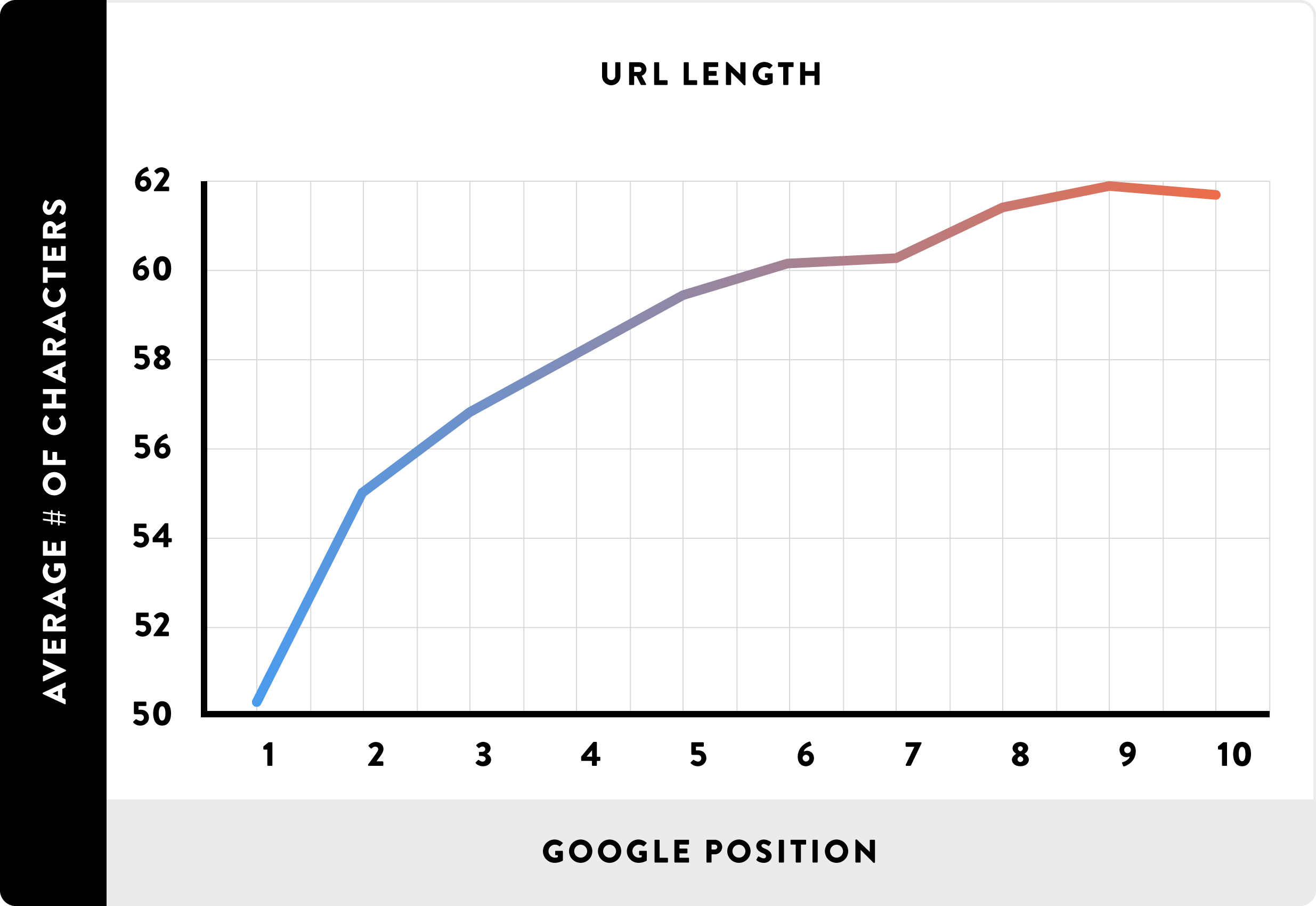 And URLs that contain a keyword get more clicks.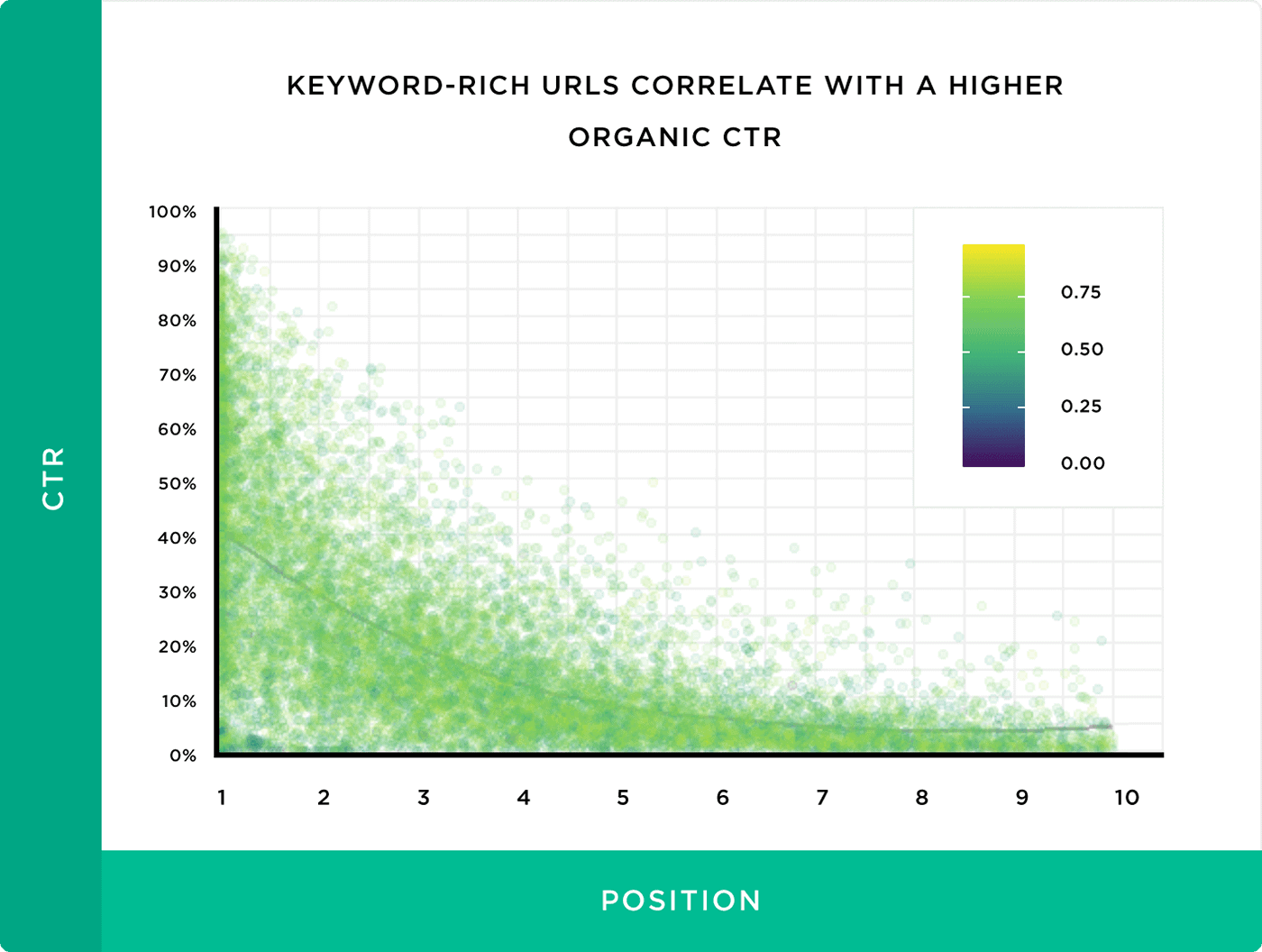 The bottom line here is that you want to write your URLs to be short and keyword-rich .
For example, the URL for this list of SEO tools is just: /seo-tools.

And the URL for this guide to email marketing is my keyword with "guide" added to the end:

Note: Are your URLs already long? I don't recommend going back and changing them. It can cause serious technical SEO issues. Just apply this rule to future pages that you publish.
Find Untapped Topic Ideas With BuzzSumo's "Discover Topics"
This is a little-known feature inside of BuzzSumo that I really like.
To use it, type in a topic idea just like you normally would.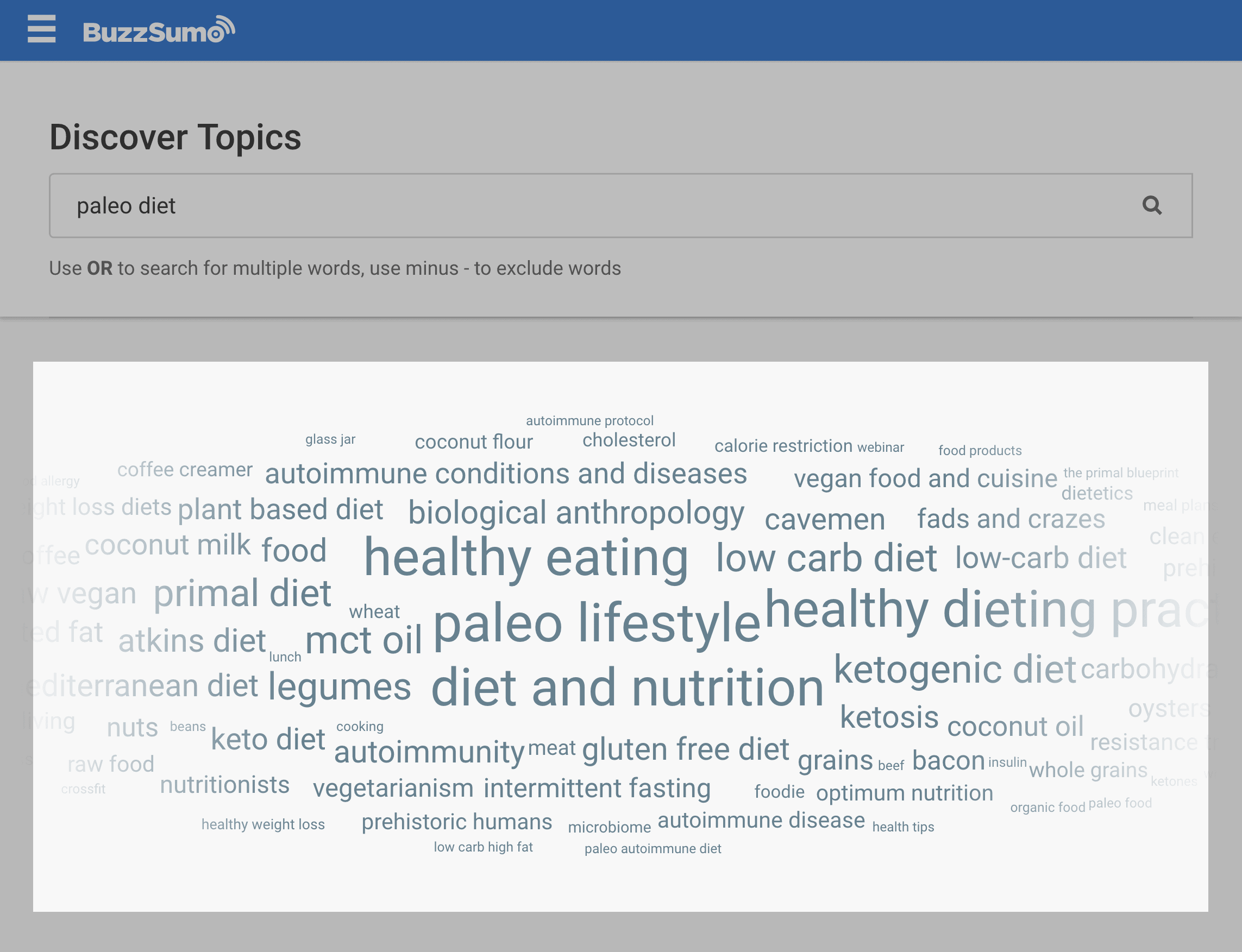 What's cool about this feature is that it doesn't just hand you variations of the keyword you typed in. It's much more advanced than that.
Instead of variations, BuzzSumo's Discover Topics gives you laterally-related topic ideas . For example, if you search for "paleo diet", it suggests topics like "healthy eating" "MCT oil" and "gluten free diet".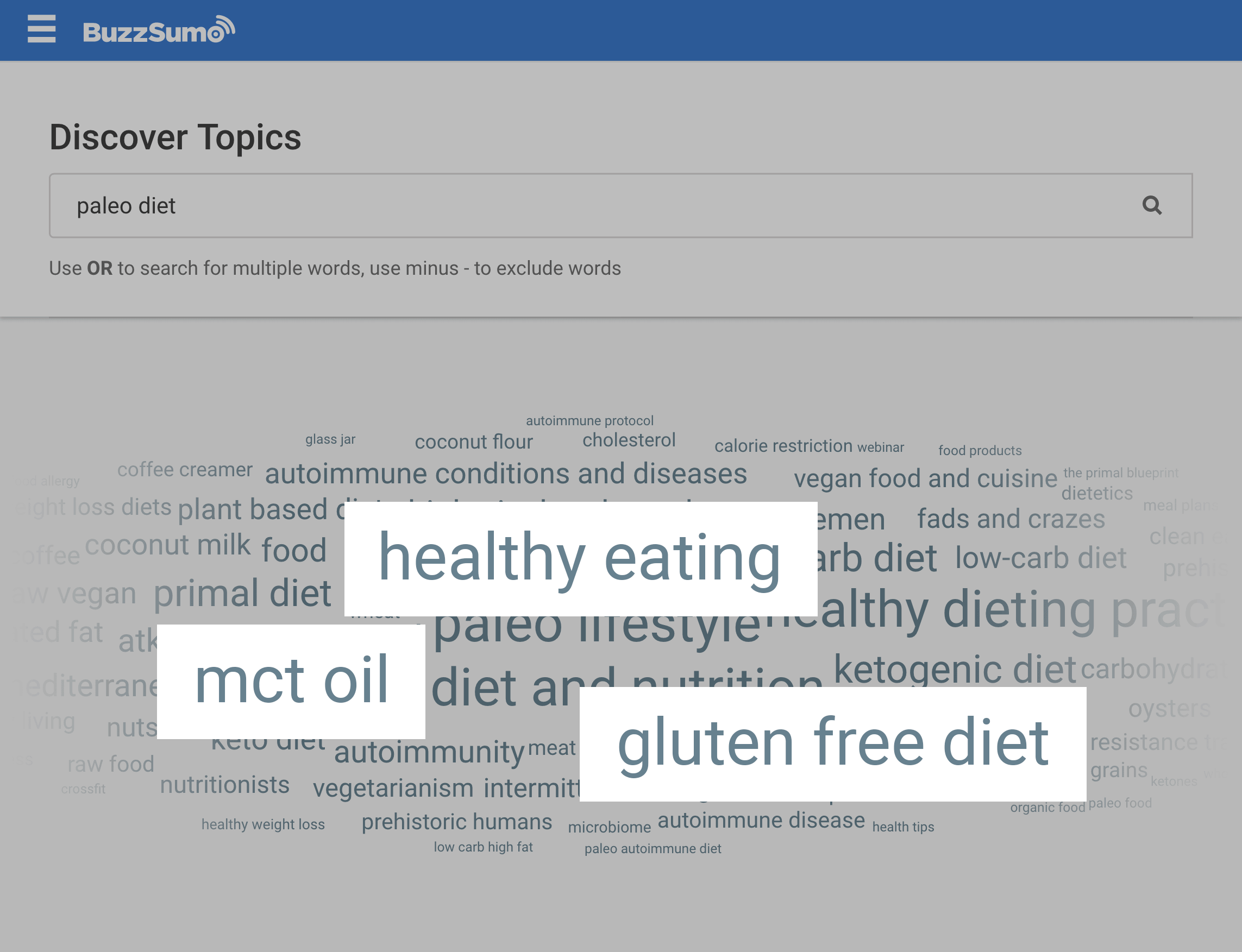 Try Click to Tweet Buttons
Sure, social sharing buttons can help you get more shares.
But they're usually not enough.
And if you want to get more shares from every post that you publish, I recommend trying Click To Tweet Buttons.
For example, a while back I published a post called: " List Building Strategies to Help Build Your Email List ".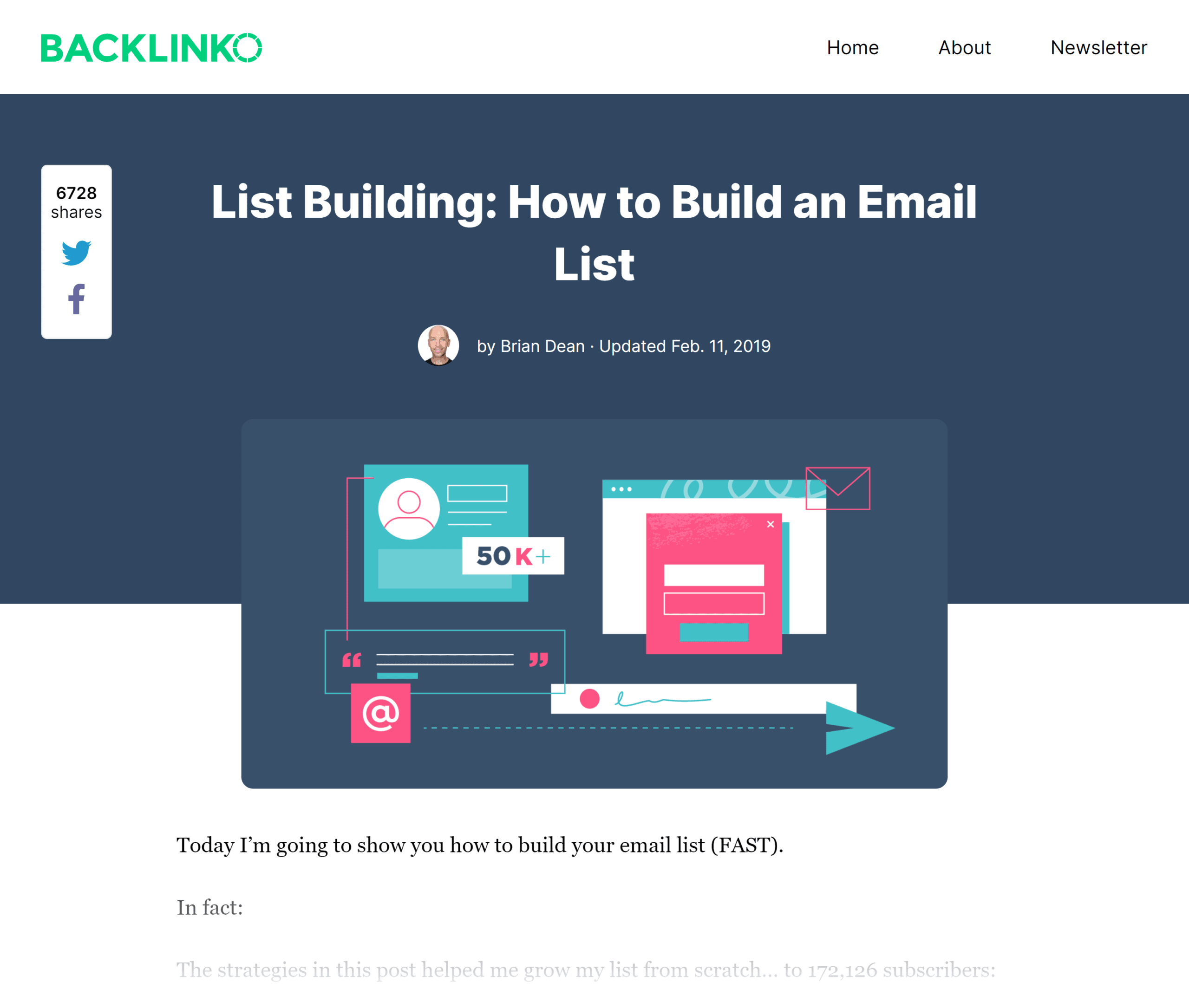 To maximize the number of shares this post got, I included a "click to tweet" button underneath each item on the list: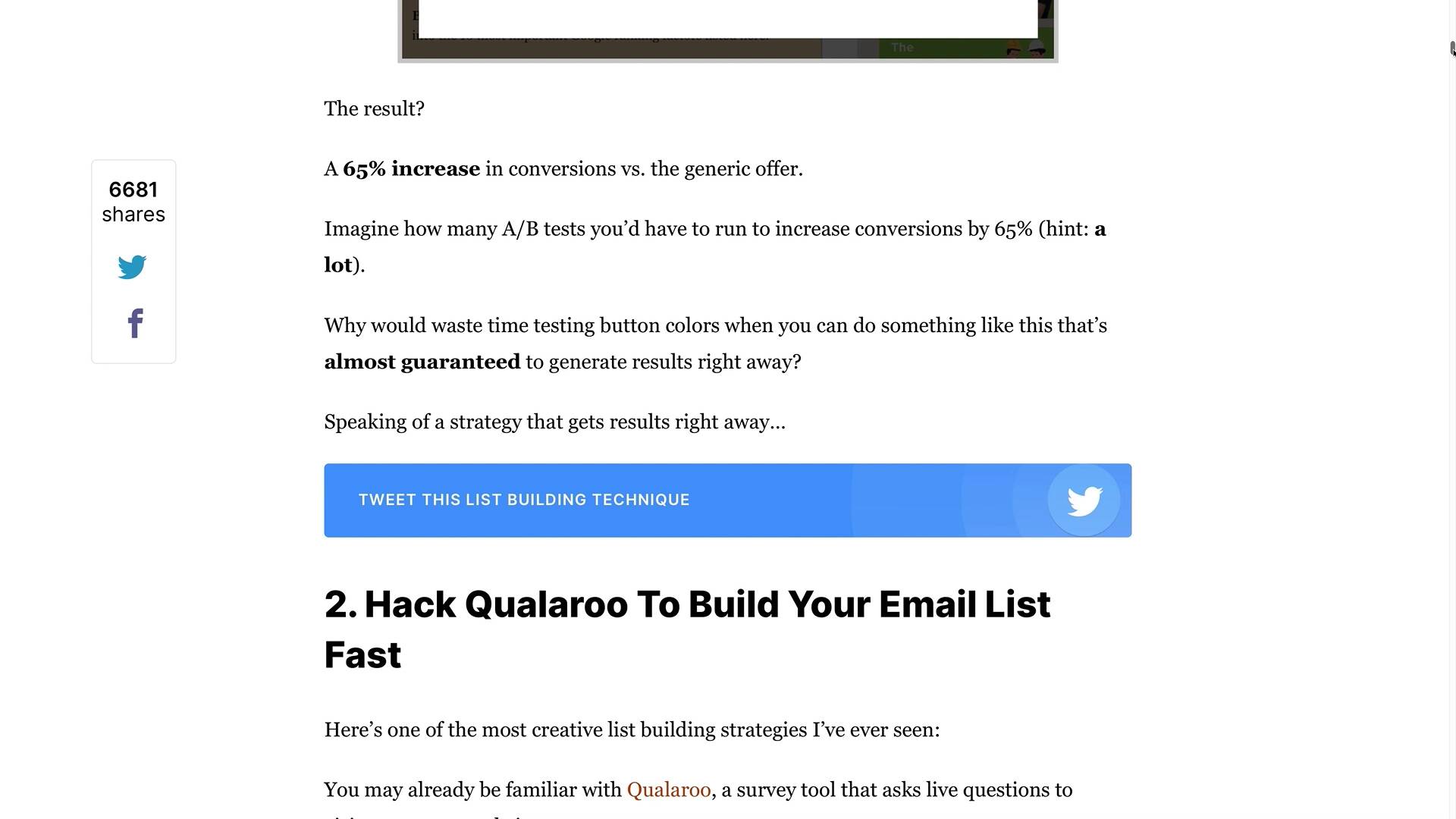 To date, my post has over 6700 social shares.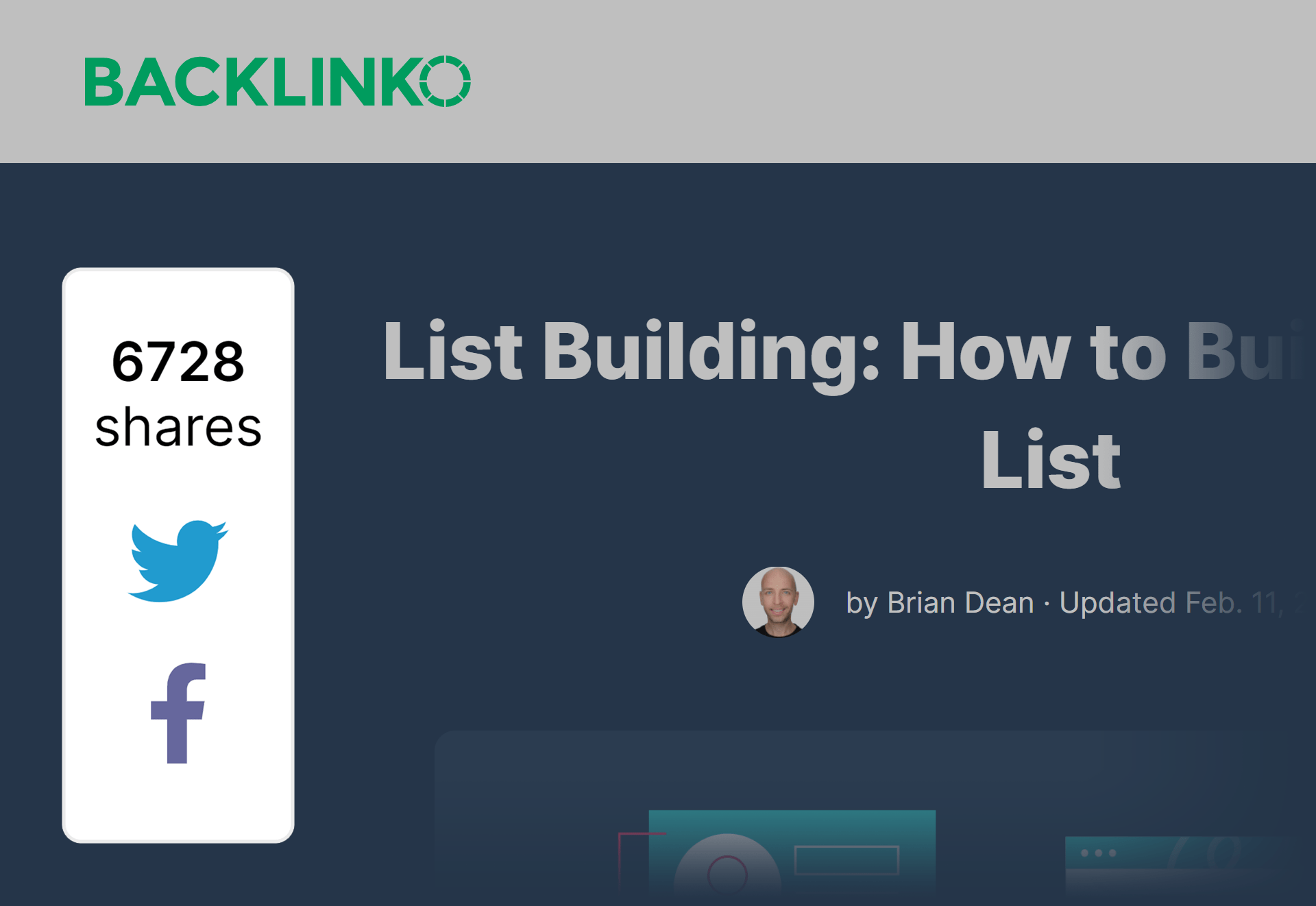 And a good chunk of those 6728 shares came from my "click to tweet" buttons: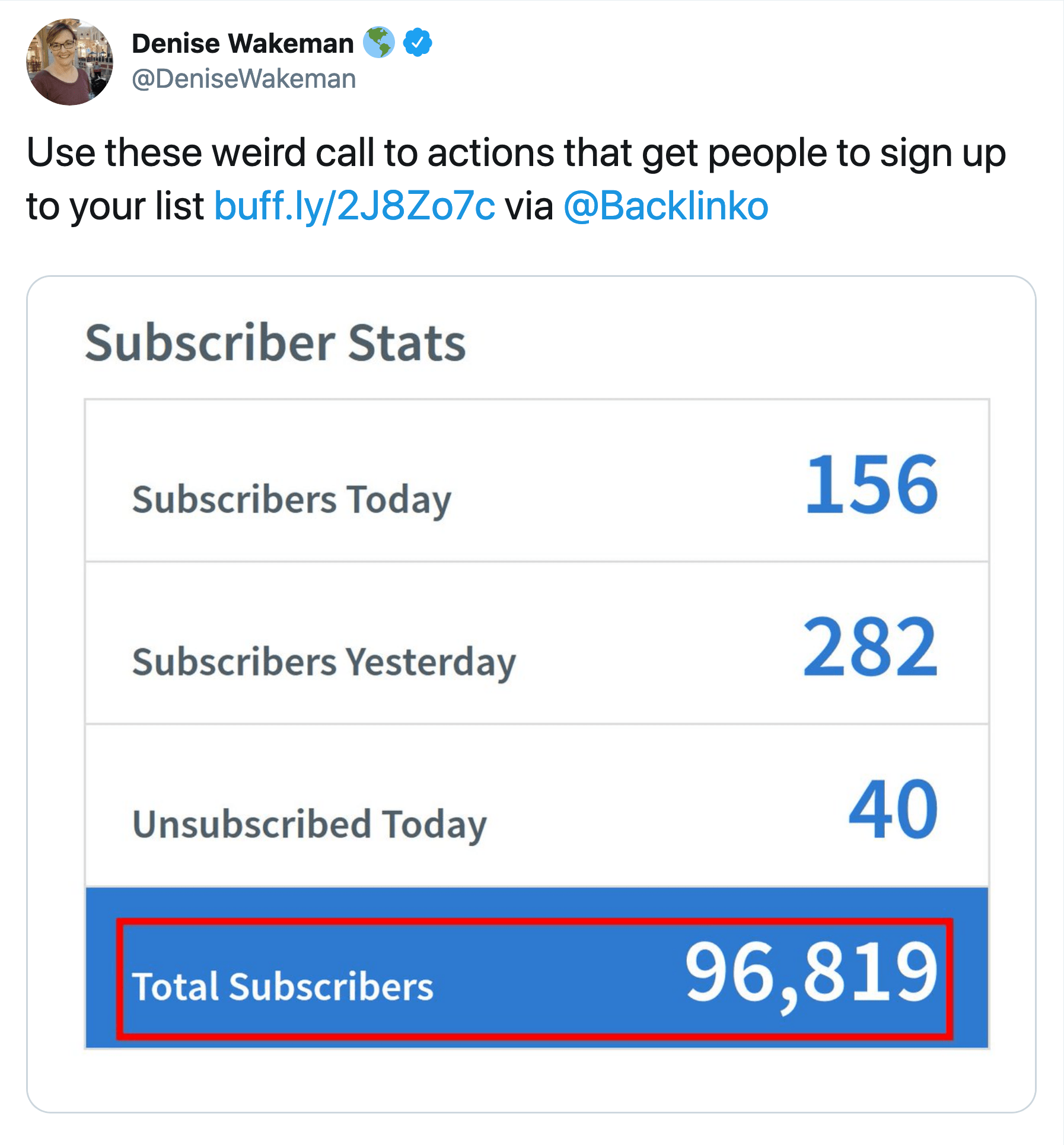 Here's how you can do the same thing:
First, find a super actionable tip or strategy from your post.
Next, head over to ClickToTweet.com . Click on "basic link":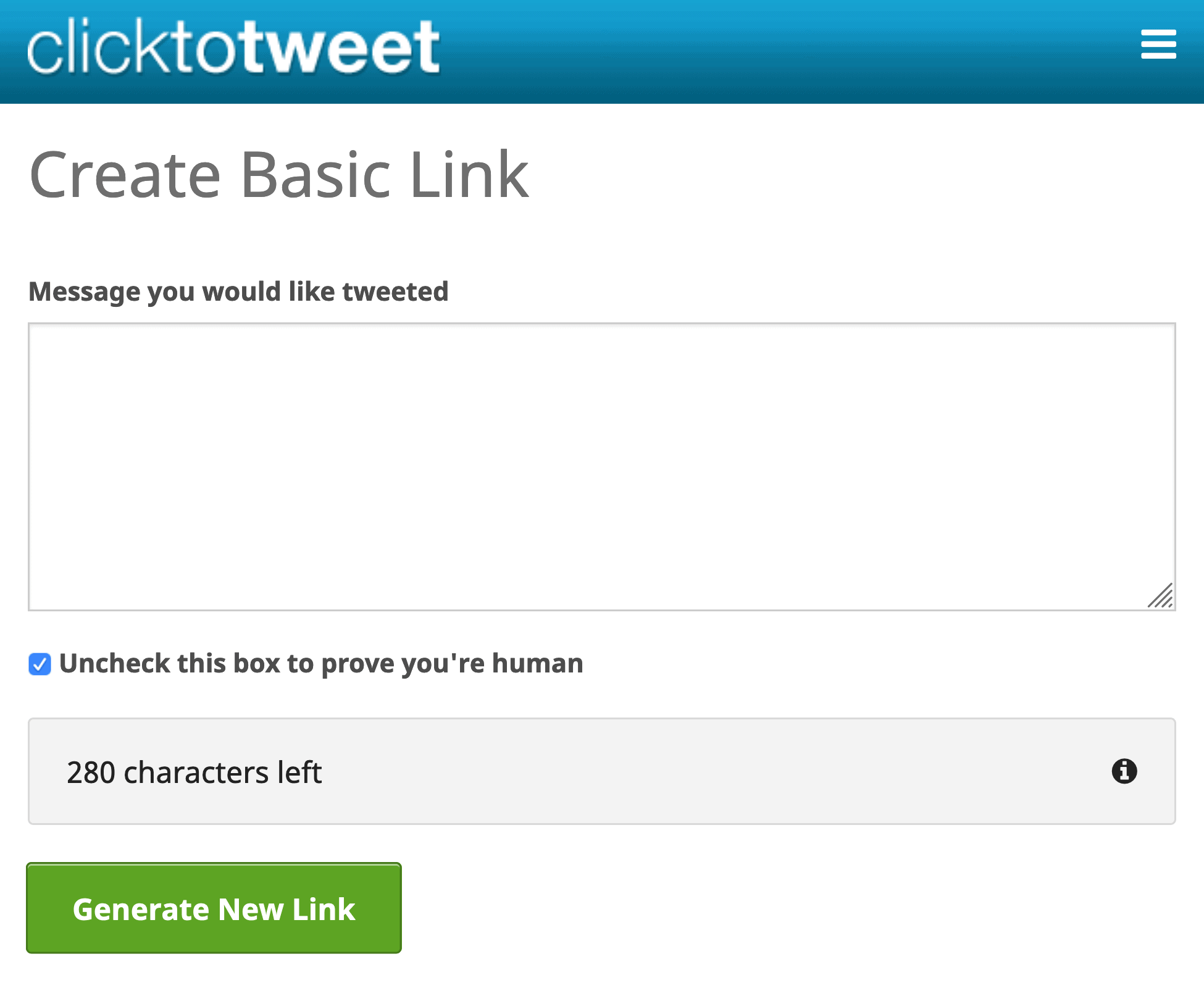 Turn your actionable tip into a tweet: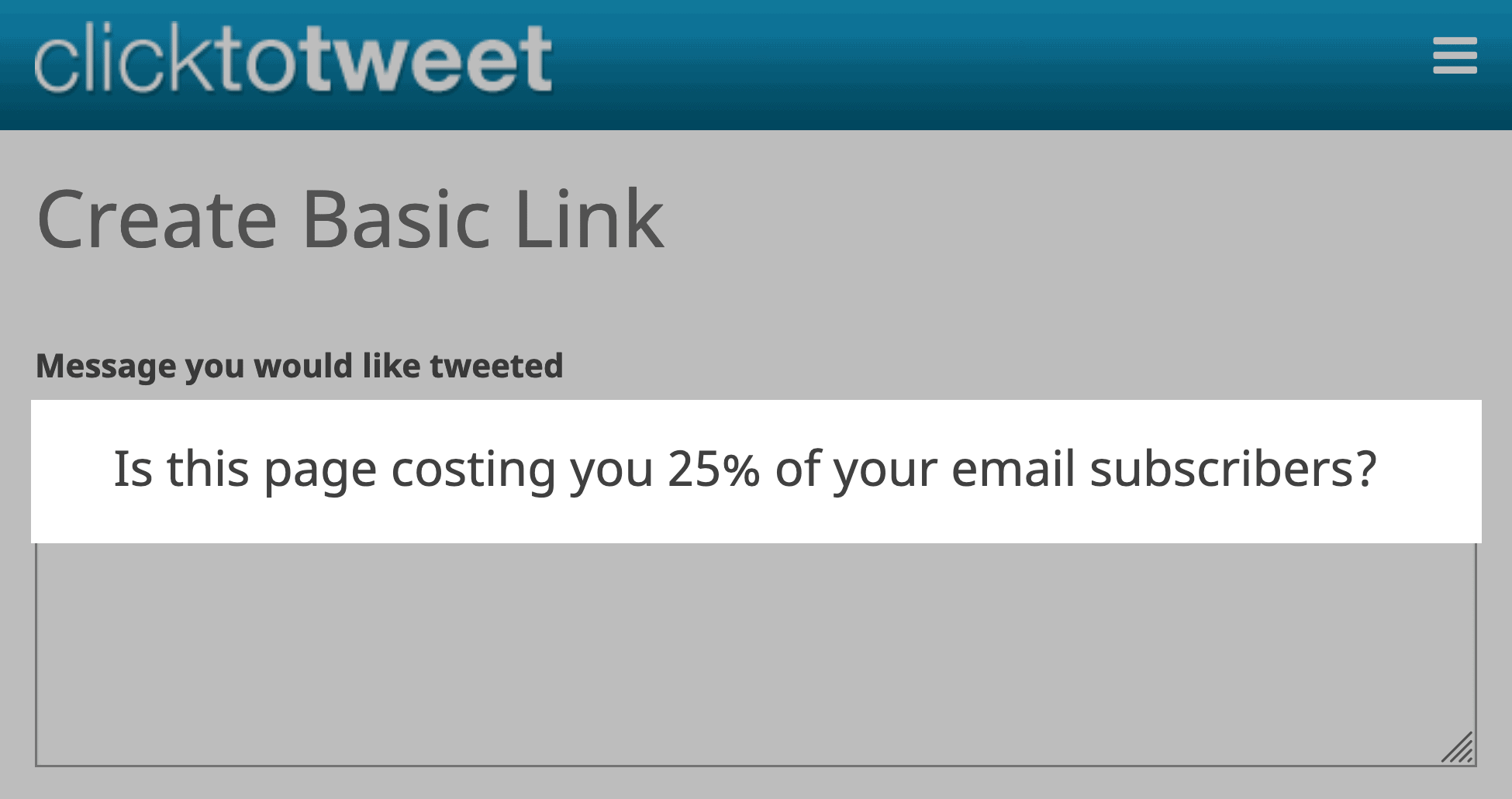 Then, click on "Generate new link".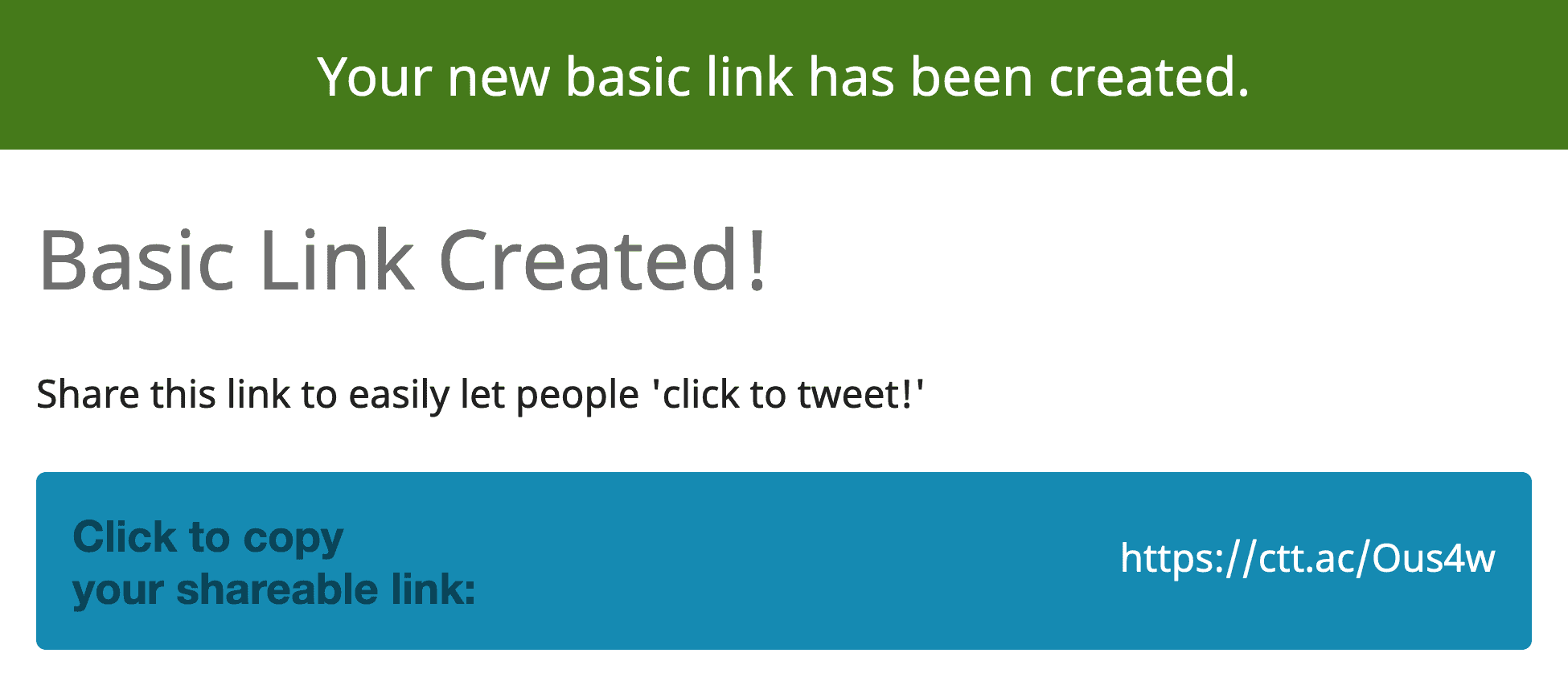 And pop the link into your post.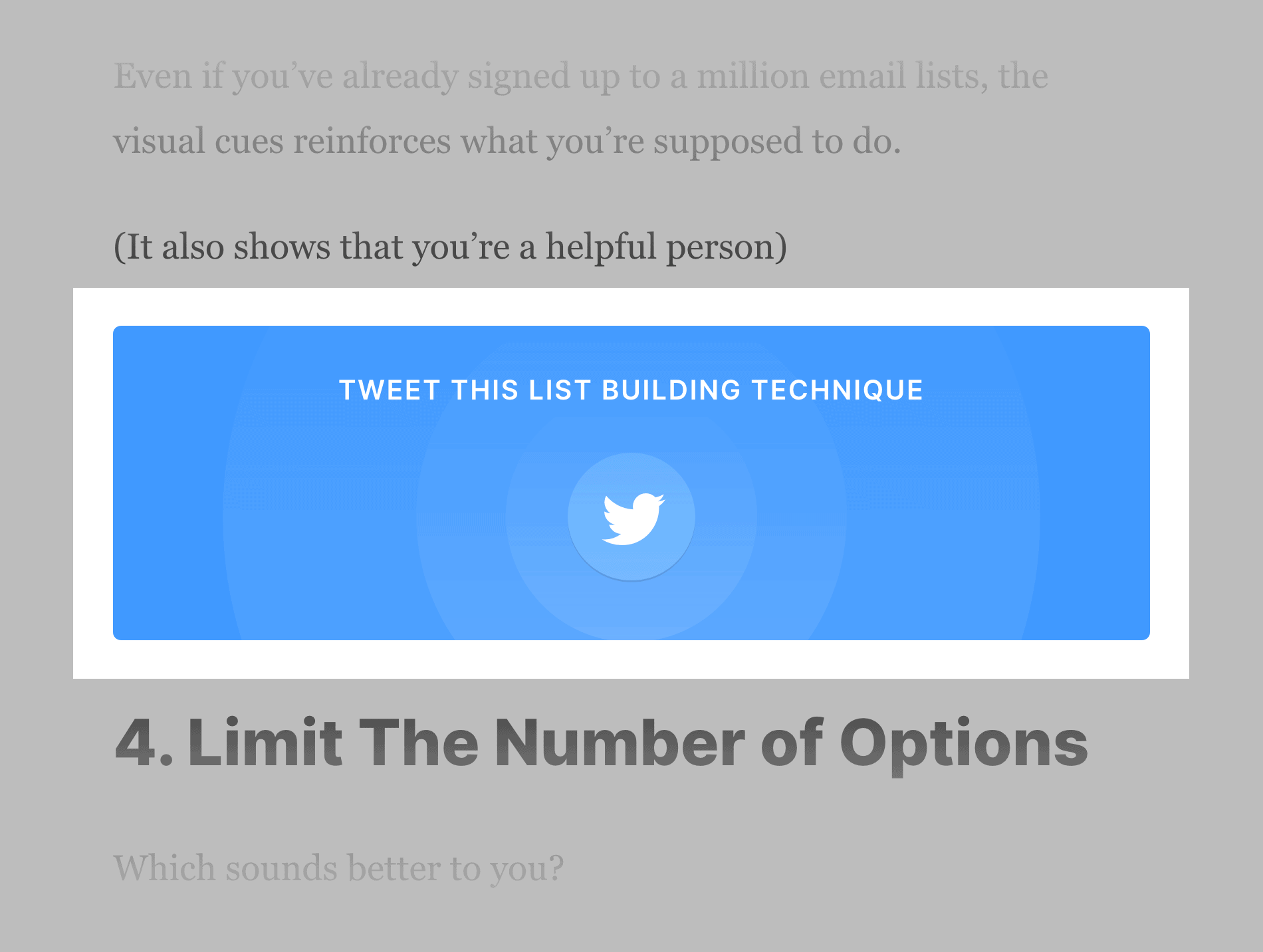 That's all there is to it.
Add "Snippet Bait" Sections To Your Content
This is where you add sections to your content that's specifically designed to rank as a Featured Snippet .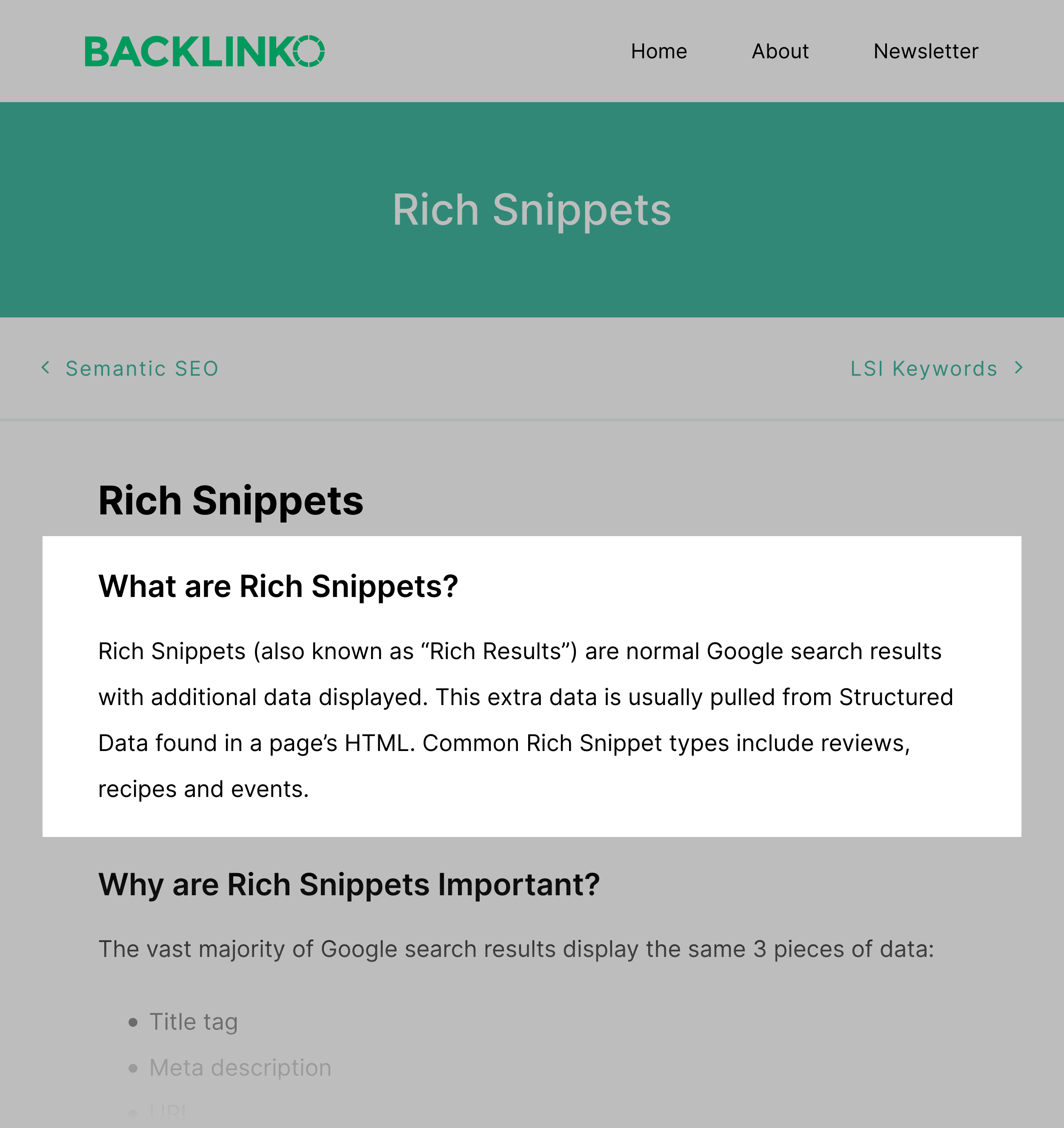 You can technically put Snippet Bait sections anywhere on your page. But I prefer to place them towards the top of the page.
I think that Google probably puts a little bit more weight on them if they're that high up.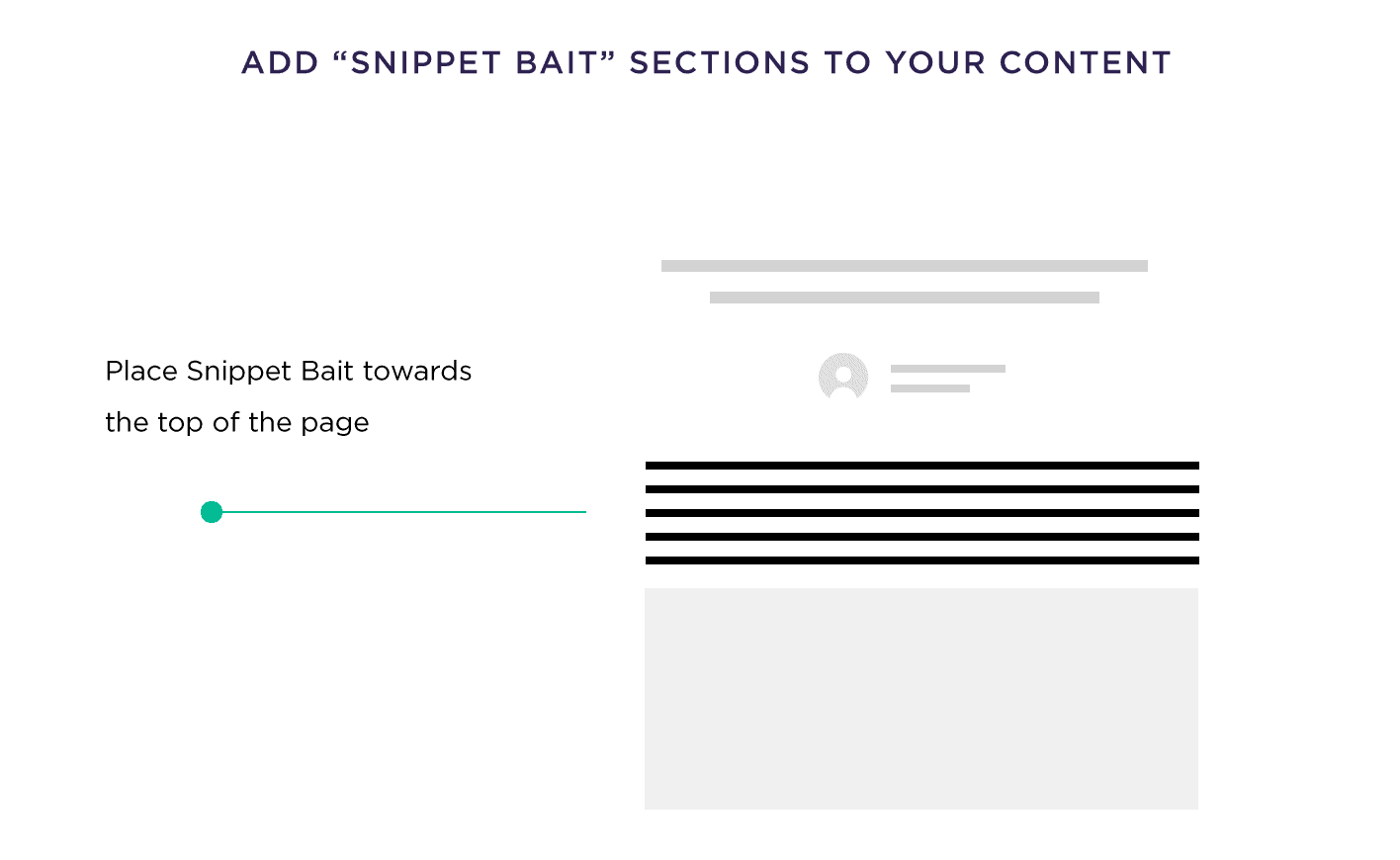 Plus, it gives users a quick answer to their question as soon as they land on your site.
Either way, my experiments have found that using Snippet Bait dramatically boosts the odds that your site will rank in the Featured Snippet "#0" spot in Google: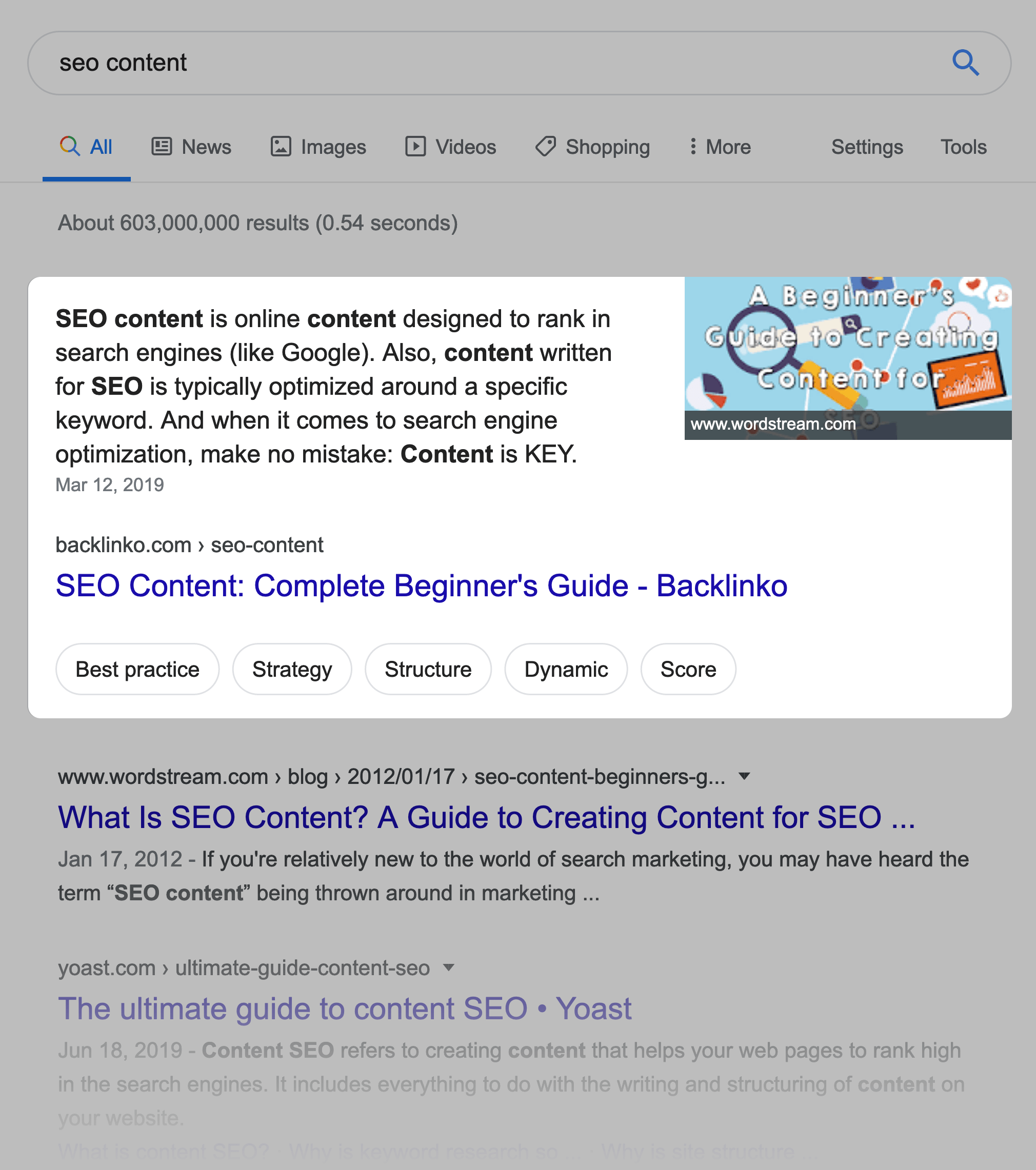 So that's it for my guide to SEO copywriting.
Now I'd like to hear from you.
What tip from today's post are you going to try first?
Do you want to try Click To Tweet buttons?
Or maybe you want to use Bucket Brigades.
Either way, let me know by leaving a comment below.
Thank you so much for this post, I'm at the beginning of my SEO career and it helps me so much!
No worries, Stefan. Glad you found it helpful.
This is an outstanding post that's filled with so many useful nuggets. Thank you for being so detailed!
Hi Victoria, you're welcome. Yup, I tried to pack this guide LOTS of useful tactics that people could implement right away.
Nice one, again! Liked the Creating Keyword section best.
Thanks Janik. That's definitely a tough strategy to pull off. But when it works, it's HUGE.
Your timing is perfect! I'm just on the hunt for an SEO copywriter and I was wondering how to instruct them on how content should be written (not spammy etc.). I'll be sending them a link to this guide. Thanks very much for a great resource.
Awesome Bill! Yup, this is basically a field guide to SEO copywriting that covers everything they need to know.
Great post, do you have available in a PDF doc to print to keep as a handy resource?
Hi Angel, we don't have a PDF version of the guide. They take a while to make them in a way that represents the design of the guide. So check back in a few weeks.
Excellent content as always Brian, now to kick myself up the arse to put it all in to action.
That's the tricky part, LOL. But yeah, definitely worth testing out at least a few strategies from this guide. A lot of them are working great right now.
Again, some amazing golden nuggets on this post Brian. I have been trying to strike a balance between posts that are written for Search Engines vs for real people.
One tip I have found that has worked for me is to write the first draft like I'm explaining or simply talking to a friend using my target keyword where it fits naturally in the flow.
And then as I go through cycles of editing/proof-reading sprinkle in LSI and long tail keywords.
But this post is a great framework to follow – great work!
Hey Aman, that's a great approach. People underestimate how well SIMPLE writing works. And having your reader in mind as you write helps you keep things super simple.
The timing of this is great, I'm updating some of my content this morning! Great work as always!
Awesome Dan. This guide should definitely come in handy then.
This time, I liked the solution concept along with explaining the problem. Every time, implementing the new ways of writing the article is awesome.
Thanks Alex 👍👍👍
Thank you, Brian, for putting together this SEO Copywriting guide. Will share this to our content team. 🙂
Hi Patrick, you're welcome. Glad you learned some new stuff that you and the team can try out.
Great tips – I'm definitely going to try Click to Tweet and Snippet Bait, as well as Amazon keywords! Thanks for sharing.
Sounds good, Susan. Keep me posted on how things go.
Kudos. An excellent post as usual Brian. You are an inspiration with your hard work.
Thanks San.
One of the best and comprehensive article on SEO copywriting, bookmarking it so I can read it again. Thank you Brian. You really inspire me to learn more
No worries, Vishal. There's a lot here. So definitely a good one to bookmark and refer to as you write.
Brian, I have been listen a lot of copywriting is just missing the seo part.. For them we have very far from copywriting…. But when we combine the both we coming out a better seo. thanks good work again.
Thanks Claude.
Brian, your articles are great as always, but there are a lot of information. Please make a short article how to better read, realize and apply them. Tons of helpful things.
You don't need to read the whole thing in one sitting. Step… by step 🙂
Dear Brian Dean I am absolutely glad to see your article because I am also beginning my SEO Career. I read your post top to bottom with my attention. Realy it helps me so much. And I beleave it this post help all SEO beginner and Experties.
Love how you use short paragraphs and videos especially as 50 odd percent of Americans are illiterate the last time I looked!
I'm trying to use that more in my website posts.
And my comments it seems! 🙂
Thanks Tom 👍👍👍
That mini tutorial in branding your own name is GOLD! Subscribing to your emails is the best SEO investment I've made all year 🙂
Also I saw a huge CTR increase by adding things like "(examples)" and "[23 images]" to my meta title, do you think the length they add to the total title negatively affects how much the boost in CTR is?
Thanks Brian!
You're welcome, Theodore. It's a balance for sure. I have seen that those brackets help. But it's best to use them on title tags that are relatively short. As you said, otherwise they can do more harm than good.
Thanks Brian for your helpful post. What do you think about Google search putting new sites on the sandbox?
Google denies that there's a sandbox. But I've seen it enough times to believe it's a real thing.
Great post as always black hat Brian! I will try making my URLs shorter.
"Black hat Brian", LOL. That's a new one.
Thank you Brian, chapter 3 & 4 just informed me I really got some crucial jobs to do on my blog. I can't believe I am getting all these insight for free, you're great. I am also curious if you don't mind, how do you make money from your blog since you don't have any display ads and don't usually talk about blog monetisation? Or is there something else I need to know 🙂
Thanks Joan. Backlinko is an SEO training company. We have courses on SEO, blogging, and more.
Great content as always. As you said: create briliant content and "spread the word".
Thanks for sharing. Kris
You're welcome, Kris. It sounds simple. And there's a lot of nuance to get right. But that's a powerful 1-2 punch for sure.
Thanks for all this information, I will create a better post on my website, thanks a lot again.
No worries, Lesther. Glad you found it useful.
Bucket Brigade is the best for me. You guys are making SEO great again.
Thanks Dan.
This is so immensely useful Brian. Thank you for putting this together.
You're welcome, Darshana.
This is amazing Brian!
I have multiple posts that has snippet worthy information.
I think optimising for snippet should be my first priority after reading this article.
Thanks Selva. For sure: it's usually pretty easy to format your existing content to be snippet-friendly.
awesome actionable stuff as usual Brian! I model my blogging style after you!
Nice! One of the great things about copywriting is that there are LOTS of actionable things you can do to quickly get results. So I wanted to focus on that sort of mostly tactical stuff here.
Awesome stuff as always Brian! 😊
Thanks Davis 👍👍👍
I was reading Seo hub 2.0 and then I recently received your email about seo copywriting I am really happy that you published this guide and I want to let you know that your previous copywriting guide is also a must read for all who want to better engage with their reader. Thank you!!!
You're welcome, Vikas. I tend to write a lot about copywriting because a) it's a fun topic and b) it's super important.
Another piece of highly valuable content that goes in my long list of Backlinko bookmarks 👍
All your ideas are so nicely put together always. May I ask if you use any sort of notes system like Roam Research or Notion to save all these research. Would love to see an article on how you process so many ideas from notes to outlining, and building such high quality content.
Thanks Shehnaz. I actually don't really have a notes system like that. I really focus on writing what I know. So most of my content is documenting what I'm doing to grow Backlinko and Exploding Topics.
APP, title tag questions and title tag modifiers are all gold (am somewhat familiar with the others). Bang up job, as always.
I love the way you write, and it exactly what you teach here on backlinko.
I would work on every tips you shared here to improve my site readability and organic ranking.
Thanks a million, Brian.
You're welcome, James.
Thanks for your reply. I'm honoured
Great stuff as always 💥 I was really wondering why you don't use AMP?
I go over that here: https://backlinko.com/mobile-seo-guide
Brian, just a tip-not everything is 'the definitive guide'.
Write for people first-search engines second.
Yeah but this is 🙂
Excellent post Brian. FYI: I still remember last month I was searching for how to build backlinks for new blog.Most of the blog post from the SERP suggest "Skyscraper technique" and directly linked to your blog post. There I realized the importance of creating a brand keyword on our niche.
Thanks a lot again!
You're welcome, Rajan. For sure: that's yet another benefit of creating your own keywords.
Still need a physical example of adding the rich snippet. Do I add it for example instead of the table of contents? I mean like below the H1 right-away? Thanks
Do you mean a featured snippet?
Whoa. This great for affiliate site. Thanks
Thanks Candra.
THANK YOU FOR THIS! I'm trying to build a whole new career of SEO copywriting and your guide makes it a lot less scary for me.
This might be a stupid question: is it better to call myself an SEO copywriter or an SEO content writer? Any thoughts on marketability?
Hi Lauren, you're welcome. Not a stupid question at all. I'd go with SEO copywriting just because it's a little bit less of a competitive space. You might also enjoy this post: https://backlinko.com/seo-jobs-report
You're one of the best content writers I've followed. Your posts, even though they are long, keep us reading and following along.
Thanks for the great info yet again. Looking forward to your next piece.
Hi Serrina, thank you. I appreciate that.
Gold as always. Thanks. Some examples of titles with emotional sentiment would be great 🙂
You're welcome, Andy. Most of my non-guide titles have a little bit of emotion sprinkled in. Buzzfeed has even more.
I'll be putting your work into "Creating Your Own keywords" to work in promoting my new services though google. Today's new circumstances are creating new opportunities for changing methods and they call out for new brand names and the new keywords to go with them. Thank you.
Hi Michael, sounds good. For sure: most keywords are pretty competitive these days. Which is why creating your own keywords is huge: you basically automatically rank #1.
Incredibly helpful Brian. Thanks for using language and graphics even I can understand 😉
Hi Brenda, that's really the foundation of good SEO copywriting (and copyrighting in general): writing clearly. Clarity > style.
Thank you for posting this! it's very useful information. Greetings from Argentina
You're welcome, Patricia.
Dear Brian Like allways your content is full of great information and examples, what I love :). Please check the part "Test Out Questions in Your Title Tags" in my opininion there is a mistake in diagram – title with/ without questions. You need to swap the diagram bars if title with questions have higher CTR.
Thanks Dorota. Are you sure? The "title with question" bar has a higher CTR.
😉 now is ok. I'm glad that you made a correction
Lots of gold in there as usual thanks Brian.
You're welcome, Craig. I tried to pack this guide with as many golden nuggets as I could.
Hi Brian, what a complete guido to seo and copywriting. And as always this is beautifully acompanied with your graphics, great work!
Hi Peter, thank you. For sure: our designer does an amazing job with these illustrations.
I'm glad I found you. Very rich content. Thank you for all you do for us.
You're welcome, Caleb.
If you can have an article on SEO with AI. It will be interesting. I'm using already one for my websites and help a lot.
I'm a fan of Artificial Intelligence, it saves you a lot of time.
You're having AI write an entire post from scratch?
Love this guide! Even after all these years, there's always something to learn.
Hey Erin, well said. I 100% agree.
What's the difference in Content writing and Copywriting?
Content writing=writing to inform. Copywriting=writing for a specific purpose.
Leave a Comment
GatherContent is becoming Content Workflow by Bynder. Read More
SEO content: How and why to develop an effective strategy
GatherContent Contributor, Writer
7 minute read.
Interviewed by:
Table of contents
Content Delivery
How to deliver high quality website content, on time and in budget.
Founder of Lagom Strategy
Creating SEO content is rarely a walk through the park. No wonder 90.63% of pages get no organic traffic .
Are your pages among them? And, if so, do you know why your SEO content isn't performing as well as it could? A leading reason may be that you don't have a well-defined SEO content strategy in place.
Sure, you've probably looked into ranking factors that can help you improve your SEO game. But you're probably not taking the action needed to rank in the search engines.
Let's walk through a 7-step framework for creating a high-performing SEO content strategy. We've also included our best SEO content writing tips for you as you create new content.
Let's start.
What is SEO content?
SEO content is content meant to drive organic traffic from search engine results pages (SERPs). Content optimization is a big part of accomplishing that goal. It's what helps your content rank on page one of Google and, preferably, within the first few organic slots. (That's where it can be most easily found by our audience.)
However, the kind of content that deserves to rank well isn't optimized for search engines alone. It also keeps the reader's experience in mind. It answers all audience questions about the target keyword or phrase.
"The kind of content that deserves to rank well isn't optimized for search engines alone.
It also keeps the reader's experience in mind and answers all audience questions about the target keyword or phrase."
But why worry about optimizing for your target audience? Isn't it easier to just optimize for a keyword?
In reality, SEO writing and writing for your audience are synonymous. Search engines like Google prioritize satisfying their users. So when your content does that, it ends up ranking well. A win-win.
For instance, when a searcher finds their answer on your page, they are likely to spend more time on your site. This increases your click-through rate and reduces your bounce rate. Both are leading ranking factors so improving them can improve your SEO results.
💡 Learn more: Why SEO is about people, not the search engine
Why is SEO content important?
The obvious answer is that high-ranking SEO content generates website traffic. But traffic is a secondary goal. It often leads to the bigger objective of converting customers or users.
So it's more accurate to say that SEO content generates relevant, quality website traffic. It helps the people with the most potential of converting to find your website. And this visibility and accessibility boost also has benefits.
For example, say your website constantly shows up in search results for a topic your audience is researching. If your content is engaging and meets their needs, it can boost your credibility (and memorability). Your target audience will begin to see you as an authority, which means more chances to engage and build relationships. Both can lead to sales or other important outcomes in the future.
SEO content types you should consider creating
What types of SEO can you create to enjoy the benefits above? Here are some of the most common SEO-friendly content types:
Lists. For example: "101 newsletter ideas to try today."
Guides. This is in-depth content on a topic that's spread over multiple pages. Moz's guide to SEO is a good example of this.
Articles. These could be interviews, news, or features commonly published by news publications.
Blog posts. These often target specific keywords or queries and either answer a target audience's questions or explain processes.
Infographics. These visualize data and help capture organic traffic of searchers looking for quick answers to their queries.
Product pages. These offer product descriptions while also serving as landing pages for PPC campaigns.
Images and slideshows. These could be anything from supplementary and explanatory graphics to a PowerPoint presentation.
Videos. These could be bite-size clips or long-form videos explaining a topic comprehensively. YouTube is one of the most popular ways of making video content widely discoverable.
7 steps for creating an SEO content strategy
The worst thing you could do is pick one or more of the content types above and start creating. As with your overall marketing efforts, strategy is essential to enjoy the full benefits of SEO content. To make sure you're doing SEO right, follow these steps.
1. Revisit your audience
To create a successful strategy, you must first know who it's for.
Start with identifying your target audience. Then, look for common threads across:
Their pain points, their impact, and their severity
Their goals or the outcomes they're after
The way they speak about the pain points and goals they have
The solutions they've looked into and how they feel about their options
These and other audience details will guide your keyword research and content creation.
2. Identify your goals
Write down your goals for creating SEO content. Do you want to drive organic traffic or do you want more conversions?
According to David Farkas, Founder of The Upper Ranks , your goals can include:
Obtaining certain rankings for target keywords and especially those that are high priority
Increasing organic traffic and conversions by a certain percentage within a certain timeframe
Increasing average time on site and user engagement
As you set goals, though, be sure to look at the big picture. Wins like increased traffic and better rankings are great. But only if they lead to more meaningful outcomes that grow the business or further your cause.
3. Research keywords and validate ideas
Your audience research can be a goldmine of keywords, phrases, and frequently asked questions. Start there.
Jake Peterson, Senior SEO Manager at Go Fish Digital , advises researching variations and questions related to a seed keyword. From there:
Once you have a list of target and secondary keywords, brainstorm content topics. To choose the right topics, you must understand each keyword's search intent . From there, there are many tools you can use for brainstorming. According to Adam Gingery of Majux Marketing , you can:
For each keyword, also decide the content type. Will it be a guide, a how-to piece, a short-form article, or something else?
4. Audit any existing content
At this point, you'll have a clearer understanding of the topics you'll need to cover. But don't start planning new content based only on your keyword research. Before you get ahead of yourself, audit your existing content. Have you already covered a topic surfaced in your recent research? If so, there are four buckets it might fall into.
In need of minor updates: Especially for a high-priority keyword, is there a piece you could freshen up with new stats or info? Insightful quotes from subject matter experts? Or could you improve writing quality, formatting, or other details?
In need of major updates: Large updates may include expanding a piece, optimizing for a different intent or audience, or updating your organization's stance on a topic.
Able to be merged: You may find that you have several pieces on a topic that overlap significantly. In that case, combine them into one in-depth post. This may make it easier to rank for the keyword with the best traffic and/or conversion potential.
Able to be deleted: If a piece is too dated, no longer relevant or miles off from your current quality standards, scrap it. Whether you plan to rewrite it or not, it's better—both for user experience and SEO—for it to be removed from your site.
Taking stock of the content you have helps you use your resources wisely and see results faster. (It's usually easier and takes less time to update existing content than to create it from scratch). Plus, it keeps existing content from competing with any new pieces you create on the same topic.
5. Create an editorial calendar and content briefs
With your list of target keywords and topics ready, organize them in a publishing schedule. For each topic, add a due date and assign a content writer—whether in-house or freelance.
To ensure writers create high-quality content, provide high-quality content briefs . These should distill information such as:
The focus keywords and secondary keywords
The target audience
Guidelines for search engine optimization
How each piece of content will meet the audience's needs and
6. Create a link-building plan
Link-building boosts your site's domain authority and improves rankings. In fact, creating a comprehensive post on a target keyword and waiting for it to rank naturally is rarely enough—particularly if you have a new site.
The solution? Actively build backlinks to each piece of content. Identify relevant websites that link to others' content on your target keywords. Then, reach out to them explaining that you offer a better resource that's worth linking to.
7. Publish and track results
Once you hit publish, review the results.
For example, monitor Google Analytics to understand:
How much traffic your posts are driving
How long visitors are staying on the page
What visitors are clicking on and patterns in the journey across your site
Which pages convert better
How can you be sure you're tracking progress the right way, though? Pre-select the metrics you'll monitor based on your goals. Every quarter or so, review progress against these metrics.
Finally, an important piece in the SEO content strategy puzzle. Keep refreshing old, evergreen content.
The Google algorithm loves fresh content and prioritizes it when ranking results. Be sure to add this step to your content marketing workflow .
💡 Learn more: Wrapping search and SEO into your content strategy process
12 tips for SEO content in 2023 and beyond
Here are our 12 best tips for writing SEO content. You'll see many of them in action across an excellent piece of content from Semrush, which we'll use as an example.
1. Write for your readers first
For SEO content to do its job, it has to give readers the information they need in a way that's easy to consume. You must understand readers' intent so that you can cover the right topics thoroughly.
Second, avoid keyword stuffing. If your content reads like a robot wrote it, readers will be more likely to bounce. This can indirectly have ill effects on your SEO results in the long term. So use your target keyword (and variations of it) naturally .
Stephen continues: "It means going back to basics. Like writing an article about one subject as opposed to targeting multiple keywords simultaneously, which may not even exhibit the same intent. And it means keeping SEOs out of content development, which is how it should be. SEO should support content, not determine it."
2. Add keywords strategically in your SEO content
We mentioned the importance of using keywords naturally and you should. Yet, if at all possible, aim to include them at least once in each of the following:
Your H2 headings (or H3s)
The introduction
Throughout the content
The last paragraph
Using keywords strategically helps search engines confirm the topic and depth of your content. This helps them rank your content so that the people you want to find it can find it.
Semrush did this well in its content optimization guide .
You can see the main keyword and a variation of it mentioned in the intro, first H2, and in the body of the content. It's also mentioned elsewhere in the content but not overused .
3. Create content based on the questions readers have
The key to good SEO content writing is answering all the questions readers have on a given topic. Find these by looking at what searchers are asking about in the People Also Ask section. (You can find this section in Google search results for your target keyword.) Then, answer them thoroughly in your content.
For instance, here are a handful of questions people ask about content optimization.
Now, look at the Table of Contents from Semrush's content optimization guide.
As you can see, it answers a few questions from the People Also Ask section. These include what content optimization is and why it matters. And the rest of the content takes a deep dive into the keys to content optimization.
4. Structure content for readability
Making it easy for readers to navigate and understand your content is essential. Divide content with subheadings, organize those sections in a logical order and use short paragraphs and sentences.
Additionally, use bullet points where possible and use bolding to highlight key points.
5. Write direct, to-the-point subheadings
Direct subheadings help visitors see at a glance if your content answers their questions. They also improve readability. And, if you frontload main points within your paragraphs, they can help you snag featured snippets on Google.
6. Write keyword-enriched meta descriptions
Write inviting meta descriptions that give readers a reason to click to read your content from the search results. Mention what aspects of a topic your content covers and how the information is beneficial. Also, use action verbs such as "learn," "dig in," and "read" to encourage searchers to read.
💡 Tip: Get four conversion copywriting tips to help you write meta descriptions that drive clicks.
Also, include your focus keyword as close to the front of the meta description as possible, along with other relevant terms. To illustrate, Semrush uses the main keyword immediately while also highlighting the importance of optimization. Then, while using other related keywords, it sets the expectation for what readers will learn and encourages them to read the content.
7. Add alt text to all images
Make sure all your images include alt text explaining what's in the image. These short descriptions make content accessible to a wider range of readers. They also make it easy for Google to understand and rank.
8. Create compelling page titles
Include your target keyword in the page title tag. This will give search engines another cue as to what your content is about, helping them rank it properly in search results.
It's also important that your headline entices people to read. Answering what's in it for them can help with this. For example, can you spot the promise in Semrush's case? It's that the content will be in-depth (since it's an ultimate guide and includes an infographic).
9. Break text up with visuals
A large part of writing content for SEO involves creating visuals. Why is this so important? Images and other visuals help with readability and ranking. Explanatory visuals such as concept maps further readers' understanding of a topic.
They break up text, support learning, and keep visitors on-site longer. Plus, other sites may feature your images and link back to your content. More backlinks can boost your search engine rankings.
10. Write short URLs
Keep your URLs simple and as short as possible. Rather than using your whole headline, use your focus keyword as the URL slug.
But it's worth mentioning that, if your target keyword includes words like "the" or "a," you can remove them. And, in some cases, you can also add words as needed. For example, Semrush's URL adds the word "guide" even though the main keyword is just "content optimization."
11. Add transcripts to all video content
Do you produce video content? Add transcripts to the videos as you upload them. They tell search engines like Google what was said in your video. This can help the content rank for relevant search queries.
12. Add internal links to your content
Linking to related pieces of content on your website has a couple of benefits. It:
Helps and educates your audience, giving them the info they need. It also keeps them on-site longer and promotes engagement. All of this can be good for your SEO and help you earn your audience's trust.
Shows search engines the extent to which you cover relevant topics. The more thoroughly you cover industry topics (via high-quality SEO content), the more authoritative your website seems. In turn, the higher search engines may be willing to rank your pages.
Create SEO content that works
With that, we've reached the end. You now have the know-how to create a solid SEO content strategy and write content that ranks. All that's left is to put that knowledge into action consistently.
On the consistency front, GatherContent is an invaluable tool. It can help with:
Creating your publishing schedule and managing your content calendar
Briefing in-house or freelance SEO content writers on individual content pieces
Maintaining your standards for optimization and style thanks to content templates and embedded style guidelines
And those are just a few of the features loved by the more than 2,000 businesses that use our platform.
Want to see how easy it is to plan and manage SEO content in GatherContent? Try it for free for 14 days.
On-page SEO checklist
Use this checklist as a guide for tips and tricks you can apply to any piece of content to get some quick seo wins..
About the author
Related posts you might like, platform features.
Content Hub
Content Project Management
Content Planning
Content Templates
Content Style Guides
Content Management
Content Workflow
Content Calendar
Content Creation & Collaboration
Beta Features
What's New
Productivity
Integrations
What is ContentOps?
Resources and Events
Our Partners
Customer Advisory Board
Join our team
Security & Backups
Terms of Service Data Processing Agreement
Terms of Website Use
Global Privacy Policy
Cookie Policy
Help Centre
API Documentation
Sign up to our weekly newsletter
NEW! Raven by TapClicks - SEO + SEM Tools with Deeper Competitive Insights

The Raven Blog
We write tips for digital marketers and we create beginner through advanced guides for search engine optimization. Improve your SEO and Content Marketing game.
The Key to SEO Content Writing: 6 Step Guide
Written by Jessica Foster and published August, 2018
While most SEO experts agree that content is an important part of SEO strategy, there seem to be varying definitions for what "great" means, and even mixed ideas about how important highly skilled content writing actually is.
Furthermore, people can have very different strategies for writing "SEO-friendly" content. Some focus on users. Others focus on Google. Some have even gone as far as to say that keywords are what make all the difference in creating content that ranks. But is that really true?
Table of Contents
What is SEO Content Writing, anyway?
SEO writing is targeted at search engines and towards specific search queries. You don't just wax eloquently without doing keyword research and without gathering audience insights. The goal is to drive qualified and targeted traffic.
It may not be all about the exact keywords you've used, but the answer is far less complicated than what you may think. In this post, I'm breaking down what matters most for SEO copywriting.
There is no "secret sauce" for writing SEO-friendly content. In fact, SEO copywriters and normal content writers alike can often over-complicate the process and get away from the ultimate goal of the content… which is to help you (or your clients) make money! Despite the lack of secret sauce, you can follow 4 steps to satisfy search engines.
Keep in mind, writing for Google isn't going to be copywriting that is necessarily optimized for email gen, or for sales, or for getting people to visit other pages of your site.
How to Write Web Copy for SEO: 4-Step Guide
Use your primary keyword in the page title: This should be fairly simple. If something is important, then the title of your page should include the most important subject (or keyword) to indicate what the page is about.
Use the most important keywords higher up in the website copy: SEO experiments show a strong correlation with rank and placement of keywords in the body of the blog article.
Use keyword variations in your article: You don't write an article with one keyword and expect it to rank. Google wants a host of signals that indicate content relevancy, so including keyword variations is a way to show Google how it should understand your content.
Study competitors with good on-page SEO content:   This is the best way to learn what Google is prioritizing. Look for the type of headers, the number of words, the usage of bold and italics, the number of headers, the images, alt text, video, etc. Add or remove about 15% of the content to vary from whats ranking a bit and BOOM, you're off to the races.
So what is the key to great SEO content? Well, the key to writing content that WORKS (i.e. sells) is that you have to understand the ins and out of writing for both users and search engines. Doing so is more intuitive than you may think, as long as you understand a few core principles.
Without further ado, here are some rules (or rather — strong suggestions).
1) Identify your exact audience

First and foremost, the effectiveness of your copy depends on how well you know your target audience. I could write a high-quality advanced marketing guide and have a terrible piece of content if my audience was filled with beginner level marketers. Even worse, when a company has sales copy littered about the blog when their audience has either
A) Already bought the product B) Visited your page for insights but was met with the blog version of a product brochure
Not only will this audience determine KIND of content is needed, but it will also inform the voice of your content, the keywords you decide to focus on, and what your unique selling point (USP) is.
There are many ways to find out what your audience needs and wants, but I always suggest conducting market research  before you dive into a piece of content. You can use online surveys,   execute on keyword research,  do social media polls or connect with some local entrepreneur resources for specific insights.
This way, you will be sure that you are offering your audience something that they are actually searching for and wanting to buy. Without this knowledge, your messaging and/or your keyword research could be off – especially if you are basing your keywords and content off of what your competitors are doing.
You must get inside your ideal client or customer's head to create copy that will both attract them (through search) and resonate with them (through CRO). Otherwise, your words may fall on deaf ears (or eyeballs, I suppose).
2) Know why you are writing the content — Sounds simple, right?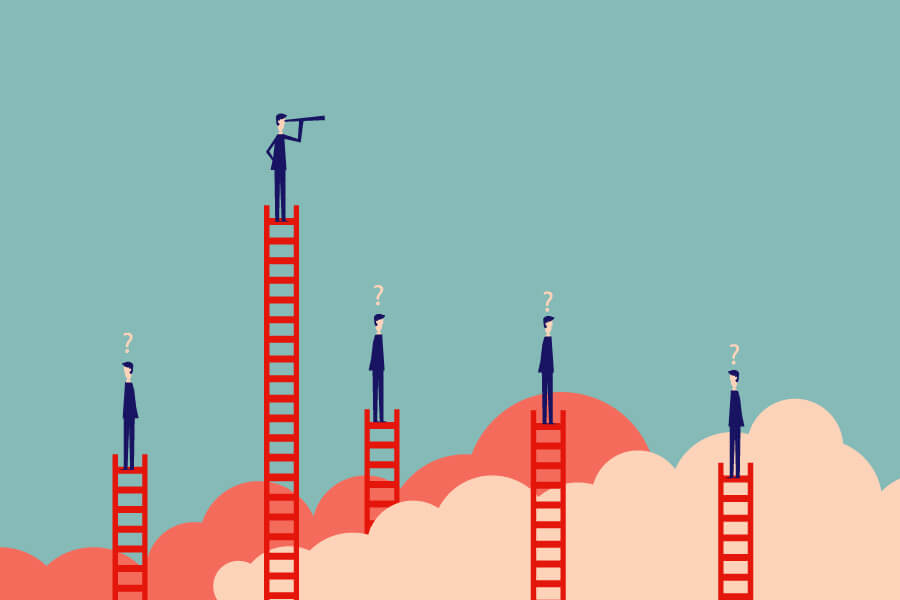 If you are doing SEO effectively, you know that organic traffic isn't everything. Ultimately you want your clients to get a good return on investment (ROI), and that means money . So, the purpose of your article will usually go beyond just generating traffic.
Don't confuse traffic with conversions or you'll wind up out of a job.
Conversions can take on many forms. Your goal may be to convert subscribers, drive phone calls, sell products or a host of other objectives but your intentions for your content should always shape your approach. Keep your eye on the prize. Write content that is best suited for what you are trying to achieve, rather than focusing on simply pleasing the Google gods.
Google has a formula for ranking, but ultimately, highly competitive areas require masterful SEO copywriting skills if you hope to generate link worthy content or just content that people want to read.
3) Content writing for SEO relies on studying the data
Once you have a solid understanding of what your audience is looking for and needs, it is time to support your strategy with data. It is not enough to ASSUME that you know what keywords will best apply to your content… you have to provide data that supports your claim.
This is where your keyword research comes into play. If you have been doing SEO for some time, you likely already have this process down to a T. Either way, you will want to see data that:
Proves that users are searching for your primary keywords
Covers the competition of those terms
Shows that the search volume for said terms justifies your strategy
This ensures that you aren't going into your content process blindly, or wasting time writing content that no one is searching for.
4) Create a content plan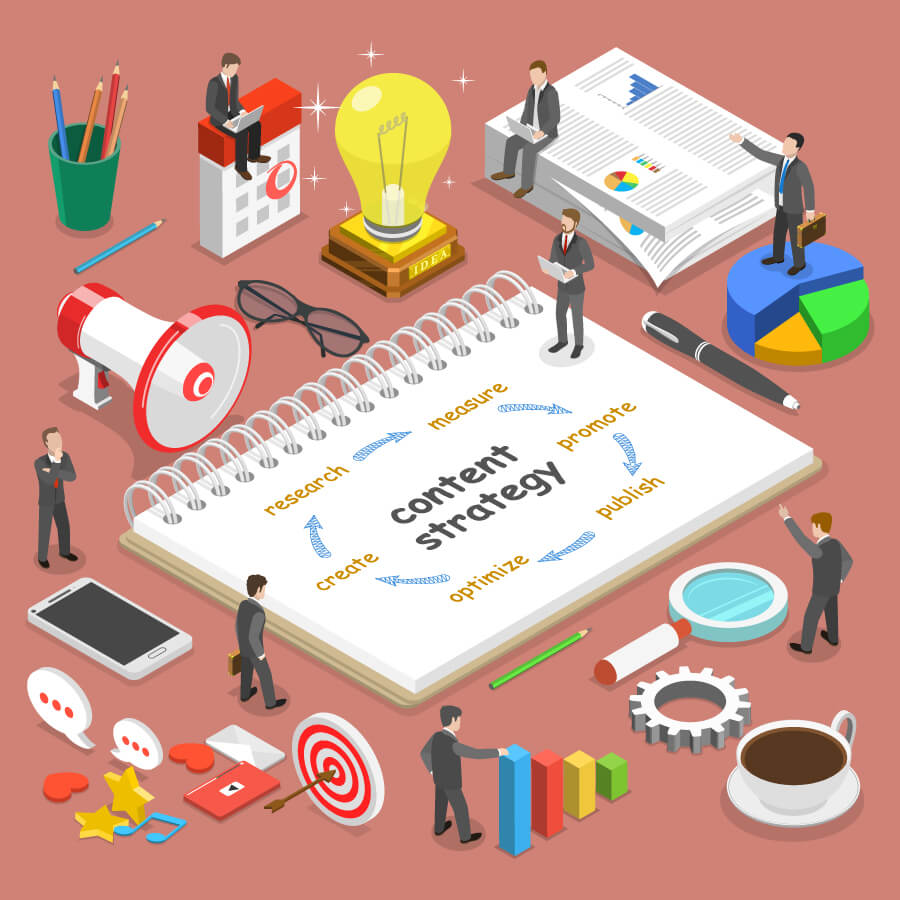 Planning can take many forms. You may decide to write an outline of the content before you write it, create a document that includes your focus keywords, or simply create a calendar for your blog posts. All serve the purpose of making sure that your content is focused, concise, and fits into the framework of your existing site.
Having a content plan can be particularly helpful if you are writing a lot (say, for an entire website) and need to map out the keywords for each piece. You can also add details such as the page titles you are going to use, the meta descriptions, and internal linking . Having this data in front of you will help set you up for SEO success.
5) Know on-page SEO best practices
When it finally comes to "optimizing" your content, in most cases, you would do well to simply follow best practices for on-page SEO. If your site as a whole is already optimized, there is not much more to do to your page or post to bump up the SEO factor.
Surely, if you are highly skilled in SEO, you will already have a process for optimizing your content and may use advanced methods. However, your content can still generate traffic for you if you have the  SEO basics (like page title, H2s, meta description, internal linking, image alt text, etc.) covered. Raven Tools has even conducted a study that compiles a list from 4 billion on-page mistakes  if you really want to make sure you're avoiding common errors.
It's important to not overthink this step and remember that your ultimate goal is to drive conversions. That means writing first and foremost for users and then optimizing for search engines.
6) Test the SEO content – See what works and what doesn't!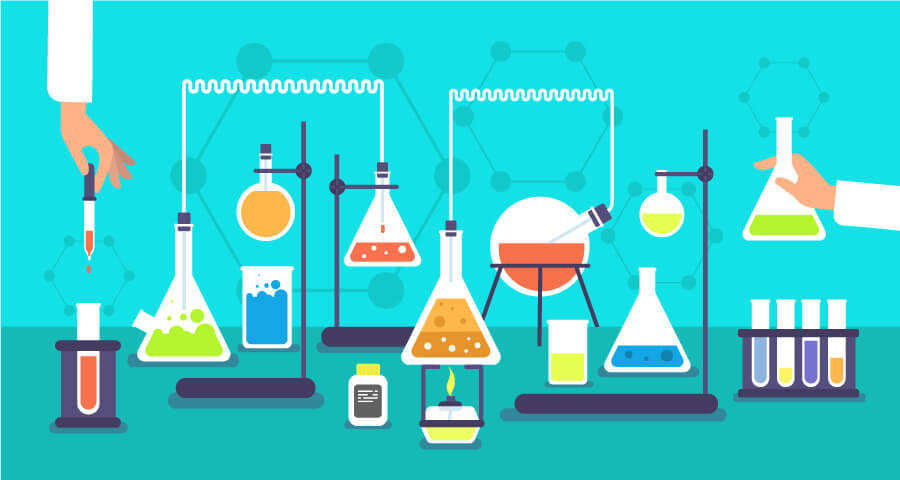 The final step to creating the best content for your audience and goals is to test it ! We all know that a plethora of ranking factors exist, and no one can be completely sure whether an article will provide the best user experience for readers. Testing is the final step to on-page optimization.
This is often considered to be an extra step, but A/B testing your content can help you determine the direction you are going to take with future content. You can learn a wealth of information about what works and what doesn't – and then know what to fix in order to help you get more traffic and conversions. For example, you may find that posts of a certain length work better than others, or that your audience prefers intriguing titles rather than informative ones.
Just know that the success of your SEO content is not a hard science. Trends change, your follower base may evolve, and Google's pesky algorithm may even make a shift. In the end, meeting your audience's needs is what matters most if you're really wanting the right traffic coming to your site. Do that, and you will be a happy site in the eyes of Google and your potential customers.
Got questions? Leave a comment or hit us up on social media
Website Auditor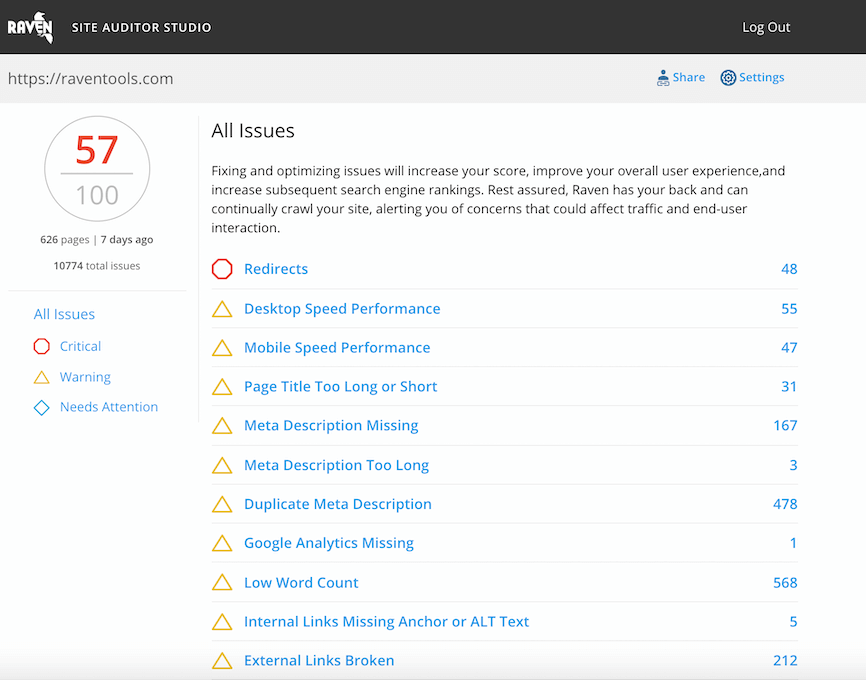 Learn About Our Site Auditor
Analyze over 20 different technical SEO issues and create to-do lists for your team while sending error reports to your client.
Want to learn more about SEO and Marketing from Raven Tools each week ?
5,000 subscribers said "YES"
(No spam. Just knowledge.)
thank you for subscribing !
← Back to Articles
May 26, 2022
Your Guide to SEO Writing
Content Marketing
Search Engine Optimization (SEO)
Written by Clodagh O'Brien
The best way to drive people to your website or landing page is to create great content . Whether you write a blog or craft an infographic, the content should be relevant and attention-grabbing.
Once upon a time hitting those points in your content would have been enough. But not anymore. In this content-saturated digital age, your content faces huge competition to get seen and that's where Search Engine Optimization (SEO) comes in.
Why is SE O import ant ? Because it uses a set of techniques to increase the visibility of your content and web pages aimed at a specific audience you're looking to target. Utilizing SEO ensures your content is relevant and findable by conducting keyword research and optimization, writing meta tags, optimizing headings, including internal links, and attracting quality backlinks.
Content marketing and SEO need to work together to drive traffic and engagement. The goal is to get your content in front of the right people and often that relies on where it's positioned as a result of an online search - that means Google which is the market leader with an 85 percent market share .
In this blog, we'll introduce you to SEO writing and reveal simple tips that will help you write SEO-optimized copy to drive traffic and leads.
What is SEO content writing?
SEO content writing is a way to create content that's optimized on-page to help your content get a high ranking on search engines. It also signals that your content is relevant and of high quality.
When we talk about content, that can be anything that exists online you want your audience to find. This includes:
Landing pages
Product pages
Guides or eBooks
Infographics
Alongside keyword research and optimization, it's important to ensure your content is organized. This means that your content should be in a logical order on your site and easy for visitors to locate. A great way to do this is to plan a flow for your content and include relevant links but a sitemap to help SEO and make your content findable.
There's also no point in creating great content if you don't share it! Make sure you have a plan to promote all your content on social media networks, link to relevant content in your emails , and get staff or brand advocates involved by asking them to share it on their networks. The wider you share your content, the more likely it is you will increase reach and drive backlinks.
If your content fails to land on the first SERP (Search Engine Results Page) you'll see Clickthrough Rates (CTRs) nosedive to less than one percent . The difference between CTR in 1st position #1 on Google is significant compared to 2nd position #2 - 40 percent click vs. 18 percent . If your content fails to land on the first SERP (Search Engine Results Page) you'll see CTRs nosedive to less than 1 percent .
Now that you know what SEO writing is, let's look at advice from DMI experts and some takeaway tips you can apply to your own work.
Writing for SEO: Top tips from technical writers
The practice of SEO is about the visibility of your content, but don't forget to make sure that your content is tailored to your specific and unique audience.
It's wise to keep on top of content and SEO marketing trends to stay ahead of your competition and spot any opportunities to get your content seen. We'll take you through 9 key tips to help you write with SEO in mind.
1. Understand the KPI of your writing
Good SEO writing is not just about including a few keywords and being left at that.
This is where your content marketing KPIs play a role as they will help you determine the end goal of each piece of content. You should also have content in your marketing mix that drives people through the marketing funnel from awareness through to conversion.
"There is magic in SEO as it becomes this intersection of tech and story. You can tell a powerful story, sprinkle the magic of SEO on top of it, and not only do your readers see it, but more importantly, search engines see it, and you can move to the top of the rankings," says Pamela Foley , Chief of Content Marketing & Strategy, AOU Creative.
For example, top of the funnel content for driving awareness includes blog posts, e-books, and infographics, while bottom of the funnel content to encourage conversions includes demos, testimonials or webinars.
2. Create a structure based on a strategy
An important part of your overall strategy is creating an effective content marketing strategy . Without one it will be difficult to ensure that you are creating relevant content that drives prospects through the sales funnel and that what you create will appeal to your buyer personas .
There are several approaches to a strategy but one that works well for SEO is the 'Hub and Spoke model' (also known as the 'Pillar and Clusters model'). This approach generates content around a broad topic as a hub piece and then generates supplementary content that links to it that goes into more detail - these are your spokes.
For example, let's take SEO writing. A hub piece would be 'What is SEO writing?' and a spoke piece to link to and support it would be ' SEO for Bloggers: How to Optimize Your Articles '.
This approach will not only help you build a lot of content (and show expertise) on a particular topic but help increase keyword rankings, drive traffic and grow KPIs such as leads and sales.
"The hub and spoke model is something we recommend our clients use as a structure in building out their content calendars. It's effective because when search engines like Google crawl your website, it sees that you're writing interconnected and relevant content on a subject. The more you write about something, especially if you're plugging content gaps or providing original information, it rewards you by increasing your rankings on searches, also increasing your brand awareness, clicks, and more." - Nicai de Guzman, Content Team Lead for Wolfgang Digital.
3. Find SEO keywords by using keyword research tools
A crucial element of SEO writing is keywords. There are five essential steps to keyword research :
Once you have a target list, you can use research tools to help rank and explore keywords. There are free tools like AlsoAsked and AnswerThePublic, but the searches are limited on a free account so you won't get huge volumes unless you pay.
Paid tools such as Semrush and AHREFS are very useful and give you a full account of keyword volume, competitive insights, etc.
4. Make sure your headers are in order
Blogs are an important part of a company's content marketing strategy. They allow you to draw people in through relevant and engaging content that can be used to increase dwell time and encourage click-through.
But today's users are digitally savvy and want information quickly which is why blog headers are so important. When people read longer pieces of content they tend to scan or skim. That means they are looking for information that's important to them.
To give a flow to your blog, improve accessibility and highlight what each section is about, use headers throughout. H1s should be the most important followed by H2s and H3s.
If you need help with starting a blog check out our 5 simple steps or to create and format a blog, use our handy blog template .
5. Write using the tone suited to your industry
Every industry is different and the messaging and tone that works for one doesn't necessarily work for another.
For example, a consumer beauty brand may use imagery and adopt a tone that's upbeat and friendly, while a B2B software provider may need to use a more formal and factual approach. When it comes to tone, think about the one you use carefully as one that's risqué may turn your customers off rather than engage.
You should also keep your community in mind and be inclusive so that when a user visits your website or social media feed, they can see what you are about.
You may already know what tone works for your prospects and customers. But if you don't it's crucial to understand your 'ideal' customer. This requires creating buyer personas for your audience segment so you know how to attract and engage them.
Get started today by using our buyer persona template to make the most of your content.
"Experiment with your content to find a tone that resonates with your audience. Use social media to try different things such as bringing in humor or talking about a social issue your brand cares about. You could be surprised at the results," says Emma Prunty, DMI Editor.
6. Include relevant internal and external links
Links are the best way to guide website visitors to other relevant content. To get the most from your content, include internal links that will drive people to content of interest - think of the 'Hub and Spoke model'. You can also drive people to the 'money pages' that give them the opportunity to purchase.
External links or backlinks are an important part of SEO as they will link to your content from third-party sites. The more external sites that link to your content the better as it will drive search rankings and show value in your content.
If you have third-party links as part of your strategy, make sure you focus on backlinks of high-quality rather than a lot of low-quality ones that will have little impact on your SEO.
"It's important to have links, particularly internal links so that people stay on your website longer as you're linking to other articles and pages on your website. High-quality backlinking is not a bad thing as well, as long as you're actually going to high-quality websites and sharing your information," comments Foley from AOU Creative.
7. Suit your writing based on the platform and output
Any content marketer will tell you that each platform requires its own content. What that means is that the way you write for a blog will not work for a social media post or landing page.
Each content type and platform requires its own approach and style. If you're writing a blog, you're taking people on a journey and creating a story. Whereas a Google ad needs to hit all the relevant keywords and be compelling to encourage a click within seconds.
If you're looking for agency support in the areas of SEO, content marketing and paid media, get in touch with Neil Patel Digital
8. Write compelling CTAs
If you've put a lot into creating a piece of content, make sure you give people the opportunity to take an action. The aim of a CTA is to convert a reader or visitor into a lead that can be nurtured.
There are several types of CTAs you can use:
Sign-up or Subscribe - Use this to encourage people to sign up to a newsletter or updates
Learn more - This invites people to go to a tailored landing page or another section of the site. It can also act as a teaser for launch events as used by Apple in this email invite.
Get started - This can encourage people to sign up for a course or start on a learning journey
Download now - You can use this to urge users to download an eBook or whitepaper
Donate or Get involved - This is used by the non-profit sector to raise awareness of a campaign or drive donations. Airbnb recently got involved to help house Ukrainian refugees by asking people to 'Host a refugee'.
Get my discount - This can prompt people to sign up to a mailing list to get a discount code
Try for free - This is for a free trial or demo. We use this example on our site to invite people to try a free digital skills test
9. Always optimize!
You may think that once you hit 'publish', your job is done. Unfortunately, that's not the case when it comes to content.
There's always room for improvement, even for your top-performing blogs or landing pages. Information can get old especially if you're using statistics or including third-party reports. Keywords also go in and out of style, so the ones you identified for a campaign six months ago may no longer be searched for at all now.
So you always need to optimize your content. The best way to do this is to perform an audit of your on-site SEO , particularly for key pages that drive leads or revenue. You also should keep an eye on how content is performing and if you see a slide in views or leads, try to identify why. You can do this by looking at your data and picking out content that's seen a decrease over some time.
At DMI, we worked with Wolfgang Digital to optimize our blogs using SEO tactics . This involved including relevant keywords, refreshing content and including internal links to refresh top-performing content. As a result, in just one quarter we saw a 143 percent growth in leads from the blog year on year.
"The most important part of any SEO content strategy is to leverage as much low-hanging fruit as possible. Before creating tons of new content, we knew it was important to identify posts which had the potential to rank higher for their existing search terms while gathering visibility for more long-tail terms through optimizing the content that competed more strongly with existing top-ranking pages. Through the power of internal linking, we capitalized on DMI's existing content to create an 'ecosystem' in which one page strengthens the other by spreading link equity more efficiently," Lorna Franklin, Client Lead, Wolfgang Digital.
Watch our webinar on how to create content that's guaranteed to engage your audience for some tips on authenticity and content creation.
What is an SEO writing example?
Now that you know the tactics required to optimize your content using SEO, here are some great examples you can take inspiration from.
SEO writing for blogs
You may be already making SEO mistakes on your blog and not even know it. If you use SEO content writing for your blogs they can benefit in terms of search engine rankings.
Here's a recent blog we wrote about YouTube with SEO in mind. The headline 'How to Create a YouTube Channel' focuses on keywords 'how to' and 'YouTube channel' which will show Google and other search engines exactly what the article is focused on.
The opening paragraph also includes a link that directs people to another relevant YouTube article on our blog followed by a reputable third-party link in the second paragraph.
The blog goes on to outline key ways to create a channel with relevant images and bullets to space out the content with internal and external links throughout.
The end of the blog features a CTA that directs people to a relevant DMI course to help create a YouTube channel followed by an image CTA to 'View Courses'.
SEO writing for landing pages
Landing pages are key to driving conversions . So the content you include on them needs to be relevant and SEO optimized with a clear CTA.
Intercom - B2B
Software company Intercom creates great landing pages that stick to their brand's look and feel and keep their content to a minimum. However, what they include is very clear and it's easy to see what they are offering a visitor.
The white background makes the imagery stand out with a positive headline using the words 'build', 'life' and 'engagement'. Their CTAs are clear, offering 'Get started' or 'Free Demo'. Clicking on either CTA drives a user to a sign-up page for email capture.
'Get Started' CTA
Gucci - B2C
Digital fashion brand Gucci epitomizes luxury and creates landing pages that ooze style. The infamous GG logo takes over the background in a simple yet eye-popping palette. In the example below, content is kept to a minimum but plays to the image 'The GG in Blue' as it relates to the blue cake.
Navigation is made easy through the top menu and the CTA is simple - 'SHOP THE COLLECTION' encouraging either a click or scroll.
The Digital Marketing Institute - B2C
This page is designed to promote the new Professional Diploma in Search Marketing Course and uses optimized copy to include relevant keywords such as 'SEO', 'PPC' and 'Google AdWords' (and thousands of other terms we hold in our online dictionary ).
The content also informs visitors of the type of course and price, and the page displays the logos of our Global Industry Advisory Council to show our broader industry accreditation. The CTA is simple but stands out against the white background: 'Download Brochure'.
Shopify - B2B
Ecommerce giant Shopify creates landing pages to encourage brands to sell their products and services through their platform. The headline tells you what you need to know as a visitor 'Everything you need to sell anywhere'.
The body text is impactful and uses keywords that demonstrate global reach and the ease of using Shopify such as 'trust', 'sell', 'ship', and 'process'. There's also a CTA at the top of the page and the bottom of the panel to take the same action 'Start free trial'.
"SEO is a slower and more organic way of people finding you that takes hard work and time. But if you do it well, you'll reap the rewards. So if you've got a product that's not something that you can buy from thousands of other places such as a custom BBQ, then SEO is gonna be more helpful to you than if you sell white socks, where thousands of shops sell it," James Williamson , Managing Director from digital marketing agency, 8th Dial.
SEO writing for product pages
There's an art to writing a good product page for ecommerce as there are a lot of elements to include to drive a visitor to purchase (look at these 12 SEO tips for ecommerce for even better engagement). Here are some top examples.
Birchbox - B2C
Beauty subscription service Birchbox has a range of products organized into boxes it sends out monthly. The aim is to give people the opportunity to try a range of products that are personalized to their skin or hair type etc.
The product page showcases the products, includes customer reviews, and has a section below the second panel that tells visitors how to use it. The copy is simple and filled with keywords such as 'glow', 'illuminate', and 'summer'. The headline links the product to the upcoming summer season and deems it 'essential' while the CTA is simply 'Add to Basket'.
Peloton - B2C
Cycling brand Peloton has a high price point for its bikes but uses copy on its product pages sparsely and effectively.
The headline 'Transform your workout with game-changing cardio' taps into the desire to get fit and be transformed. It tackles the high price point by offering monthly payments and 0% financing. It also offers a 30-day home trial and cost comparison function. The CTA is simple - 'Shop Bike'!
Good Health - B2C
With a focus on healthy foods in recent years (just look at the success of alternative products like oat drink company, Oatly ), Good Health launched an organic range of crisps. The product page uses copy wisely but gets the message across about the snacks being healthy and gluten-free.
The imagery is eye-catching and the content outlines the products using keywords such as 'baked', 'real cheese', and 'organic' with trademarks included. The three CTAs offer customers choices for online purchasing or in-store ordering.
If you scroll down, the page breaks into panels that describe each product in more detail. It uses keywords such as 'love', 'kids', and favorite.
"SEO is incredibly powerful because people, when they search on search engines, especially if they use conversion keywords, are ready to purchase. It's not like they've seen an ad float by on Instagram or read their mum's post on Facebook and something pops up, they are actively looking for what you do. They just don't know that you do it," Kate Toon, Copywriter Extraordinaire.
Is SEO writing a good career?
Research by Lucidpress found that 85 percent of professionals saw the demand for content increase during 2021 and that personalized content can boost a brand's revenue by 48 percent.
That just demonstrates the need for content marketers across industries. But to become a successful content marketer , you need to have an awareness of SEO. After all, companies want to be found online and creating relevant, SEO-optimized content is one of the most effective ways to do that.
But is SEO writing easy? In a nutshell, it takes practice! With organic search being the primary source for a website, applying SEO practices to your content will help increase online visibility among the people that count - your prospects and customers.
Concentrate on the key areas that will make a difference to your SEO writing - keywords, headings, meta tags, CTAs, internal links, and backlinks. Local SEO also becomes important for personalization and for businesses such as a restaurant or cafe that focus on a particular location.
"There's no secret to SEO, it's very linear and black and white. Once you know how it works, you know. I think people are put off SEO because they think it's some kind of secret potion that only certain people can learn. Which is absolutely not true," says SEO and content expert Kate Toon.
How much do SEO writers make?
Content marketing can be a lucrative career and offers the opportunity to become a freelancer or earn a living as a digital nomad . In 2022, what would be the average take-home pay of full-time and part-time SEO writers?
According to Comparably , the annual salary for an SEO content writer in the U.S ranges from $29,000 to $109,000, and in the United Kingdom, Talent.com states that an average salary is £25,500. Payscale puts the average salary for a content writer with SEO skills at nearly $46,000 while in Australia the average annual salary is nearly AU$57,000.
The rate varies when it comes to charging per word. Search Engine Journal surveyed SEO pros and found that rates varied from $0.02 to $2 per word.
The key is to gain experience in SEO writing that you can stand behind and use to negotiate your rates as a freelancer or in an interview for a role.
What makes a good SEO writer?
A good SEO writer can be hard to find which means they are in high demand. Primarily being able to write clear and engaging content is essential. To integrate SEO into writing you must have:
Good research skills
Keyword research and integration skills
A working understanding of both industry and technical SEO
Editing and proofreading experience
Great organizational skills
An eye for detail
Become an in-demand SEO writer
Expand your skillset and advance your career with DMI's Professional Diploma in Search Marketing . This industry-aligned course will help you understand SEO content, paid search, strategy and planning, analytics, and much more. Get started today to boost your earning potential.
eBook: How to Create Great Digital Marketing Content
How to Write SEO Optimized Copy
Content Calendar Template
What are the Top Content Marketing & SEO Trends?
A Guide to SEO for Small Business
Podcast: Tips from a Pro Copywriter
Related Free Video Lessons
Introduction Technical SEO
SEO Setup SERPS
SEO Types of Keywords
Related Content
Webinars: webinar: how data science can boost seo strategy in 2023 (neil patel & chris penn), webinars: webinar: seo evergreen tactics (with neil patel brands), toolkits: seo keyword research toolkit, articles: preparing for ai search with google search generative experience (sge), articles: how to perform an seo audit, articles: how to do an seo competitive analysis, clodagh o'brien.
Clodagh O'Brien is a content creator and strategist. Over the last 12 years, she has created and managed content for many SMEs and global brands. She's passionate about digital marketing and the impact of technology on culture and society. You can find her on Twitter or LinkedIn .
Recommended For You
Toolkits: search marketing interview preparation toolkit, webinars: webinar: preparing for the new world of ai search with sge, articles: your guide to seo writing, articles: the ultimate list of free keyword research tools, articles: content promotion: how to balance organic results with paid ads, cpd points available.
This content is eligible for CPD points. Please sign in if you wish to track this in your account.
CPD Points Available
This content is eligible for CPD points. Please login if you wish to track this in your account.
View Courses
Change Password
Get the latest digital marketing data, insights and toolkits from DMI
Skip to primary navigation
Skip to main content
Skip to primary sidebar
Skip to footer
SEO Writing: How to Write for SEO (10 Easy Steps for Writers)
A step-by-step guide on how to improve your SEO content writing skills. Includes examples and tools to use.
Academy Login
Online Courses
Get Free eBooks
Writing for SEO is an art. The job of an SEO writer is to write content for both search engines and users and to do that successfully, you need to know how to apply basic SEO content principles in practice.
In this guide, you'll learn everything you need to know about SEO writing. I will explain what is SEO writing and the 10 steps to follow to ensure that each piece of content you write is search engine friendly.
What is SEO Writing
SEO writing is the process of writing content that search engines can easily understand. This is done by intelligently adding search phrases or keywords in your content without doing keyword stuffing.
SEO writing is also known as SEO copywriting or search engine optimization writing.
How to write for SEO
To become an SEO copywriter, you can follow the 10 steps below.
Choose your keywords (both head and long tail keywords)
Craft your page title
Create an SEO Friendly URL (add your main keyword)
Write the content (long enough)
Add your keywords in the first paragraph
Create headings using long-tail keywords
Add LSI-related keywords to your content
Link to other pages on your website using relevant anchor text
Demonstrate your Expertise and Authority on the subject (E-A-T)
Add and Optimize images
1. Choose your keywords (both head and long tail keywords)
The first step before writing new content is to decide which keywords to target.
This process is known as keyword research and it's very important for a simple reason. You need to write content around topics that people search for and keyword research will tell you that.
When you do your keyword research, the outcome will be a set of SEO keywords both head (or focus keywords) and long tail keywords that people type in search engines.
The easiest way to do this is to:
Go to Google and search for your chosen topic (general).
Visit the top 5 pages and analyze the type of content they provide.
Take each URL and using SEMRUSH or other tools (ahrefs, ubersuggest, etc) find out for which keywords those pages are ranking and the traffic they get.
Then depending on the results decide which main keywords you will target in your content.
Take those keywords again and using a tool, find out the associated long-tail keywords and LSI (or semantic keywords)
Here is an example of how I followed the above steps when writing this post:
I did a general search on Google using "write for SEO".
I analyzed the first results using SEMRUSH and found out that the keyword that has a high volume for my chosen topic is "SEO writing"
I then used the Keyword Magic tool (utilizing the advanced filters feature) of SEMRUSH to find other related long-tail keywords.
If you take a closer look at the content, you'll that these keywords are used in different places throughout the article.
By following this process every time you write new content, you help search engines understand your content better and if your content satisfies what users want, this will eventually translate to higher rankings, social media shares, and more incoming links.
For more tips on how to improve your SEO writing enroll in our SEO Course . It's the most comprehensive SEO course you can find on the web loaded with actionable tips and practical advice.
Get Started
2. Craft your page title
The next step is to start thinking about your page title. Choosing a good page title is critical for the success of your page or post, so allocate the necessary time to come up with a title that:
Includes your target keyword
It's unique for your website
It's interesting for users to click
It's around 160 characters
It's not the same as the existing titles on the first page of Google.
Don't omit any of the steps, especially the last one. Before deciding on your title go to Google, type your target keyword, and analyze the first 10 titles.
Your goal is to create a title that is unique otherwise you limit your chances of getting a top-10 position since Google rarely shows pages with the same title in the first 10 results.
As an example, look at the title of this post and notice how the main keyword and related are part of my post title.
How to create SEO Friendly Titles
3. Create an SEO Friendly URL (add your main keyword)
The next step is very easy to implement. When creating the permalink of your post, make sure that it includes your target keywords and eliminates any unnecessary words.
Look for example at the URL of this post. By default, it was the same as the page title i.e.
https://www.reliablesoft.net/seo-writing-how-to-write-for-seo-10-easy-steps-for-writers/
but I have shortened it down to
https://www.reliablesoft.net/seo-writing
Aim for having exact match URLs where possible.
How to create SEO Friendly URLs
4. Write the content (long enough)
Now it's time to get your hands dirty and get into content writing .
You already know what your competitors have published, you have your title, and you know which keywords to include in your content, what else do you need?
What is the user intent?
You need to make sure that you understand the user intent. In other words, your content should match what users want to read for the particular keywords.
One of the ways to find out is to go back to the Google search results and look for patents.
For example, if you are writing an article about 'SEO tools', you will notice that almost all results are about lists with 'Free Tools'.
This means that Google has found out that when users search for tools, although they don't include the word 'Free', their intent is to browse lists of Free tools.
This also means that if you are targeting this keyword, you need to adjust your title and content accordingly, otherwise you minimize your chances of rankings for that term.
How long to make your articles?
Besides the user intent, you also need to make your content comprehensive enough so that users can get accurate and in-depth information about the topic.
Despite what you might have read, there is no magic number when it comes to word length.
It all depends on the topic and keywords. For some topics, you might need to write articles that are over 2000 words, for other topics you can provide a comprehensive answer in 800 words.
Content length alone is NOT a ranking factor . What matters is the quality of the content and how well it can satisfy the real intent of the user.
To avoid any confusion, a number of studies have shown that the ideal article length for SEO is around 1800 words and this is true for many cases.
Longer articles give you the opportunity to use more keywords (without keyword stuffing) and they tend to do better in social media.
But, this is a general guideline and not applicable to all cases. My recommendation is to find the average length of the first 10 results and try to provide a bit more content but better than what is already published.
There is no reason to write a 3000-word article if you can have the same result as a 1500-word article.
5. Add your keywords in the first paragraph
Here is a nice tip that most SEO writers fail to follow. Once you are done with the first draft, you need to go back and revisit your post introduction.
Your goal is to make sure that your target keyword is included in your opening paragraph.
The reason is that Google always considers that content that is above the fold and high on a page is more important than content found down the page.
By adding your keywords in the first paragraph, you give a big clue to Google as to which keywords to associate this page with. It's also good for the users since you can help them understand that they are on the right page.
6. Create headings using long-tail keywords
One of the characteristics of SEO friendly content is that it's easy to read by both search engines and users, and headings help in that direction.
Don't be surprised but the majority of users won't read your content, they will scan through it. By having meaningful headings, you help them find the part they want faster.
Search engines follow the same pattern, especially for long-form content. They scan the page and look for certain elements to understand how a page is structured and what topics or keywords the content is covering.
To make their job easier you can use predefined heading tags in your HTML like the H1 tag , h2 tag, and h3.
Usually, a page has only one H1 tag and this is used for the title and then the rest of the content has H2 for the main headings and H3 for the sub-headings.
To further improve the SEO friendliness of your copy, try to use some of your long-tail keywords in the headings. Take a closer look at the headings of this article and notice how I have added long-tail keywords in my headings.
The complete On-Page SEO Guide
7. Add LSI-related keywords to your content
With the introduction of machine learning to Google search algorithms (known as RankBrain), Google is trying to truly understand what the searcher wants by using natural language processing.
This means that for a given keyword, Google will look for the deeper meaning of the query and not just for exact match keywords.
For you as an SEO copywriter, it means that you need to add semantically related keywords in your content, to help them during this process.
Semantic keywords are keywords that have the same or similar meaning. You can find these keywords using tools like LSI Graph . Here is a screenshot of the LSI keywords for "SEO writing".
So, you need to go back to your copy and enrich it with LSI keywords in a natural way. You may have to re-phrase some of your sentences but it's a step that can improve the relevancy of your content.
8. Link to other pages on your website using relevant anchor text
One of the SEO principles most SEO content writers tend to forget is internal linking . An internal link is a link that points to a page on the same website.
Why is it important?
When you publish a new page, it has to match your site's topics. This improves relevancy and rankings. One of the ways to 'tell' Google that your content is relevant to the rest of the site, is to use internal links.
Internal links although they are not as powerful as SEO backlinks , they are still used by Google as a way to understand what the linked page is about, especially if the right anchor text was used in the link.
They also help users learn more about a topic (look at this article again and notice how I have used internal links to give users a way to find out more information about a topic).
Last but not least, internal links are followed by search engine crawlers and this leads to better crawling and indexing of more site pages.
9. Demonstrate your Expertise and Authority on the subject (E-A-T)
There is a lot of content published on the Internet and in order to protect the quality of their search results, Google algorithms can detect which pages demonstrate Expertise, Authoritativeness, and Trustworthiness on a given topic.
In the SEO world, this is known as E-A-T and it is a critical factor of SEO content and an indicator of content Quality.
Here is the relevant quote from Google's guidelines on content quality.
How can you improve your SEO copy for E-A-T?
Follow these simple guidelines:
Each and every page should have the author's name and bio published (see how I'm using this on all my posts).
A page should have outgoing links to trusted sources
A page and website in general should have incoming links from other trusted and related websites.
As an SEO copywriter, you cannot control the last guideline (incoming links), since this has to do more with the content promotion part but you can control the first two.
So, revisit your content again and ensure that it links to other trusted websites and that the author bio is clearly shown on all pages.
10. Add and Optimize images
Before you hit the publish button, make sure that your content includes optimized images.
Adding images to your content makes it more interesting and easier to read. While this is not directly related to SEO writing, it can help in a number of ways:
Users are more likely to share content with high-quality images in their social media networks than content with no images.
You can use the image alt text to give more clues to search engines about your content
When you properly optimize your images , you have more chances of appearing in Google image search for your target (or related) keywords.
Key Learnings
Anyone can learn to write for SEO. It's a skill that can be easily mastered through practice and by following some basic SEO principles.
If you are working as a freelancer , there are a lot of SEO writing jobs you can apply for. If you're doing SEO for your own website, learning how to write content for SEO, will make your content get found on Google .
The steps to follow are outlined above, what you should not forget is to always put the user first. Your primary concern is to provide content that users want to read and then optimize it for SEO.
This is the reason that I have separated the process into a number of steps that involves writing the content first naturally and then revising it for SEO purposes.
You also can use the same process as a checklist when optimizing content written by non-SEO writers.
Alex Chris is a digital marketing consultant, author, and instructor. He has more than 18 years of practical experience with SEO and digital marketing. Alex holds an MSc Degree in eCommerce and has consulted with Fortune 500 companies in different industries. He blogs regularly about SEO and Digital marketing, and his work has been referenced by leading marketing websites. Connect with Alex on Twitter and LinkedIn .
Reader Interactions
October 10, 2019 at 4:18 pm
hi there, informative clear updated thanks for the detailed explanation with a presentation, it will be really helpful to enhance in-depth knowledge about Content Writing Skills.
November 23, 2022 at 3:28 pm
Thanks! Glad I could help.
September 2, 2021 at 5:54 pm
Wow Very informative article Alex as usual. Thanks for sharing.
November 23, 2022 at 3:29 pm
Thanks a lot for commenting.
All the best Alex
Leave a Reply Cancel reply
Your email address will not be published. Required fields are marked *
About Reliablesoft
Online training.
Do Not Sell My Personal Info
⋅
On-Page SEO
SEO Writing: Top 42 Tips To Master A Combined Art
Creating content that leads to conversion takes not only the art of SEO but also the craft of writing. Here are tips to hone both.
True digital success – for search engine rankings, user experience, and the brand overall, whether personal or business – occurs when the art of SEO and the art of writing are combined.
The best SEO writing comes from the perfect blend of:
Topical knowledge/expertise.
Deep knowledge of writing well
SEO best practices.
SEO is a must for any online writing, especially from a keyword perspective, and correctly mapping those keywords to pages/posts.
Readers can recognize an authoritative voice immediately, and a fake voice even quicker.
Whether you want conversions, brand awareness, or something else, your writing needs to have authority (and authenticity).
With that said, here are the top 42 writing tips for any content writer within any type of company, from billion-dollar software designers to local pest control companies.
The focus weighs more towards the art of writing itself, which will naturally lead to the creation of quality content that search engines demand.
Writing for SEO: The Essentials
1. think keywords first.
Your writing must be found before you'll have any impact on your target audience. This is why keyword research should always come before any research or actual writing.
This keyword research will massively influence your research, also, because you'll discover other ways your target audience is searching for your topic.
No matter how intelligent they become, search engine algorithms can't recognize the best voice in a piece of writing. But if keywords are there, you have the opportunity to be heard.
New to keywords? Check out this beginner's guide to keyword research .
2. Approach Keyword Research Like An Art
There are thousands of keyword research articles available. Research, discover, and test what works best for you.
Such as…
Make this process cyclical. I build content calendars out in three-month segments, performing fresh keyword research at the beginning of every cycle.
Industries change, and new keywords trend quicker than you'd guess.
3. Study The Competition For Keywords
There are many tools available to help you find competitor keywords.
Warning: Only take keywords – don't study the actual writing of your competitors. Once you do that, you sound like them and struggle to create anything original. Create an original voice and you'll be heard.
4. Target 1 Or 2 Keywords For Each Page Or Blog (Except Homepage)
Always focus on broader terms for your main "parent" pages and longer terms for the "child" pages below.
Targeting searcher intent first, volume second will help you get into the mindset of what your target customer wants.
5. Use Keywords Where They Matter Most
Use your keyword in the following (prioritized of importance) to send search engines strong signals of the content's intent:
Internal links within content.
Alt attribute of image.
Headline tags (always have an H1!).
Meta description.
6. Use Bold & Bullet Points Wherever Possible
Google pays attention to these, including when awarding featured snippets .
Make sure to use target keywords in bold and bullet points when possible.
7. The Title Tag: Still The Most Powerful Element
Make sure your target keyword is part of the title tag, ideally toward the front.
Also, remember that title tags should be about 60 characters, so put as much time into this as your actual content creation.
For the homepage title tag, target three of the most important keywords that describe the business/website.
Always think about storytelling. Keep it simple. Speak the language of your target audience. And write to influence that click-through.
8. Add Related Keywords
Don't simply stuff keywords in after doing the writing.
If you're well prepared with keyword research, have the list of topically related keywords at hand as you write.
If you are staying on topic, you will insert related keywords naturally.
9. Use Your Target Keyword In Your Meta Description
Google says it doesn't use the meta description as a ranking factor.
However, if someone is searching for that target keyword or phrase, those words will be bold.
Bolding attracts the eyes – and might entice a searcher to click rather than scroll by.
Also, write your meta description like ad copy. The goal is to excite the audience to further influence a click-through (your title tag should be the first influencer, immediately backed by your meta description).
Writing For SEO: Craft & Routine
10. write. rewrite. then rewrite again. until it's right..
It's all about routine and process.
As William Zinsser says in, "Writing to Learn:"
"Only by repeated applications of the process – writing and rewriting and pruning and shaping – can we hammer out clear and simple product."
11. Outline And Plan
It's much easier for a mind to think (and a search engine to read) in chunks, and actually see those chunks coherently.
Most minds naturally want to write in a stream of consciousness style like Jack Kerouac – but this isn't novel writing. Most of us are writing for a business, to further that business's success.
Organize headlines (for SEO with keywords!) and fill in the gaps.
Sometimes those headlines are more important than the words beneath. Make those headlines scream thoughts, and the words shout to support those screams.
12. Write Sentence By Sentence
Set up Word or Google Docs in landscape mode for the first draft, and write sentence by sentence.
Don't write any paragraphs until you do your first rounds of edits.
I learned this tip from Charles Euchner, author of "The Elements of Writing."
Single-line sentences keep the mind fresh. They'll help corral thoughts as you begin editing.
Think short for every sentence – like a 140-character tweet – and embrace short and concise writing.
13. Write Daily
A muscle grows when it has input combined with correlating relaxing points.
Your mind works that same way; embrace it.
Again, write daily to work out the writing muscles, followed by some relaxing.
Never stop the growth of writing muscles.
14. Shut Your Wi-fi Off
This tip comes from Tim Ferriss, author of "The 4-Hour Workweek."
This simple practice keeps focus in place and prevents the mind from answering anything outside of your focus.
Distractions move a mood. Make those distractions non-existent.
15. Got Questions? Ask Your Digital Assistant
The Wi-fi may be off, but sometimes you need immediate answers to questions that will nag you. Some can't work without answering questions.
The solution is simple: ask Alexa, Siri, or your Google Assistant.
I keep an Amazon Echo Dot next to my desk and use it for quick research.
I have an Echo Show, but it doesn't belong in the office where it can quickly jack your focus due to the video factor. That one remains downstairs, out of the office.
16. Read All You Can
Especially read the writers who simplify everything.
People may not love Hunter S. Thompson due to his politics or mad lifestyle, but his prose is crisp and simple. I read "Fear and Loathing in Las Vegas" in one sitting.
(And not once, but maybe 10 times when I needed a push into something I couldn't possibly finish and needed a mind breath.)
If you're business-minded, Michael Gerber's "The E-Myth" is a one-sitting read, too. It's simple and informative.
17. Stop Waiting For Inspiration
It's useless.
There's no such thing as inspiration unless you like to talk about writing instead of actually doing it.
True writers write every day and make it a lifestyle that helps develop the "art." Practice makes stuff happen and takes discipline.
Words simply flow better and easier after practice and discipline. Nothing happens without the simplicity of practice.
18. Read The Essentials
For traditional writing, read William Zinsser's "On Writing Well." Don't just read it once. Reread it once a year.
For the digital age of "short" writing that makes an impact, read Roy Peter Clark's "How to Write Short."
Don't stop there. Read "The Essential Don Murray: Lessons from America's Greatest Writing Teacher" and "Ernest Hemingway On Writing."
19. Try Writing In Longhand
This article is based on notes I took while flying over the Atlantic Ocean en route to Valencia, Spain.
Flying is a great time for thinking and using longhand. Plus, it keeps your mind off the snoring passenger next to you.
Write in longhand in cabs, buses, middle of meetings, etc. Try it, and revisit those notes before you get to work typing.
20. Write About What You Love
To truly master the craft of the written word, embrace writing that makes you happy – regardless if it'll make you money. The more you write, the better you'll become.
Short writing provides inspiration (regardless of how absurd it feels or reads sometimes!).
21. Ask Questions Daily
Friends, family, wife, children, whoever. Continually ask questions.
The more you learn, the more you can provide readers (possible prospects in business), regardless of your industry.
Questions are the highlights of learning. Let people talk.
Think 80/20 – let others talk 80% of the time as you listen , and you can talk the other 20% of the time.
Your readers will thank you one day.
22. Know Your Audience & Write For Them
Remember to keep your voice and style the same.
That's how to set yourself apart from the zillions of other content writers out there.
23. Work Better Under Deadline?
For some people, the pressure of a deadline forces the creativity out of you.
If this is true for you, have project managers bump up your due dates.
I do this with my teams, sometimes by as far ahead as four weeks.
24. Build Your Work Around Questions
Always ask, "What's the problem and how do I clearly provide a solution?"
It's just as important to ask, "Will readers care?"
This helps keep your voice trustworthy and authoritative, keeping search engines and readers happy.
25. Split Long Projects Into Short Tasks
Write all headlines first (remember to use target keywords in them), and fill in each portion.
This works just as well whether you're writing a 2,500-word piece on the craft of writing, or a 750-piece for a client discussing the technical aspects of a product.
26. Always Have An Ending in Mind
Knowing where your content is leading will keep your writing focus sharp, and will help you more often achieve the ultimate goal of most online writing – a conversion.
27. Check Your Spelling & Grammar
Misspell a name and the article immediately loses credibility.
Craft your content with sloppy grammar, and the reader doubts your authority.
After you've checked for spelling and grammar errors, check again.
28. Aim For Credibility
Without credibility, you'll lose any chance of capturing an audience's attention.
Situations get worse if you spread false facts.
Take added time for research and fact-checking.
29. Edit With The 10-Second Rule In Mind
This goes for every single paragraph, especially for the first paragraph and meta description.
You want to immediately grab the reader's attention — and keep it.
Is the article worthy of additional conversation? If so, and you have proper CTAs, this can help move readers one step closer to conversion.
Writing for SEO: Form
30. write strong sentences & paragraphs.
The strongest words should begin and end a sentence.
The strongest sentences should appear at the end and beginning of a paragraph.
This helps keep the slower, more in-depth material in the middle, and the most important thoughts before the reader.
31. Become Obsessed About Clarity Of Voice
Clean writing reflects a clear mindset – something people (clients!) need.
For example, Starbucks uses both functional and expressive language to clarify its voice in its marketing.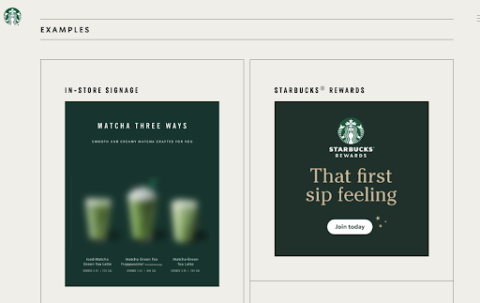 Or Mailchimp's voice is plain spoken with a dab of dry humor.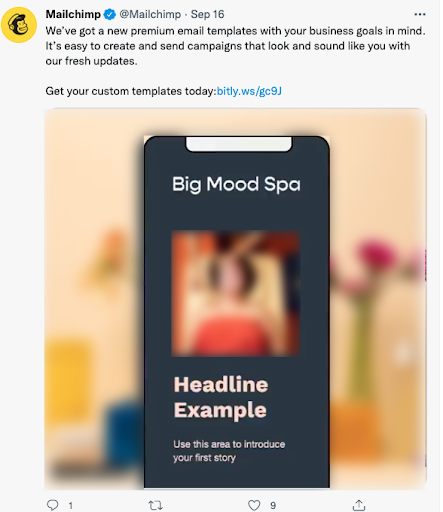 32. Keep Writing Free Of Clutter
Keep it simple.
Get straight to what you're saying.
Strip all useless words.
Get sentences into their simplest form.
33. Beware Of Excess Adverbs & Adjectives
If the verb or noun can't perform the explanation, that verb or noun isn't strong enough. You can learn more about writing with adverbs and adjectives here .
34. Use A Variety Of Long And Short Sentences
A variety of sentence lengths helps your content to create some rhythm.
Readers enjoy this.
35. Short Paragraphs Allow The Mind to Breathe
Use short paragraphs often.
Space between paragraphs psychologically takes less energy to read, saving that prospect's energy for the sale/lead.
36. Always Use Active Verbs
In this sentence, the active verb is "Use."
Without active verbs, the mind shifts. It wanders.
You lose an audience… or a sale.
Be clear on what action the reader can take next.
37. Avoid Clichés
Like the plague.
You feel me?
Writing for SEO: Favorite Hacks
38. listen to your favorite music.
Why not write to it? Some forms of music will bring drastically different emotions out on the page before you'd realize it, so the more the better.
While writing this, I went from Coltrane to Infected Mushroom to Hendrix to SRV to Dimmu Borgir to Breaking Benjamin to Chopin.
For editing, Wes Montgomery was my go-to.
Music can help words flow, so embrace it all.
39. Commit To The Most Serious Writing In The Morning
I'm typically up by 5:30 a.m. That's when my brain is freshest.
I always block a few hours every morning for my most serious writing.
40. Carry A Tablet To Jot Down Ideas
If you think clearer in longhand, carry a small tablet for jotting down ideas overusing your phone.
Moleskine tablets are my favorite because they are thin and fit into books, which I always have with me when traveling.
There's only so much marginal space within a book for ideas; a tablet takes care of this and keeps you off the phone.
41. For Clients: Think 80/20 For The Initial Few Engagements
Focus on the 20% of your writing that will produce 80% results for the client's sales. How?
Simple: always begin a content strategy around the top ROI products. This shows value, and will help contribute to the overall qualified keywords you want them to want to rank for.
42. Remember To Get Away From It All
The writers that have the true minds to create and provide value to clients always need a break.
One of my weekly tactics for resting and reenergizing is "half-day Wednesday." I tune out and either play guitar, hike or ride motorcycles… basically whatever is needed.
This mid-week break keeps the mind fresh and clear, which translates into positive workflow and, ultimately, happy clients.
Creating content that leads to conversion involves not only the art of SEO but also the craft of writing.
Embrace both if you're serious about providing the most value to your readers or your client's readers, which you naturally want to turn from prospects to customers.
Also, remember that the appeal and popularity of strong content will only compound online over time.
Think of SEO writing to a business as compounding interest to an investor – have the patience and discipline to do it correctly, and the results should continually speak for themselves.
Featured image: Paulo Bobita/SearchEngineJournal
Ron Lieback is the author of "365 to Vision: Modern Writer's Guide (How to Produce More Quality Writing in Less ...
The Complete Guide to On-Page SEO

The Complete Guide to SEO Content Writing (With 14 Best Practices)
By Jessica Walrack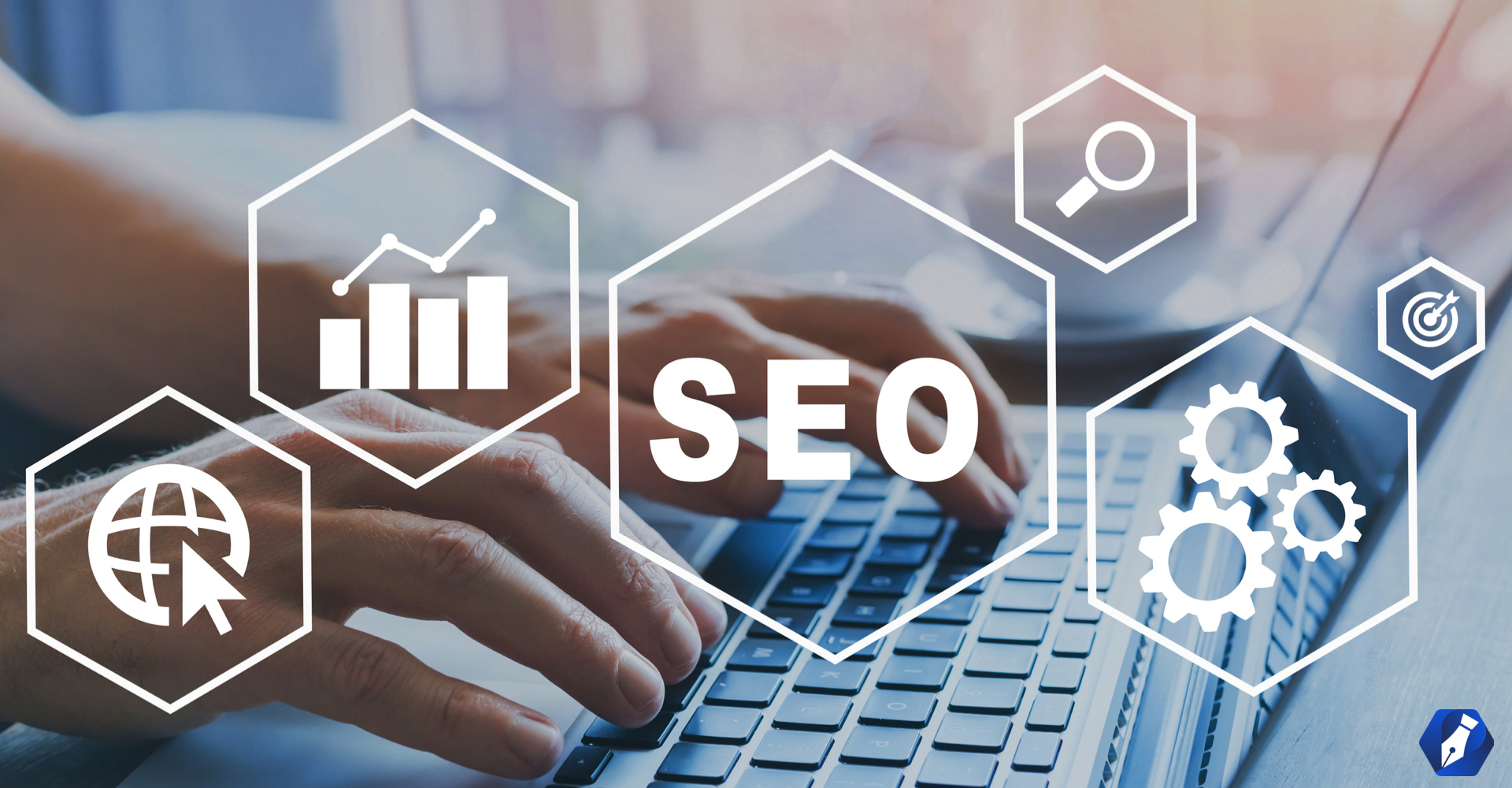 Search engine optimization (SEO) content writing is about creating strategic pieces of content that rank at the top of search engine results pages. Why? To get the right people to visit websites, interact with brands, and eventually convert.
When there's no SEO pro behind content, the pages will likely get lost in the vast sea of websites, never to be found on search engines by potential customers. So, good SEO content writers are very valuable to anyone who wants to be found online.
Here's a closer look at everything you need to know about SEO writing, including 14 best practices (with real examples).
Note: We've included affiliate links to some of the products and services we recommend.
What is an SEO content writer?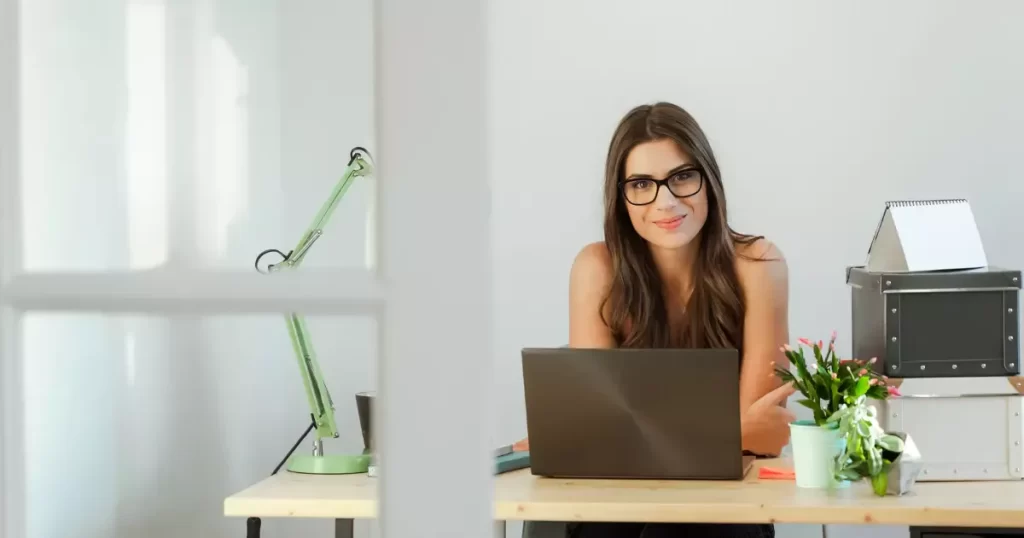 An SEO content writer writes educational pieces of digital marketing content. They aim to reach target audiences searching for specific terms and provide them with satisfying answers to their questions.
Here's how it breaks down:
SEO is an acronym that stands for Search Engine Optimization. It involves understanding the ranking factors that search engines use when formulating the search results pages.
Content writing refers to a type of writing used in digital marketing campaigns to educate the target audience and build rapport. It often takes the form of blog posts, articles, guides, and social media posts.
SEO content writers certainly aim to write content that reaches the first page of the search results. However, the whole point of ranking is to reach people and answer their questions . So, if you're an SEO content writer, your content needs to be as helpful as possible to your human readers, while also ticking the boxes for the bots.
Pro tip: Don't sacrifice the reader experience for the bot experience. For example, you don't want to overuse keywords to the point where they are repetitive and awkward (aka keyword stuffing).
SEO content writing vs. SEO copywriting
Is there a difference between SEO copywriting and SEO content writing? Indeed, there is! This chart breaks down the key differences: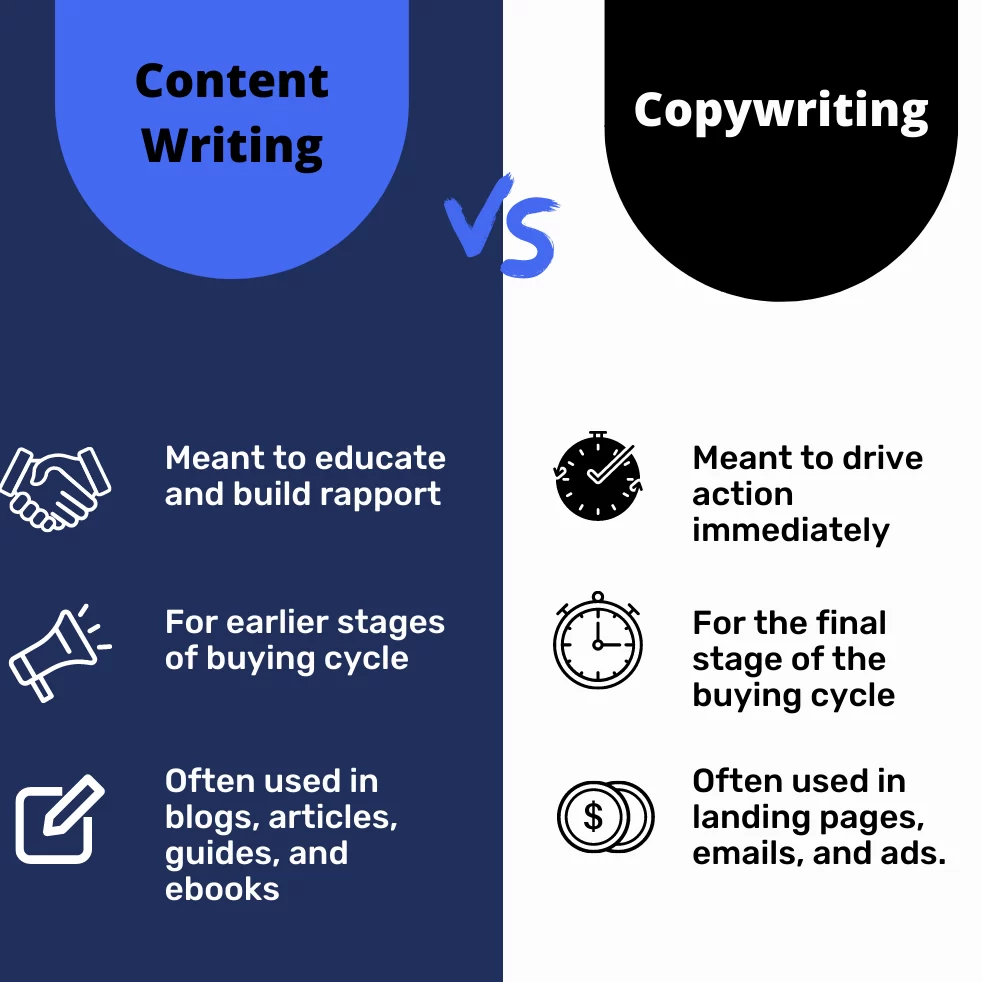 If someone was trying to ask you on a date, the content writer would strike up a friendly conversation, find some common ground, and let you know where you could find them. The copywriter would ask you right then and there using a persuasive and direct approach.
Both types of writing have their place in a marketing campaign and require the adoption of a brand's voice . Further, both should be optimized for SEO if they are going to be published on public web properties (that the owners want people to find through search engines).
Many writers specialize in either copy or content writing. If you're a writer, each will require different skills you'll have to fine-tune. If you're hiring a writer, ensure you find one with proven experience in the type of writing you need; SEO copy or content.
SEO strategy comes before SEO content writing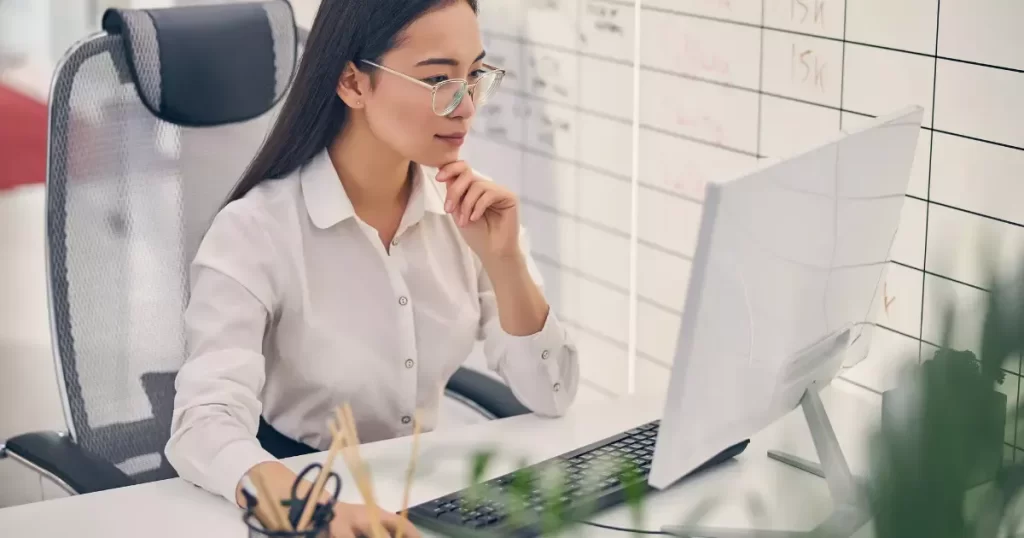 How do you get started with SEO content writing? An SEO content writer can't do their job until the proper research has been done by an SEO strategist.
A strategist seeks to understand a business's goals, competition, and market. Then, they perform keyword research to find answers to the following questions:
High search volume : What words and phrases do people search for when on the path to buying the business's solutions?
Low competition : Which relevant highly-searched words and phrases have low competition?
Relevance : Which words with high search volume and low competition can be made into relevant, helpful content for the target audience?
Once strategic keywords are identified, a detailed content brief should be created for each keyword.
Tip: Some SEO content writers offer SEO content strategies while others don't. It requires an additional skill set. As a writer, you can greatly up your earnings by becoming an expert on the strategy side. SEO reporting tools like SEMrush can help you to get your feet wet. As a business owner, you need to know if your SEO content writer provides the strategy or if you need to get it from someone else.
14 SEO content writing best practices (with examples)
Now, how do you write effective SEO content?
With a detailed brief ready, an experienced SEO content writer can work their magic. Here are some of the best practices to create a final piece that's SEO-friendly.
1. Align with user intent
First and foremost, you need to think about why people search the keyword you are targeting . What answer are they looking for? When they land on your page, they need to immediately know they can find the answers they want. Plus, you should entice them to want to stay as long as possible (increase dwell time).
Tip: You can learn more about the user intent of a keyword by searching for it using a search engine like Google. The top results will reveal what the search engine "thinks" people are looking for.
For example, if I search "orange juice," you can see below that Google "thinks" my intent might be that I want to buy orange juice, make orange juice, or know what orange juice is.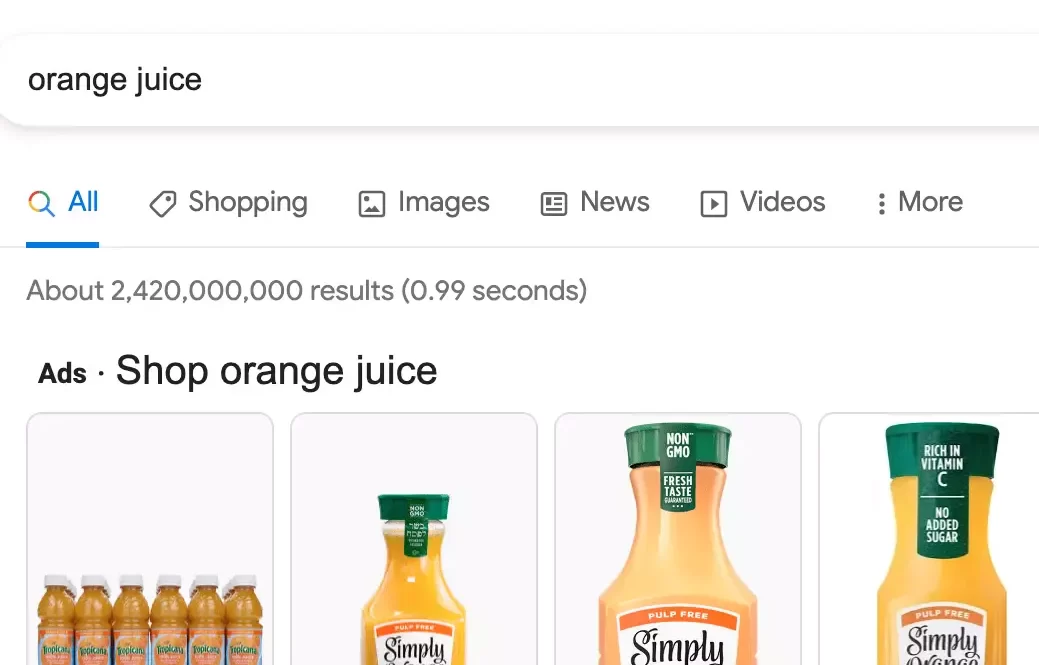 If I search "freelance writing," the top results cover the basics of freelance writing including what it is, if it's a good career, and how to find jobs.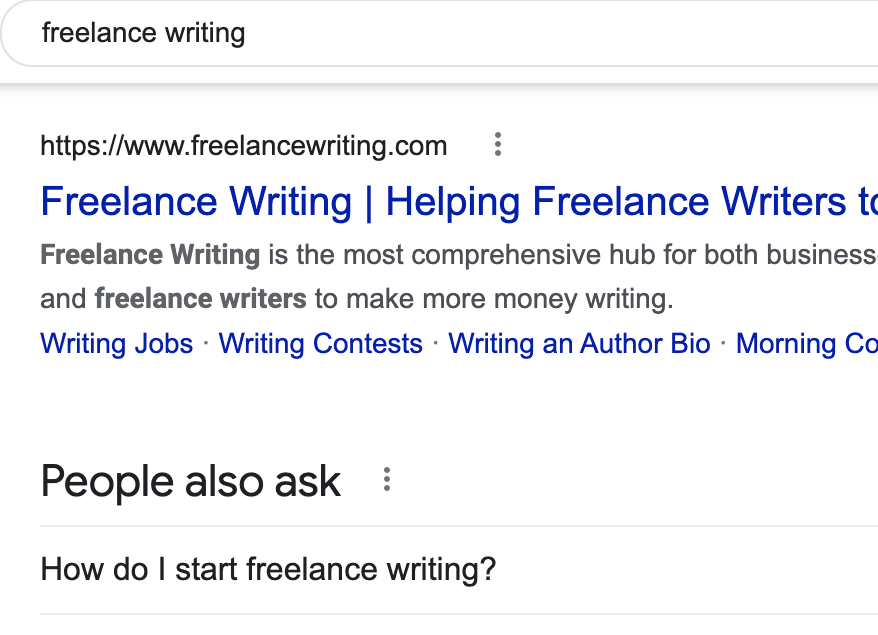 "The "people also ask" section is also an invaluable tool for understanding related searches and how to leverage them," said Emmanuel Njomo , Executive Director of Marketing at MedSchoolCoach.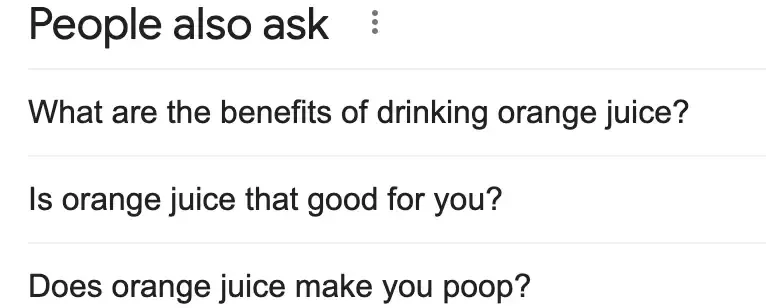 He adds, "The related searches don't always make the most sense but then again it's kind of the same way with people, so maybe it does. Similar to how the customer is always right (about what they want), the user's search terms are always right — listen, react, empathize, entertain, then educate!"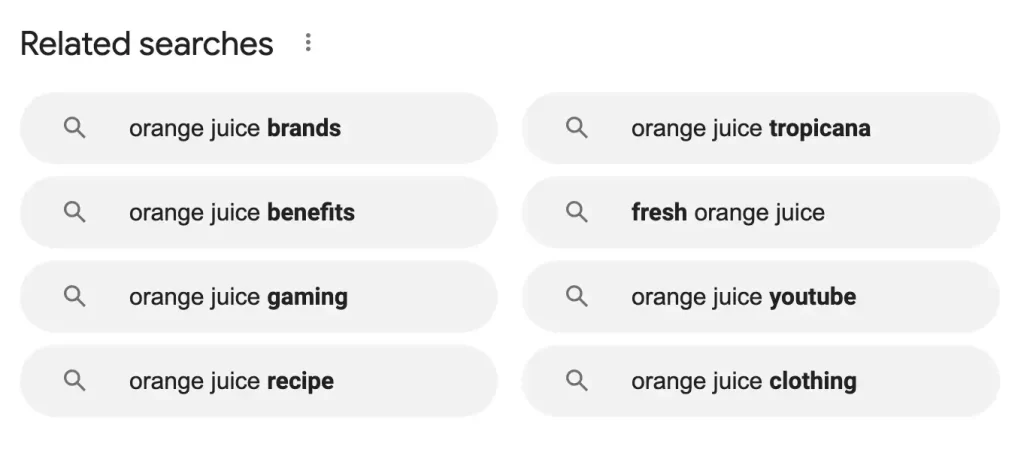 2. Title tag
The article title (also known as a title tag) should include the main keyword that the piece is targeting as early as possible. Keep in mind that only 50-60 characters will be visible in search engine results before it gets truncated. Then, the searchers will see "…"

Along with including the main keyword, the title needs to:
Show the searcher that the article will answer their question (user intent is important once again).
Give them a real reason to choose the article above the rest (no clickbait). This can take some practice as it's more of a copywriting skill.
If you're not sure where to start, perform a few searches and take notes on the characteristics of the titles in the top search results. Some of my observations from top-ranking titles include:
Frequently asked questions work well as titles like "What is Blogging?" and "Why Should You Create a Blog?"
How-to's also top the list like, "How to Start a Successful Blog in 2022." Also, note the inclusion of the year for relevance.
Listicles that start with numbers can work well like, "17 Blogging Tips for Beginners."
Titles with specific results can also work well like Neil Patel's, " How to Start a Blog That Generates $3817 a Month
Tip: Spend a bit of time on the title as it sells the content. It determines whether people ultimately click or not and whether all the time spent writing was worth it. Brainstorm a few ideas and then pick "the one."
3. Meta descriptions
In short, meta descriptions are the small pieces of text that display under the titles in the search engine results. As an SEO writer, they give you another chance to help the reader understand that your page offers the best answer to their question.
A few things to keep in mind are:
Include the primary keyword.
Your description will be truncated (and the "…" will appear) at anywhere from 110ish to 155 characters. Make sure the beginning makes sense and packs a punch!
We're talking about character counts here, not word counts. (I've seen writers accidentally write out 150 words so just thought I'd throw that in there).
For an example, look at the meta description above. It begins to list the tips from the article, hinting at the value you'll get if you click through.
Want more examples? Pay attention to the meta descriptions next time you Google somethin'!

The URL is the web address for the page being written. It will be the main website address with a slash and then what's called the slug.
The slug should include your primary keyword. Also, it's best practice to remove any words that aren't absolutely necessary. Keep it short, easy to read, and easy to understand.
Note: URLs can't include spaces so "-" symbols are used to break up the words.
If you have Yoast in WP, you can add the slug right below where you add the article or blog. Easy peasy.
"URLs may seem insignificant in comparison to other elements such as headers and on-page copy but they play a powerful role in SEO success. Using URLs accurately is crucial for search engines and people to understand your website," said Jeff Collins, Freelance SEO Consultant.
5. Opening paragraph
Next, opening paragraph/introduction of the article needs to include the primary keyword. It helps to tell search engines and human readers that the page is actually about the keyword being searched.
Beyond that, the opening paragraph is key to getting readers to keep reading. It should:
Acknowledge the audience's problem or briefly answer their question.
Touch on the pain points, and risks of not solving the problem.
Tell them what value/benefit they'll get if they keep reading.
You don't want to go off on any tangents or drone on. Just keep it concise, clear, relevant, and enticing. Remember, the rest of the piece won't matter if you don't hook the reader in the intro!
Tip: Write the intro last, once you know everything the article or blog offers. It makes it easier to sell.
6. Headings
Web content should contain header tags to break up the text. Nobody's eyes or brains like huge blocks of text. Plus, we often like to scan for the info we need.
Content management systems (like WordPress) and word processors (like Google docs) let you designate headers.
When you do, an HTML element is added which tells search engine bots that words are headings.
Warning: Simply bolding and enlarging text won't have the same effect.
Headers typically range from H1 to H6…
H1 is used for the title
H2s are used for the main section headings
Subsequent headings should be H3 through H6 (as needed)
Higher heading numbers mean higher importance.
For example, if this section was an article, some of the headers might go something like this:
H1 How to Use Headings In SEO Content H2 Tips on Using Headings H3 Use Keywords H3 Limit Section Size H3 Keep Them Short Other heading tips:
It's good to include primary and secondary keywords in the headings.
It's best to limit sections between headers to no more than 300 words.
Headings should be short, concise, and clear, helping bots and people navigate the piece more easily.
"One of the biggest errors on most sites is a misuse of headlines," says Thomas J. Armitage, a Sales Executive at digital marketing agency Site-Seeker . He explains, "A page might start with an H1 then go to an H3, then to an H5, then back to an H1 (because people use headings for style rather than SEO). And that's a bad move because Google looks to them to understand page/topic/info hierarchy. So when it's a mess, Google won't provide those keywords with the value they deserve."
7. Keyword density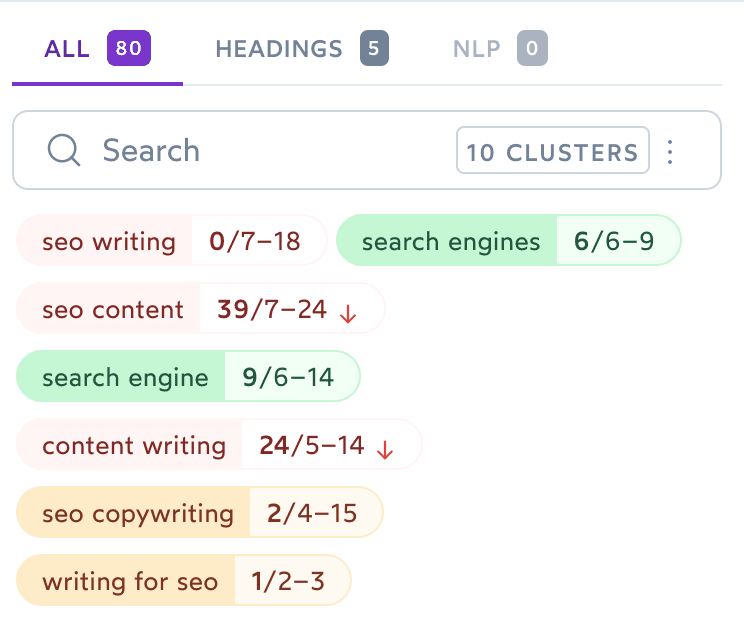 Keyword density refers to how often your keyword appears relative to the total word count of the page. Too high and your site will be penalized for keyword stuffing. Too low, and it may not rank well for the keyword. According to the Alexa blog , most SEO experts believe the ideal density is between 1% and 2%.
That said, use your discretion to create the best user experience. The primary and secondary keyword phrases you're targeting should be used to create the article or blog post outline. Being so, their use should be pretty natural as you write and they should be distributed throughout the article fairly evenly.
You can also use tools like SEO Surfer to find a bunch of other keywords being used in content that's ranking for your main keyword (along with the recommended density for each). This is called Latent Semantic Indexing Keywords in Content (LSI).
Including both internal and external links within your content can help you rank better.
Internal links : Look for opportunities to add hyperlinks to phrases that will link to other helpful pages within your own website.
External links : Look for opportunities to add a few outbound links to other websites that are respected and trustworthy sources of information.
For example, if I was to hypothetically write a piece about SEO content writing and I have another article about meta descriptions, I could link to the meta descriptions piece so readers could learn more about that topic if they want.
I might also link to an authority on the matter (like Google) and a page where the company offers advice for publishers.
You don't want so many links that it's distracting or overwhelming.
But one every couple hundred words or so is good (where it makes sense and helps the reader).
Tip: Make sure the link works after you add it.
Another tip: The anchor text should tell what the link is about within a few words that flow naturally with the piece.
Why add internal links?
They help Google understand your site better and give a page more context.
They keep visitors on your site longer and give them more context.
Why add external links?
Linking to trustworthy external websites can help search engines figure out what your site is about.
It can also help you to appear to be more of an authority to search engines.
And it can help your readers learn more and associate you with that trusted source.
So don't forget, part of an optimized piece of content is making sure you have the right links!
SEO content writing tip #9 has nothing to do with writing.
Yep, it's not about the words…
It's about the images that break up the words.
And actually not just images.
It could be graphs, infographics, videos, sketch notes, etc.
Your content needs visual elements to break up the text, help tell the story, and appease the search engines.
You can make them, buy them, or find free stock photos (be sure to check the attribution and use requirements).
Other tips:
You can find free and affordable photos on Unsplash, Pixabay, and Canva (I use Canva Pro for $12.99 per month).
Convert image files into WEBP format and compress them before uploading.
Add them throughout the piece in a stylistic way to enhance the reader experience. Not too much, not too little. I like to add one every couple hundred words so you're never scrolling long without seeing a visual element.
Your images can rank on Google, too — helping to drive more traffic to your page. For example, an infographic or sketch note can be great magnets.
10. Image titles and alt text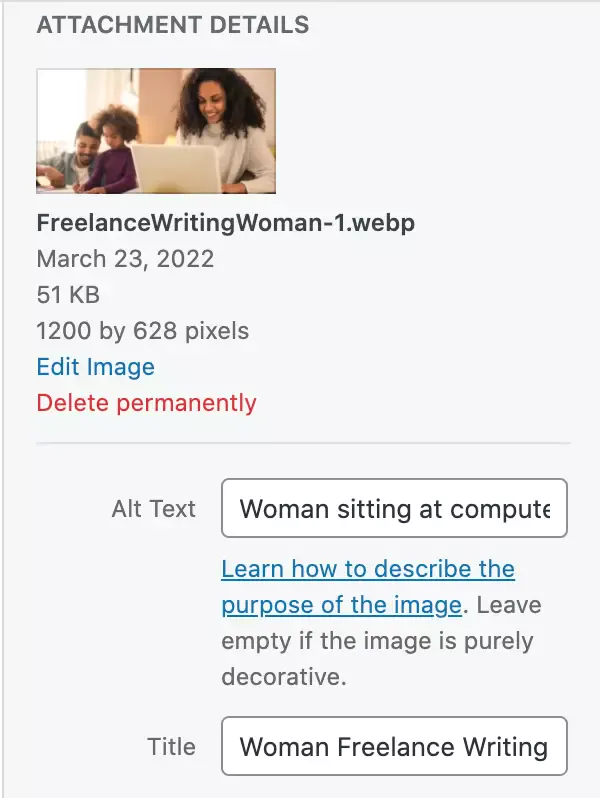 When you upload the images, the title and alt text matter. Be sure to use a descriptive name for the title, and explain the purpose of the image for the alt text. Include keywords when it makes sense to do so.
Note, the alt text conveys the "why" of the image so that if the image fails or someone is using a screen reader, they can understand why it's there.
11. Categories and tags
Organizing articles and blog posts into categories and using tags helps human and bot users to better understand and navigate the site. For example, we have blogs about business insights, finding clients , and more on All Things Freelance Writing.
12. Originality
The writing should be original and not found on any other website that a search engine crawls (sometimes it happens by accident). You can use tools like Copyscape to check for duplicate content.
13. Recency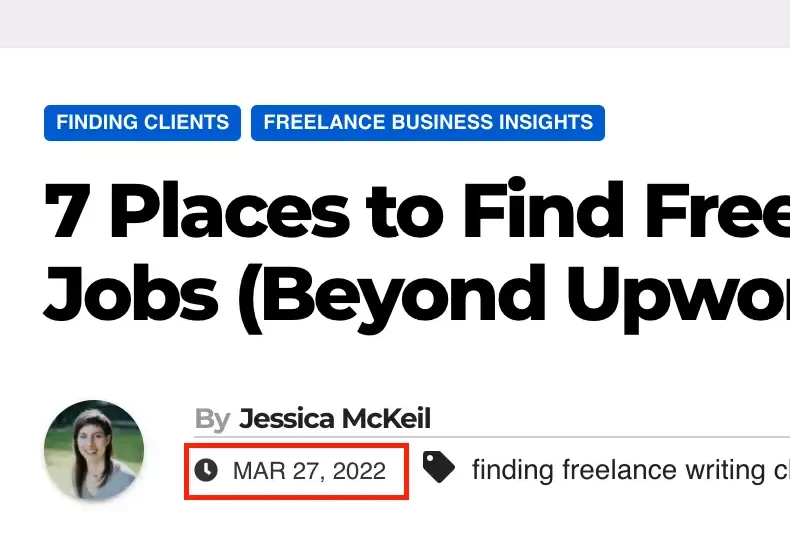 The "last updated" date is also a factor, so it's a good idea for SEO content writers to regularly review and update content to ensure it's relevant and up to date (at least annually).
It also helps to post blogs on a regular schedule as it encourages people to keep returning. However, don't sacrifice quality for frequency or you could shoot yourself in the foot.
14. Focus on a great overall user experience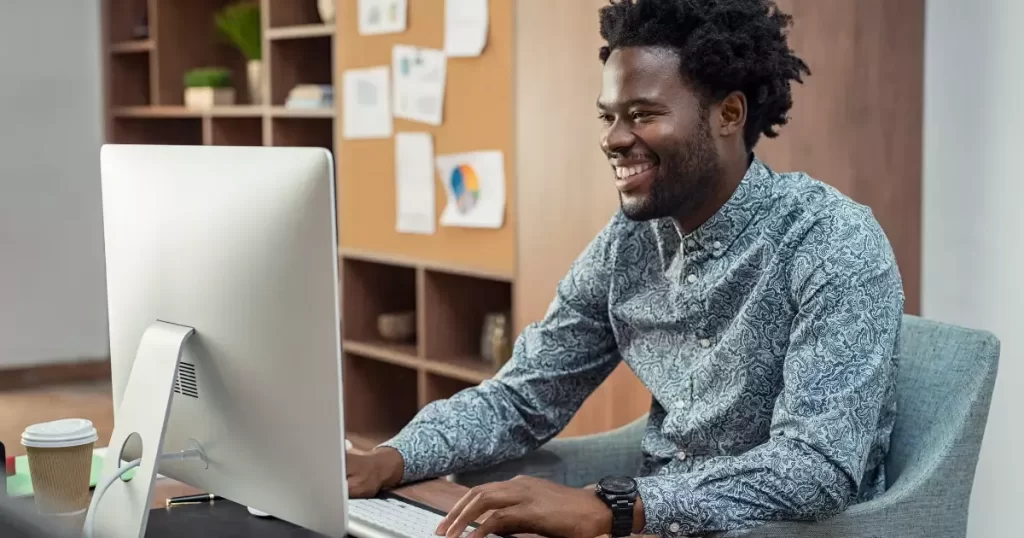 Overall, a great SEO content writer is tuned into the needs of the people they want to reach. They write in an effort to engage and satisfy the traffic that arrives.
What you don't want are people arriving and immediately clicking back to find a better answer. Search engines also track the behavior of users once they are on a site. So along with all of the above, SEO content writers should ask, "If I was asking the question, would I think this is the best, most complete and useful answer to the question?"
Frequently asked questions about SEO content writing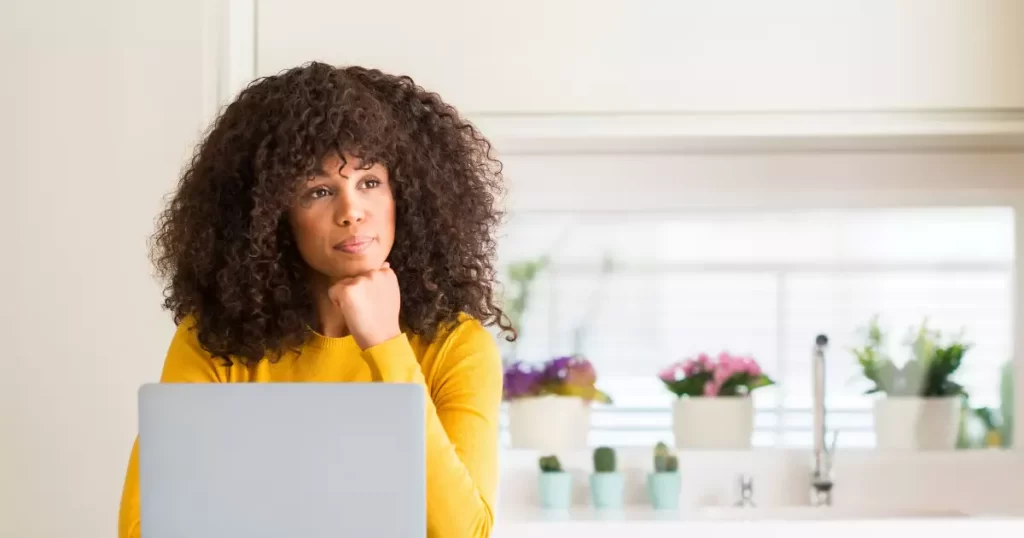 Now, here are answers to frequently asked questions about SEO content writing.
Who needs an SEO content writer?
Any person or business that wants people coming to their website for one reason or another will benefit from content that ranks for the right terms. That includes small business owners, e-commerce stores, non-profits, corporations, bloggers, news sites, and more. SEO and content distribution are the two main keys to content marketing.
How do I become an SEO content writer?
To become an SEO content writer, you will need to:
Learn the basics of content writing and content marketing. You can do so by researching top-ranking content from authority sites, reading online guides, hiring a coach or mentor, taking a course, listening to helpful podcast episodes about writing , etc.
Learn SEO for blogs and articles. Google provides some great resources . We covered the basics above.
Write some samples (can self-publish on Medium, LinkedIn, your website, etc.).
Consider picking a niche .
Get to work and build a portfolio.
Find freelance writing jobs .
Tip: One of the best ways to gain experience and confidence is to start your own website and experiment (it can be very basic/inexpensive).
Where can you see SEO content writing samples?
Finding samples of effective SEO content writing is very easy. Why? You can search literally anything using a search engine and look at the top results that pop up. Every time you read a top search result, you're seeing an example of effective SEO content writing. Browse around and take notes.
Where can you find SEO content writing jobs?
You can find freelance writing jobs in many places online such as Upwork , LinkedIn , Indeed, Facebook groups, Instagram, and various other platforms. You can also target businesses that publish content online and send them pitches.
Note that the average salary for an SEO content writer is around $63,000 , according to Glassdoor. However, as an experienced freelancer, you have the potential to make much more, especially if you offer SEO content strategy, too.
Is content writing necessary for SEO?
Yes, you need content writing for SEO. Search engines crawl written words to understand what websites offer. The more pages, posts, and words your site has, the more opportunities you have to rank for different queries.
Final words on SEO content writing
Showing up to the right people who are searching for the right words takes some marketing know-how. Between an SEO strategist and an SEO content writer, it's very possible. And with experts who know what they're doing, the path to organic traffic, leads, and conversions will be much more direct.
Have questions? Drop them below.
Keep reading…
Want to learn more about freelance writing?
Check out 25 legit places to find writing jobs , how to choose a niche , and the 7 top SEO tools for 2023 !
Share this:
Jessica Walrack founded All Things Freelance Writing. She's also a finance blog writer of 10+ years. You can find her work featured on Investopedia, CBS News MoneyWatch,, US News and World, and many other financial education sites.
Related Post
7 linkedin profile tips for freelance writers, 28 legit ways to find freelance writing work in 2023, how much do writers make in 2023 here's what 346 freelance writers said (survey results), one thought on "the complete guide to seo content writing (with 14 best practices)".
[…] their use goes far beyond that. Read on to learn more about header tags, why they are important for SEO content writing, and how they help both human and bot website […]
Comments are closed.
How to Design an Optimized LinkedIn Banner in Canva
How to design a professional linkedin profile picture in canva (plus free template), how to use linkedin to get freelance writing clients (5 engagement tips).

SEO Content Writing Tips (22 Best Practices & Guidelines)
This guide includes a list of SEO content writing tips.
Below, you'll find the best SEO writing tips and techniques you can use to better optimize your articles for search engines like Google, Yahoo, and Bing. As a result of following these SEO content writing guidelines, you should experience higher keyword rankings and organic search traffic for your website.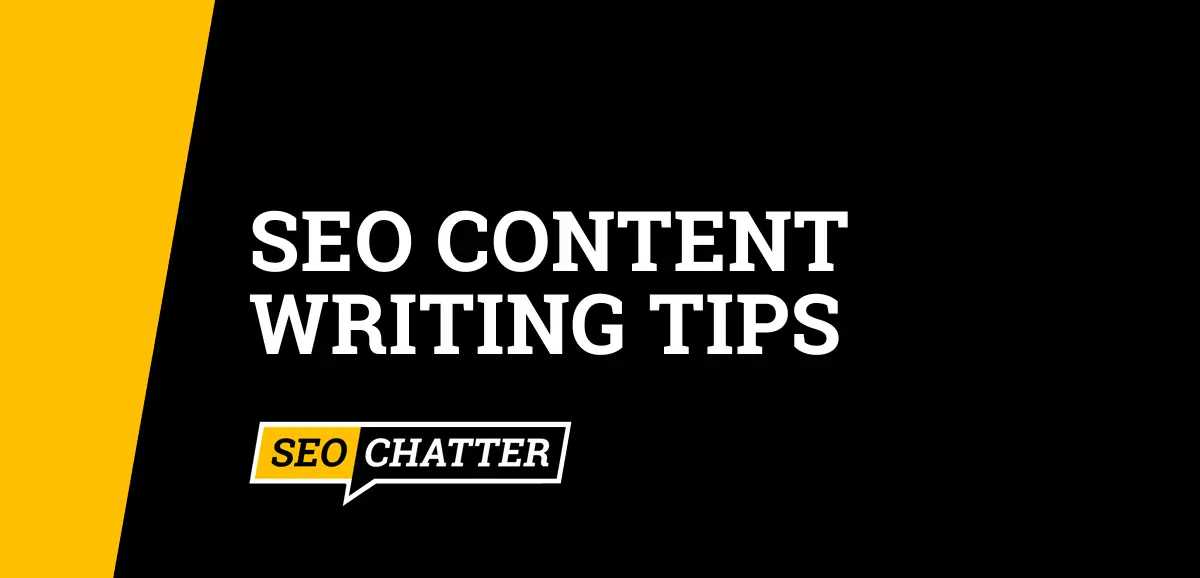 Table of Contents
SEO Content Writing Tips
1. write helpful seo content for humans, not search engines.
If you only follow one of these best practices for SEO content writing, this one should be it. And with each subsequent Google algorithm update, writing content for humans, not search engines, is becoming vastly more important for SEO.
Focusing all your efforts on achieving keyword rankings without regard to your actual users will often create the opposite result as Google prioritizes helpful, people-first content in search results .
In the screenshot below, you'll see the search giant's official explanation of what "people-first content" actually means:
Here are two more tips for writing helpful, human-first content.
Become Your Audience: Put yourself in the mindset of your target reader. What would you want to know? What would make the biggest difference in terms of finding the information you need? Then, focus your SEO content on satisfying those needs.
Engage and Empathize: Basing your content on personal experiences not only helps to satisfy Google's E-E-A-T requirements (more on this later) but also shows readers that you empathize with their situation, meaning they're more likely to trust you to help them.
2. Focus Your Writing On 2-3 Keywords
Keywords are the foundation of SEO content writing, sending signals to search engines and search users about the subject of your content.
To use them effectively, focus on one primary keyword and two closely related secondary or supporting keywords. That way, your content is tightly focused on that cluster of keywords, which, ultimately, helps your web page rank higher for all of those terms and their variations.
3. Make Sure the Content Meets User Search Intent
Matching the user's search intent should be a pivotal component of your SEO content strategy. This SEO writing tip means understanding the underlying motivation or purpose behind a specific search query. This critical factor will influence the type of content you create and how you create it.
For example, suppose your audience is looking for practical instructions on how to mow a lawn, which would include step-by-step instructions. In that case, you'd naturally create different content than if your readers wanted to research the best lawnmower to purchase, which would include a list of products along with your personal review of each one.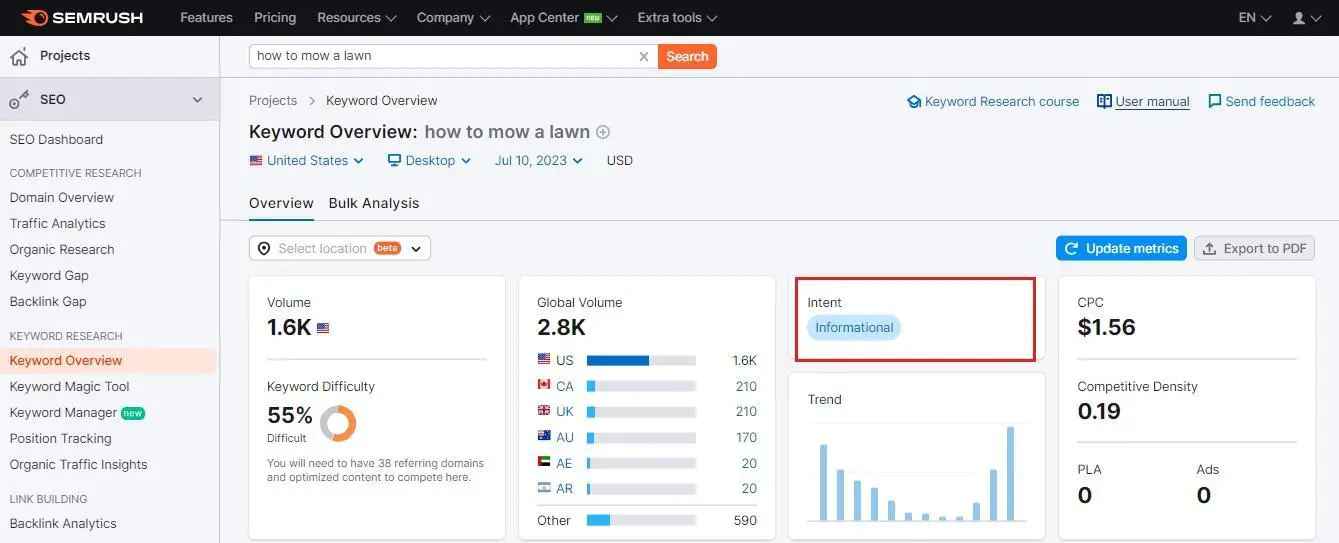 Consider the following best practices to ensure your content meets users' search intent:
Use SEO Tools: Platforms like Semrush allow you to check a specific keyword's main search intent category (e.g., informational, navigational, transactional, and commercial). Use this to get a basic understanding of the type of content you'll need to create so you match user search intent for SEO.
Analyze Top Search Results: Run a Google search for your target keywords and check out the top-ranking results. These are the pages Google feels best to meet the user intent, making them invaluable for determining the most effective way to create and structure your SEO content.
4. Aim for a Competitive Word Count
Word count is one of the most misunderstood of all SEO writing best practices. Google doesn't consider word count as a ranking factor but rather how informative and comprehensive the content is. See the image below for the official Google documentation on this matter.

For example, if you've sufficiently answered a search query in 1,000 words, adding an extra 1,000 of superfluous fluff won't give you any extra benefits. And, in some cases, can dilute the topical relevance of the target keyword; making it harder to rank for that query.
A better strategy for content writing is to examine the length of existing top-ranking content on Google. This will allow you to more accurately determine how long your article needs to be to stand a good chance of a high ranking.
You can run those top-ranking URLs through a tool like Word Counter to get a good idea of how long your content should be to cover the subject and meet user intent fully.

As you can see in the image above, the word count for the example article is around 1,700 words. After conducting competitor analysis, we discovered that an article of that length would be sufficient to rank in the top 10 positions on Google for its target keyword phrase. Writing a 5,000-word guide on the topic was not necessary, and would mostly likely not be worth the extra time or effort for SEO rankings.
5. Keep Paragraphs Short and Concise
Large chunks of text make your content harder to follow and cause unnecessary challenges for users scanning your content to find a key piece of information.
For this reason, you'll benefit from keeping your paragraphs short and concise. A best practice is to limit your paragraphs to a maximum of two or three sentences. Also, use bullet points when you can to make the content more scannable and digestible for the reader.
6. Optimize the Title Tag for the Top Keywords
Your page's title tag should be written to send clear signals to search engines and users about the subject and context of your posts. Therefore, you should place your primary keyword at the beginning of your post title to ensure there's no doubt about the main SEO topic of your content.
From there, incorporate secondary keywords or keyword variations towards the end of your title tag in a natural-sounding way that provides more context about the post's contents.
For example, we are targeting the following keywords for this SEO writing guide:
SEO content writing tips
best practices for SEO content writing
SEO content writing guidelines
As a result, we created this optimized title tag to cover all of the top keywords and their variations without repeating the same words over and over again (i.e., over-optimization): SEO Content Writing Tips (22 Best Practices & Guidelines)
7. Use Proper Heading Structure
Header tags (H1-H6) improve your page's user-friendliness by organizing your content into easily-digestible sections. They also help search engine crawlers understand the main topic and subtopics of the content for proper indexing in the SERPs.
Your H1 tag should be the main title of your article, with each of the main topics separated by H2 tags. These H2 sections can then be broken down into subsections using H3 tags. H3 sections can be further divided into subsections with H4 tags, and so forth down the line with H5s under H4s and H6s under H5s.
For example, in a product review, you might have one main H2 section titled, "Key Features", that you divide into three smaller H3 subsections; one for each feature. See the image below for an example of this SEO content writing tip in practice.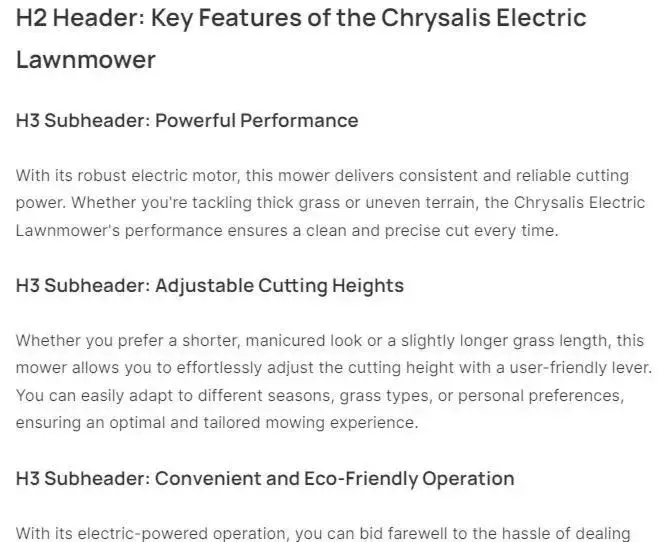 8. Ensure the H1 and Title Tag Are the Same
Your title tag is what users see in search results for your web page listing and ultimately click on to access your content. Therefore, it's essential that your H1 tag matches your title tag, as this helps users feel confident that they've landed in the right place.
As a result of following this SEO writing tip, your users are more likely to stay on your page rather than hit the back button, which will negatively impact your bounce rates. Also, matching your title tag to the H1 tag improves the keyword relevancy for SEO (and rankings) because these two HTML elements confirm to the search engine crawlers what the target keywords are for on-page SEO.
9. Include Keywords In the H2 Subheadings
H2 tags give further signals to search engines about the topics covered within your content. To improve your chance of ranking well in the SERPs, it pays to ensure each H2 subheading incorporates one of your primary or secondary keywords.
In our experience, we've found that the best practice to follow for SEO content writing looks something like this:
Primary Keyword: Include it in the first and last H2 subheadings on the page.
Secondary Keywords: Include each supporting keyword one time in their own H2 tags on the page.
Keyword Variations: If you've already used your primary and secondary keywords as above, include keyword variations in any remaining H2s. (If appropriate and natural.)
10. Boost Topical Relevance With H3 Subheadings
Topical relevance is a term used to describe how much the content aligns with and covers a specific topic comprehensively.
One way to boost your topical relevance is to incorporate any keyword variations you still need to use on the page into your H3 tags as well as any relevant semantic keywords. Together, this improves topical relevance for SEO rankings.
However, as with all keyword placements, what matters most here isn't the keywords themselves but that they fit into your H3s in a way that has a natural flow for the reader.
11. Put Your Top Keywords In the Introduction
Your introduction is one of the first on-page elements search crawlers use to learn about your content. It's also your last opportunity to convince your users to stick around by making it clear that you have what they're looking for.
With that in mind, aim to add your primary keyword within the first 100 words of your post. Ideally, this should be within the first sentence or the first paragraph.
As you continue writing, seamlessly weave in supporting keywords throughout the introduction, further strengthening your message to readers that your content aligns with their search intent and improving keyword prominence for SEO.
12. Repeat All Keywords In the Body Content
Adding keywords in the body content is one of the easiest SEO writing techniques to get wrong.
Although you'll benefit from repeating both your primary, secondary, and variation keyword types throughout your content, it pays to exercise caution, adding each keyword only when it fits seamlessly within the context of its surrounding paragraph.
As explained in our other post on how many keywords per page for SEO , the number of times you use a keyword in the body text depends on the length of the content.
For example, a 500-word blog post can easily be optimized for two or three keywords, but trying to fit five or six keywords into a short article like that will likely sound unnatural. However, focusing on five or six keywords in a 2,000-word blog post is a common practice and you can spread out the usage of those phrases so the content sounds natural.
A good rule of thumb for SEO content writing is to use 1-2 keywords for every 100 words of text. This results in a keyword density of around 1-2% which is considered to be a good percentage for on-page SEO without keyword stuffing.
13. Add Keywords to the Summary
Adding your primary and secondary keywords to the summary (or conclusion) of your article doesn't just provide a sense of coherence and clarity for readers, it also plays a significant role in strengthening your topical relevance for SEO keywords.
Once you reach this stage of your post, a good SEO writing technique is to include your top three keywords one time each within the last 100 words on the page.
14. Include Long-Tail Keywords & Relevant Entities for Semantic SEO
Long-tail keywords are specific phrases and questions that target longer search queries (e.g., four or more words). Relevant entities, on the other hand, are mentions of people, places, or other specific terms relating to your subject.
Including both together on the page helps search engines understand the context and semantic meaning of your content in a way that can positively impact your keyword rankings.
This SEO writing guideline also helps you establish your expertise and authority on your chosen topic because you're improving the overall semantic relevance and knowledge on the subject matter.
15. Optimize the Content for Featured Snippets
Featured Snippets are stand-out search results that feature prominently above regular, organic search listings, typically providing a short answer to a specific question.
Featured Snippets provide the benefits of enhanced website credibility and improved organic search visibility, which can increase your click-through rates.

To earn these snippets, optimize your content by using an exact match keyword you want to target in an H2 subheading that is high up on the page. Underneath that heading, directly answer the question in 45-50 words, which is the most common snippet length.
Follow this SEO writing tip for as many relevant keywords that apply to the page and display a Featured Snippet. You can uncover more ideas by doing a Google search for your target keywords and copying the questions that appear inside the People Also Ask box. Put those questions in their own H2 tags followed by a short and concise answer.
16. Include E-E-A-T Signals
E-E-A-T stands for Experience, Expertise, Authoritativeness, and Trustworthiness, all of which are factors that Google's human Quality Raters look for in content when evaluating search results.
The best ways to showcase these E-E-A-T factors for SEO writing include:
Include an author byline with a link to the author's bio page.
Include an author bio box (optional; and a good substitute if a byline is not present).
Include the published date and time (time is optional for evergreen content but essential for news-related content)
Demonstrate expert knowledge and/or first-hand experience on the subject by sharing in-depth information, personal opinions, original photos, and self-produced videos.
Referencing relevant credentials, qualifications, or industry affiliations.
Make sure all information is accurate and up to date.
Include 1-2 unique elements (minimum) not found in the top-ranking URLs (e.g., tables, charts, infographics, videos, more list items, industry expert quotes, FAQs).
For more tips like these visit our on-page SEO checklist which lists all of the top factors to focus on for on-page optimization signals.
17. Include At Least 3-5 Internal Links
These next two SEO content writing tips encompass other essential elements of on-page search engine optimization beyond the words on the page.
Internal links can enhance website navigation, improve user experience, and help spread link equity throughout your site, but only if you stick to the following recommended SEO content writing guidelines:
Use no more than 3-5 internal links per post to prevent diluting link equity.
Ensure links are highly relevant to the subject and provide additional value to your readers.
Place links strategically within your content, using relevant anchor text in a way that fits naturally within the surrounding content.
18. Link Out to High-Quality Sites
External linking to reputable sources can significantly elevate your credibility, creating subtle associations between your site and respected, high-authority publications within your niche.
Use external links to provide evidence of your claims, provide greater context, or add value to your content by giving readers additional tools and information.
To make the most of external links in SEO writing:
Link to sources with high Domain Authority (DA) and/or high Page Authority (PA) scores.
Ensure links fit naturally within your content using relevant anchor text.
Set links to open in a new tab or window to prevent users from leaving your page.
19. Add Keyword-Optimized Images
Images are crucial for breaking up large pages of text, making it easier to read, and illustrating specific key points. Images can also be optimized to improve the on-page SEO relevancy for your target keywords.
Additionally, some articles will require more images than others. For example, a page targeting "bathroom vanity ideas" would be image heavy because users want to see pictures of bathroom vanities to get a better idea of which style to use during a home renovation.
To achieve the most SEO gains from your images, ensure that the file name, ALT text, and captions are all optimized for your highest-priority keywords. Focus on one keyword per image while making sure it fits naturally with the picture.
20. Write a Compelling & Optimized Meta Description
Meta descriptions (the short blurbs beneath search listings that describe the content) are another good area to focus on for SEO content writing.

A good meta description includes your primary keyword and at least one secondary keyword (in that order). Google, for example, will bold those keywords when they match the user's search query, which can improve click-through rates.
21. Write an SEO-Friendly URL
An SEO-friendly URL provides clear information about the content of the page. It also improves the chances of ranking higher in search results as it is one of the top-ranking factors for on-page SEO.
Many SEO experts agree that the URL is the third most important factor for SEO content writing. The other two factors are the title tag and the H1 heading.
A good SEO writing best practice is to keep your URL short (under 60 characters) and include your primary keyword as an exact match keyword phrase. For example, the URL for this guide is simply, /seo-content-writing-tips/ .
22. Add Relevant Schema Markup to the Content
The last of our SEO writing techniques involves using specific tags known as Schema Markup to help search engines learn more about the most appropriate search terms to rank your content for.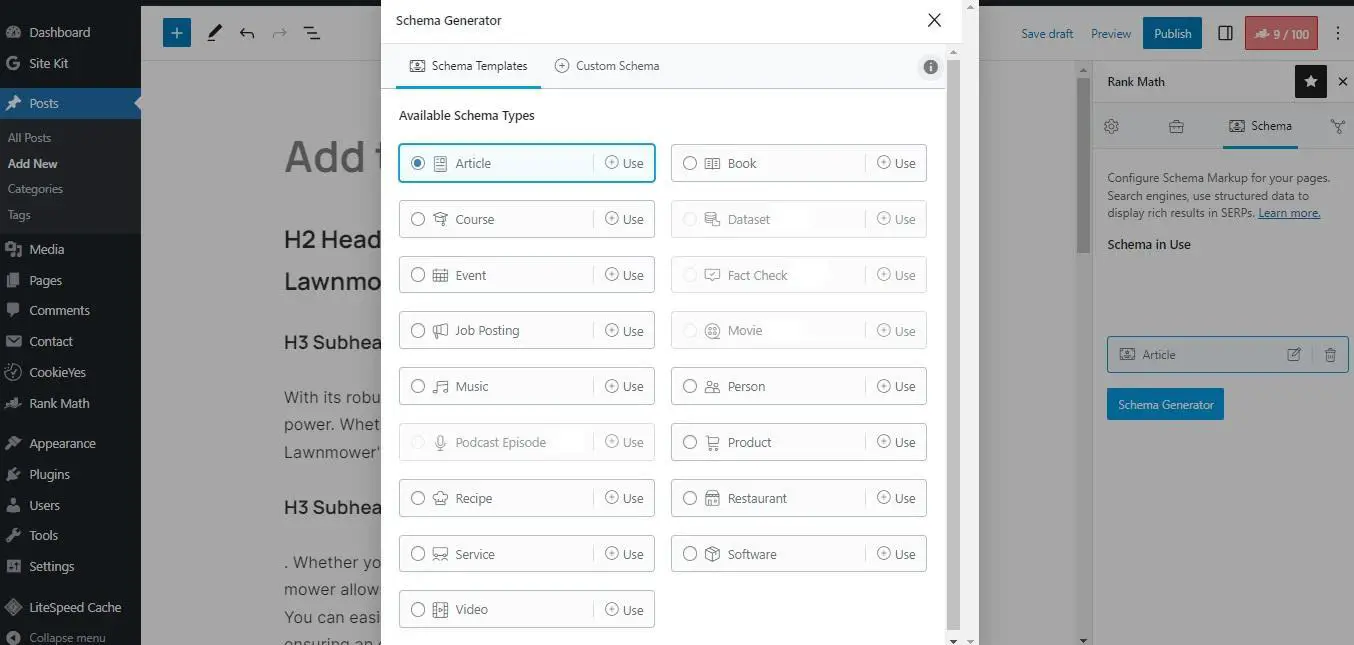 You can generate these tags easily without needing to know much technical SEO using any one of these free Schema Markup generators .
Learn More About SEO Content Writing
The links below explain more about SEO content writing. Use these resources to expand your knowledge on the subject.
What Is SEO Writing?
What Is SEO Content?
SEO Content Writing Checklist
SEO Checklist for Blog Posts
SEO Writing for Beginners
How to Write SEO Friendly Content
SEO Content Writing Tips & Guidelines Summary
We hope you enjoyed this list of SEO content writing tips.
As you discovered, these SEO writing tips and techniques allow you to better optimize your articles for search engines like Google, Yahoo, and Bing. The more you can incorporate these SEO content writing guidelines into your publishing process, the higher keyword rankings and organic search traffic you can achieve for your website.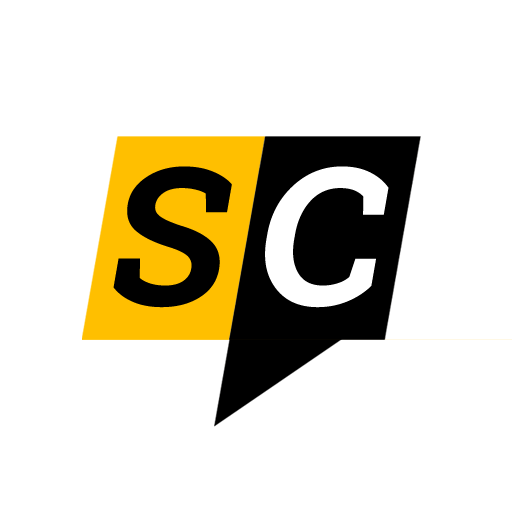 The Editorial Staff at SEO Chatter is a team of search engine optimization and digital marketing experts led by Stephen Hockman with more than 15 years of experience in search engine marketing. We publish guides on the fundamentals of SEO for beginner marketers.

Rank Intelligence
SERP Features
Visual Rank Tracking
Video Rank Tracking
Ranking Data API
SEO Topic Research
AI Content Writer
SEO Content Brief
Content Gaps
Content Ideas
Answer Box Opportunity
Site Audits
SEO Crawler
SEO Segmentation
Internal Link Analysis
Log File Analysis
Research Grid
Topic Research
Keyword Difficulty
Google Trends
Search Analytics
Customizable Dashboards
Actionable Insights
SEO Forecasting
PPC and SEO Integration
Competitive Rank Tracking
Link Management
Page Optimizer
SEO Split Tester
Schema Optimizer
Link Optimizer
ClarityAutomate Playbook
Research Grid API
For Enterprises
For Agencies
Search Experience Optimization
SEO Professional Services
Support & Training
Data Integrations
On-Page SEO
Link Building
Client Success Team
Content Marketing Services
Data Science Services
Why seoClarity
Meet the Team
Our Culture
Case Studies
Free SEO Tools
Spark SEO Plug-In
Compare Plans
Full Enterprise Platform + Support
Full power of seoClarity platform to scale enterprise SEO to earn the search visibility you deserve. It provides all SEO data, metrics, and capabilities seamlessly integrated for the fastest, most scalable insights.
Accurate, reliable rank tracking with unlimited keyword capacity and competitive comparisons with rankings in 180+ countries.
Keyword Research
Access the entire search landscape and uncover content opportunities with the largest and freshest keyword data set which covers 30+ billion keywords in 170 countries.
Content Marketing
Create relevant content and connect with your audience by leveraging the industry's only built-in, AI-driven content workflow.
SEO Reporting
Connect SEO efforts to measurable KPIs from rankings to site conversions with the only interactive, real-time SEO analytics platform.
Technical SEO
Create a strong site foundation and an exceptional user experience with the only SEO platform that includes site audits with unlimited crawls.
Competitor Insights
Access rankings for any domain, sub-domain, URL and backlink index with the only SEO platform to offer unlimited competitive comparisons.

ClarityAutomate
Next-gen SEO platform solves the most fundamental roadblock to achieving SEO results: execution.

Data Services
Access the entire seoClarity Data Ocean for your data science, analysis, or machine learning project.
19 SEO Content Writing Tips: Create Copy Users Love
Now more than ever, searchers expect more: more relevant results, accuracy, quality content, and definitive answers to their queries.
As a result, creating well-thought-out content that is optimized for the end user has never been more important . (In fact, offering the end user a good experience should always be your goal in SEO; we call it search experience optimization .)
The SEO content writing tips below will help content writers create relevant, meaningful content to improve search visibility on the SERP and create a trustworthy relationship with searchers in the process.
Table of Contents:
What is seo content writing , challenges when creating seo content, essential seo content writing tips and techniques by category, conduct thorough research.
Cover the Topic with Authority
Bonus: AI-Driven Content Insights
Implement optimization tweaks, analyze, track, and report .
SEO writing is a branch of copywriting that focuses on prioritizing the experience of an organic visitor. To achieve this, the copy must be relevant to the keywords or search phrases a person has searched for and matches their search intent appropriately.
But SEO writing involves more than just adding a handful of keywords to the copy. In fact, the work on SEO content begins far before any words have been written. SEO writers must consider who is searching for this information and why, and leverage that in the writing process.
It doesn't even consider the latest updates to the search algorithms, because those factors will catch up to quality SEO writing, not the other way around. Overall, quality SEO content writing is built for the long term and focuses on the searchers' experience.
These tips cover 19 ways SEO copywriting is different than how a traditional copywriter might approach the content.
With so much content and the rise of content chaos — an overwhelming quantity of content that every content creator tries to break through — the competition to capture the user's click has skyrocketed as the end users are more careful in their choice.
Recommended Reading: 8 Tricks to Creating Engaging Content
Search queries have also become increasingly more complex, and meeting those queries with well-optimized, thought-out content is the only way to attract users to your site.
But human search behavior isn't the only thing that has evolved — search engines are smart . Look at Google's RankBrain and BERT updates which allow the search engine to have a semantic understanding of search queries instead of simply the explicit phrase match.
And with the rise of generative AI, search engines are becoming even more intelligent and personalized as they roll out chat-style search such as Google's Search Generative Experience (SGE) or Bing's recent integration with OpenAI .
Recommended Reading : 4 Ways ChatGPT Impacts Enterprise SEO
We created this list largely based on our own content creation and optimization process at seoClarity. You'll notice that all the tips have been categorized into four categories: research, authority, optimization, and analysis.
Think of this list as the "must-do's" in order to provide value to your users and demonstrate your authority — it's what you can do to one-up your content from that which already ranks on the SERP.
#1. Target a Keyword / Topic
The first tip to create SEO content is to conduct proper keyword research . It's okay to brainstorm general keywords and ideas, but be sure to settle on at least one specific keyword before you write your content.
As we've seen, the SERP and search engines are smart and specific, so a slight variance in the search query can completely change the results page.
It's amazing how the intent of a query may change in the search engine's ranking results even with a simple change of the plural version of the word. Test balloon vs. balloons to see what I mean. See tip #6 below for more on this.
Also, pay attention to the topic cluster you're writing for. When you create a piece of content to cover a topic from all angles (and interlink those assets) it boosts your topical authority. (More on this in tip #7: Topic Clusters .)
#2. Know Who Your Audience Is
Before creating content, content writers should have a strong understanding of their audience.
Your content should always relate to your target audience in some way — address and appeal to their worries, passions, interests, etc. If you can't show that you know what your audience wants, they won't read your content.
#3. Review Top Ranked Content on the SERP
Known as the "skyscraper" technique, this research method involves reading other top ranked content for the topic that you want to cover. This process allows you to discover what other people are saying, and fill in the blanks for your own content.
This is in no way an excuse to plagiarize content, but rather ensure you're covering the topic from all angles. When you move on to the actual content writing, you'll want to make your content better than this existing top ranked content. Maybe you can give newer information, or you have more relevant statistics to offer.
When you create a piece of content that covers everything that ranking content does and then some, you'll be seen as an authority. This means you have a better chance of earning backlinks to your content, too.
Recommended Reading: SEO Content Writing Guide to Creating Authoritative Content
#4. Build Credibility
Strengthen your content by adding statistics, research or credible quotes. These features back up your idea and show that you've worked hard to offer the reader a relevant, positive experience.
They also show the concept you've written about is based in fact and authority. Essentially, you want to prove value and show why someone should read this piece of content.
#5. Build on the Content You Already Have
Be sure you're familiar with your existing content — there's no need to reinvent the wheel and create separate content for a topic that you've already covered. If you do, you can get caught up in "keyword cannibalization."
Keyword cannibalization is where you have multiple pieces of content that are all optimized for the same keyword. This not only confuses Google and the end user, but it also damages your rankings, as you're essentially combating against yourself for a position on the SERP.
For any search query, Google now only includes two listings from one site. Because of this, we recommend that content marketers build upon the content they already have to strengthen it even further. By updating existing content, you don't have to start new content from scratch which saves time and prevents unintentional keyword cannibalization .
Cover the Topic with Authority
#6. target the right intent.
As mentioned above, Google has become increasingly advanced in its ability to decipher a search query. This also means that the search engine understands the user intent behind a searcher's query, and tailors the SERP to the appropriate intent.
There are four kinds of intent that all searchers can be categorized as: informational, transactional, navigational, and local. The layout of the SERP can alert you of the type of intent behind a search.
The reason this is so important for your SEO content writing is because Google wants to present the end users with relevant information (i.e. information that matches their intent).
If, for example, a query has an underlying informational but you've created a transactional page around that keyword, you simply won't rank. That content doesn't give the user the information they're seeking, and Google's only concern is pleasing the end user.
#7. Topic Clusters
Topic clusters strengthen your topical authority on a subject because they ensure that you cover a topic from all angles. This doesn't mean that a single page can't cover multiple topics, but it's to say that the more varying content you have centered around that topic, the stronger your authority will be.
Content marketers really need to cover a topic from different angles.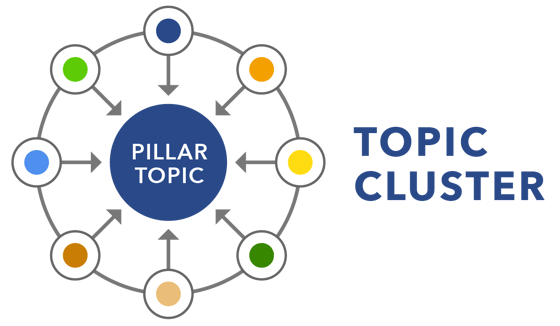 #8. Content Type
Be sure to create the right content type for the right type of message. This is again in reference to the search intent, but also creating the right type of content for your specific messages.
While a blog post is great for informational purposes, a product page is better suited for listing actual products that users can buy. And although written text may seem the most well-suited, consider creating video-based content to attract users as well.
#9. Focus on Semantically Related Keywords
Long gone are the days of keyword stuffing in an attempt to move to the top of the SERP. This practice doesn't offer a positive user experience as it offers little chance for the user to really pull meaningful insights from the content.
Instead of this outdated practice, focus on including semantically related keywords in your connect that relate to the concept of your target keyword.
For example, if you write a piece of content on engagement rings, you want to talk about things like diamonds, heart-cut, carats, etc. All of these keywords relate to that central idea of engagement rings.
This also brings more authority to your content from the users perspective as you will likely introduce new concepts or other ideas that haven't yet been considered.
#10. Consider What Makes Your Content Link-Worthy
Exceptional content won't only give your readers a good user experience, it will also cause other websites to link to your site as a reference. Receiving backlinks is a huge indicator of a website's authority, and a ranking factor for the Google SERP .
Consider content ideas that attract links naturally. This may include original research, unique infographics, proprietary or owned concepts or unique approach that your company created to address your target audience's pains or needs.
#11. Write in an Active, Actionable Voice
The way in which you write can be just as important as the content that you create. You want to demonstrate your authority on the topic, and the active (not passive) voice strengths your writing ten fold.
It may seem like a trivial tip, but you want your audience to know that you have a good understanding of the topic at hand, and that's accomplished with strong writing!
We know that all of the work involved in this process to create a single piece of well-optimized content isn't always feasible. Time and resources are scarce, and you likely have many other projects on your plate.
That's why seoClarity created Content Fusion for AI content optimization .
Content Fusion allows you to create authoritative content at scale and drive authority in your copy faster than ever before.
It applies a deep-learning algorithm to present users with a list of must-use topics to use in the copy to optimize for a keyword. (We operate the world's largest competitive data set so it's likely that we have keywords that relate to your industry.)
It's the key to writing high-quality content at scale, all on-the-fly in real time.
Here is part of the must-use topics for our example of "engagement rings":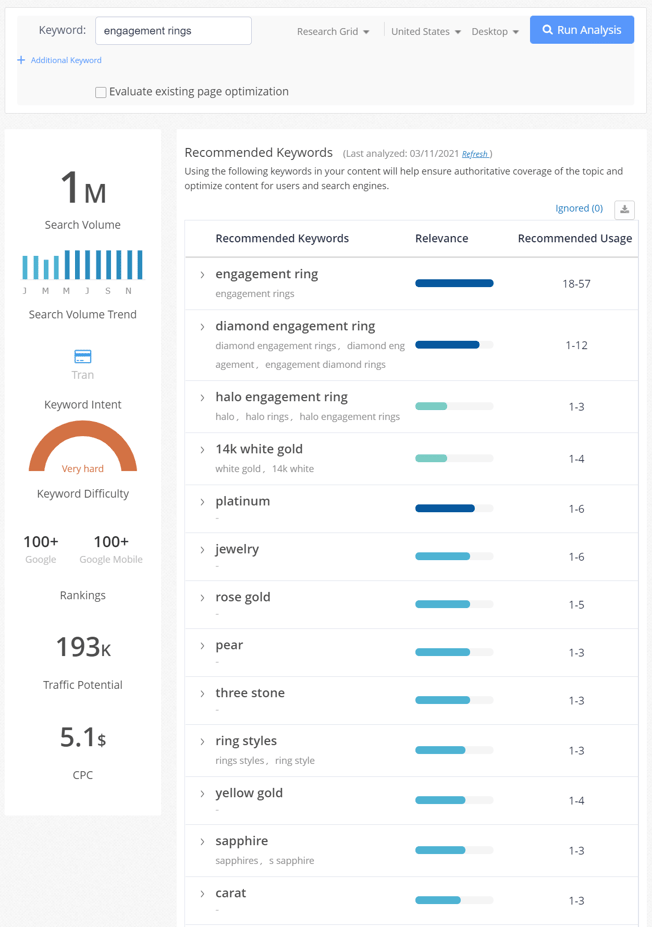 Notice how Content Fusion also alleviates the need to manually search for the correct user intent. Here, it alerts us that this keyword has a transactional user intent, so a product page would be the correct content type to create in this case.
Another extension of our Research Grid , Topic Explorer allows you to create your topic clusters appropriately, while taking into account the semantic match of a keyword.
This expands potential keyword ideas far beyond the standard phrase match of a keyword. Google and other search engines now have a semantic understanding of information, so you need to show users that you have a holistic understanding as well.
Looking for a way to overcome writer's block? Content Fusion has been recently integrated with Sia , our AI-driven SEO assistant.
By clicking Sia's lightning bolt icon, users can effortlessly generate outlines, draft paragraphs, or rewrite existing content. Sia utilizes its extensive knowledge to personalize each task based on the topic and individual preferences.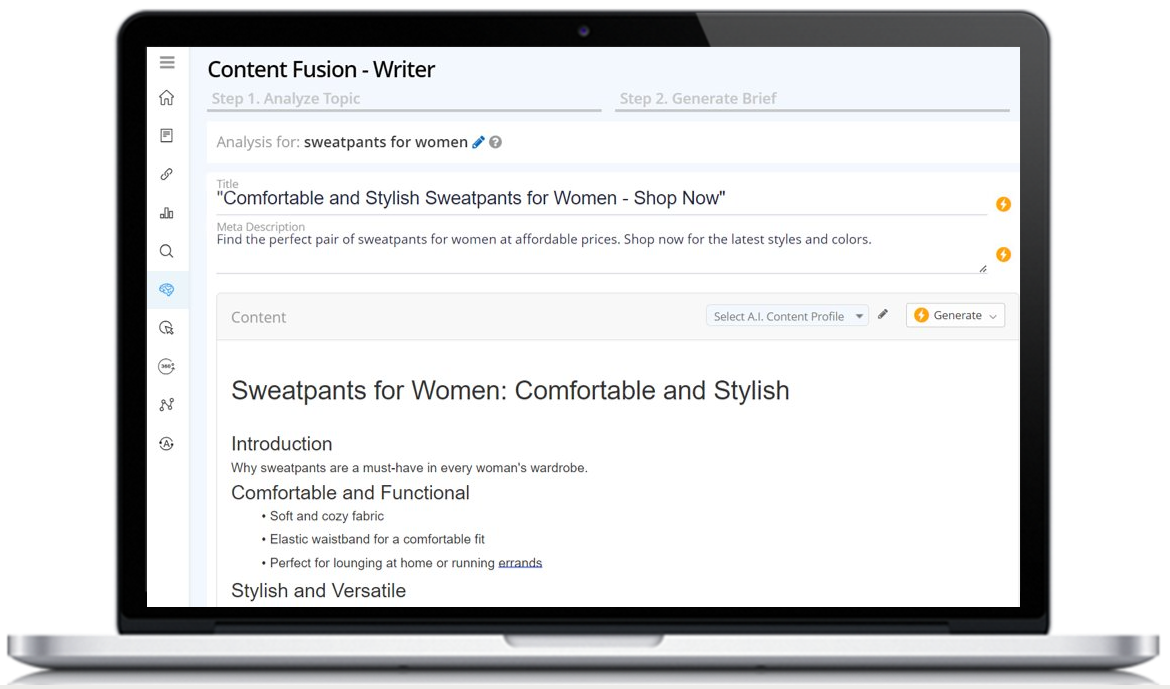 Additionally, the new "Content Profiles" feature allows users to specify audience, tone, language, and content type for each piece of content. Sia ensures adherence to these specifications, providing tailored and optimized content.
Remember that Sia's outputs are only suggestions to serve as a starting point. They should always be reviewed and edited by a member of your content team.
Tired of creating content that doesn't rank? Request a customized demo to strategize how our platform can bring success to your SEO content writing.
After you've completed your research and have created your copy, there are a few extra steps you can take to really enhance the presentation of your content.
Think of these steps as the icing on the cake. These small but mighty steps will serve as that extra push to outperform current ranked content, and give readers a seamless user experience.
For more optimization tweaks, reference the article 14 Quick SEO Tweaks That Help Increase Search Visibility .
#12. Meta Data
The presentation of your content on the SERP has a large impact on click-through rate. Be sure to craft proper meta descriptions (think of them as mini ad space) and title tags. This meta data can be the factor that sways a user's choice of what to click.
For more information on both the meta description and the meta title, refer to these blog posts:
How to Write the Perfect Meta Description for SEO
How to Improve Search Visibility with a Title Tag Test
Note: When you craft a title tag (or headline) avoid click bait. Make your headlines align with what the content actually is; after all, you don't want to deceive your readers.
#13. Leave the Reader with Something Extra
When you give the searcher the information they were looking for, you've done your job! To exceed expectations though, leave the reader with something else. You can add multimedia elements or quotes from your executives to demonstrate thought leadership.
The way in which you format your content can also be that added bonus. For example, summarize the page's contents into a TL;DR section (too long; didn't read) that the user can easily skim and understand.
Another idea that seoClarity started adding to our content is downloadable templates or quick hit checklists. This is the reverse of when you publish the shorter version and then ask the reader to download the full guide or longer content version.
When you provide these additional elements, you entice the reader to come back to your site again in the future, or visit another page on your site.
#14. Structure Your Content Appropriately
The way in which you lay out your content affects the overall user experience. Be sure to properly incorporate H1, H2, and H3 titles (and so on) to create a sense of flow and structure for your content.
Structure also matters if you want to optimize your content for the Answer Box/Featured Snippet. If the current Answer Box/Featured Snippet is a numbered list, then consider that the ideal setup for your content. Add numbers to each listing so Google can easily understand and pull the information.
If the current Answer Box is a quick definition, be sure your content includes a precise and succinct definition of the concept at hand so it can easily be pulled.
#15. Include the Keyword in the Title, URL, and Content
Be sure to use the keyword or its variation in the title. This will make it obvious for the reader that your content can solve their problem. The same applies for the URL — many users will look at it to discern the topic of the page.
And of course, the keyword needs to be included in the bulk of the content itself! This should happen naturally. You're writing on a topic, and so, any mentions of it should happen organically anyway. And don't forget those semantically related topics!
#16. Describe Images in the IMG Alt Tag
This will help users with visual difficulties to absorb your content in full, particularly when using a screen reader to read the copy to them. Make sure that you end each alt tag with a full stop. This way, the reader will pause for a second after reading it, providing a natural flow to the experience.
#17. Ask the Reader for a Next Step
What do you want your readers to do after they've read the content? Ideally, you want them to convert. This doesn't mean they have to make a purchase; a conversion can also be a sign-up for an email newsletter, the download of an ebook, etc.
Ask your readers (with action-oriented, persuasive text) to convert somewhere on your page. If your content is relevant, optimized, and follows the tips mentioned so far then the likelihood of conversion is high.
#18. What are Your Metrics?
Different organizations will have different metrics and key performance indicators (KPIs) for their content. Maybe yours is the bounce rate, time on page, or the overall traffic. Regardless, you need to track those which are important and relevant to you.
If you're unsure of what your KPIs should be, ask yourself: "Why did I write this piece of content?" When you discover your KPIs, you can track content to see if goals are being met, and what has to change if the numbers aren't what you need them to be.
#19. Use Google Search Console
Google Search Console (GSC) is a great tool for marketers and SEOs to leverage. Not only is it free, it's also easy to use to help you understand user demand. It includes average rank, impressions, clicks, and more.
For instance, if you notice a decrease in impressions for a certain page, this may signal that the content is approaching the content decay and is in need of a content refresh. For more information on how to overcome the decay, follow this workflow: Content Refresh: Overcoming the Content Decay .
With so much content and competition online today, it's not enough to write content and hope it performs well to rank higher. SEO content writing is at the heart of any organic search strategy, and these tips can push your writing forward to offer the end user the most positive experience possible.
Adopt these 19 tips into your content writing process and you'll be sure to see an improvement in your search performance for higher visibility in the search results.
Read more on the SEO content writing strategy and process to level up your search engine optimization strategy.
Editor's Note: This post was originally published in September 2019 and has been updated for accuracy and comprehensiveness.
Like what you read?
Subscribe to the blog to receive updates about:
Data-driven content marketing strategies
Technical, Mobile & Local SEO best practices
Industry news and updates
Research and innovations
Get the latest SEO trends, news and advice, right in your inbox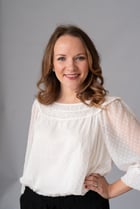 773-831-4500
PO Box 6143 Buffalo Grove, IL 60089
SEO Pricing and Costs
SEO Strategies 2023
SEO Redirects
Crawl Budget Guide
SEO Content Writing Guide
SEO & Content Learning Center
SEO Tools Comparison
Privacy Policy

Showing 1 - 10 out of 832 for:
Seo basics: the beginner's guide to seo from seo experts.
Master the basics of SEO with our beginner's guide, exploring the importance of SEO, how search engines function, and practical steps to kick-start your SEO journey.
Written by WebFX Marketing Experts
Last Updated November 14, 2023
How Search Engines Work
Off-Page SEO Basics
On-Page SEO Basics
SEO Analytics
SEO Content Guide
SEO Glossary
Technical SEO Basics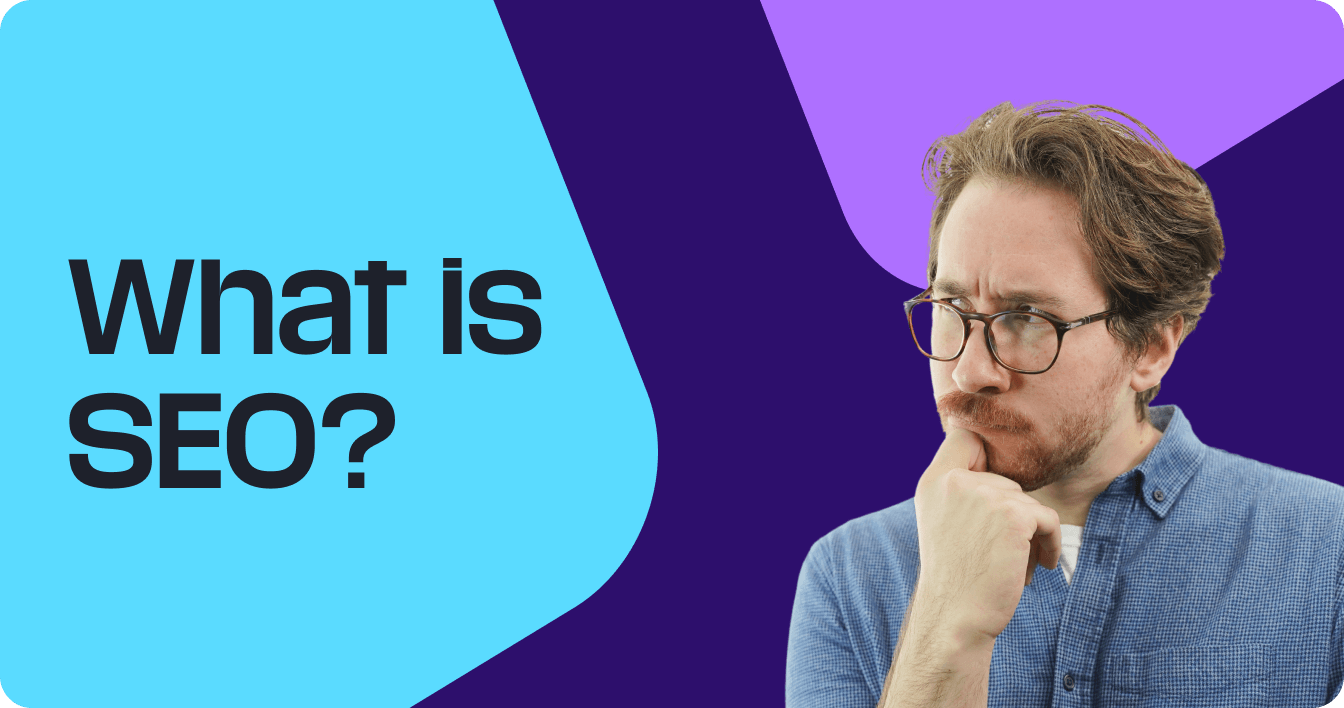 Welcome to search engine optimization 101, your beginner's guide to SEO basics! Here, you'll learn:
What is SEO?
How do search engines and SEO work?
How do I get started with SEO?
Keep reading SEO 101 to begin your SEO journey!
Chapter 1: The basics of SEO
Learn the basics of SEO, including:
How do search engines work?
How does seo work, why is seo important.
Or, skip ahead to the next chapter on on-page SEO basics!
Search engine optimization (SEO) is optimizing a website to improve its visibility in organic search results, like on Google. Typically, SEO takes three to six months to show results. Common optimizations for SEO include improving page speed, researching keywords, and creating content.
Is this information too basic? Skip over to our On-Page SEO Guide or the SEO Blog to learn more about the inner workings of SEO for your website.
When it comes to SEO 101, understanding how search engines work is essential. That's because search engines fuel search engine optimization, setting the standards that define the strategies, best practices, and tips that SEOs use.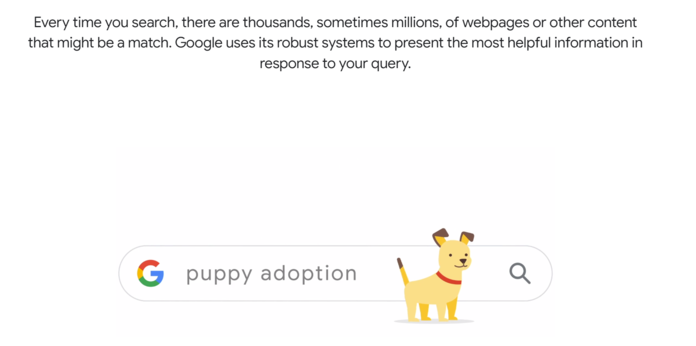 You can break how search engines work into the following steps:
Learn more about these individual processes below:
🕷️ Crawling
Search engines are like a library, and to build their library, they need to crawl the web . Search engines rely on web crawlers (or spiders) to explore the World Wide Web's content. Crawlers then return this content to search engines, which they then index.
📚 Indexing
The indexing stage is like a librarian reviewing, organizing, and shelving various books in the library. Here, the search engine's algorithm catalogs the content, which the search engine then relies on to deliver results to searchers.
⚖️ Ranking
In SEO 101, ranking is the grand finale of how search engines work.
When someone searches on Google or Bing , these search engines rely on their algorithms to deliver tailored results that align with the user's needs and preferences, like their location, previous searches, and more.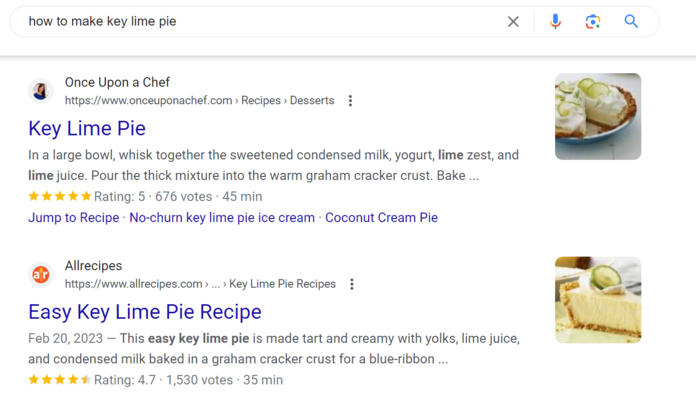 How content appears in the search results is based on these factors, plus more than 200 other factors . These ranking factors (which are not weighted equally) cover everything from website security and online reputation to content helpfulness and authority.
When you practice SEO, you optimize for these 200+ factors (or at least the most important ones).
Search engine optimization works by optimizing a website for more than 200 search engine ranking factors. Before you close the tab on this search engine optimization 101 rundown, SEO specialists do not optimize for all 200 factors. Instead, they focus their efforts on the most significant ranking factors.
You can organize these factors into three categories:
Off-page SEO: Off-page SEO focuses on your site's online reputation.
On-page SEO: On-page SEO focuses on your site's user experience.
Technical SEO: Technical SEO focuses on your site's backend optimization.
Within these categories, there are multiple optimizations to work on, which you can preview below:
Search engine optimization is important for a few reasons, including the following:
SEO helps websites like yours improve their online visibility — without the cost of pay-per-click (PPC) or social media advertising. With that kind of visibility, you can reach your target audience at the perfect moment, as they search for products or services you offer.
Search engine optimization is also helpful because of its targeting capabilities. Whether you're looking to reach people in a specific town (like Los Angeles) or people in the awareness vs. decision stage, you can do so with SEO.
Year-round SEO will work for your business and its website. Whether inside or outside your working hours, people can find your business online and start their journeys to become clients.
People from across industries, from business-to-business (B2B) to business-to-consumer (B2C) , have seen consistent (and impressive) results from search engine optimization through traffic, leads, and sales.
Long story short, SEO is important because it helps website owners drive qualified traffic and sales.
Chapter 2: On-page SEO basics
Learn the search engine optimization basics of on-page SEO, including its:
Or, skip to the next chapter on off-page SEO basics!
What is on-page SEO?
On-page SEO is the optimization of on-site elements for search engine optimization, like:
Keyword research
Meta descriptions, header tags, internal links.
As a cornerstone to the basics of search engine optimization, learning on-page SEO is critical.
Why is on-page SEO important?
On-page SEO is important because it helps search engines and users:
Discover your content
Understand your content
When it comes to SEO, you need on-site SEO to rank — and rank well — in search results.
How to do on-page SEO
Get started with on-page SEO with these basics:

Use Keywords Everywhere , Ahrefs , Semrush , or Google Search to research high-volume, low-competition search queries relevant to your business and target audience. Focus on long-tail keywords (queries with three to four words) for a more targeted reach.

Write compelling title tags for your content by following key best practices in SEO 101. For example, use your target keyword's search results to determine the optimal format and phrasing. Then, include your target keyword while maintaining a length of 60 characters or less.

Create informational meta descriptions for your content by following similar best practices. For example, answer your target keyword's search intent and incorporate your target keyword. Maintain a meta description length of 150 characters or less.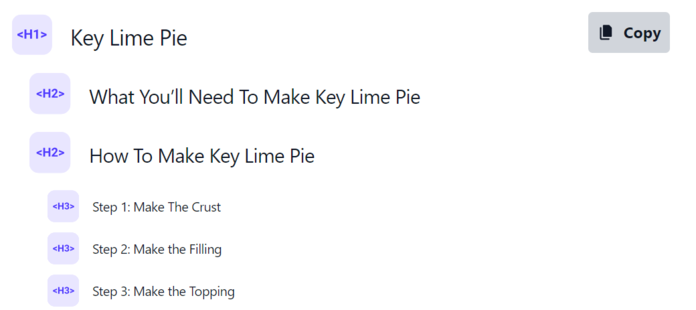 Develop SEO-friendly header tags, like your H1, H2s, H3s, and so on, by reviewing the top-ranking URLs for your target keyword to better understand its search intent. Then, use your header tags to target your keyword, plus help users find the information they need.
Use images, from screenshots to graphics to stock photos, to meet search intent and optimize the user experience. Optimize your images with short, descriptive filenames and alt text. Then, compress them before uploading them to your site with a free tool like Squoosh .
Help search engines and users navigate your site with internal links . Add your most important URLs to your navigation and footer, and ensure every page on your website receives at least three internal links (with descriptive anchor text) from other internal URLs.

Organize your website with a logical site architecture , like placing informational content in a /blog/ folder and product pages in a /products/ folder. Use hyphens to separate words and brief, concise URL slugs , like /google-pixel-case/ vs. /123456-google-pixel-case/.
Learn more about on-site SEO with our on-page SEO guide !
Chapter 3: SEO content
Learn the search engine optimization basics of SEO content, including its:
What is SEO content?
SEO content is online content optimized for search engine optimization. Types of SEO content include:
Longform guides
Interactive content
Common optimizations for SEO content include:
Using targeted keywords
Optimizing content structure
Improving readability
Why is SEO content important?
SEO content is important for a few reasons, including the following:
Helps search engines evaluate a URL's usefulness
Attracts qualified, targeted traffic to a website
Builds a website's authority and trust in its online sphere
Establishes (and nurtures) relationships with readers
In search engine optimization, content is non-negotiable — you need it to attract, nurture, and convert leads.
How to do SEO content
Get started with SEO content with these SEO basics:
Topic research
Speak with client- or customer-facing team members (you can also browse online forums) to understand your target audience's needs and then use keyword research tools to find the best keywords to target for these topics.

Lean into your experience, expertise, authoritativeness, and trustworthiness (a confirmed Google ranking factor ) by writing content that shares your first-hand experience and opinion, plus highlights your brand's years of experience, certifications, and other trust factors.
Content organization
Optimize your content's structure by referencing the top-ranking URLs for your targeted search term. You can determine which questions to answer first, second, third, and so on based on the search intent.
Content skimmability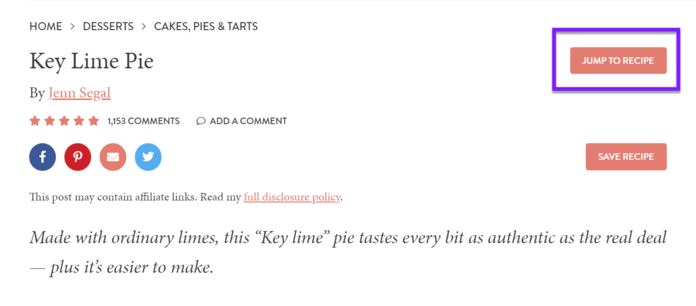 Help users navigate your content by optimizing its skimmability. Use header tags, three-line paragraphs, ordered and unordered lists, and text formatting features (like bold , underline , or italics ) to help people find what they need faster.
Content readability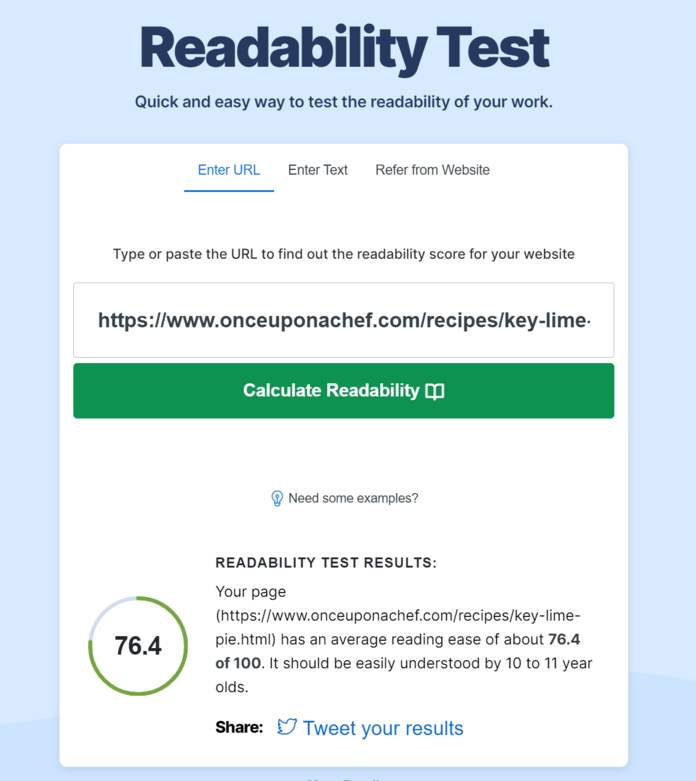 Use free tools like Grammarly, Readability Test , and Hemingway Editor to proof your content. These tools can help you find grammar and spelling errors, plus opportunities for improving your content's readability, which you should tailor to your audience.
Learn more about this basic of SEO in our SEO content guide !
Chapter 4: Off-page SEO basics
Learn the search engine optimization basics of off-page SEO, including its:
Or, skip to the next chapter on technical SEO basics!
What is off-page SEO?
Off-page SEO is the optimization of a website's off-site SEO. Off-site optimizations include acquiring reputable backlinks, claiming and optimizing local listings, managing online reviews, and engaging in online communities.
Why is off-page SEO important?
Off-page SEO is important for a few reasons, including:
Helps search engines understand your site's online authority and reputation
Gives users background on your site through online reviews and local listings
Serves as one of the most influential SEO ranking factors
As one of the most important ranking factors in SEO, off-page SEO is critical to learn in SEO 101.
How to do off-page SEO
Get started with off-page SEO with these SEO basics:
Produce original content, from research-based blog posts to interactive tools, to generate interest and attract authoritative backlinks. You will struggle to acquire backlinks without original content (or content that does it better than anything else).

Practice outreach to connect with publishers in your industry, from news sites to bloggers to influencers. Offer value by providing an alternative to a broken link on their site or suggesting a compelling content idea (that you're willing to write). Expect to get rejected.
Local listings
Claim and optimize local listings like Googe Business Profile and Bing Places. Besides linking to your website, these listings will help demonstrate to search engines (and users) that your business is genuine.
Online engagement

Engage with your user base through local listings and relevant online forums, like Reddit or Quora, to build your reputation as a trustworthy information source. Avoid selling or over-promotion on online forums, which can backfire by creating distrust.
Learn more about this crucial factor in SEO 101 in our off-page SEO guide !
Chapter 5: Technical SEO basics
Learn the search engine optimization basics of technical SEO, including its:
Or, skip to the next chapter on the basics of SEO analytics!
What is technical SEO?
Technical SEO is the optimization of on-site technical elements. These elements include:
Page experience
Site security
Robots.txt file
Sitemap files
Structured data
This area of SEO often requires collaboration with web developers and web designers.
Why is technical SEO important?
Technical SEO is important for SEO beginners for a few reasons, including the following:
Allows search engines to crawl a URL
Helps search engines better understand a URL and its context
Shapes a URL's usability and accessibility
Optimize for technical SEO, and you can help your site rank (and even convert) better.
How to do technical SEO
Learn how to get started with technical SEO below: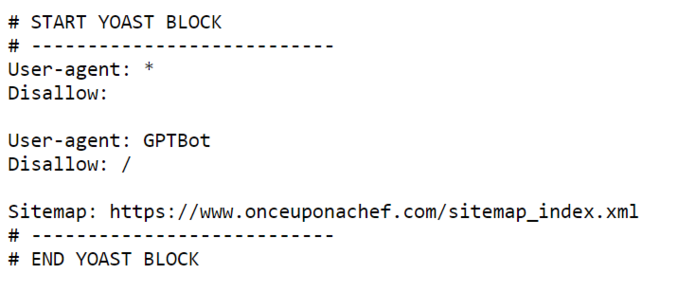 Use your robots.txt file to direct search engine web crawlers on what to crawl. A robots.txt file can prevent your site from getting crawled and indexed, so check your setup with Google's free robots.txt tester tool .
XML sitemap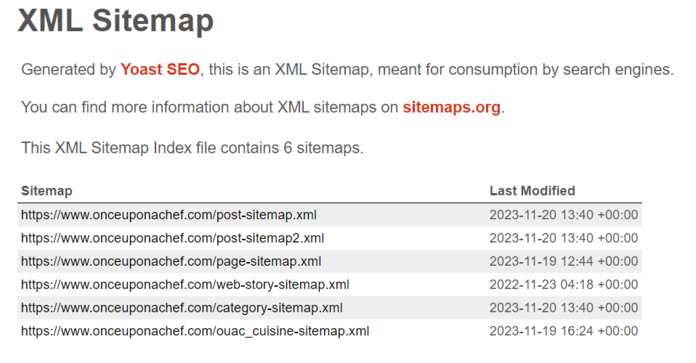 Generate an XML sitemap to provide web crawlers with a map of your site. Use a free third-party tool like Yoast SEO to speed up (and even automate the process). Submit your sitemap to Google Search Console and Bing Webmaster Tools .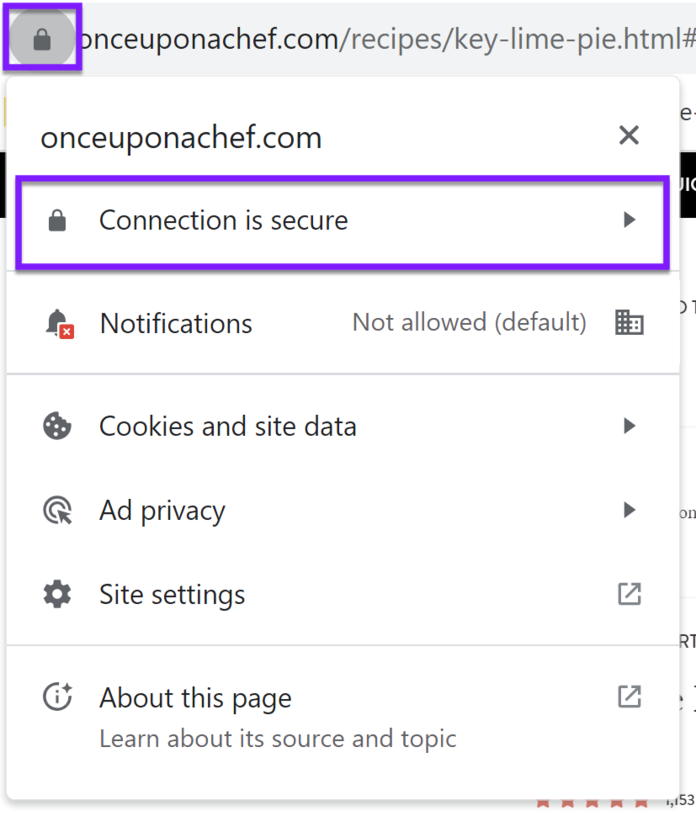 Create a secure, trusted website by purchasing an SSL certificate (which stands for Secure Sockets Layer) and moving your site from HTTP to HTTPS. Follow Google's HTTP to HTTPS guidelines for your migration to minimize risks to your search engine optimization efforts.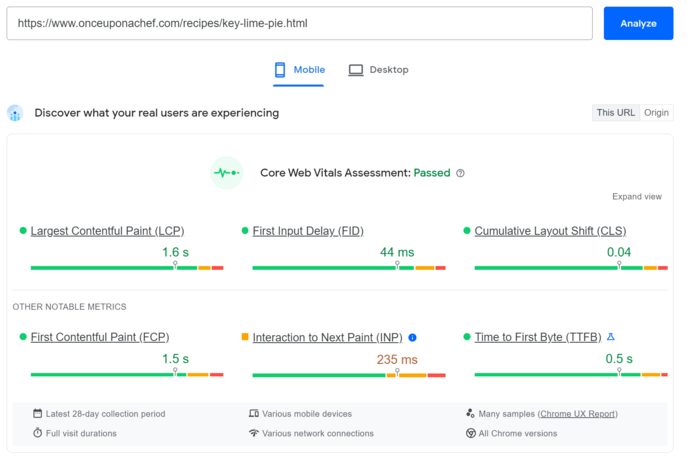 Build a fast-loading, fast-to-respond website by following best practices like compressing images, minifying code, enabling browser caching, and using a Content Delivery Network (CDN). Use Google's PageSpeed Insights tool to get URL-specific recommendations.
Create a better page experience by optimizing your site's accessibility and usability. For example, use text and background colors with optimal contrast and have a responsive design that adapts to the device, like desktop vs. tablet.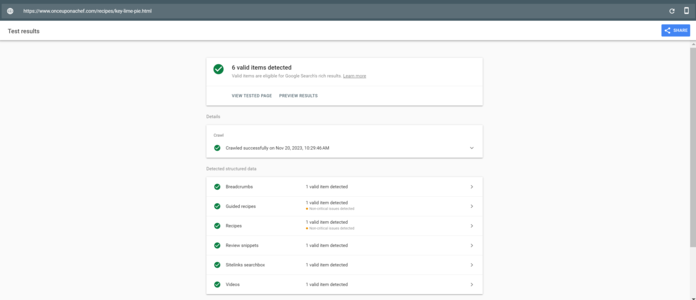 Add structured data to relevant URLs to provide search engines greater context. Use Google's free Structured Data Markup Helper tool , plus its Rich Results Test tool , to create and verify your markup before installation.
Learn more about this basic of SEO in our technical SEO guide !
Chapter 6: SEO analytics basics
Learn the search engine optimization basics of SEO analytics, including its:
Or, skip to the next chapter on getting started with search engine optimization!
What is SEO analytics?
SEO analytics tracks, measures, and evaluates your SEO performance. Google Search Console and Google Analytics 4 offer a free solution for tracking rankings, traffic, conversions, and other valuable SEO metrics.
Why is SEO analytics important?
SEO analytics are important for a few reasons, including the following:
Support a goals-driven SEO program by tracking and measuring your performance
Understand on-page, off-page, and technical SEO performance
Measure return on investment (ROI) from search engine optimization
Make data-driven decisions about your SEO strategy
SEO analytics lets you find what's working, what isn't, and what to do next.
How to do SEO analytics
Learn how to get started with SEO analytics in this SEO beginners' breakdown:

Use free platforms like Google Search Console and Google Analytics 4 to track your SEO efforts. You'll receive position, impressions, and clicks data with Google Search Console. Google Analytics 4 will provide traffic and user metrics, like bounce rate, time on page, and more.
Choose your most relevant metrics for measuring your SEO success. Avoid using too many vanity metrics and include data points that affect your business more broadly, like the number of leads or sales from organic traffic.

Outline SEO goals based on your tools and metrics. Understand what your company's stakeholders want from search engine optimization and use those as a baseline for creating specific, measurable, achievable, realistic, and timely goals.
Set regular intervals for evaluating your SEO performance (keep in mind SEO can take three to six months to work). Look for trends and outliers while considering seasonal factors to brainstorm what's working and where to improve.
Learn more about tracking and measuring SEO as an SEO beginner in our SEO analytics guide !
How to get started with SEO basics
If you're ready to bring all the above together, check out these brief SEO basics:
Read Google's guide on how to start appearing in Google search results
Register your website with Google Search Console and Google Analytics 4
Build your knowledge with reputable guides, videos, and blogs (like ours !)
Then, put your knowledge to use on your website and measure your performance with the above tools!
Start practicing the basics of SEO on your site
Congrats, you've learned the basics of SEO! Now, you're ready to start practicing SEO on your site. As you get started, remember that SEO can take three to six months to show improvement — in some cases, it can take up to a year.
If you need professional help, though, contact us online , and we'll see how we can help!
Table of Contents
Chapter 1: the Basics of SEO
Chapter 2: On-page SEO Basics
Chapter 3: SEO Content
Chapter 4: Off-page SEO Basics
Chapter 5: Technical SEO Basics
Chapter 6: SEO Analytics Basics
How to Get Started with SEO Basics
Start Practicing the Basics of SEO on Your Site
Let's Drive Results Together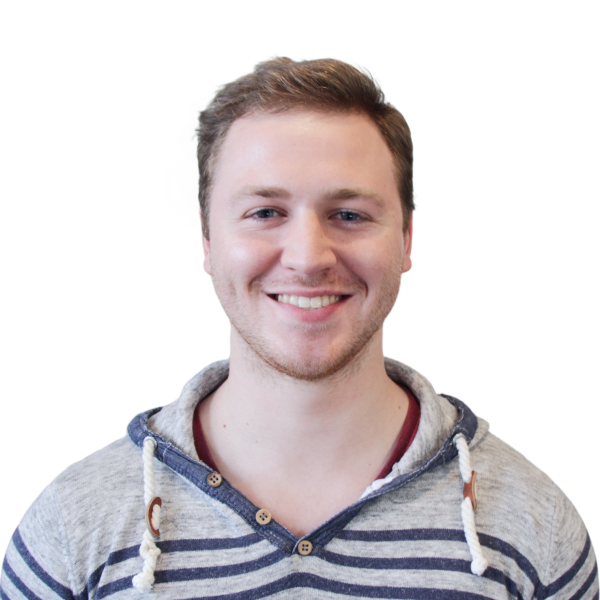 Dive Deeper
What Are SEO KPIs? +5 SEO Metrics to Track
What is SEO ROI, and How Do You Measure It?
SEO Ranking Factors in 2024: a Look Inside Google's Search Algorithm
Website Crawling 101: the Beginner's Guide to Web Crawlers
Off-Page SEO
How Your Company Can Harness Site Listings for SEO
SEO Link Building Basics for Your Business
On-Page SEO
SEO Title Tags: What Are They? [+ 5 Tips to Optimize Yours]
The Ultimate 2023 SEO Keyword Research Guide
SEO Content
10 SEO Best Practices for Images to Boost Your Rankings
10 SEO Tips for Blogs to Boost Your Rankings (+ Examples)
6 SEO Best Practices for Product Pages to Conquer SERPS
What is Artificial Intelligence? 3 Key Uses for AI in SEO
What is E-E-A-T and Why is It Important for SEO?
Recommended Reading
Can you do seo yourself a diy seo guide for beginners.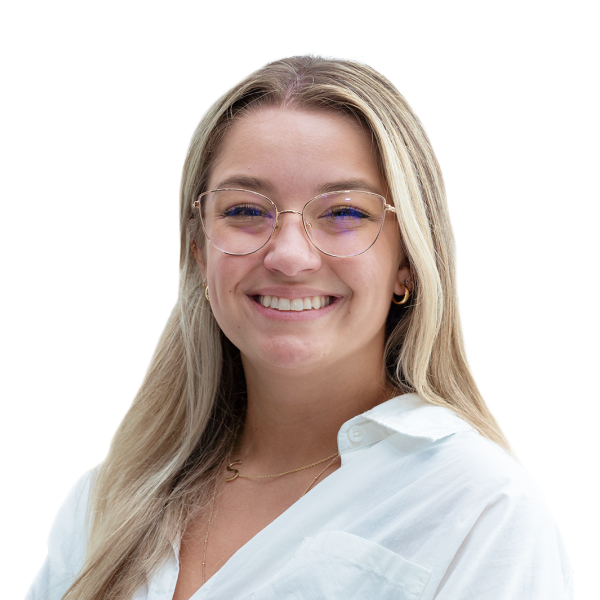 Learn about the pros and cons of DIY SEO, including cost savings and control, but also the lack of expertise and time commitment, and discover beginner-friendly steps to optimize your website yourself.
12 SEO Benefits for Businesses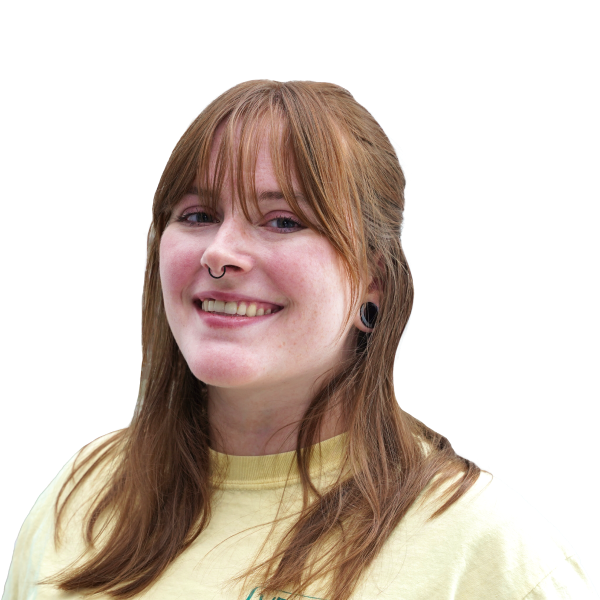 Discover the SEO benefits that can transform your business, including increased website traffic, brand awareness, lead generation, revenue, and more.
Download our free marketing guides
Because we know how tough marketing can get, we've created this handy guide for you based on our 25+ years of experience in the industry.
SEO Ranking Factors in 2024
Unlock the secrets to dominating search engine results in 2024 with our exclusive PDF guide!
SEO Checklist
Start improving your site's SEO with this beginner's checklist!
SEO RFP Template
Download this easy-to-use template to start your search for an SEO agency.
Marketing Guides Form
Download your free guide.
Enter your name and email to download your free guide. We will also send the download link to your inbox.
Let's Drive Results Together
Connect with WebFX to get a digital strategy for your business.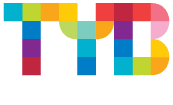 SEO Content Writing Beginners Guide 2023
If you're new to SEO content writing, then this guide is for you. In 2023, SEO will continue to be an important ranking factor for Google and other search engines. And that means creating high-quality, keyword-optimized content is more important than ever. If you'd like to skip the nuances and find the best tools for SEO content writing , you could do that too.
In this beginner's guide, we will discuss:
What SEO Content Writing Is
Why You Should Care About Optimizing Content
How To Start Writing SEO Content
How To Create A Content Brief
SEO Content Writing Services
What is seo content writing.
SEO content writing is the process of creating content that is both informative and keyword rich. It's a delicate balance between the two, and it's one that takes some practice to perfect.
But once you get the hang of it, you can create content that will help your website rank higher in search engine results pages (SERPs).
Content writing can be different based on the client. Some clients will already have a content strategy in place. Others might require you to use SEO tools , such as keyword research tools, to come up with keyword ideas or even related keywords to what they already have.
The content creation process is also different for everyone. Most clients prefer Google docs, but depending on who you write content for, they may prefer something different.
Most of the time when you are writing content, it is writing blog posts, but clients might ask for the additional web page content to be written. In addition, you may be asked to write social media posts.
Content writing and content marketing mean a lot of things. However, your role as an SEO content writer or SEO copywriter is to help with a client's search engine rankings.
Why Should You Care About Optimizing Your Content for Search?
If you want your website to be successful, then you need to care about SEO. Why? Because SEO is what helps you rank higher in SERPs. And the higher you rank, the more traffic you're likely to get.
The main goal of an SEO content writer is to optimize the content they write so that Google Analytics is more likely to rank it on the first page based on its algorithm. That is why search engine optimization is so important.
In addition to ranking high, some high-quality content will become what is known as a featured snippet on Google . This means that the content of the article answered a specific question on Google, and the SEO elements were better than other web pages using those same keywords.
Then, a small piece of your content, or featured snippets, is displayed on the drop-down boxes when search queries are conducted.
There are a lot of ranking factors that go into ranking on Google. Some of those include:
Important Keywords
Existing Content
Organic Traffic
Meta Descriptions
Quality of Web Content
Remember the goal is to get to the first page of Google. The more organic traffic you have, and the more you understand search engine algorithms, the more success you'll have landing on a search engine results page. Although, that is just a small piece of the SEO writing puzzle.
Finding a target keyword you can have success with is not hard if you know what you are looking for. Read on to get a better idea of what you can do to have a successful career as an SEO content writer.
How to Start Writing SEO Content
Now that you know what writing SEO content is, you might be wondering, how do I start? It's not hard if you know the basics. The writing process is a little different than it is for other types of writing.
Here are five things to know before writing SEO content:
Understand Your Target Audience
Do keyword research, reverse engineer search engines.
Use Your Keyword Throughout The Meta Data
Research What to Write
SEO content writing starts with research . You need to understand your target audience and what they're looking for before you start writing. That way, you can create content that is both informative and keyword rich.
To do this, start by brainstorming a list of topics that your target audience would be interested in. Then, use Google's Keyword Planner, or a similar tool like Moz Keyword Explorer, to research which of those topics are most popular. Once you have a list of keywords, you can start writing your content.
Remember, you want to sound credible and informative, but also keep the writing interesting for your reader. No one likes dry topics, so it is your job to make it engaging.
Before you start writing, it's important to understand who your target audience is. What are their interests? What are they looking for? By understanding your target audience, you can create content that appeals to them.
For example, if your target customer uses a lot of social media, you do not need to explain what social media is to them in your post.
Another example is trade magazines. Most people reading a trade publication already know the field fairly well. That means you can skip the basics, in most cases.
Knowing your target audience well can go a long way in sounding credible . If you are telling them what they already know, they might question your authority on the topic.
Once you know what your target audience is looking for, it's time to do some keyword research. This will help you find the right keywords to use in your SEO content .
When doing keyword research, try to find a tool that is as comprehensive as possible. One that shows keywords, suggests related keywords, has organic search and direct traffic metrics, and also shows how many other websites are competing to rank for that keyword.
It is a waste of time to try to rank for keywords that you have no chance of ranking for. Quality content only goes so far in the SEO world. Try to target keywords that have a lower amount of competition. You should also be tracking your efforts with a keyword tracking tool also, but more on that in another post.
One of the best ways to optimize your content for search engines is to reverse engineer them. That is, take a look at how they work and what they're looking for. Google's algorithm is constantly changing, so it's important to stay up-to-date on the latest trends. A good way to do this is to read Google's Webmaster Guidelines.
A lot of SEO writing boils down to how well you know the system. When starting out, it is fine to not know it well. But soon, you will be well on your way to success.
Use Your Keyword Throughout the Meta Data
Once you've written your content, it's important to use your keywords throughout the meta data . This includes the title, description, and keywords tags. By doing this, you're helping search engines understand what your content is about and how to index it.
Create a Content Brief Including:
Headings (h1s, h2s, h3s, h4s).
When creating a content brief, setting up the headings in a way that not only flows for the reader but is SEO optimized is very important.
Introductions to each section, usually under the H2s, should highlight the upcoming H3s and H4s. This can be done with a bulleted or numbered list.
Meta Description
The meta description is the short paragraph of text that appears under your title in the SERP.
The meta description is important because it is one of the first things that people see when they do a search. It should be catchy and persuade the person to click on your result.
A good meta description should:
Be no more than 155 characters
Include your keyword
Be unique to each page
One key to writing a great meta description is to leave the reader wanting more. Make them want to click on your article. You can do this by writing a great hook to reel them in, and then leave the solution open-ended.
Please see the example below:
In that example, you have left it open. What can they develop? Now they are interested.
The word count of your SEO content should be based on the topic you are covering. There isn't a magic number that you should aim for, but generally, longer articles tend to do better than shorter ones.
This is because longer articles are usually more comprehensive and provide more value to the reader. However, if you try to stuff too many keywords into your content, it will read awkwardly and turn off your readers.
Pro Tip: try an SOE Content Writing Service to help with word count.
Number of Images
Images are a great way to break up your text and add visual interest to your content.
However, you should only use images that are relevant to your topic. In general, it's a good idea to include at least one image per 500 words of text. This ensures that your content is well-balanced and easy to read.
Image File Names
When you save your images, make sure to use relevant file names.
For example, if you're writing about "how to make a perfect cup of coffee," your image file name should be something like "coffee-making-process.jpg."
This helps search engines understand what your image is about and how it relates to your content.
Including Keywords in Your Images
As well as using keywords in your image file names, you should also include them in the "alt text" and "title" tags. The image alt text is the text that appears when an image can't be displayed. The title tag is the text that appears when you hover over an image.
By including keywords in your title tags, you're helping search engines understand what your images are about. This can help your content rank higher in image search results.
Link to High-Quality Sources
When you're writing SEO content, it's important to link to high-quality sources. This shows search engines that you're an authoritative source of information.
However, be sure to avoid linking to competitor articles. It is important for an SEO writer to understand the difference between a high-quality source and the competition's web page.
Remember, you're helping your client with their content marketing, not the competition.
Internally Link to Other Articles
In addition to linking to external sources, you should also link to other articles on your website. This is known as "internal linking."
Internal linking is important because it helps search engines understand the structure of your website. It also helps readers navigate your website and find other articles that they might be interested in.
Internal links can help to increase traffic to existing content . Most clients will want their content writers to use internal links in their articles. Although, some clients will do it on their own before publishing.
Use Keywords Naturally
When you're writing SEO content, it's important to use keywords naturally. This means using them in a way that sounds natural and doesn't interrupt the flow of your writing.
By using keywords unnaturally, you are doing what is known as "keyword stuffing" . While this sounds great in theory, it makes the blog post, or article, difficult to read.
Also, too many keywords in the text are bad for your SEO strategy. You should never sacrifice content quality in order to use more keywords.
For example, if you're writing about "how to make a perfect cup of coffee," you might include the following keywords:
Remember to use keywords throughout your content, including in the title, headings, and body text.
Make Sure Your Content Is Easy to Read
When you're writing SEO content, it's important to make sure that it's easy to read . This means using short sentences and paragraphs and including plenty of white space.
It also means breaking up your text with subheadings, bullet points, and images. By making your content easy to read, you're more likely to keep people's attention and persuade them to stay on your page.
Verblio's SEO content writing services can help you create high-quality, keyword-optimized content that ranks high in search engine results.
We have a team of experienced writers who are experts in creating SEO-friendly content. We can help you with everything from blog posts and articles to eBooks and website copy.
Over 1,000 Digital agencies, in-house marketers, and publishers are already using Verblio to create polished content.
Writing for SEO is not easy by any stretch of the imagination, but Verblio and its team of writers produce quality content with ease.
Founded by a journalist, Verblio treats its writers right. That is great news for both the freelance writers that compose their team and the businesses that use them. Happy writers create content that ranks.
WordAgents is a content writing agency that specializes in creating SEO-friendly content. We have a team of experienced writers who can help you with all your content needs.
They offer a range of services, including blog writing, article writing, and web copywriting. We can also help you with more specialized content, such as eBooks and infographics.
WordAgents' main goal is to keep readers and Google happy. With an optimized workflow. WordAgents guarantees delivery within seven days, per 10,000 words.
Their SEO writing starts at $0.06 per word. This is perfect for any budget size. Before you know it, you'll have SEO content that is free of grammatical errors, and ready to help you rank on Google.
FATJOE is a full-service content marketing agency that can help you with all your content needs. They offer a range of services, including SEO copywriting, link building, and social media marketing. They have a team of experienced writers who can create high-quality, keyword-optimized content that ranks high in search engine results.
FATJOE uses top SEO writers to create enticing, SEO-optimized content. Within 48 hours, a project will be completed, along with unlimited revisions for up to 10 days.
Once you place an order, the writing team starts the process. This service is great for businesses, and a great opportunity for writers to showcase their SEO writing talents.
Search Engine Writing Wrap Up
Search engine writing is all about creating content that's optimized for both search engines and readers.
To do this, you need to use keywords throughout your content, link to high-quality sources, and make sure your content is easy to read.
If you're not sure how to write SEO content, you can hire a professional content writing service or use an SEO services provider. These services can help you create content that's both keyword-rich and easy to read.
By following these tips, you can make sure that your content is optimized for both search engines and readers. This will help you attract more traffic to your website and improve your chances of ranking higher in search results.
The entire process of being an SEO writer may seem complicated at first, but it is very easy to get up to speed. You just need the right tools, confidence, and determination.
Bringing your expertise to the table will make SEO writing important and make you valuable to a wide range of clients.
This is the end of the SEO Content Writing guide. Hope you enjoyed it!
Signup for the newsletter
Sign For Our Newsletter To Get Actionable Business Advice
Related Articles
Why should you hire a creative agency to help develop your brand, promotional models and brand presence at tech events like ces, marketing online for the first time: what you should know.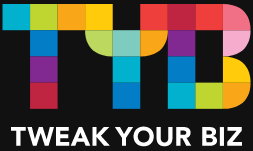 SEO Content Editor
SEO Content Strategy
Content Optimization
Content Briefs
AI Assisted Writing
Keywords Clustering
Preview a demo walkthrough
Outranking the competition with our cutting-edge seo strategies., ai powered seo.
Automatically optimize content
AI SEO Writing
Write factual and value added blogs with AI
Streamline your content creation - with the power of Content Brief!
Clustering, planning and automatic interlinking
Weekly Webinar
Get Started
AI For SEO Content Creation and Optimization
Seo content with, why optimize with outranking, remove optimization bottleneck, achieve predictable rankings, improve rankings fast, robert koch.
SEO Manager
1000% Increase in Traffic and Clicks
Seo content optimization tasks outranking's ai can handle, title and description: optimizing and generating.
Leverage AI, keywords and ranking data to generate or optimize titles for intent, CTR, length and SEO best practices.
Outlines: Optimizing and Generating
Automatically optimize existing outlines with the right keywords and number of sections. Generate outlines with a complete understanding of SERPs.
Internal Links: Finding and Inserting
Automatically find semantic phrases and match them with URLS from sitemap and automatically insert them in new or existing content.
NLP terms: Grouping, Inserting and Optimizing
Optimize existing or new content effortlessly by automatically inserting the right terms at the right places in your content.
Originality Improvement Suggestions
Use originality suggestions provided by Outranking that writers and SEO's can follow to improve content originality and uniqueness.
Plagiarism Removal
Run the most in-depth plagiarism checker to find duplicate content issues, and use AI to automatically fix them.
Interlinked Pages
Improve rankings of your existing web pages by automatically linking semantically related pages with higher pagerank. See ranking improvements within a few weeks, not months.
SEO Content Generation
Generate hyper-personalized and factually accurate first drafts using AI. Build custom style templates for your brand and keep tone consistent throughout all of your content.
See How Others Use Outranking
Outranking is more than just keyword research and SEO content creation with AI content writing assistance. It's something of another beast to create contact fast that ranks. Most AI content creation can only create output according to the input you give it. Sometimes it's relevant and sometimes it's not. Here's where Outranking is different by leveraging their "Concepts" feature. With Concepts, you can search and use SERP data to and have Outranking's AI create new content for your article. You're not just having the AI make-up stuff for you that you have to fact-check/re-write later yourself.
I've been testing several AI-assisted SEO tools for developing content over the past 6 months and Outranking has quickly become one of my top 3. My blogger and I use it for creating content that ranks for client sites and Google My Business websites and posts. We used to use as many as 5 tools to do what Outranking does for us now, so this tool saves us money and more importantly, TIME. I've recommended Outranking to all of my colleagues and have found it to be an invaluable addition to my SEO agency.
I am a marketer and small Ecommerce owner. For me, Outranking is a big help in the process of creating category descriptions, product descriptions, or blog posts. What I like the most is: Polish language support (not so obvious in global tools - especially in the early stages of application development). Speed of operation, Clean and intuitive interface, The quality of the results I get, Very active and user-oriented team / support
Outranking is a tool that makes it easy what you have to do, it goes step by step, starting with the title, following the meta description and covering headings, sections, questions, URLs or related keywords ... You have a list of instructions, step by step, very focused on SEO, since it offers you a list of keywords that you can use at each point. What is really unique is the use of "Concepts", which allows you to create content based on the best ranked pages in the SERPs. It's true that Concepts consume many characters, but the result in Spanish is much better than that offered by other tools that only use GPT-3 to generate content.
It is amazing to research and collect all the needed information about the top SERP results and figure the plan of action for every article I put out within one tool. Great product and owners are all about building a even greater software. The tool has grown and developed in the last few months since I purchased it. The developers do a good job of keeping you in the loop and sharing updates. Review collected by and hosted on G2.com.
Their approach to content is starting with a deep dive into the perceived intent based on a very deep dive into real-time SERP analytics. In under an hour it's possible to have a very comprehensive article that completely captures the perceived intent of a search term while ranking for a lot of others. Unlike some of the fluffier content writers, Outranking output tends to be a lot more concise, relevant and factual because it starts a document around a well structured outline. With their Related Keyword coverage analytics, Outranking maximizes the ROI on content efforts ensuring content qualifies to rank across more Related Keywords than just the primarily targets keyword. They are building a platform that is at least a generation better than many of the AI content builders out there (knock on wood - I'm writing this as of February 2022) - and they're still flying under the radar.
This app saves hours of manual work - usability is excellent, data is always fresh, and content is easy to optimize.
"When I started to use Outranking I was like, wow, this like cuts that whole process down significantly. Hub and Spoke model used to take 6 weeks to create, something that Outranking Strategist does for you in seconds".
Since implementing Outranking for AI SEO writing and on-page optimization, we at Clickworker have been able to increase the number of clicks on our blog by an astonishing 1000%
Frequently asked questions
Artificial Intelligence is a type of technology that can make decisions and solve problems with the help of machines. The first use of AI was in computers, where it helped to create machine learning: the process of an algorithm learning how to complete a task without being explicitly programmed to do so.
AI for SEO Content Creation and Optimization Guide
Artificial Intelligence (AI) in digital marketing, specifically SEO (Search Engine Optimization), has become an essential tool for webmasters, digital marketers, and content creators. Dubbed as AI SEO or AI-powered SEO , this approach integrates machine learning and data analytics into optimizing web content to achieve higher organic rankings and increased traffic.
The Advent of AI in Digital Marketing
Over recent years, artificial intelligence has permeated various industries, transforming operational procedures and offering newfound efficiencies. In the digital space, AI has especially made its mark in content creation . This doesn't merely refer to churning out articles but also entails optimizing them for search engines, guiding keyword research, SERP (Search Engine Results Page) analysis, and even aiding in crafting meta titles and descriptions.
Key statistics indicate that AI's impact on business is profound. For instance:
30% of AI adopters observed a 6-10% increase in revenue after its implementation.
As of 2019, 37% of organizations have harnessed AI to optimize their operations.
AI's Role in Enhancing SEO
So, how exactly does AI fit into the SEO picture?
Automated Keyword Research: AI-driven tools can quickly identify high-ranking keywords, eliminating the manual grind.
Automatic Content Creation & Analysis : Using models like GPT-3, AI can assist in drafting content, suggesting improvements, and even automatically adjusting to meet SEO requirements.
Automatic Internal Linking Using Semantic Term Mapping: AI can identify contextually relevant content across your site, suggesting internal links that boost page authority and enhance user experience.
Using OpenAI Code Interpreter for Ranking Analysis: This model can assist in analyzing SERP rankings, providing insights and actionable steps for optimization.
Optimization Workflows & Site Growth Automation: From suggesting meta tags to curating voice search-optimized content, AI can streamline multiple SEO processes .
Outranking's Prowess in SEO: The Outranking software exemplifies the fusion of AI and SEO . With capabilities such as automatic internal linking, automatic optimization of both fresh and pre-existing content, and automatic SEO content writing, it's a quintessential tool for modern digital marketers.
Significance of AI-driven Content Creation
As the digital realm becomes increasingly saturated, creating unique and SEO-optimized content is paramount. AI's ability to assist in this process, especially with tools like Outranking, allows brands to produce content that's not just tailored to their audience but also resonates with search engine algorithms.
Outranking, as an AI SEO tool, offers a plethora of features. From performing SERP analyses and curating content outlines to keyword discovery and content research, it acts as an all-in-one SEO content strategy toolkit. Moreover, its capabilities aren't just limited to content creation. Outranking also assists in optimizing content, ensuring that it aligns with both human readers and search engine criteria.
Future Outlook of SEO with AI
Can AI replace human intuition in SEO? Not entirely. While AI can handle data-heavy tasks, human touch, creativity, and strategic understanding remain irreplaceable.
However, blending human expertise with AI's efficiency creates a synergy that's bound to propel SEO success.
Agencies can leverage AI to scale operations, reduce content creation time, and guarantee optimization. By doing so, they can deliver better value to their clients and evolve in the ever-changing digital landscape.
In conclusion, AI, with its myriad applications in SEO—from software to tools like Outranking—promises a future where content is not just about quantity but quality, relevance, and utmost optimization. It's an era where data meets creativity, and the possibilities are limitless.
Yes, Outranking can write informational SEO-optimized content by using AI to automate research and generate a first draft. However, AI content creation cannot replace human expertise. Although many people have experienced short-term success ranking with AI content, these results are less sustainable in the long term. Outranking advises adding unique information to content, to show search engines that there is information gain.
Ready To Accelerate?
Join over 12000 people accelerating content and rankings with Outranking
Plan, research and write
Optimize and track, collaborate and accelerate.
Custom GPTs for Content Writing – Practical Guide
A growing number of content creators are turning towards Custom Generative Pre-trained Transformers (GPTs) as innovative tools for content writing. As these bespoke AI models increasingly find their niche in customizing and streamlining content generation processes, it becomes essential for us to understand their capabilities. Understanding the pros and cons of Custom GPTs, alongside their optimal applications, equips us with the knowledge to leverage them effectively. This article offers a practical guide to employing Custom GPTs, ensuring that you're well-prepared to use this AI tool to enhance the quality and efficiency of your content writing.
What is Custom GPT?
A Generative Pre-trained Transformer (GPT) is an artificial intelligence that understands and generates human-like text. It relies on a complex architecture known as the transformer, which allows the AI to weigh the importance of different words in a sentence, facilitating a better understanding of context.
It achieves this through extensive training on a diverse dataset, allowing it to learn patterns in language and context. This foundation enables it to complete text prompts, answer questions, and even create content that feels authentically human.
When it comes to GPT, customization is a step towards refining its capabilities to better align with specific tasks or industries. By customizing GPT, you create a more focused version of this powerful tool that adapts its vast linguistic abilities to serve specialized purposes such as legal analysis, creative storytelling, or technical writing. This customization process translates to a model that understands the general language and nuances of your specific domain or business.
Pros and Cons of Custom GPTs for Content Writing
Utilizing custom GPTs for content creation carries with it a unique set of advantages and disadvantages that should be carefully considered:
Pros of Custom GPTs for Content Writing
Tailored Content: Custom GPTs can produce material that closely aligns with a company's unique voice and expertise, leading to more engaging and authoritative content.
Scalability: They enable the rapid production of content, which is especially beneficial for businesses looking to increase their digital footprint quickly.
Consistency: GPTs can be trained to understand objectives and act upon them, incorporating vast data to enhance comprehension. Since the custom GPT adheres to specified parameters, it consistently reflects a brand's tone and messaging, supporting brand identity.
Cons of Custome GPTs for Content Writing
Not applicable for writing long-form articles and blog posts that rank – custom GPTs fail when dealing with a multi-step approach where the output of one stage serves as an input of the next one,
Oversight: Custom GPTs still require human oversight to ensure content quality and avoid generating inaccurate or off-brand material.
Training Time: Building a custom GPT involves an initial investment of time to provide suitable training materials and instructions.
Complexity: The process might be challenging for those lacking technical expertise in AI and machine learning.
AI Content Creation with GPTs – Game-Changer or Flop?
As everybody talks about custom GPTs, we decided to go deeper into how they can be used for content writing, especially for writing SEO-optimized articles that drive traffic. Tom Winter, SEOwind CGO, hosted a webinar, going through GPTs capabilities and comparing it to SEOwind AI Content Writing Tool .
To learn more just watch the webinar below.
Custom GPTs use cases for Content Writing – what works
Quick task execution.
The agility of Generative Pre-trained Transformers (GPTs) lies in their capacity to swiftly perform tasks predicated on a single input. When you put forward a prompt, these powerful language models can churn out responses with impressive speed and accuracy. This makes them immensely useful for various applications, from crafting emails to generating creative writing pieces.
Single Prompt Wonders: GPTs can produce comprehensive content with just one prompt, making them excellent tools for generating ideas or expediting content creation.
Brand Consistency: Companies can leverage GPTs to maintain a uniform tone and style across all their digital content, ensuring that every piece aligns with the brand's voice, ethos, and messaging goals.
Application in Structured Tasks
When it comes to tasks that require categorization or a degree of organization within set parameters, GPTs shine. These AI models can organize information swiftly, discerning categories and arranging data points in an orderly. Their ability to understand the context and execute instructions makes them invaluable for sorting customer feedback or organizing product inventories.
Custom GPTs Limitations for Content Writing
Struggles with multi-step processes.
Where GPTs demonstrate a nuance in tackling simple, singular prompts, they often falter when navigating complex tasks involving multiple steps. These tasks typically require higher-order thinking and a series of interlinked actions, which can be challenging for a model that primarily responds to immediate, one-off inputs.
AI lacks sequential understanding. AI struggles to maintain coherence across tasks that must be performed in a specific sequence over time, a critical aspect of project management and long-term planning.
Difficulty with Exact Sciences
Where precision is non-negotiable and only one correct answer exists, such as in complex mathematical problems or coding, GPTs can stumble. Their generative nature is not best suited for tasks that don't benefit from creativity or extrapolation but instead demand exactitude and definitive solutions.
When writing articles that bring traffic, you need to do content research. This is not an easy task as GPTs are not great with data scraping yet. For tasks like web scraping, where precise information extraction is key, GPTs may not be the best fit due to potential inaccuracies or incomplete data retrieval.
Complex Decision-Making Challenges
The most daunting obstacle GPTs face is understanding the intricacies of when to cease generating content and how to structure information for more complex decision-making effectively. They lack the nuanced judgment required to navigate sifting through vast amounts of data to identify what is most relevant for making strategic decisions or executing high-level analysis.
By understanding the strengths and limitations of GPTs, businesses and individuals can make informed decisions on how best to utilize these advanced tools, ensuring that they are tapped for tasks where they can provide the most benefit and avoiding their use in scenarios where they might fall short.
SEOwind vs. Custom GPTs for Content Writing
The digital content landscape is bustling with advanced tools to facilitate content creation. Among these, SEOwind emerges as a revolutionary platform that harmonizes artificial intelligence with intricately designed SEO strategies . Let's delve into how SEOwind carves a niche, offering a competitive edge over custom Generative Pre-trained Transformers (GPTs) in content writing.
In-Depth Research and Analysis
SEOwind transcends the conventional approach by not merely responding to individual page prompts. It applies a more sophisticated method:
Robust Analysis: It commences by meticulously examining the top results on Google for any given query, painting a comprehensive picture of what succeeds in the current digital landscape.
Semantic Keyword Clustering: This platform stands out by clustering keywords based on their semantic relationships, which contributes to more nuanced and targeted content.
Crafting Search-Intent-Driven Briefs: SEOwind can construct content briefs that align closely with search intent, ensuring the produced content resonates with users' seeking.
These features ensure that the content is not just generated but sculpted with the nuances of online search behavior in mind.
A Collaborative Approach to Content
While custom GPTs are indeed powerful, SEOwind acknowledges the intricacies that require human insight, leading to a more collaborative model:
Human-AI Synergy: By positioning human expertise as paramount, SEOwind empowers content creators to steer the AI, fine-tuning the outcome to match intended goals.
Competitor Insight Integration: The tool evaluates competitor content, allowing creators to grasp and refine elements that might miss an AI's analytic capabilities.
Brand Voice Infusion: SEOwind stands out by effortlessly blending the unique brand voice and precise company details into the content, tailoring it to the organization's identity.
This synergy between human judgment and AI efficiency is where SEOwind truly shines, providing a transformative tool for content creators.
Adapting To User Needs
SEOwind can cater to multiple projects simultaneously, which is ideal for agencies that manage content across various clients and domains. It also aligns with different languages, adjusting to cultural and linguistic nuances in content generation.
Explaining the necessary steps to build a custom ChatGPT
Login process and access to an openai account.
Access begins with a secured login into your OpenAI account. Custom GPT development is a rather advanced feature, so availability is currently restricted to certain account tiers, like ChatGPT Plus or Enterprise users.
Creating a new GPT from scratch
From your account, navigate to the 'Create a GPT' section. Here, you will provide a detailed description of the GPT's intended role, enabling the builder to lay the foundation for your custom model, which you will then enhance through further interaction and instruction.
Guidelines for configuring and saving the custom GPT
In subsequent steps, you can refine the GPT's persona, set up rules, and upload documents that encode your organizational wisdom. With all parameters adjusted, you save your configuration, clarifying how you'd like to share the newly crafted GPT.
Editing and Modifying Custom Chatbots
It's crucial to iterate your GPT's output, aligning it more closely with your expectations. Editing could involve enhancing instructions for clarity, adjusting tone, or revising knowledge sources for better-informed responses.
Techniques for improving the accuracy and relevance of chatbot interactions
Regularly assess the chatbot's performance, seeking user feedback and monitoring its efficacy in varying contexts. Incorporate updates that tackle observed deficiencies, leading to more accurate and contextually relevant interactions.
Exploring options for sharing and implementing custom chatbots
Once your chatbot is meeting your standards, consider deployment options. This could mean integrating the bot into your website, sharing access with team members, or making the bot publicly accessible, depending on the intended scope of use.
Kate Kandefer
Entrepreneur passionate about scaling SaaS companies on a global B2B stage. My expertise in AI, SEO, and Content Marketing is my toolkit for driving tangible results. I'm a hands-on executor guided by results, deeply passionate about marketing, and skilled at aligning business objectives with people's needs and motivations. With a pragmatic mindset. My approach is all about clarity, efficiency, and open dialogue.
Table of Contents
1 What is Custom GPT?
2 Pros and Cons of Custom GPTs for Content Writing
3 AI Content Creation with GPTs – Game-Changer or Flop?
4 Custom GPTs use cases for Content Writing – what works
5 Custom GPTs Limitations for Content Writing
6 SEOwind vs. Custom GPTs for Content Writing
7 Explaining the necessary steps to build a custom ChatGPT
Related Posts
Why Should I Use AI Writing Tools? Discover the Pros and Cons
How to Use AI for Content Creation – Power Up Your Strategy
AI-Automated Content Creation – Unleash the Power of AI
#100Posts30DaysChallenge
Affiliate program
Privacy Policy
Terms and Conditions
Latest Posts
SEOwind vs MarketMuse vs Frase
SEOwind vs Marketmuse vs Clearscope
© 2023 SEOwind.
Privacy Overview
Black Friday Frenzy 2023
SEO Wrapped by Surfer: Lessons learned in 2023! [a FREE guide]
We've highlighted the biggest, most important SEO updates in each month this year and broken them down into…
❓ What happened ❓ What we learned ❓ What to do with that information
We did all the work and research so you don't have to!
Research, write and optimize in a click.
Don't forget that you can try Surfer for yourself!
Until December 1st 2023 00:00 PM UTC, you'll save 30% on all annual plans!
Now it's time to dive into SEO Wrapped by Surfer!
Why overcomplicate things when Surfer makes it simple?
PRO Courses Guides New Tech Help Pro Expert Videos About wikiHow Pro Upgrade Sign In
EDIT Edit this Article
EXPLORE Tech Help Pro About Us Random Article Quizzes Request a New Article Community Dashboard This Or That Game Popular Categories Arts and Entertainment Artwork Books Movies Computers and Electronics Computers Phone Skills Technology Hacks Health Men's Health Mental Health Women's Health Relationships Dating Love Relationship Issues Hobbies and Crafts Crafts Drawing Games Education & Communication Communication Skills Personal Development Studying Personal Care and Style Fashion Hair Care Personal Hygiene Youth Personal Care School Stuff Dating All Categories Arts and Entertainment Finance and Business Home and Garden Relationship Quizzes Cars & Other Vehicles Food and Entertaining Personal Care and Style Sports and Fitness Computers and Electronics Health Pets and Animals Travel Education & Communication Hobbies and Crafts Philosophy and Religion Work World Family Life Holidays and Traditions Relationships Youth
Browse Articles
Learn Something New
Quizzes Hot
This Or That Game New
Train Your Brain
Explore More
Support wikiHow
About wikiHow
Log in / Sign up
Finance and Business
Internet Marketing
How to Write SEO Content
Last Updated: April 28, 2023 Approved
This article was co-authored by Ryan Conway . Ryan Conway is a Marketing Expert and the Founder of Digital Tradesman, a digital marketing agency that helps builders, contractors, and tradesmen grow their business online. With over a decade of experience, he specializes in marketing, web design, and search engine optimization. Ryan holds a BS in Business Administration and Entrepreneurial Studies from Hartford University. He also studied Graphic and Web Design at the Boston University Center for Digital Imaging Arts. Ryan participated in Seth Godin's altMBA in the winter of 2016. There are 7 references cited in this article, which can be found at the bottom of the page. wikiHow marks an article as reader-approved once it receives enough positive feedback. This article received 23 testimonials and 97% of readers who voted found it helpful, earning it our reader-approved status. This article has been viewed 318,695 times.
Search Engine Optimization is a technique used in web publishing to increase web page visibility and traffic for a higher ranking in search engines and more readers. Writing an article using Search Engine Optimization requires good writing skills to make the article interesting and easy to read. Strategic placement of key phrases and keywords in the text and the inclusion of hyperlinks will boost the readership of your page. Read the following steps to learn how to write an article using Search Engine Optimization.
Articles should be well written, engaging, and informative. They should present a new angle on a specific topic. A good hook at the beginning along with useful information will make people want to continue reading it. Your article should be useful, entertaining, or otherwise valuable.
A well-written article with good content will attract more traffic, meaning many readers will visit your site. This makes your article more attractive to link marketers (people that link their sites to yours) and increases the likelihood of advertisers wanting to use your page for their advertisements.-
Google search engine provides a great weight on the title of articles and blogs. That is why it is crucial that the keyword phrase is present on the title as an important part of effective SEO content.
Keywords and key phrases are words or phrases that people would use to search for information on the topic which you are about to write. For example, key phrases for an article on moving could be "packing and moving" or "loading a moving truck," while keywords could be "moving," "relocation," or "relocating."
Key phrases and keywords are registered by "spiders," which are scripts that search engines send out to every page on the Internet. Spiders "crawl" across web pages and websites and analyze them for content and quality of content. One way they do this is by registering the keywords and key phrases to determine the subject of a page; but they also detect how often each keyword or phrases are used, whether a page is grammatically correct, and what types of inbound and outbound hyperlinks there are. Hyperlinks are links to other pages that are somehow relevant to your topic.
Make sure it's grammatically correct with no spelling mistakes.
Give your article a title.
Break it up into short paragraphs with subheaders.
Use the most important keywords and key phrases as early in the article as possible, preferably in the first sentence, and in the first paragraph.
Do not overuse keywords or key phrases. Intersperse them naturally throughout the text in the natural reading rhythm of the article. The recommended keyword density is 1-3%. [5] X Research source
Use bullets to present your content as long paragraph do not sound appealing and use media files for better understanding of the article by the the users.
If it makes sense in the text, put keywords and key phrases in bold or italics.
If too many keywords are present on the content, Google search engine will assume that the keywords are stuffing. Do not make a rookie mistake and place those keyword phrases on the 155 - 200 words
If the title includes the keyword phrase, the first sentence of the article should also have the keyword. To break the redundancy, try starting the article through a question. As the keyword is already inserted in the sentence, all you have to do is BOLD it. This will emphasize the keyword and it will make a huge effect on the Google algorithm as it scans the article.
Similar to the first sentence, the keyword should also be present in the last sentence to emphasize the keywords more.
Hyperlinks are links to another web page that is relevant to your topic. You can highlight a word or phrase and add the web address to which you want to link. Make sure every link is a quality website that offers sound information and easy navigation.
Even if you have written a great article, you must let the world know about it. Simply, share a link to your new article on Facebook, Twitter or Tumblr and encourage friends to re-share it.
Turning keywords into a clickable link allows Google search to emphasize the keywords more and it should be done at the beginning and end of an article where the keywords are mostly located.
Your content will rank better as a whole if Google can see it being shared on other sites. Sharing it yourself like in the "Build Links to your Article" step is a great way to start, but making it easy for other people to share can get you even more publicity! A great way of sharing your article with readers around the world is to hire a press release agency that will publish your article on hundreds of news sites that get a lot of traffic. This is a great way to reach a vast audience and get a bunch of publicity.
Expert Q&A
You Might Also Like
↑ https://expresswriters.com/how-to-write-content-for-seo/
↑ https://yoast.com/complete-guide-seo-copywriting/#phase1
↑ Ryan Conway. Marketing Expert. Expert Interview. 17 March 2021.
↑ https://www.upthereeverywhere.com/blog/effective-seo-content-tips
↑ https://www.shoutmeloud.com/keyword-density-seo.html
http://www.dailywritingtips.com/how-to-write-an-seo-article-part-1/
http://www.dailywritingtips.com/how-to-write-an-seo-article-part-2/
About This Article
Reader Success Stories
Diana Achieng
Mar 28, 2017
Did this article help you?
Shenila Shahzad
May 31, 2016
Marvin Uzor
Apr 17, 2019
Tariq Linehan
Jan 26, 2018
Muhammad Fawad Ashraf
Sep 19, 2020
Featured Articles
Trending Articles
Watch Articles
Terms of Use
Privacy Policy
Do Not Sell or Share My Info
Not Selling Info
Don't miss out! Sign up for
wikiHow's newsletter