Use promo code: SJT15OFF to take an extra 15% off your first purchase!
Susan Jones Teaching
Teaching Resources
Starting Writer's Workshop in First Grade!
susanjones August 30, 2014 19 Comments
This post may contain affiliate ads at no cost to you. See my disclosures for more information.
These sentence completion sheets are just one example of many included in the pack. I love them because it lets me see who can complete the prompt in a way that makes sense and it also allows my students to trace the beginning and see what good handwriting should look like before they continue. We completed this one and "Good Friends" (I can be a good friend by…)  on days 1 and 2 of writer's workshop.
Another writing activity we will complete is a picture prompt:
I will give students a sheet with a cartoon image and they are told to write what might be happening in the story. I also include some relevant words at the bottom for my students to reference. This helps get them started and not be held back by spelling and ideas, but instead it lets me see the basics of their writing. It establishes a starting point for each of my students to work from throughout the year!
I also include these activities at my writing center along with some mini-books that students can complete:
Now that my students know the routines and procedures of writer's workshop in our classroom, we will be able to seamlessly dive into small moments and start writing some fabulous personal narratives!
You may also enjoy these posts...
Reader Interactions
19 comments.
August 30, 2014 at 6:04 pm
We started using Lucy this past year and was a tough first few months! But we figured it out, and the writing that came out of it – I can't wait to see what the kids do this year now we all have a year under or belts! Thanks for sharing Michelle
August 30, 2014 at 6:24 pm
We are just starting Lucy this year and it seems a bit overwhelming but I'm so excited to see what writers they become!! I wasn't sure where to start and this gave me some good ideas for routines and expectations to teach!
Kristin [email protected]
August 30, 2014 at 6:30 pm
I love Kagan CDs! I dno't have that one… I think I need it 😉 And I'm doing your writing next week in my class!! But first I need to do that poster with my group…great idea! I'm sharing your giveaway later on FB 🙂 ♥ Jen Teacher by the Beach A Splash of Life Blog
August 30, 2014 at 6:36 pm
Love this! How can we get a copy of the poster?
August 28, 2019 at 1:13 pm
I am teaching K-1writing this year for the first time. I love your poster!! How can I get one. I will be purchasing your materials right away. Also, I want the CD's! GREAT ideas!
Becky Meleney
August 30, 2014 at 6:57 pm
So many great ideas here…CD, writing prompts, poster example, and writing center. Just in time for a fantastic September. Hope you have a wonderful weekend! Alyce
August 30, 2014 at 7:16 pm
Is your poster available for sale?
August 30, 2014 at 9:57 pm
This unit looks great. I like the leveled activities since some of my kids need more support. Love your blog!
August 31, 2014 at 12:38 am
I just moved down to 1st Grade after teaching 2nd for 8 years. This would be awesome!! 🙂 🙂
August 31, 2014 at 12:43 am
Your writing workshop sounds like mine! 🙂 I love using the Kagan CD's for music in the classroom. It is so appropriate, calming, and great for productive work! Do you have the poster in your TPT? I would love to grab it as a visually or even just projected on my smart board for my kids as a reminder before writing starts or even leave it up throughout writing. I model my writing workshop after Lucy but I have to follow our scope and sequence for the year. We are starting with labeling pictures, captions, and then moving into personal narratives. I love teaching writing but it is hard at the beginning of the year. Rambling About Reading
August 31, 2014 at 2:26 pm
Our school uses Step up to Writing and it IS NOT kindergarten friendly! I am blessed to have a principal who taught k and agrees. She is letting us (k team) look for something else. I have always wanted to do more with Lucy's program. I also turn off the lights and turn on music. Only I use pandora radio and The Piano Man station. LOVE it!
August 31, 2014 at 5:13 pm
I love how neat and tidy your writing area looks!!
August 31, 2014 at 9:15 pm
just what beginners in grade 1 need , smart thinking 🙂
September 2, 2014 at 1:00 am
Love Love LOVE!
July 20, 2016 at 12:05 am
What do you use for your 1-2-3 buckets. Love that idea!
July 8, 2017 at 2:46 am
Thank you for sharing your ideas, Susan. Ialso love the CD idea!
September 28, 2019 at 2:09 pm
Can wait to use
September 28, 2019 at 2:10 pm
Waiting to use this worksheet with my autism class
February 15, 2023 at 2:24 pm
Thank you for great information!
Leave a Comment Cancel reply
Your email address will not be published. Required fields are marked *
This site uses Akismet to reduce spam. Learn how your comment data is processed .
Free CVC Word Mapping Mats
Sign up for my free email newsletter and receive these free CVC Word Mapping Mats to help with your next lesson plan!
Check out these popular writing resources!
We have loads of great writing resources over in the shop. Here are just a few I pulled together for you!
Beginning of the Year Writing
First Grade Writer's Workshop units
Paragraph Writing Activities & Lessons: PRINTABLE & DIGITAL (Seesaw & Google)
Opinion Writing Unit
Hello friends.
Welcome to Susan Jones Teaching. When it comes to the primary grades, learning *All Things* in the K-2 world has been my passion for many years! I just finished my M.Ed. in Curriculum and Instruction and love sharing all the latest and greatest strategies I learn with you through this blog and my YouTube channel! I hope you'll enjoy learning along with me :)
More About Me
Writer's Workshop for First Grade
Writer's Workshop…. those two words can make any first grade teacher cringe. 
I don't know why, but the idea of writer's workshop just feels so daunting to me. 
I've read the research and I know that it's best practice. 
I've seen the HUGE benefits of using it in my own classroom. 
And still, it feels like a lot. 
That's why I'm here to share with you my best systems and tricks for easily and smoothly conducting Writer's Workshop in my own first grade classroom. 
Writer's workshop doesn't have to be difficult or time consuming… in fact, it shouldn't be! 
I've written about Writer's Workshop for First Grade in several different blog posts and I have outlined and linked them for you below! 
I also linked my two favorite products to use during writer's workshop: Year Long Writing Templates and Writer's Workshop Conference Forms . 
You've got this!
The Writing Process inside Writer's Workshop
I think as adult writers we often forget that the process of transferring ideas into writing is incredible hard for emerging writers. To make it easier, focus on their IDEAS, not their handwriting or conventions.
How do you do that? Simply and focus on the process…
The Four Steps of the Writing Process:
How to Prep for Writer's Workshop
Before school even starts, here are a few decisions you need to make about how you want to spend your writing time with your students. Your answers to these questions will help shape your entire Writer's Workshop structure. 
How long will your writing block be?
How are you going to divide it up?
Will you call groups back or will you walk around the room?
How will students organize their writing?
Where will students keep their writing?
What are procedures for starting a new story? 
Where do they get new writing paper?
When can students work on their writing? (writing time only, writing stations, free time, etc.)
 What kind of writing templates are you going to use?
How do students need to "title" their writing (name, date, story title)?
How will you organize your conference notes? 
How many times a week do you want to see each student? 
How will you track which students you have seen/need to see?
You can read how I address these issues during my own Writer's Workshop here: 
Student Conferences during Writer's Workshop
Students need immediate and corrective feedback. And yes, there is a right and a wrong way to provide feedback.
I know it is way easier to simply say "no, that isn't right", but what does a student really learn from that? Nothing.
Instead, provide feedback to the student that lets them know their answer is incorrect, but lead them to learning why that answer wasn't right. Try something like "Well, if we were asking a question we would use a question mark, but read this sentence to me. What type of punctuation do you need?"
Why is feedback so important? It takes 16 to 21 days to reverse a misconception. 
When giving feedback to a student during a writing conference, I like to use the 2 to 1 method.
I have the student share their writing with me, then I point out two things I really liked during their writing (I usually try to find a skill we've recently had a mini-lesson on) and then I share ONE thing that I want them to try or keep in mind for next time.
Let's be honest, there are about ten things on every writing that are going to drive you insane.
But remember that your writers are only 6 or 7 years old. You can't expect them to retain ten lessons or skills in one day. Find one thing that you think will benefit them the most and work on that ONE thing.
You need to have a plan for: 
how to track conferences and organize your data
a cheat sheet for advanced writers
a cheat sheet for beginning writers
Tips for Writer's Workshop
Here are 3 mistakes to avoid when setting up your writer's workshop: 
Not letting your students choose their own topic
Reading the entire mentor text during your mini-lesson
Not setting clear expectations
You can read more about how to avoid these mistakes here:
More First Grade Favorites:
sign up for free stuff
Sign up to receive weekly emails with tips, free resources and info about upcoming sales.
Kristen Sullins
I am a current Elementary Librarian and Enrichment Teacher, mother of two, follower of Christ and Texas native. In my own classroom, I love to save time by finding unique ways to integrate writing, social studies and science into all parts of my day. I also love all things organization!
YOU MAY ALSO ENJOY...
©2019 Kristen Sullins. All Rights Reserved
Site by Ashley Hughes
Get FREE Resources
Mrs. Jump's Class
with Deanna Jump
How to Start Teaching Writer's Workshop in Kindergarten & First Grade
Facebook 16
Pinterest 1.7K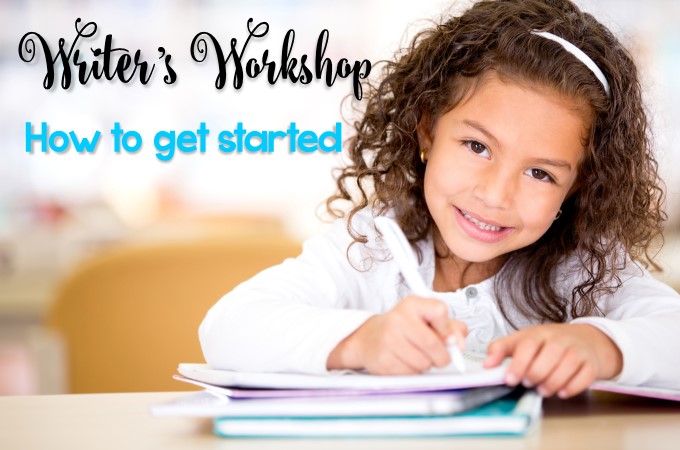 Do you struggle with how to get started? Writer's Workshop in kindergarten and first grade classrooms is one of the most powerful components.
In Writing Workshop in kindergarten and first grade, students are encoding words that come from their thoughts and feelings, which is a much easier skill than decoding. Successful writers become successful readers!
So, how do you get started? The answer is simple. Just jump right in!! I usually start at the beginning of the second week of school. I don't wait until students know a certain number of letters and sounds because I'm not really expecting them to write, Yet! Our first unit is all about being illustrators and helping students understand that our pictures tell a story. Think about all of the wonderful wordless picture books that you've "read." Were you able to make meaning from them? Absolutely!!! Starting off with drawing pictures and orally telling the story sets students up for success and they all start realizing, HEY!! I'm an author!
What is Writer's Workshop in Kindergarten?
Writer's Workshop is a daily part of your schedule, and it follows a consistent routine.
During the minilesson, the teacher is modeling what good writers do as she draws her picture and writes the words. During this first unit, the main emphasis is on drawing our pictures. However, we do start labeling our pictures and stretching out words by writing the sounds we hear as well. The idea is that we are meeting the needs of ALL of our learners. We have some who will only be able to draw pictures, some who will draw and label, and some students who are also ready to write sentences. We celebrate our students right where they are! Note: First grade will look a little bit different, and I'll get to that as well. So if you teach first grade, don't leave. This post is for you as well.
Independent Writing Time
After the minilesson, we send our students off to write. In the beginning, we are working on building our writing stamina so the independent writing time may only last a few minutes.
But, that's okay! Your little authors will have time to write every day, so if they don't finish their writing, they can pick right back up where they left off.
Here are a few kindergarten examples from our first writing lesson.
The one on the left says, I am happy because I am five years old. Zoey came to my birthday party. Do you see how she added in labels? She has the Y to label herself and a Z for Zoey.
She also has a B for birthday and lots of 5s to represent her birthday. During the conferring time (which I'll explain in a few minutes) I asked her what the writing to the left of her meant.
She said, "I'm 200% happy!!!" Mind.blown. I love it!! Look at the story on the right. Can you tell what this one is about? If you are from Florida, I'll bet you got it right away! The beach!
This story is about going to the beach. She said, "I went to the beach with my family. We went boogie boarding." Notice that she has labels to label herself and one of the other people in the picture. She also has sand, a palm tree, and three lounge chairs. Two of the people are holding boogie boards, and one is holding a towel. So many details in her picture! Neither of these students added words, but they are already successful writers. Words will come later. We celebrate where they are.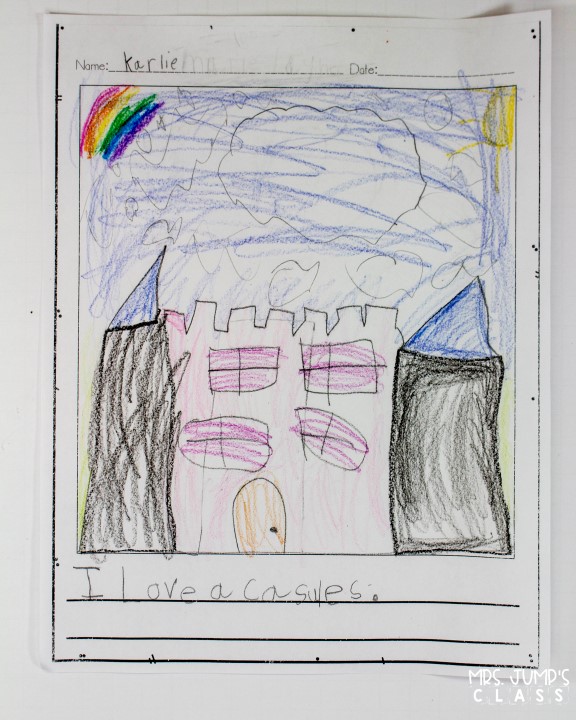 Here are two more kindergarten samples from day one. The one on the left reads, I love castles . She drew a castle with lots of details, and she was able to spell love conventionally.
She stretched out the sounds she heard and castle and wrote the letters those sounds represented. The one on the right reads, I like my animals. She also labeled all of her animals with the beginning sound in each of their names. This is WHY we don't just draw a picture in our minilesson and stop. We want to meet the needs of all our kids, so it's important also to model how to write words by recording the sounds we hear. If we had ONLY drawn pictures, then chances are Karlie and Elise would have also ONLY drawn pictures. Celebrate them where they are, but don't hold them back with low expectations.
The most important thing to notice here is that all of these stories are about different topics. That is because we don't give students a topic or a writing prompt. We want them to see themselves as real authors. They choose their topics. I love this quote from Shelly Harwayne, "We want children to notice, pay attention, marvel, and be fascinated with the world around them, both in school and outside of school. We also want them to appreciate that what captures their hearts, tickles their senses, and fills their minds, belongs in their writing." If children are given choice about what they are writing about, they will be a lot more excited about writing. As they experience new things or go new places, they will begin to think, "Hey, I can write about that!"
While students are writing, I'm conferring with them. This gives me an opportunity to hear first-hand what they are thinking about as they write and help nudge them toward that next step in writing. I meet with a few students each day. When I go to them I always start with, What are you working on as a writer today? I listen closely to what the students tell me, and I look closely at their writing. Then, I notice and name what I see them doing well. I celebrate them and work on building that self-confidence. I think about what they need to work on, and I might say something like, "Can I show something else that writers do?" That's the intro to my teach portion of the conference where I teach them something quick that will help make their writing even better. For example, I might talk to them about adding details to their drawings. We would have a conversation about what they could add and then I would encourage them to add the details. I then end with, "Today and every day when you are writing remember that you can add details to help make your story even better."
Above is a picture of my conferring notebook. I use two notebooks because I have a section for each student in my class. The first half of the alphabet is in this notebook and the second half is in the other. I section off about ten pages per student so that I have plenty of room to write notes each time I confer with my students. These notes are great when it comes time for parent-teacher conferences.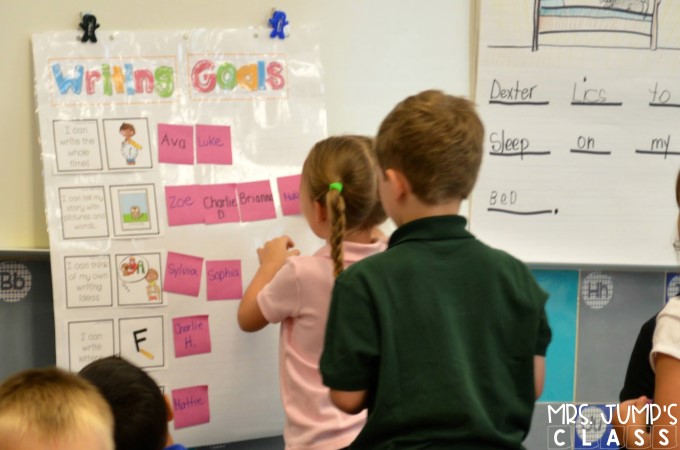 During the conference time, we talk about what they are doing well and we set a goal for something that they can work on to help them become an EVEN better writer. Each of our writing units has its own Writing Goals chart.
Writer's Workshop in Kindergarten: Sharing Time
This is the third part of our Writer's Workshop, and it is so important. Writers write stories so that they can be shared. During this 5 minute block of time, our Peanut Butter & Jelly partners get together and share their stories with each other. After we've shared with our partners, I also choose one or two students to share their writing with the whole class.
So, there you have it! That is the structure of our Writer's Workshop in kindergarten. This has always been the favorite part of my students day, and it's part of mine as well. I love reading and listening to their stories, and it gives me a window into their world. Little ones have a lot to say in their writing, and we need to give them that time and freedom of choice to express themselves.
Hey, What about Writer's Workshop in First-Grade?
Don't worry; I didn't forget about you. In fact, as you've probably noticed all of the above fits you perfectly. First grade follows the same structure; our expectations are just a little different. We know that most of them are already able to put their thinking into words on the paper. The mini-lesson is still the same, but we emphasize the writing of sentences more than we do in kindergarten. Kindergarten writing paper just has a few lines, while the first-grade paper has many. Here are a few examples from the same first lesson in Writer's Workshop in first grade.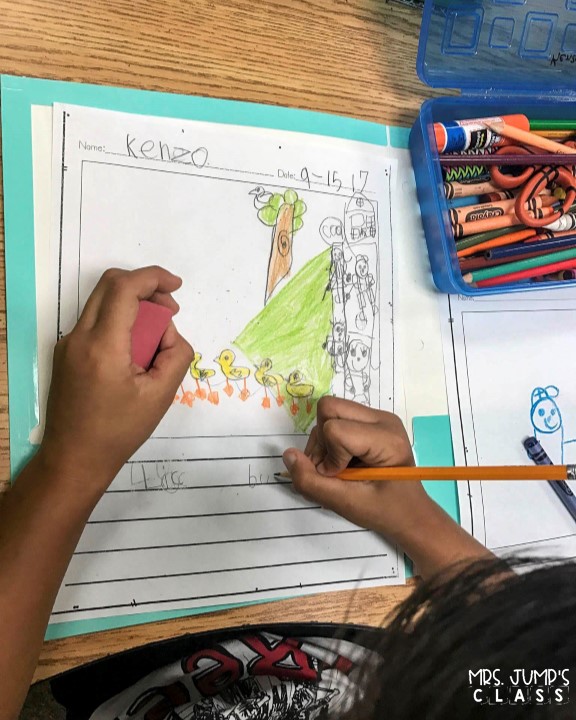 The writing on the left reads, It's my birthday. This morning I got four things, a Pokeball, and a Pokemon hose, and Tom Toms. After school, I am getting more gifts.
Notice that she has a great picture, but she spent most of her time on writing the words.
The picture on the left reads, My dog is under the counter and my other dog is in the bathtub.
A great teaching point for conferring with these students would be, adding punctuation to help the reader be able to read their story more easily.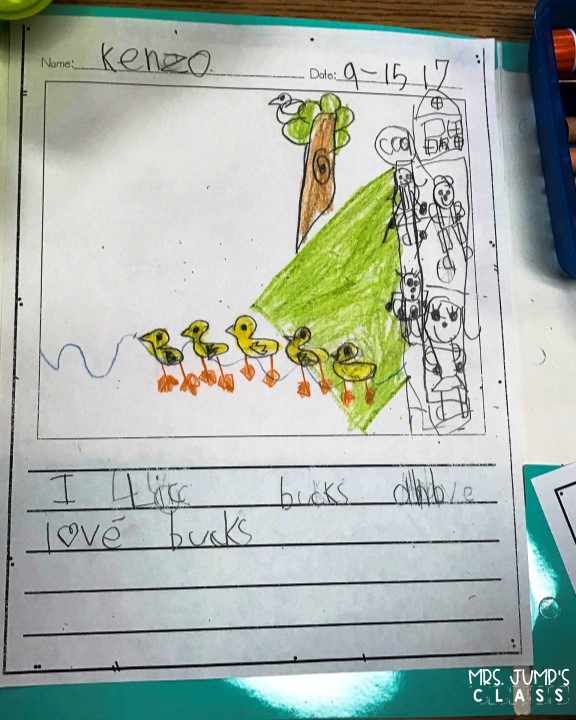 This student did a beautiful job on her illustrations, and there is so much detail! A mother duck lives in her neighborhood and it just had ducklings.
Her writing reads, I like ducks and I love ducks. All students come to us with a variety of strengths and weaknesses. Writer's Workshop in kindergarten and first grade is a time for us to celebrate that!
Know your students and teach them where they are. In just a matter of time, they will exceed your expectations because YOU are giving them the freedom to write about things they want to write about.
Writing Units
If you are ready to give Writer's Workshop in kindergarten and first grade a try, but you just aren't sure where to start don't worry we've got you covered. Deedee Wills and I created Writing units about six years ago, and we have both used them with great success in both kindergarten and first-grade. Here's what's included in every writing unit.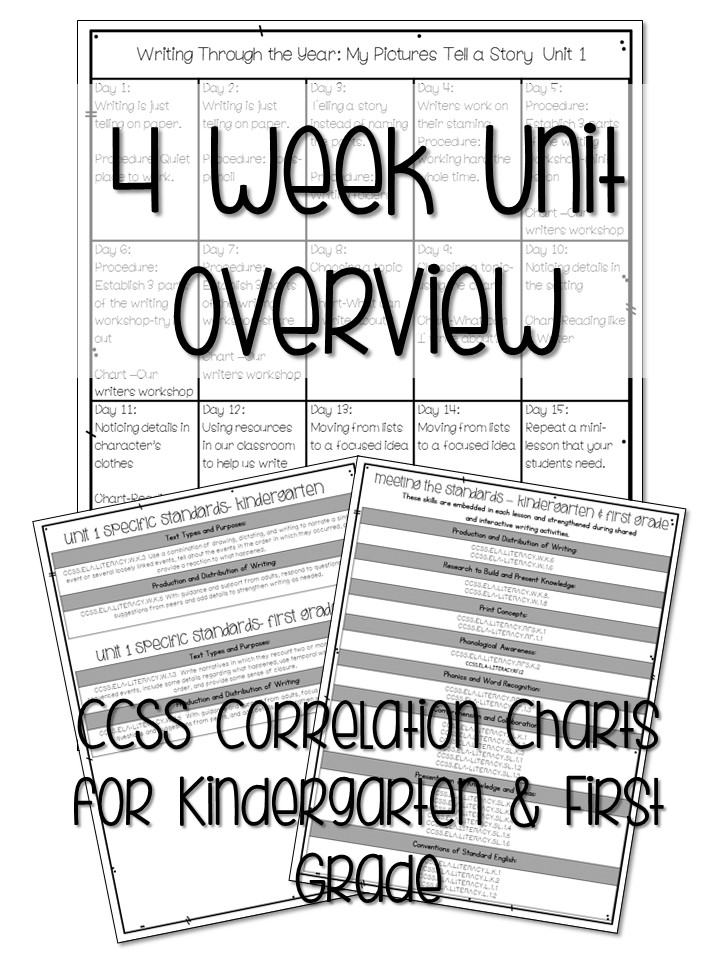 You can check out Unit 1 to read the reviews and see what others are saying. Just click on the image below and it will take you to the resource. These are also included in a money-saving bundle if you prefer that option.
Thank you so much for reading this post. Happy Writing!!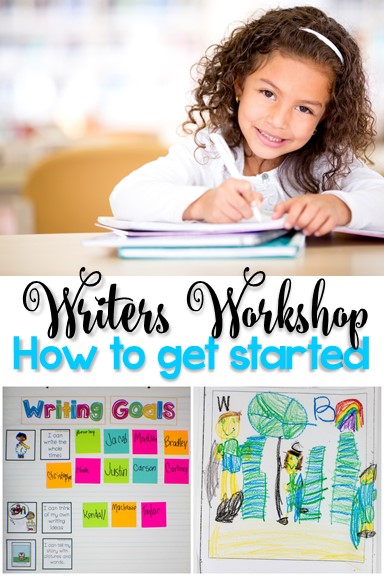 Latest on Pinterest
Latest on Facebook
Latest on Instagram
Topbar Social Icons
Mini Lessons for Introducing Writer's Workshop
@FIRSTGRADEBUDDIES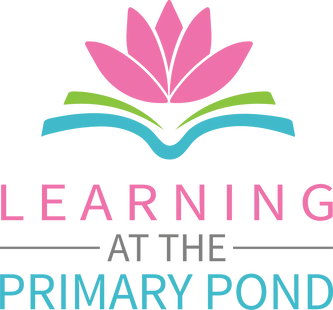 How to Launch Writing Workshop In First Or Second Grade
After teaching Pre-K and Kindergarten (working with students who had little/no writing experience), I moved up to 1st/2nd grade.
I was excited to work with more advanced writers! They came to me with writing experience! Woohoo!
But I quickly learned two things:
Having experience is good!
Having experience is bad!
So what do I mean by this seemingly-contradictory statement?
I mean that launching your writing workshop in first or second grade can be so much fun (and not to mention much easier than launching it in Kinder!) because most of your kids come to you knowing what writing is. You can begin showing them – fairly quickly – how to share their stories and express themselves through writing. You don't have to teach them not to eat the crayons (well, hopefully…).
I also mean that launching writing workshop in first or second grade can be more challenging than doing so in Kinder. Some of our little ones come to us with "writing baggage." They may believe that writing is boring or tedious. They may not feel confident in their own abilities. Or they may have grown used to an approach that's different from the one you intend to use with them.
But be it good or bad or somewhere in between, most of our 1st and 2nd graders show up with a "writing past." And in today's post, I'll walk you through how I launch my first or second grade writing workshop. I'll describe how I take into account students' writing pasts, while simultaneously establishing fresh expectations and setting the tone for a positive and productive year in writing workshop!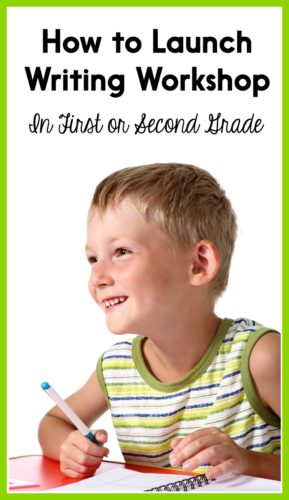 Photo Credit, Larisa Lofitskaya, Shutterstock
Starting At The Very Beginning
Even if we know that our first or second grade students have had wonderful writing teachers in the past and are familiar with the writing workshop routines, we still need to start with the basics.
On the day that I start writing workshop (usually the second or third day of school), I take time to explain what the writing workshop is, as well as the purpose of writing.  I explain the daily schedule (minilesson, independent writing time, and sharing time) and tell them that I intend to give them LOTS of time to write, as well as to choose topics to write about that are important to them. I ask students to discuss why people write. I also talk about how important practice is "getting good" at writing, and also feeling good about yourself as a writer.
Then, I begin to teach students the procedures and routines of writing workshop. I teach just a few things each day, however – I do not explain everything at once! Even kids who have previous writing experience do better when I introduce just one small routine at a time.
During the first week or two, I like to choose one "teaching point" for our minilesson. I model the skill or procedure, I have a student or a couple of students practice it (or the whole class, if possible), and then I focus on reinforcing that skill or procedure while students write independently.
I also like to incorporate "mid-workshop teaching points." I teach the primary minilesson and then have students write for a bit. About halfway through independent writing time, I ask for their attention. I teach another skill or procedure of the workshop (preferably related to the first lesson of the day). Then, students go back to writing. Not only does this allow me to teach more than one skill a day, but it also gives students a break as they learn to build (or re-build) writing stamina.
So what are these minilessons I teach? Here are some examples:
How to use writing tools (pencils, crayons, colored pencils) safely
How to access and store writing tools in our classroom
How to access and store writing paper in our classroom
How to use our writing folders (click HERE to read more about how I use writing folders in my classroom)
How to get help while writing
How to participate in a writing conference with the teacher
Where to get ideas for writing
How to spell words independently
For complete minilessons (on launching your workshop and writing throughout the year), read more about my writing units here .
Setting High Expectations From The Start
At the beginning of the school year, our students try to test the waters. They want to see how much they can "get away with." I don't mean this in a negative way, or that they are being naughty! Our kids honestly need to know how much work they are expected to do in our classrooms. (Don't we have the same need in our own jobs? When I start at a new school, I need to figure out if I have bus duty every day – because if I don't, you can bet that I'm  only going to be out there on my assigned weeks!!)
Anyway. Those first few weeks of school are SO crucial in establishing high expectations for our students (both in general, and when it comes to writing).
To help students understand just how much I expect of them, for the first month of school, I do not :
Spell words for students
Provide super specific writing prompts
Give students sentence frames or sentence starters to complete during writing workshop
Creating Spelling Independence
I often have many students ask me how to spell words on the first day or days of school. Instead of just giving them words, I begin teaching strategies, like…
Stretch out a word and listen for the sounds
Use an alphabet chart to find the letter that represents a sound
Use a word wall or personal dictionary
Think about a similar word or spelling pattern you know
Give it a go and then move on
If we aren't careful, kids will begin to expect us to spell all tricky words for them! That's why I have a strict "no spelling words" policy for the first weeks of school. Because I'm definitely not going to get anything productive done if I spend writing workshop time running between students and spelling words for them!
Avoiding Dependence On Prompts
On the first day of school, I  might ask kids to write about their summers, or tell me a little about themselves through writing. But then the prompts stop. Completely.
Throughout the year, when I teach writing workshop, I specify a genre and ask students to choose topics within that genre (read more about how I do that here ).
So if I start out the year by giving kids prompts like, "What is your favorite part of the school day?" or "Write about a time when you felt very sad," they become dependent upon those prompts. And when I  don't provide a prompt, that really stresses them out.
For this reason, I don't provide any specific prompts for at least the first month of school. I'm not saying that I never give prompts – because I definitely do! But I want students to first learn how to brainstorm ideas and choose a topic independently. Once they can do so, I know that it's okay to give them prompts here or there.
Avoiding Dependence on Sentence Frames and Sentence Starters
Just as I do with prompts, I work hard to prevent students from becoming dependent upon sentence frames or sentence starters (i.e. finishing the sentence, "I am happy when…").
I'm ELL certified, so I totally understand the values of sentence frames and sentence starters (especially for partner talk and ELL students). But if I start out the year by giving students these supports all the time, they will come to expect those supports.
I avoid providing sentence frames and sentence starters for a month or so of school. Then, if students would benefit from using these tools as a support, I introduce them.
Building Stamina
Although I maintain high expectations for student independence, there are two areas where I  don't have high expectations at the beginning of the year:
The amount of time students write independently
The amount of writing students produce
Just like kids have to build reading stamina, they also have to build writing stamina. They are probably not used to writing for half an hour at a time – or maybe not even five minutes at a time! They need to learn to sustain their attention, remain on task, and even physically hold and use a pencil for an extended amount of time.
So I start small! I explain that we will start with just 5-10 minutes and build from there. I use a timer and increase the amount of time students write independently by 2-3 minutes each day. Graphing progress over time is fun, too!
If students are having trouble staying on task during independent writing, then I reduce writing time or break it up into two chunks. Taking a step back can help us move many steps forward in the end.
I also like to get my students invested in and excited about the amount of time they stay on task during independent writing time. We celebrate "milestones" like 15 or 30 minutes!
Similarly, I don't demand that students produce lots of writing at the beginning of the school year. Drawing and labeling is a fine start – particularly with first graders. Over time, I teach students how to expand their writing. It's a delicate balance, though – I never want to emphasize quantity over quality.
Addressing Students' Writing Pasts
Students' writing pasts will inevitably show up during those first days and weeks of school. We can often tell immediately which kids have had positive experiences with writing, and which kids need to grow their love for writing.
I try to set a positive tone with positive discussions during the first few days of workshop. I love to ask kids things like, "What do you love writing/drawing about?" or "Where is a cozy place that you'd love to write?" or "What are you most proud about your own writing?" Partner conversations and whole class discussions can go a long way in getting kids excited about writing.
However, when a child does make a negative comment (like, "I don't like to write," or "I can't write"), I first try to acknowledge his feelings – instead of arguing or contradicting him. I then move on – and quickly. I want to acknowledge students' feelings without dwelling on them. Because the beginning of the school year is an excellent opportunity for a fresh start!
Here's an example of how I might respond to a students negative remark about writing:
"I understand. Sometimes kids feel like they don't like writing at the beginning of the school year. But I promise that we will do lots of FUN writing, and you will start to feel good about yourself as a writer. Now let's take a look at your story – is there a funny part you want to tell me about?"
If a child continues to make negative comments or complain, I eventually ignore it. I try to refocus the child's attention on something (anything!) positive about the writing task at hand. If a child is having difficulty, I teach strategies and give compliments about what he is doing well.
I know there are always extreme cases, but these strategies have worked for me with every child – every year. When I focus on the positives, I find that most kids tend to do the same. I work hard to create a classroom culture that values writing, and where prolific writing is the norm rather than the exception.
What's Next?
Launching writing workshop without the guidance of lesson plans is like trying to get dressed in the dark – you're not quite sure how it's going to turn out, and it might not be pretty! ?
If you'd like to get access to complete lesson plans so you can launch with confidence AND save yourself a ton of time, check out any of my bundles by clicking on the images below.
These bundles have "done for you" lesson plans to help ease your students into the writing workshop routines AND learn to love writing!
One teacher said: "I wish I could rate this higher! This writing curriculum has not only increased my students' love of writing, it has increased my love of teaching writing. The lessons are simple yet rigorous."
Check out my Kindergarten, first grade, and second grade writing bundles here: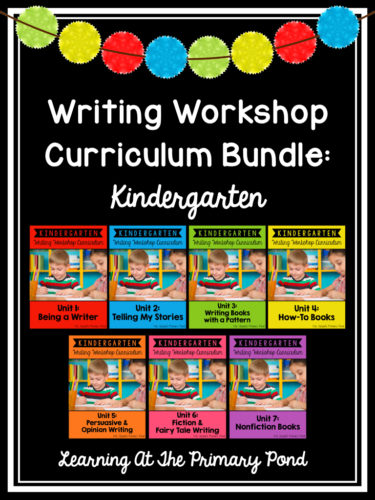 Happy teaching!
Related Posts: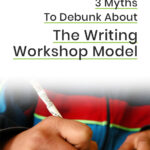 I am loving your stuff. I have been teaching intermediate grades for 23 years and was just transferred to 1st grade. I need all the help I can get!
Oh wow, Dana – that's a big change! I'm sure you will do great though! I have lots of posts from the last 3-4 years – use the categories on the right side to find more posts and freebies 🙂
Teaching writing is something I struggle with. The tips above are great. I spent a chunk of time this summer coming up with fun prompts, but your point about depending on them hit home – I had a student a few years ago who panicked when he had to come up with something original. Thank you for your help!
I personally do not spell words for students because I want them to use a strategy, but my grade level does since they want them to see the patterns and not develop habits. Is there a benefit to both? I am new to second. Thanks!
Hi there! I think it depends on how often the teacher is spelling words for kids. If kids are constantly coming up and asking, I'm not sure how the teacher would have time to do any other sort of helping or teaching during independent writing time – or any other activity that involves writing? But if it's a matter of correcting words occasionally, or having students go thru their writing and check for word patterns they might need to use, or helping kids fix up their writing before publishing, then I do think that can be helpful. 🙂
Would you consider adding a twitter link to your blog? I love it and want to share it with my colleagues! We use twitter as a professional learning tool in our district and want to share your ideas with others!
Hi Laura! Thanks for the suggestion! I am not sure how to do it but will definitely look into it 🙂
I attended your webinar for Launching Your K-2 Writing Workshop and got so many ideas. I'm interested in using stapled 3 page booklets that you suggested. Would you happen to have a picture of what you use? I'm trying to picture it to figure out what I can use.
Sure, Megan! Emailing you now 🙂
I tried to watch your video on webinar but did not know how to get on to watch the video. please tell me how to get on webinar to watch the video. thanks
Hi Gloria! When you sign up for a webinar, you'll receive a link via email. You just click the link at the time of the webinar, and then it takes you to the correct page. Using a desktop or laptop computer and the Chrome browser works best!
I would like to be included in your webinars.
Hey Jennifer! The sign-ups for my summer webinars are here:
https://learningattheprimarypond.com/upcoming-free-workshops-learning-primary-pond/
Hope you can join us!!
Are you doing another webinar anytime soon?
Hey Lisa, yes! 🙂 I update the live webinar dates here: https://learningattheprimarypond.com/upcoming-free-workshops-learning-primary-pond/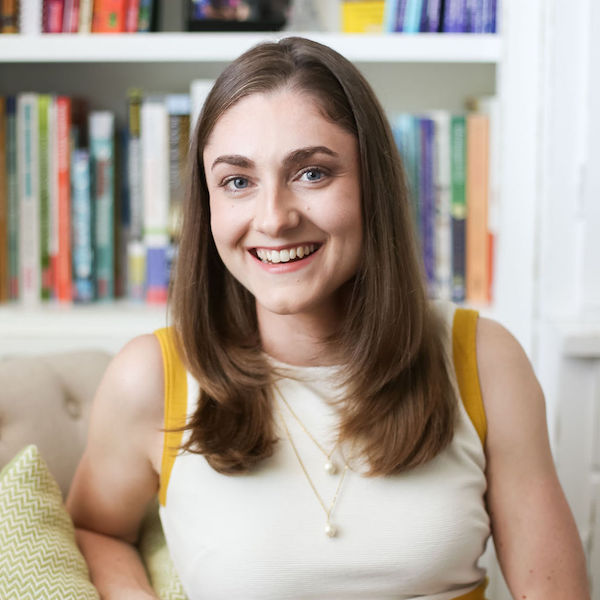 I'm Alison, a literacy specialist. I love getting kids excited about reading and writing – and sharing teaching ideas with other teachers!
Find It fast
Classroom Organization and Classroom Decor
General Instructional Strategies
Homework and Home-School Communication
Mentor Texts and Other Books
Science and Social Studies
Teaching in Spanish
Tips for Teachers
Word Work / Phonics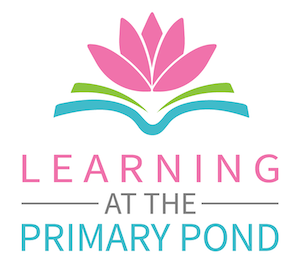 I Love 1st Grade
Starting Writer's Workshop in First Grade
This month we launched Writing Workshop!
In our first grade classroom, we begin with expository All About writing but we talk about what Writer's Workshop looks like throughout the unit. We review expectations, procedures, and practice getting into the writing routine and building stamina as part of this unit.
In the beginning of the year, we stop writing and gather on the carpet a few times after starting writing. For example, I may teach students about the genre we are working on and send them off to write. When I notice a few of my students losing speed or focus, I call them to the carpet. Then, we may review a workshop procedure like, what we do when we've finished a piece or what to do when your pencil is dull. Students do not have a lot of stamina at the beginning of first grade so this is a great way to review expectations, model, and practice. These little breaks give students a break from writing and help the writing block last longer.
Are you wondering why we begin with All Abouts? Students love to talk about themselves and all of the things they love. I have had way more success starting Writer's Workshop with All Abouts than any other genre.
All abouts are the perfect unit to begin the year. Because it's the first unit I keep it very simple. I ask kids what they are experts at and that's what they write about. We begin with writing all about ourselves. Then, we move onto family. The third writing is typically about a friend, pet, or school. Next, we move onto things that we love. For example, I have students write about sports they play, foods they love, hobbies, or other topics they are interested in.
After All Abouts, we move onto opinion writing. Opinions are another easy genre to do with young students. They love to tell you whether they like something or not. I usually try to stick to a simple model. State your opinion. Give a reason why. Give a second reason why. Give a third reason why. End with your opinion.
Beginning the year this way leads to a lot of growth. You will be amazed at what your first graders can do by the end of the first few months of school! I love to watch their progress.
A great way to really see students progress is using Writing Journals. Writing journals are a composition notebook where students write weekly.
We organize writing journals by month. I frequently have students right at baseline writing in their writing Journal as well as an end of unit writing piece. When students finish early, I also give them the choice to write in their writing journals. This makes it great body of evidence to share with parents and celebrate student success.
If you want to try out writing journals in your classroom, you can get my templates here on Tpt and here in my blog shop. If you choose to get it from my blog shop, use code ILOVE1STFALL2020 at check out for 20% off your total purchase.
I hope you try to start writing workshop in your first grade classroom. It is the best way to teach writing and I know you will see a ton of growth!
subscribe for updates via email
Latest on Facebook
12 hours ago
Share on Facebook Share on Twitter Share on Linked In Share by Email
This content isn't available right now
Latest on Instagram

Teachers First - Thinking Teachers Teaching Thinkers
Forgot your password? | Learn about the benefits of TeachersFirst free membership.
Classroom Resources
Bulletin Board Hangups
BYOD Dream Tools
Classroom Connection Events
Classroom Planning Calendar
Keyword Search
CurriConnects
Browse by Subject
Instructional Units
Lesson Plans
Reading Treks
Reading Suggestions
Ready to Go
Special Topics
Professional Learning
Adapt-a-strategy
Blog Basics for the Classroom
Building Schoolwide Literacy
Cycles Vs. Checklists
Differentiating
Dimensions of Creativity
Hands off, Vanna!
Infographics
Middle School Dos and Don'ts
Nourishing Gifted
Rubrics to the Rescue
Student Produced Video Field Trip
TF Professional Exclusives
Twitter for Teachers
Twitter Chats
Webquest 101
Wiki Walkthrough
Writers Workshop
Professional Resources
Help! I Lost my Media Specialist
Newbies/Substitutes
OK2Ask ®
Outside Sources
Reading for All
Tech How & Why
Wiki Walk-Through
Working with Parents
Featured Sites
Featured Sites Archive
TeachersFirst Edge
TF Update Archives
What's Popular
Contributors
TeachersFirst Advisory Council
How TeachersFirst Stays Free
Membership Info
Sign Up (Free)
The Source for Learning
Tips for Using TeachersFirst
Visitor's Agreement
Subscribe Via Email for the latest Updates & freebies!
Tejeda's Tots
Time-saving Educational resources for K-2 Teachers
Product categories
A beginner's guide to writing workshop in kindergarten & first grade.
In terms of both support and resources, writing seems to take a back seat to reading in many districts. Some teachers are given curriculum that's either overwhelming, not developmentally appropriate or nothing at all. So, today I want to go through each component of the Writing Workshop in detail to help you implement it in your classroom. There are many benefits to incorporating Writing Workshop into your classroom, especially in Kindergarten and First Grade!
If you are not familiar with this model, Writing Workshop is a method of teaching writing that consists of four main components; a mini-lesson, independent writing time, and sharing, as well as conferring with students about their writing. Its goal is to expose children to different genres, and teach them how to compose a writing piece in each genre, while learning about the writing process.
It's a very flexible system that you can use with the resources you have. This post will be geared towards those who may be new to teaching or new to this way of teaching writing.
The Mini-Lesson
Each writing workshop begins with a mini-lesson. The purpose of the mini-lesson is to focus only on one topic, skill, or strategy at a time. The lessons should only take between 5 to 15 minutes.
Soemtimes, mentor texts are used to provide students with concrete examples of what they are being asked to produce. It also allows them to see what strategies their favorite authors are using in their books.
Student writing is powerful as mentor texts as well! I love using student examples so kids can see realistic, tangible versions of what they should produce when writing.
Your mini-lessons allow you to scaffold the writing process for your students. The process of writing becomes less daunting when it's broken down into small manageable steps. The mini-lesson are also the time where you will want to model what your students will work on and what the expectations are.
Some Mini-Lesson Ideas to Launch a Genre:
What is _____? ( personal narrative, how-to, informational)
Brainstorm topic ideas
Oral storytelling – practice telling a partner your story before writing/drawing.
Write the Words – this can include labels and sentences
Revision Mini-Lesson Ideas :
Adding details
Show, not tell
Word Choice
Using comparisons
After the mini-lesson, you'll ask students to use the strategy in their own writing. Often, before sending them off to work on their own pieces, we work on a writing activity together or I give them a quick task to try the strategy out.
For example, in first grade, if we are learning to show a character's feeling rather than tell it, I give students a slip of paper with the sentence: He was mad . They convert it into a showing sentence, ex: He stomped his feet and slammed the door.
In kindergarten, if we are learning to add expressions to the people in our pictures, we practice drawing some faces showing different expressions.
These quick tasks ensure students are working on the mini-lesson strategy. After these quick tasks, they continue to work independently on their own writing pieces within that genre.
Writing Time
The most beneficial aspect of the Writing Workshop is that it strikes a balance between students having choice with writing topics while learning about the writing process and mechanics.
The goal is for students to be able to write independently for about 15-30 minutes, depending on grade level. Note that is the GOAL time and you will have to slowly build up to that. I recommend starting with just five minutes of independent writing and gradually adding a minute daily. You can make it a fun challenge to beat their previous time!
If you would like to use goal tracking sheets I'll have a FREE set at the end of this blog post. You can use them whole group or for individual students who may struggle more than others. I find using goal trackers to be extremely helpful for my students. I have a Goal Trackers System that also has certificates you can give to students once they reach their goal.
For Writing Workshop, each student should have a writing folder that will hold all of their writing pieces. Some students may work on multiple pieces during a session while others may only have one. This time is open to differentiation and is quite flexible for students.
Now, when you are first beginning Writing Workshop with your students, you will want to use this time to observe students working. You can get an idea of which individual students may need more support and also any changes in terms of classroom supplies and expectations.
After students have had time to practice writing on their own, dedicate a mini-lesson to what challenges they ran into and what they can do next time. I have a blog post dedicated to helping your students work more independently during this time .
Once students have settled into their routine you can use this independent work time to confer with students. The main goal for this time is to have students share what they are working on and guide them toward using ONE strategy to improve their writing.
This is a great time to have students set a writing goal . Again this time is flexible. You may want to meet with students in small groups or individually. I will have a more in-depth blog post dedicated to this time in the near future!
Quick Share
A quick share may also take place during your writing workshop. While students are working independently, you'll want to quickly share a sample of student writing that incorporates the focus of the mini-lesson. This serves as a great reminder to students on what they should specifically be working on.
Allowing students time to share their work is the last component of the writing workshop. Usually, this component takes about 5 minutes, but at first, will take longer. You will want to practice with students how to share their work with the class. This is great public speaking practice for younger students.
If you have more time, you can pick a set number of students to share each day. I would keep a running list of who has shared to make sure each student gets a turn. You could allow students to give feedback and ask questions. If you are short on time, you could have students turn and share their work with a partner.
DONE-FOR-YOU Lessons
If you're not sure how to get started, I have an entire writing unit for kindergarten. It has 22 lessons, teacher notes, student material, pacing calendars, conference forms, rubric, and more.
Check it out in my Tejeda's Tots shop or on in my TpT store:
Don't be afraid to incorporate different types of writing activities throughout the week outside of the writing workshop. Shared and interactive writing are great opportunities for modeling writing and providing practice.
Introduce and model inventive spelling and spelling strategie s to help students work independently.
Host a writing celebration once you finish a unit with your students!
I hope you have found this post helpful. If you need more support or advice covering specific writing units I have blog posts on Personal Narratives and How-to Books . Also please feel free to leave any questions you have in the comments below.
Don't forget your FREE Writing Stamina Goal Trackers!
Like it? Share it!
ALI Overview
Phonological Awareness
Comprehension
Writing Workshop
Writing Workshop in a First Grade Classroom - How We Plan Our Stories
Writing Workshop in a First Grade Classroom - How We Plan Our Stories Director's Cut
The teacher introduces her class to a new strategy they can use to help them plan out the events of their stories before they start writing
This version of the How We Plan Our Stories lesson for additional "look fors" and tips.
Writing Workshop is an instructional practice designed to help children become confident and capable writers. During Writing Workshop, children have time to work independently and with their peers. They engage in the writing process by selecting topics, drafting, revising, editing, and publishing their original work. They receive explicit instruction in the craft of writing from exploring genre, to organizing their pieces, to word choice, style, and mechanics.
The workshop structure encourages children to think of themselves as writers and take their writing seriously. It gives children the skills to express their important thoughts and celebrates the fact that their stories and ideas matter and are worth expressing.
What is Writing Workshop?
Writing Workshop is an organizational framework for teaching writing. The framework consists of three components: the mini-lesson, work time, and share time . The Writing Workshop structure is an efficient and effective way to deliver writing instruction to meet the needs of all learners.
Each Writing Workshop session begins with a mini-lesson, during which you explicitly teach the children a specific writing skill or strategy over the course of five to 15 minutes. Use the mini-lesson to address the writing needs of your children as determined by your curriculum, state and local standards, and most importantly, formative assessment. Your conference notes and the children's writing help you identify a primary literacy objective for the mini-lesson. During the mini-lesson, explain what you are teaching and how it will help the children become better writers. Model and demonstrate the use of the skill or strategy, thinking aloud throughout the process. Give the children a chance to try out the skill or strategy right there on the carpet.
The mini-lesson is immediately followed by work time, the component that is the heart of Writing Workshop and occupies its largest block of time. During work time, the children write – both independently and with partners. They apply what they've learned from the current and past mini-lessons to their writing. It is during work time that you can differentiate your writing instruction. To do this, conduct one-to-one writing conferences with children, taking careful notes throughout each conference. You might also work with small groups of children who have similar instructional needs in writing. Increase the amount of writing time as the children's stamina increases.
Share time comes at the end of the workshop. During share time, two or three children share their writing with the class. Writing deserves an audience, and share time is one of the ways to provide it. The "authors" might show how they've applied the day's mini lesson to their own writing. They might show what they've learned about writing or about themselves as writers. Usually only a few sentences will be shared, but sometimes a child will share a completed piece of writing. Share time is motivating for the children, and it provides peer models for them.
Why Writing Workshop?
Being a capable, confident writer is a necessary skill for children to be successful in school and in life. As they progress through the grades, they'll need to write summaries, reports, critiques, and essays. To be functioning adults, they'll need to write in both their working lives (e.g., letters, memoranda, and reports) and their daily lives outside of the workplace (e.g., shopping lists, emails, and notes). Through daily writing in a workshop, children can learn to effectively communicate in writing.
Writing Workshop is uniquely structured to help children develop positive attitudes about writing and progress as writers. Through writing, children have voice and agency – a way to express their ideas. This can be a deep source of satisfaction. The Writing Workshop structure provides manageable amounts of direct, explicit instruction that meets the developmental needs of our K-3 children: a lot of support, targeted feedback, and an audience for the children's writing. Most importantly, the Writing Workshop gives children plenty of writing time. Children can only grow as writers if they have repeated practice and opportunities to write independently.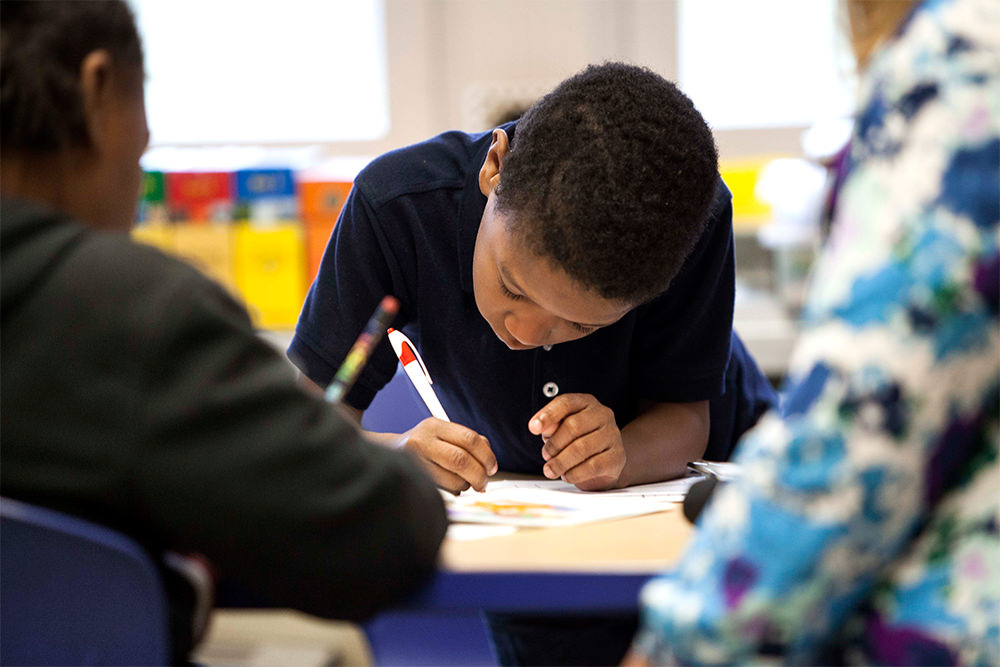 Children are often eager to express their thoughts, ideas, and experiences. Sharing what we know and telling stories is an important part of learning and living in a community. Writing provides a suitable venue for children to share their thinking and ideas. As an additional bonus, writing helps children make sense of, clarify, and develop new learning and thinking. Our carefully planned lessons can facilitate children's ability to have the voice that they crave. In a Writing Workshop, unlike in settings where K-3 children often copy the teacher's writing, the children are the authors.
Finally, audience is a critical component of writing. That is, writing is meant to be read. An audience is often found for some of the children during work time, when pairs or small groups of children will read their writing to each other. But most of all, this is the primary focus of share time, the final component of the Writing Workshop. Each day during share time, two to three children have an opportunity to sit in the "author's chair" and share what they've written with others. In classrooms not using the workshop model, the teacher is often the only one who is an audience for writing, sharply reducing the opportunities for children to read their writing to others. This turns writing into a "written assignment" rather than a true mode of communication.
Writing and Reading Connection
Writing and reading are reciprocal processes: reading affects writing, and writing affects reading.
When children read a lot, they become better writers. Each reading experience represents another encounter with writing, which builds knowledge of writing and helps children to understand what good writing looks like and sounds like. This in turn helps to make them more critical readers of their own writing. Reading books across genres helps children learn story grammar, narrative structures, and informational text structures. Then they apply this knowledge to their own writing. Favorite books that are read and reread become mentors for children's writing.
Writing helps to build and develop reading skills. Our kindergarten and first grade children are actively involved in developing phonemic awareness and phonics skills. When they are working through the spelling of a word during their writing, often using developmental spelling, they are actively applying phonics skills. This has a powerful impact and is much more effective than isolated practice using worksheets. When children access the word wall to use a high frequency word in their writing, they are getting additional exposure to the word. The act of writing the word, which gets reinforced when they encounter it again while rereading their writing, helps the word become part of their sight word vocabulary.
Leverage the reading-writing connection in your read alouds, Reading and Writing Workshop mini-lessons, and shared writing. During read alouds, make a point of talking about the author's craft and the characteristics of different genres. Draw children's attention to word choice, style, and the structure of different texts you read and create together. Gradually build anchor charts to capture what you are discovering about writing together and connect the ideas you are learning about to children's own writing. Highlight the efforts of children who are experimenting with different writing styles and genres during share time.
Find books to use in your mini-lessons to support children's instructional needs in writing. For example, if your children are ready for a lesson in punctuation, read Yo! Yes? by Chris Raschka. If the children are overusing the same words in their writing, read aloud Come On Rain! by Karen Hesse. Explicitly teach children to chunk words for both reading and writing by using a book like One Duck Stuck by Phyllis Root.
Collaboratively write a text with the children using the shared writing approach. You are doing the actual writing, but the children are contributing ideas and "helping" with the spelling and conventions to the extent of their abilities. Shared writing produces readable text for all children. Display the text of your completed shared writing lesson and encourage the children to read it when they "read the room."
Different Types of Writing Instruction
The components of a balanced writing program include modeled writing, shared or interactive writing, guided writing, and independent writing. These four components are based on the principal of the gradual release of responsibility developed by Pearson and Gallagher in 1993.
During modeled writing, you are demonstrating how writing works. You write in front of the children, thinking aloud throughout the entire process. Be sure that all the children can see the writing. Modeled writing is likely to occur in mini-lessons and, of course, Message Time Plus. Shared writing is a practice in which the teacher and the children share the responsibility for writing a text. The children's role is to verbalize the ideas in the text and to contribute to the spelling and writing conventions to the extent of their abilities. The teacher holds the pen and does the physical writing. The writing is usually done on chart paper and written large enough for all the children to see. The level of child responsibility in shared writing can be increased by employing interactive writing instead. Interactive writing follows the same structure as shared writing, except that the children and the teacher "share the pen." The teacher selects individual children to come up to write a word or even a letter in the message. When shared writing or interactive writing is completed, the teacher and children usually do a shared reading of the text.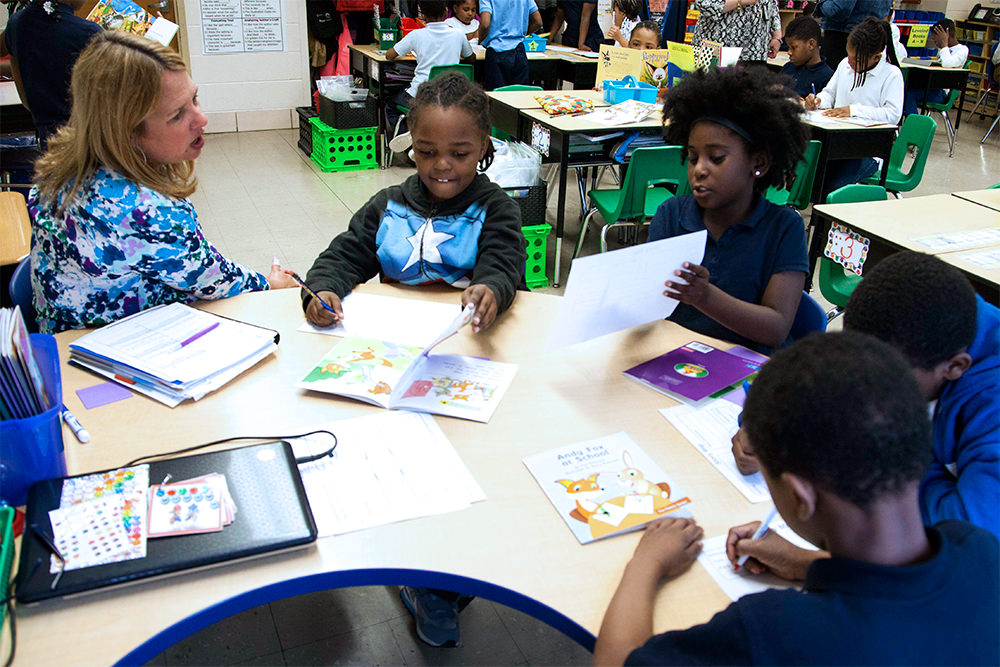 Guided writing is a notable shift in teacher/child responsibility. In guided writing, the child "holds the pen" and is responsible for doing all of the writing. The teacher's role is that of support. Teachers coach, scaffold, and support children while they are writing. Guided writing usually occurs during one-on-one writing conferences and small group writing sessions.
Finally, independent writing is when children apply all of the important lessons that we have taught them to their own writing. The teacher's role in independent writing is just to supply time and resources for writing. Independent writing occurs during the work time component of Writing Workshop, in class writing centers, and during journal writing.
Reflect on Your Writing Workshop
Like any instructional practice, Writing Workshop will benefit from your reflection. Take some time to think about your current writing instruction. What are you doing that is effective? Where do you want to improve your practice?
Reflect on your Writing Workshop
Use this printable version to reflect on your current practice.
Frequently Asked Questions
My children don't like to go back and revise their work. how do i help them improve their pieces.
Children who can write narratives with beginnings, middles, and ends (transitional writers) are ready to add revision to their writing process. Make sure children understand the difference between editing and revision. Explain that editing is about making sure a reader can understand the piece by reviewing the mechanics and conventions. Revising is about making a good piece of writing even stronger. Devote a number of mini-lessons to revision. Through shared writing, co-create a text. Spend two or three sessions revising it (better opener, vivid verbs, awesome adjectives, no tired words, etc.). Compare the first draft to the finished piece. Try devoting one workshop session a week to revision (Revision Wednesday?). For share time, pre-select children who made a special effort to revise their writing. Have them share the "before" and "after" of their pieces.
I model my writing for my children, and then they just copy what I wrote. How can I help them come up with their own ideas?
It's normal for children to copy writing. It's part of how they learn! As they gain confidence in their own abilities, and become eager to share their own ideas, they will branch out from the "safety" of copying. You can help children gain confidence by celebrating children's attempts, showing interest in their lives, and encouraging them to use their own invented spelling.
You can also help children by having them brainstorm a list of topics and display it, so the children can refer to the list. Have the children "turn and talk" to tell their partners what they plan to write. Ask the children who exhibit exceptional difficulty coming up with ideas to stay on the rug for an extra minute or two. Check in with each of the children to make sure they have decided upon an idea. You might even ask them to tell the first sentence of their piece.
How does spelling and grammar instruction fit into Writing Workshop?
Writing Workshop lends itself to the teaching of spelling and grammar because these lessons are taught within the context of actual writing for an authentic purpose rather than through isolated skill practice. Identify which lessons your children need by examining their writing. Then teach mini-lessons to target and address the children's instructional needs. Co-create anchor charts with the children to help them remember high utility grammar and spelling strategies and concepts. Teach children to use the resources in the room to check their spelling.
My children are still working on forming letters and writing their names. Can I still do Writing Workshop?
Absolutely! It sounds like your children are in the pre-emergent and emergent stages of writing. One of the things that helps them to grow as writers is many experiences with writing. In your mini-lessons and your daily Message Time Plus lessons, explicitly teach lessons like directionality, word boundaries, and matching sounds with symbols. Be sure to have individual-sized alphabet charts for the children to refer to while they are writing. Encourage them to draw a picture and label it. Many children will start out by labeling their picture with a single letter, but their labels will become more advanced over time. Have one-on-one conferences to zero in on individual needs. Don't forget share time, an opportunity for the children to show each other what they have accomplished.
Do I need to review and grade everything that my children produce?
Looking at children's writing is going to give you the information that you need to provide targeted instruction. So, although you don't need to grade everything, you really do have to find a way to see as much of their writing as you can. Consider providing each child with a writing folder. Have the children keep all of their writing from Writing Workshop in their folders. Create a schedule that allows you to examine writing folders at regular intervals. The number of papers in a folder indicates the volume of writing that the child is producing. Select one piece to assess with a rubric. Be sure to share the rubric with the children, so they will know how they are being assessed. Using this method, you should be able to assess one piece of writing a week for each child. That is usually enough to document the children's growth over time. You can also try asking the children to select one piece from their writing folders to submit for assessment. Clear out the writing folders after each unit or once a month. Make sure to preserve the pieces that you assessed with the rubric.
How do I manage independent writing time so that everyone is "on task"?
To ensure a productive independent writing time, the children must know the routines and procedures of Writing Workshop. Teach procedural lessons, practice and rehearse, and co-create anchor charts. Resist attempting conferences or convening small writing groups until the children know the routines. You must also be aware of the children's stamina for writing. This is simple to assess. Have them write, and note the starting time. When they become distracted, begin looking around, or start asking to go to the drinking fountain, they've reached their limit. Note how long they were able to write. Be assured that their stamina will increase over time. Nevertheless, the amount of time you allocate for independent writing must always be appropriate for their current level of stamina for writing. Walk around between conferences to be aware of what is happening. Make adjustments and offer options for children who need extra support. Finally, have the children self-assess and make goals or plans for improving their productivity during independent writing time.
What do I do with children when I meet with them one-on-one in a writing conference?
The architecture of the writing conference is research, decide, compliment, teach (Calkins, 2006). During the research part of the conference, you will need to find out what the writer needs. This can be discovered by having the child read their writing to you and have a conversation with the child. Then find something to compliment (i.e., point out something that the child is doing well) and decide what you are going to teach. Remember to teach only one thing. Try to find a concept that the child has partially mastered, and teach that concept. Close the conference by reiterating the teaching point and linking it to the child's ongoing work.
Comments (10)
Thank you for sharing! I will use it and tell you later the results.
tescopayslipview payslipview payslipviewtesco
Do you happen to have sample papers for writing How-To's?
tesco payslip
<a href="wiki ">wiki page writing services</a>
<a href="https://www.payslipviews.co.uk/">tesco payslip</a>
I need morning messages for kindergarten please.
It is really a great way to interact with the children and share what we think about the stories…..The workshop structure encourages children to think of themselves as writers and take their writing seriously. It gives children the skills to express their important thoughts and celebrates the fact that their stories and ideas matter and are worth expressing. This is so true and I enjoyed using these methods to help me to teach them…..Thank you so much Cli3 and my coaches for their instruction and hard work to help our school, community and class!

I teach Language Arts/Writing to EVERY student in our K-6 school (including ELL and SPED) and I am constricted to only one 40 minute period every 4 days with each classroom. I am seeking ways to most effectively implement the philosophies outlined in the CLI research which will best serve the students I teach. I am open to suggestions. I am also interested to see if anyone else has a position such as mine. Thanks so much.
Log in to post a comment.
subscribe for updates via email
Teaching with Crayons & Curls
Enter Your Tagline Here
Launching Writer's Workshop in the Primary Classroom
Teacher Truth- I used to despise teaching Writer's Workshop. I understood the structure of the workshop model and the focus of each grading period, however, I didn't really know WHAT to teach each day during my mini-lessons. Fast forward a couple of years, and I had an amazing opportunity to visit an amazing teacher's classroom and observe her in action and I fell in love with her writing instruction! And then the next year, my amazing team and I decided to each tackle one subject and share our plans. I chose writing (even though it still wasn't my favorite) so I could spend more time learning about teaching writing and *hopefully* fall in love. It worked!
Now that I LOVE writing, I wanted to share what I currently do to launch Writer's Workshop! I've taken pieces from what I love from different resources to make what works for me and my students. This post is a little peek into my mini-lessons, anchor charts, and mentor texts that I love! I posted them in the order that I usually teach each lesson, however you can change them around to make it work for you and your group of writers! For each lesson I shared an example of an anchor chart! In my classroom, I always prepped the anchor charts with the title and an image first, but added the content WITH my students during the mini-lesson! The books that I have posted are linked to my Amazon affiliate store. If you purchase them through the link, I will receive a small commission!
Leave a Reply Cancel reply
Your email address will not be published. Required fields are marked *
Latest on Pinterest
Latest on Instagram

Latest on Facebook
Teaching with Crayons and Curls
3 months ago
Saving these for me!!! ... See More See Less
This content isn't available right now
Share on Facebook Share on Twitter Share on Linked In Share by Email
So true! ... See More See Less
It's important to remember that nobody does it all!!! Spoken from experience. ... See More See Less
5 months ago
💖💖💖💖💖 ... See More See Less
Here comes Back to School spouse! ... See More See Less
writers workshop units grade 1
All Formats
Resource types, all resource types, writers workshop units grade 1.
Rating Count
Price (Ascending)
Price (Descending)
Most Recent
Writing Realistic Fiction Writer's Workshop Unit ( Grades 1 -2)
Writers Workshop : Writing Through the Year 2nd Grade Unit One
Writer's Workshop DIGITAL Journal 4th Grade -- UNIT 1
Writer's Workshop Journal PRINT 4th Grade -- Unit 1
Writers Workshop , Grade 3, Units 1 –4 Yearly Lesson Plan Bundle
Writers Workshop Grade 2, Unit 1 Lessons From the Masters, Lesson Plan Bundle
Lucy Calkins Writer's Workshop Unit 1 Narrative 4th Grade
Writers Workshop Grade 1 , Units 1 to 4 Yearly Lesson Plan Bundle
Writer's Workshop - Small Moments - Unit 1 Lucy Calkins - Grade 1
NOTEBOOK (SMARTboard) File
Grade 6 - Mission Writing - Unit 1 : Launching the Writer's Workshop
Lucy Calkins Writer's Workshop Unit 1 - Narrative - Grade 5
Writers Workshop , Grade 2 , Units 1 –4 Yearly Lesson Plan Bundle with Bonus Unit
Grade 7 - Mission Writing - Unit 1 : Launching the Writer's Workshop
Writers Workshop Grade 3 Unit 1 Crafting True Stories Lesson Plans
Mission Writing - Grade 8 - Unit 1 - Mission: Launching the Writer's Workshop
Writers Workshop Lucy Calkins: Unit 1 : Personal Narrative 3rd GRADE
Bend I Grade K Unit 1 : Launching the Writing Workshop : We are writers
Wonders 2nd Grade Quick Assessment Reader's Writer's Workshop Unit 1 Weeks 1 -5
Writer's Workshop - 4th Grade Narrative - Unit 1 Session 1 (Lucy Calkins)
Personal Narrative Writing - Writers Workshop Unit for K or First Grade
McGraw Hill Wonders First Grade Practice Unit 3 Weeks 1 -5
French Descriptive Writing Unit for Primary Students | L'écriture descriptive
Digital + Print | 5th Grade Back to School Writing | Unit 1 | 4 Weeks Long
Wonders Unit 1 - 6 | Wonders 3rd Grade | Wonders 2014 | Wonders Reading
We're hiring
Help & FAQ
Privacy policy
Student privacy
Terms of service
Tell us what you think
Not logged in
Writers workshop for grade 1 ela instruction, page actions.
1 Introduction
2 Learner Outcomes
3 Unit 1: Writing Traits
4 Unit 2: Writing Process
5 Resources and References
Introduction
Teachers, educators and administrators are provided countless resources when it comes to ELA instruction, in order to effectively teach curriculum that yields student achievement where reading and writing are concerned. However, the common core, a system designed that is relevant and practical in real life, is useful in that it gives the knowledge and skills that young learners need for success in college and career. Therefore, this project will be designed with the incorporation of much of its standards to guide the following lessons and activities.
This project will mainly focus on one ELA component; writing, through writing workshop. Writing workshop is a method of teaching writing where students are given a set of procedures for planning, drafting, revising, editing, and publishing their writing with the help of procedural guidelines. Also, it allows for students to write in different writing styles like persuasive, expository and how-to essays, which ultimately help to foster a love of writing. Workshops give teachers the chance to meet the needs of their students by diversifying and tailoring their instruction based on information gathered throughout the workshop.
While Writing Workshop is typically a classroom approach, the instructional content of this course will be designed and tailored for the online classroom, although it can also be applied in the classroom. Therefore, it will simultaneously introduce the idea of the Multimedia workshop as students will use links, and online materials to assist them in their writings.
Purpose of Course The purpose of this course is to introduce Writers Workshop from a student teacher approach in which students learn some common core ELA standards; in a fun and exciting way.
Learners The targeted audience of this project are first grade students. The units and lessons in this design will therefore be grade appropriate and tailored to meet the developmental and curricular needs of students. The purpose of this project is to teach students to write authentic and creative stories because they are writing to authentic audiences.
Learner Outcomes
By the end of this course students will be able to:
Write opinion pieces in which they introduce the topic or name the book they are writing about, state an opinion, supply a reason for the opinion, and provide some sense of closure.
Produce clear and coherent writing in which the development, organization, and style are appropriate to task, purpose, and audience.
Provide some sense of closure and write narratives in which they recount two or more appropriately sequenced events, include some details regarding what happened, use temporal words to signal event order, and provide some sense of closure.
Develop and strengthen writing as needed by planning, revising, editing, rewriting, or trying a new approach.
Draw evidence from literary or informational texts to support analysis, reflection, and research.
Unit 1: Writing Traits
Unit 2: writing process, resources and references.
"New York State P-12 Common Core Learning Standards for English Language Arts and Literacy" http://www.engageny.org/resource/new-york-state-p-12-common-core-learning-standards-for-english-language-arts-and-literacy
"Teaching Kids About Revising (Writing Workshop Lesson)" http://www.youtube.com/watch?v=RBKqgOvmJ8w
"First Grade Writing Curriculum Calendar" http://www.brownco.k12.in.us/links/curriculum/elementary/uploads/Grade%201%20Writing%20Units%20of%20Study.pdf
North Carolina Department of Public Instruction: Instructional Support Tools for Teaching New Standards http://www.ncpublicschools.org/docs/acre/standards/common-core-tools/unpacking/ela/1.pdf
"Instructional Model for Highly Effective ELA and Content Literacy" http://www.bcpss.org/bbcswebdav/institution/PUBLICINFO1112/CAO%20Leadership%20Institute%20SY11-12/March%201-2,%202012/Instructional%20Models%20for%20ELA%20and%20Mathematics/ELA%20and%20Content%20Literacy/PreK-8/Instructional%20Models%20for%20ELA%20PreK-8.overview%20PPT.pdf
Peha, Steve. "Welcome to Writers Workshop" http://www.ttms.org/PDFs/05%20Writers%20Workshop%20v001%20(Full).pdf
Reading, writing and literacy
Elementary grades
Zhang Research Lab
Lab Homepage
-Publications
-Tech Design
KNILT Project Links
KNILT Homepage
TO CREATE: Current Classes & Projects
TO LEARN: Index of Mini-Courses
Find KNILT Mini-Courses by Topical Area:
-early childhood
-special ed
-social/emotional
-science ed
-computing ed
-social studies
-x-disciplinary
-new technology
-online learning
-new pedagogies
-assessments
-positive classroom
-cultural responsiveness
TO COLLABORATE
YOUR FEEDBACK?
About KNILT
Special pages
Userpage tools
What links here
Related changes
Printable version
Permanent link
Page information
This page was last edited on 17 July 2020, at 11:17.
Privacy policy
Disclaimers
Shared Teaching
Systematic Teaching for First and Second Grade
5 Writing Workshop Mini Lessons That Shouldn't Be Skipped
January 12, 2022 | Leave a Comment
No matter what time of the year writing workshop starts, these are 5 writing workshop mini lessons that shouldn't be skipped! I find that doing these lessons will start my workshop on the right foot and help students know all about my expectations.
Writing Workshop Mini Lesson #1: The Components of Writer's Workshop
Before introducing the writer's workshop model, plan out the pieces you'll be using in your workshop. I modified my workshop slightly from the traditional model so that it skips the daily check in.
Each day I cover a mini whole class lesson, independent writing time, and share time. My first mini lesson when I am starting writer's workshop is to teach my class about each component. Sometimes it may be necessary to break it apart in several lessons (especially if you want to really focus on the dos and don'ts of each section).
I like to take my time and explicitly teach the roles of a student and the teacher (like in the Daily 5 process ). Going over exactly what I want it to look like helps minimize off task behaviors at the start. Likewise, it's important not to skip the step of what it shouldn't look like. Not only do students find it pretty funny when they see off task behaviors modeled, but it really sticks in their memories.
Writing Workshop Mini Lesson #2: Writer's Workshop Materials
The next important writing workshop mini lesson is teaching about the writer's workshop materials and their appropriate uses. In my class we call these writing tools. This may feel like a silly lesson to teach but it's important to teach expectations for using their supplies.
Things to consider when planning this lesson:
Will students be allowed to color pictures heavily during each writing block?
Will students be using pencils or pens for their writing?
Will students use notebooks or folders to store their pieces?
Where will they keep their daily materials?
Where will they keep their revising and editing pens?
Will they need highlighters?
Will they be using loose leaf paper or a notebook? Spiral or composition?
My Writing Tools Set Up
Each answer to these questions will help you plan what to say during your lesson. For example, in my class students are only allowed to color pictures during the publishing phase. I chose this rule because we only have 45 minutes and it's more important for them to be writing than working on coloring. This year I have chosen to use pencils for daily writing but most years I use pen. Writing in pen keeps students from agonizing over writing and erasing the same words.
Notebooks or Folders?
Students are provided a blue three-prong plastic folders with several page protectors. Inside the page protectors they are given an alphabet chart, blends and digraphs, and common rimes chart. I left one blank page protector that gets filled with their writing goals tracker once goals are created. They are also given a very slender bound notebook that we use for planning out our writing. This notebook is thin enough to be kept inside their folder along with any loose leaf writing papers.
Writing Tools Storage
Just like with the first mini lesson we are discussing dos and don'ts of handling the workshop materials and where they should be stored. This year with social distancing guidelines each student keeps their own folder in their desk. In prior years students turned in their folders at the end of each writing block and one student passed out their group's folders.
I have a series of three metal bins (meant to be flower pots) that keep my black, blue, and red writing pens. Even though I have black pens I don't often have students use them to write this year. Having them write in pen saves me from sharpening a ton of pencils each day. Since editing (red pens) and revising (blue pens) only happen every few weeks, I prefer to keep the pens out of their desks and on my writing center table. Unfortunately this year the table is not used except to hold my writing center cards and letter templates as well as my pen selection.
Writing Workshop Mini Lesson #3: Building Writing Stamina
My students now know what writer's workshop should look like and how to use the tools appropriately. This means it is time for them to practice building up their writing stamina. Although this isn't going to be a one and done type of writing mini lesson, it is an important one.
Just as readers need to build up their reading stamina, I feel the same is true for writers. My class seems to do really well with writing the whole time during independent practice, but if you are lucky enough to have a nice long writing block you will want to make sure you build up their practice time.
Many years ago I used to have a good hour for my writer's workshop. During those days I would have a second mini-lesson in the middle of our writing time. This way I could address immediate things I was seeing about sentence structure or punctuation. It was also another way to address what was going well with students applying the day's lesson. Don't be afraid to break up your writing block like this if you notice students getting squirrely halfway through.
When students work with a writing partner, they can also increase their stamina. It naturally takes longer to work on a writing piece when both partners need to share and work together. This brings me to the next mini lesson.
Writing Workshop Mini Lesson #4: Working with a Partner
I like to establish my writer's workshop routines before I have students begin working with a partner. Once routines have been established then I'll add writing partners into the mix. If I do it too early I might have some classroom management issues .
When planning your writing mini lesson, establish what you want partners to do. Will students have partners during independent writing time? Will students only be using partners when revising and editing?
Plan to provide several mini lessons on how to work with a partner. Now that students have had a lot of schooling impacted by Covid, it's important to teach them the basics of how to work appropriately with each other. This might include things like sentence stems for questions to ask and how to respond, what help looks like (i.e. not doing everything for their partner but guiding them), and how to be a good listener.
Writing Workshop Mini Lesson #5: Compliments and Questions for Share Time
Share time is the last component of writer's workshop and it's the one I feel is the most important. Students get to see and hear examples of their peers' writing. Many teachers use an author's chair specifically for the purpose of this daily share time. I do not have space in my classroom so I just have students stand at the front of the room.
These one or two mini lessons should cover very similar topics as having a writing partner. In fact, many of the expectations for partners crossover to share time which makes it a perfect place to review and reinforce what students should do.
My share time is usually about 5 minutes tops since I only have a total of 45 minutes. If you have a little longer, pick mini lessons to teach about how to choose which partner goes first and how to offer specific feedback. I like to think of writing partners like mini coaches. They should be giving their partner suggestions for improvement but also a positive comment.
What are your go-to mini lessons when establishing your writer's workshop?
Leave your comments cancel reply.
You must be logged in to post a comment.
Shared Ideas
Teachers First - Thinking Teachers Teaching Thinkers
Forgot your password? | Learn about the benefits of TeachersFirst free membership.
Writer's Workshop
Writing is FUN! Chances are, if you tell your students this, some will nod enthusiastically, while several others might shake their heads in disagreement and share looks of disapproval. Many students simply find writing to be quite difficult, and for some, it comes across as more of a chore than an enjoyable experience. After all, it can be time-consuming and requires multiple steps, in turn, potentially leading to boredom, frustration, or both.
The good news? There are many techniques and tips to help your students feel confident and excited about writing in the classroom and in their everyday lives. Let's be honest, as educators, writing can be an overwhelming subject to teach effectively to our students, but we're here to help!
We use writing daily, making it an important skill that must be done well. Helping our students to realize this, along with the positive results that writing can bring, is half the battle of starting the process towards confident and excited authors.
Helping students to gain skills in writing can be achieved in multiple ways. One of the most effective ways is through the consistent use of incorporating a Writer's Workshop into your classroom to help learners become proficient writers. Teachers can introduce elements of Writer's Workshop at any elementary grade, starting as soon as Kindergarten.
What exactly is Writer's Workshop?
Writer's Workshop is a consistent time in the classroom that focuses on three main parts to help introduce, practice, and improve writing:
a mini lesson
status of the class/independent writing
sharing/closing
The bulk of the time spent will be on independent writing, but the beauty of Writer's Workshop is that it can, and should, be flexible. As the teacher, you have the ability to use this time to work on whichever skills you think might benefit your learners during the mini-lesson with where they are currently at in their writing process or project.
Perhaps a brief lesson on how to brainstorm, or on choosing the correct punctuation marks, a focus on spicing up boring word choices to make them sizzle, or teaching learners how to peer review might be most beneficial right now. Writer's Workshop is a time for students to dive into getting their ideas onto paper, onto their computer, or their tablet.
We recommend providing each learner with a folder and a composition book. This should be kept together in a safe spot in their desks, or collected daily. When it's time to write, or type, students will know that they need to have these materials in order to get started. As you begin planning, check out the section that meets the needs of your specific grade-level best.
The Writing Process
Students will use the writing process over and over throughout the year as they brainstorm, draft, revise, edit, and publish. An important part of Writer's Workshop is modeling how the writing process works and why it is so important to use. Discuss the process with your students as you model a prompt. Students should be able to identify which step of the writing process they are on when asked so you can assess how far along they are in their work. This also can help you to recognize when a student might seem "stuck."" Writing is a process, not simply a product, and Writer's Workshop will allow students to take ownership for their work, gain guidance, and receive support and feedback from their peers.
Primary Learners
To get primary learners ready to write, it is important to help them understand WHY becoming a great writer is necessary. Ask them to think about reasons they might like to write. Some examples are below:
Writers write:
to share their feelings
to share ideas
to share their experiences
to communicate
to share important events
to teach others
simply because they love to write
While establishing your Writer's Workshop, discuss WHAT students might write:
I can write:
Text Messages
Finally, also focus on sharing the work habits of GOOD writers. Ensure that students understand that Writer's Workshop is a time to practice and learn, but also a time to help them feel more comfortable and content with the writing process. Good writers do the following:
Good writers:
Edit and fix their mistakes
Have writing stamina
Brainstorm ideas
Use details
Use correct punctuation
Stay the course
Stay in control
Writing goals vary by grade level and Writer's Workshop can be effectively used with ALL learners. We'll show you how! Depending upon your current objectives and curricular goals, choose the resources below that are applicable.
Classroom Resources
Bulletin Board Hangups
BYOD Dream Tools
Classroom Connection Events
Classroom Planning Calendar
Keyword Search
CurriConnects
Browse by Subject
Instructional Units
Lesson Plans
MySciLife ®
Reading Treks
Reading Suggestions
Ready to Go
Special Topics
Professional Learning
Adapt-a-strategy
Blog Basics for the Classroom
Building Schoolwide Literacy
Classroom Management
Cycles Vs. Checklists
Differentiating
Dimensions of Creativity
Hands off, Vanna!
Infographics
Instructional Playlists
Middle School Dos and Don'ts
Nourishing Gifted
Professional Learning Log
Rubrics to the Rescue
Student Produced Video Field Trip
TF Professional Exclusives
Twitter for Teachers
Twitter Chats
Webquest 101
Wiki Walkthrough
Writers Workshop
Professional Resources
Help! I Lost my Media Specialist
Newbies/Substitutes
OK2Ask ®
Outside Sources
Reading for All
Resources for Teaching Remotely
Tech How & Why
Wiki Walk-Through
Working with Parents
Featured Sites
Featured Sites Archive
TeachersFirst Edge
TF Update Archives
What's Popular
TeachersFirst Advisory Council
Membership Info
Sign Up (Free)
The Source for Learning
Tips for Using TeachersFirst
Visitor's Agreement
Professional
International
Language Arts
Science & Health
Social Studies
Intervention
Supplemental
Arts & World Languages
AP®, Honors & Electives, and CTE
View All Language Arts Programs

Wonders (PreK–6)

StudySync (6–12)

Achieve3000 Literacy (2–12)

Reading Mastery Transformations (K–5)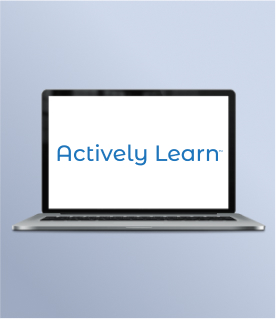 Actively Learn (3–12)

Direct Instruction (PreK–12)

Open Court Reading (K–5)

Smarty Ants (PreK–2)

Redbird Language Arts & Writing (2–7)

View all Math Programs

Reveal Math (K–12)

ALEKS (3–12)
Achieve3000 Math (3–12)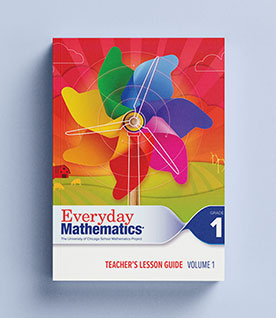 Everyday Math (PreK–6)

Redbird Math (K–7)

Illustrative Math (6–12)

Number Worlds (PreK–8)
View all Science & Health Programs

Inspire Science (K–12)

Glencoe Health (9–12)

Teen Health (6–8)

McGraw Hill Science Interactives (6–12)
View all Social Studies Programs

IMPACT (K–5)

New Social Studies (6–12)

Networks (6–12)
View all Intervention Programs

Arrive Math (K–8)

Corrective Reading (3–12)
Corrective Math (3–12)

Connecting Math Concepts (K–6)
View all Supplemental Programs

McGraw Hill AR

Moments for MySELF

ACT & SAT Practice Books
View all Visual & Performing Arts Programs
Spotlight on Music (PreK–8)

Music Studio Marketplace (PreK–12)

Music Its Role (9–12)
Exploring Art (6–8)

Voices in Concert (6–12)

Art Talk (9–12)
View all World Languages Programs

¡Así se dice!
View all AP®, Honors & Electives, and CTE Programs

Communications

English Language Arts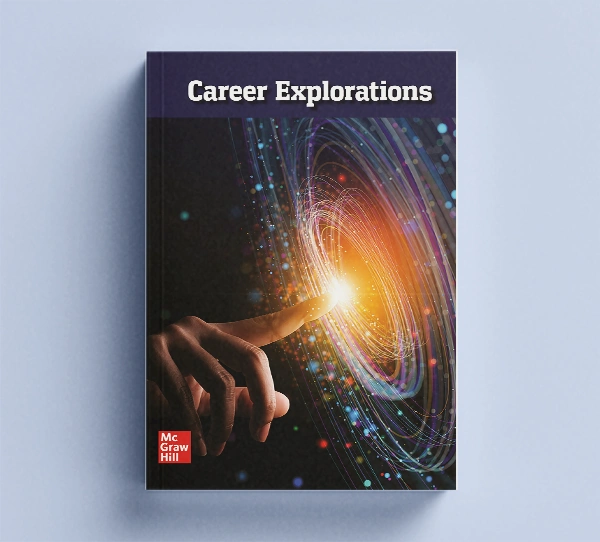 Career & Technical Ed (CTE)
Traditional Ordering
Contact a Rep
Request a Quote
Create® EasyOrder
Shop Online
Online Ordering Guide
Quick Order
For Your Classroom & School
Google Integration
Product Trainings
Integration Services
Free Educational Activities
Our Principles
What We Stand For
Art of Teaching
Equity in Action
Educator Communities
Product Communities
Inspired Ideas (blog) 
PreK–12 educators will see school pricing in their cart after logging in.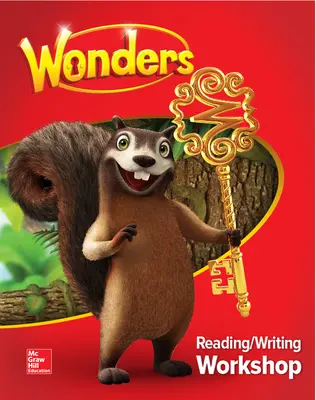 Wonders Reading/Writing Workshop, Volume 1, Grade 1
Payment Options : During checkout, you can pay with a P.O. (simply enter the number), Credit Card, or PayPal.
Product Details:
About the Product
Included Bundles
The Reading/Writing Workshop provides students with powerful systematic support for the close reading of short complex texts with core lessons all in one place. Each volume introduces the week's concept with photographs, interactive graphic organizers, videos, and more; teaches and models elements of close reading with shared short complex texts; and allows for flexibility and efficient use of instructional time.
Company Info
Contact & Locations
Diversity, Equity & Inclusion
Social Responsibility
Investor Relations
Social Media Directory
Place an Order
Get Tech Support
Contact Customer Service
Contact Sales Rep
Check System Status
Log in to Higher Ed Connect
Log in to PreK–12 Products
Additional Resources
Permissions
Accessibility
Author Support
International Rights
Purchase Order
Follow McGraw Hill:
Log in to your program from these platforms:
Achieve3000
Actively Learn
AP/Honors & Electives
Open Learning Platform
Get Product, Platform, or Order Support
Sign in to Shop:
Browse by subject, visual & performing arts.
©2023 McGraw Hill. All Rights Reserved.