13 Must-Have Books for 4-Year-Olds
By esther schanler.
We're in luck. My four-year-old has no shortage of sources for new books to add to her shelf: She's got hand-me-downs from relatives, an active library at her preschool, a mom who works in publishing (that's me!), and generous grandparents who are obsessive readers themselves. But no matter how many shiny, new titles she inherits, these are the books she loves (and I love) to read over and over again.
by Don Freeman
This sweet tale makes for an excellent lesson on friendship and the comfort of home. There's also something very exciting about watching a bear roaming around an empty shopping mall in the wee hours of night.
The Book with No Pictures
by B.J. Novak
There's a reason why this title tops so many Funniest Children's Book lists — it's flat-out hilarious. No matter how many times we read this thing, my kid is LOL'ing.
How to Babysit a Grandpa and How to Babysit a Grandma
by Jean Reagan, illustrated by Lee Wildish
If your four-year-old spends any time with the grandparents, these books are a must. They're each written in the form of an instructional manual for kids who are looking after their grandpa or grandma. I love the way they flip the babysitting duties from child to adult, and they always get my daughter cracking up.
by Jenny Offill, illustrated by Chris Appelhans
This story is all about a girl trying to make the best of her very lazy pet sloth. Sparky! is amusing and offers up beautiful illustrations. At its core, this book is all about accepting individuals for who they are. (Also, who doesn't love a sloth?)
Richard Scarry's What Do People Do All Day?
by Richard Scarry
Richard Scarry is a favorite in our house and this particular title really delivers. Be prepared though — these books are a treasure trove of information and will likely stir up a lot of questions. My daughter can spend hours with this one and we discover something new each time we read it.
The Berenstain Bears and the Trouble with Friends
by Stan Berenstain and Jan Berenstain
Friendships can be pretty complicated at age four and this book is a great way to cover this territory with your budding child. The Trouble with Friends introduces us to Sister Bear's new neighbor, Lizzy, who has strong opinions. When Sister Bear and Lizzy get into an argument, they need to learn how to problem-solve. Lessons around sharing, getting along with others, and negotiating are the themes here — practical tools for your preschooler!
Kindergarten, Here I Come!
by D.J. Steinberg, illustrated by Mark Chambers
Four is often the age when kids start getting excited — or nervous — about starting school. This delightful collection of poems gives children a peek at what they can expect, with plenty of giggles included.
The Day the Crayons Quit
by Drew Daywalt, illustrated by Oliver Jeffers
This hilarious story kicks off when Duncan opens his box of crayons, only to find that the crayons have gone on strike! Duncan will have to figure out a way to make his crayons happy again so they can all go back to making art together. Highlighted by Oliver Jeffers's trademark illustrations, expect to read this one on repeat.
The Day You Begin
by Jacqueline Woodson, illustrated by Rafael López
The Day You Begin is essential reading to start the conversation about those moments when we feel different than everyone else, and the magic that can happen when we tap into our bravery anyways. On the flip side, it's also a great way to talk about empathy and reaching out to others who might feel out of place.
The Rabbit Listened
by Cori Doerrfeld
Another one that scores big points in emotional literacy, this sweet picture book finds Taylor on a difficult day. All of her animal friends have ideas for how Taylor should respond to her sadness, but the rabbit just listens, which is often the best gift we can give to our friends.
Uni the Unicorn
by Amy Krouse Rosenthal, illustrated by Brigette Barrager
Despite what she's been told, Uni the unicorn still believes that little girls exist, and she dreams of what friendship might be like with one. Will she find a human friend of her very own?
How Rocket Learned to Read
by Tad Hills
Like many 4-year-olds, Rocket is on a journey of learning how to read. Luckily, he's got a wonderful teacher in a wise and tiny yellow bird. This joyful bestseller will get your little one reading, too.
Grumpy Monkey
by Suzanne Lang, illustrated by Max Lang
We all wake up on the wrong side of the bed sometimes, and Jim Panzee is having one of those days. But the more his friends try to shake the doldrums out of Jim, the grumpier he gets. An important (and amusing) reminder that it's important to feel our feelings.
Trending Post : Books Made Into Movies
100 Best Early Reader Books
This post may contain affiliate links.
Do you have a child learning to read? Whether you're a parent, teacher, librarian, or grandparent, you want to find the best children's early reader books to support beginning readers as they learn to read, practice decoding, and grow their reading skills. Moreover, you want good books that won't bore your kids to tears! Guess what? I can help you find the best, most engaging early-reader books with fun-to-read stories!
When my own kids were learning to read , I searched high and low for the best books — books that they'd want to read over and over again. (It was hard back then. Fortunately, it's easier now.) As a teacher, book reviewer, and parent, I've found tons of exceptional beginner reader books for children. And I want to share those with you!
Best Early Reader Books for 5- and 6- Year- Olds (Kindergarten and First Grade)
Discover the best early reader books for 5- and 6-year-olds in kindergarten and 1st grade, including phonics books and easy readers levels 1, 2, and 3 for boys and girls.
Sometimes these books are called easy reader books, early readers, emergent readers, or beginning reader books. No matter what you call them, this list of books offers good reading choices with minimal text for beginning readers for kids in kindergarten and first grade.
The research on learning to read and teaching children to read ( the Science of Reading ) is clear that almost all children need to be taught phonics which basically is teaching the sounds of letters and then combining those sounds into words. I have decodable books on this list, but you can see more decodable books here and more about decodable vs. predictable books here.
What Are Early Reader Books?
Early reader books are short, illustrated books for early emergent readers that help them learn to read and practice their reading skills. Some of these books are decodable, some are rhyming, some are leveled, and some have word families or controlled text.
They're books with short sentences of one-syllable words and very few two-syllable words. Each page is usually one to four sentences. These simple sentences might feature sight words, word families, or controlled text. In addition, the font size is larger than books for older readers. Finally, all these kindergarten and 1st grade books are illustrated, often in full color, which is appealing to readers.
These books feature stories about friendship about topics relatable to children — such as riding a bike or going to a birthday party. Often these books are in a series for children learning to read.
Early reader books are meant for students in kindergarten, 1st grade, and 2nd grade, who are around ages 5, 6, and 7. They're good books for emergent readers learning to read and growing in their reading skills.
What's the sequence for learning to read?
Start with phonemic awareness and letter sounds.
Before you introduce early reader books to your children or students, you'll want to be sure that children know the sounds of the letters and the sounds of letter combinations. These include the following sounds:
short vowels
long vowels
consonant-vowel-consonant (CVC) words
high-frequency trick words (sight words)
plurals (words ending in -s)
words ending in ng, nk
vowel sounds for ai, ay, ee, ea, ey, oi, oy, oa, oe, ow, ou, oo, ue, ew, au, aw
suffixes -ing and -ed
If you want support for teaching your students or children to read, I highly recommend Dr. Marnie Ginsberg's Reading Simplified Academy . She's simplified reading instruction, and it's brilliant!
High Frequency Trick Words (HFW or Sight Words)
I mentioned HFW words (also called sight words) in the list above. These are words that don't follow the conventional rules or patterns of spelling. Usually, these are tricky to sound out phonetically. Hence the name. Some of the words from the HFW kindergarten word list include: the, and, is, we, she, he, or, from, by, and my.
However, just because a sight word doesn't follow common language rules doesn't mean you can't help a child sound it out with their decoding abilities. Reading specialist Judy Kucera shares how she helps children apply phonics skills and sounds to learning sight words .
In the linked article, Kucera explains, "For example, if they're working on the word "is" they will hear the zz sound at the end of the word. Remind them that the letter s can say the z sound at the end of a word, when it's after a vowel or next to a silent e."
Some educators suggest teaching 10 high frequency trick words before phonics instruction, one word at a time, and giving students lots of repetition and practice. Reading Rockets shares these ten words: the, a, I, to, and, was, for, you, is, and of. Read more about that here.
What Else Do Beginning Readers Need to Know?
If you've been reading to your children since they were babies, that's fantastic news! It means that they'll be familiar with narrative and informational texts. It also means that you've introduced important concepts and modeled reading fluency .
Young readers must become familiar with narrative story elements such as character, setting, and main events. Teach them how narrative stories are sequenced in a beginning, middle, and end format. Practice retelling a story after you've read it several times. Suggest your child use the illustrations in the book to help them retell and put the events in order accurately.
What about informational books? Do your children understand a nonfiction book is true with facts that are real? The difference between fiction and nonfiction is an important distinction for beginning readers to know!
Of course, beginning readers must know how to rhyme , too!
Finally, we need to teach children about basic punctuation . Teach readers about periods and how that makes readers reading out loud pause. Continue later when the child is ready with more punctuation marks like exclamation points, question marks, and quotation marks.
How Can Adults Support Beginning Readers?
Teachers, parents, and caregivers can support your children by showing them how to track the words with their index finger from left to right. Model tracking every time you read aloud to them. Then, ask readers to track the words across the page from left to right, too.
When your reader gets stuck on a word, ask them to decode it (sound it out) using what they know about the sounds of the letters.
If your readers are guessing words, learn how to stop kids from "word guessing" and start decoding . This linked article explains how to help children tap and swoop, chunk, and play with their words.
What Are the Recommended Books for Starting to Read?
Beginning readers need to start reading decodable books to practice reading, not to memorize or guess the words.
What Is a Decodable Book?
That's why beginning readers need to start reading decodable book . These are books in which the reader can use their reading skills to sound out and blend together the sounds to make words. Bob Books are examples of decodable books , and so are the books on this list.
Keep reading decodable books until the child has become proficient at using their phonics skills.
Leveled Books or Not Leveled Books?
Once children can decode and have had enough practice, they can move from decodable books to other easy reader book choices, such as Level 1 early readers or books without levels.
Honestly, leveled books are a whole can of worms. The intention of a leveling system is to help adults find books for kids that they can read. But, each publisher has their own system of leveling. And, the books aren't always decodable or even written with controlled word lists. Even worse, they can be limiting to children if adults only allow books at specific levels.
So be confident that your reader can decode before you transition them to these next early reader books.
Read on for book recommendations!
R emember that readers need both volume and variety in their reading diet.
VOLUME: Make sure beginning readers have access to lots of easy reader books.
VARIETY: Be sure the easy reader books your child reads represent a range of topics, themes, and genres. Think about sharing fiction and nonfiction books, classics and contemporary books, and books about different topics.
What Are the Best Early Reader Bookss?
As children build their literacy skills, remember that young children love books about topics that interest them. If your child likes trucks, start reading books about trucks. Similarly, if they like ballet, read books about dance.
Most beginning readers enjoy reading stories with themes that resonate with their lives, such as friendship, family, friends, and more. Look for books that are funny. Kids love anything that makes them laugh, so keep some silly stories in rotation.
Of course, good early reader books for kids often include memorable characters. Lovable characters like Mo Willem's Elephant and Piggie will always be favorites to read and reread. (As you can tell from their top spots on the best-seller lists.)
Also, you'll know your child's favorite children's books because they will want to read those books repeatedly. Repeat reading of books is often a wonderful confidence and skill booster.
Best Early Reader Books
So if you're looking for the best early reader books for 5-year-old and 6-year-old boys and girls in kindergarten and first grade, this list will help.
SHOP THIS LIST
**Go HERE for easy beginning chapter books for 6- and 7-year-old boys and girls.
Decodable Books
Predictable Books vs. Decodable Books Learn the difference between decodable and predictable books and why decodable books are better.
Decodable Books Discover the best decodable books for
Phonics Books and Pre-Level 1 Easy Reader Books
I am super picky about recommending easy readers and phonics books. Why? Because so many of them are really terrible. Like mind-numbing, not-a-story, insult your child's intelligence terrible. The thing is, it doesn't have to be that way. You can practice phonics and decoding words without killing a child's interest in reading. There are so many GREAT high-quality early reader books. Here are my favorite phonics and pre-level 1 book choices for emergent readers in kindergarten and first grade.
Charge Into Reading My favorite books on the decodable list, these gems are written with a specific phonetic scope and sequence by expert writer, editor, and literacy advocate, Brooke Vitale . Growing readers will be able to progress as readers because the books are written to build upon each other. Each book teaches and reinforces a phonics rule, such as CVC, blends, or diagraphs. Even better, kids will enjoy the books because the stories are funny and engaging. I also love that each decodable book includes eight pages of reinforcing reading activities after the story.
Laugh-a-Lot Phonics Scholastic mostly offers leveled books, but this is their decodable phonics series with simple short vowel words.
The Yak Pack Comic book decodable readers!? Yes. Cute and fun, with different sounds for each collection, such as short vowels, diagraphs, and blends.
Nat the Cat Takes a Nap by Jarrett Lerner Ready-to-Read Pre-Level 1 Nat was taking a nap until the narrator woke him up! Then, the narrator wakes Nat up again with his brother Pat the Rat. Nat seems mad. Plus, Pat is NOT Nat's brother. Will Nat ever get his nap? This book is hilarious! I predict this will be a popular book choice for beginning readers– it's very clever.
Early Reader Level 1 Books
Fish and Sun by Sergio Ruzzier I Can Read Comics 1 Fish and Sun are two good friends who play all day together but the first day they meet, Fish is worried that Sun will never come back to play. But, the next day Sun returns! Adorable characters and a sweet friendship make this early reader comic a great choice for beginning readers.
Let's Go For a Drive by Mo Willems Gerald has the great idea of going for a drive! But first (and second and third), Piggie thinks of what they need to bring along. Silly fun about two best friends with big personalities. See ALL the Elephant and Piggie books.
We Are in a Book by Mo Willems I love this Elephant and Piggie book — but they are all awesome. You'll notice the first page starts with " Thank you " which you'll only understand once you read it. It is hilarious! These are the BEST beginning reader books because they're not dumbed down; they're hilarious and they're engaging. See ALL the Elephant and Piggie books.
Pig Makes Art by Laura Gehl, illustrated by Fred Blunt Ready to Read A hilarious story about a pig who creates art for an unappreciative cat friend. Soon, Pig creates art ON the sleeping cat– and that inspires a fun chase and a new artist, Cat. Darling.
I'm On It (Elephant & Piggie Like Reading) by Andrea Tsurumi Mo Willems Elephant and Piggie I Like Reading Follow along as Goat and Frog try to outdo each other. You'll laugh at their goofy antics, learn prepositions, and see an important lesson — that it's okay to say no and stop playing something you don't like.
It's a Sign by Jarrett Pumphrey and Jerome Pumphrey Mo Willems Elephant and Piggie I Like Reading New readers will enjoy this clever story about animals who make signs and start a sign-making club.
Goat Wants to Eat by Laura Gehl, illustrated by Fred Blunt Ready to Read Goats eats anything that Cat naps on in this playful and funny story with predictable text. "Cat will nap on the seat. // Goat will eat the seat. // Cat will nap on the coat. // Goat will eat the coat. "
Big Dog and Little Dog Wearing Sweaters by Dav Pilkey Green Light Level 1 Reader) Very simple text tells the story of Little Dog who helps Big Dog get his own sweater . . . vest. Parents, you'll like that the last few pages have fun activities — a maze, word search, story sequencing, and sentence-to-picture matching.
Little Big Horse Where's My Bike by Dave Horowitz Scholastic Level 1 Pablo takes Little Big Horse's bike. And breaks it! But it's only a flat tire and Little Big Horse knows what to do to fix it. Very simple text, great illustrations, and an engaging story make this a new early reader favorite.
Tiny Goes Back to School by Cari Meister, illustrated by Rich Daivs Penguin Level 1 Reader This is one of my favorite funny early reader books with only a few words per page. It's about a dog who doesn't know commands such as "sit" and has to return to doggy school.
That Egg is Mine by Liz Goulet Dubois Duck chases and claims the spotty egg that looks like Cluck who thinks the egg is hers. But they both are surprised when a creature that doesn't belong to either of them emerges! Pay attention to the shadow on the last page — and you'll figure out what the egg really is.
Baby Monkey, Private Eye by Brian Selznick and David Serlin, illustrated by Brian Selznick Kids love this delightful, humorous collection of stories about an adorable monkey who solves mysteries . The predictable text helps new readers know what to expect next in the story.
Ruby and the Magic Garden (Fairy Hill) by Cari Meister, illustrated by Erika Meza Scholastic Level 1 Ruby and her fairy friends live in Fairy Hill. They love to learn magic and dream of what their big wings will look like when they earn them. In a sweet act of kindness, Ruby helps a lost baby deer find its home.
My Toothbrush is MIssingr by Jan Thomas Dog tells his friends that his toothbrush is missing. Donkey asks Dog to describe it. Which leads to hilarious fun! Because for every description Dog shares (bristles, long handle), Donkey thinks he's found it — but he finds other things that also fit those descriptions (Fat Cat, a broom, an egg beater, …) Entertaining dialogue, brilliant brightly-colored comic-style illustrations, and a funny ending. Perfection.
What Is Chasing Duck? by Jan Thomas Bold graphic illustrations capture the humorous worries of the animals who describe something that they are all running away from. Which turns out to be . . . well, you'll see when you read it. Get ready to giggle! I highly recommend any Jan Thomas early reader books.
Biscuit by Alyssa Satin Capucilli, illustrated by Pat Schories I Can Read! The Biscuit books are classic early readers that give kids successful reading experiences. Biscuit is a cute, playful puppy who lives with his little girl and her family.
LEGO City: All Aboard by Sonia Sander Level 1 Reader These are a favorite for any LEGO enthusiast, especially boys! This book about trains is just one of many in this recommended easy level 1 reader series. See ALL the LEGO Easy Readers.
Snow Day by Candice Ransom, illustrated by Erika Meza Siblings, brother and sister, watch the flakes falling outside the window. When school is canceled, they'll get to play outside with their friends.
Figgy & Boone The Big Cheese by Janee Trasler Ready to Read Graphics 1 Figgy wants cheese toast, but they don't have cheese! Luckily, a big cheese wheel falls off a truck. But how can the friends roll it up the hill to their house? Boone thinks of trying levers and catapults, but nothing works until Figgy thinks about giving away some of the cheese to their friends!
This Is My Fort (A Monkey & Cake Book) by Drew Daywalt, illustrated by Olivier Tallec Cake makes a fort but won't let Monkey play in it. Monkey loves forts, so he turns the tables with a clever twist. I love the lesson of being inclusive and also the dialogue bubbles in different colors showing which character is speaking.
Let's Make Cake (Bobo and Pup Pup) by Vikram Madan, illustrated by Nicola Slater The friends decide to make a cake. Bobo gathers silly things that aren't part of the recipe (like a hat and a stick). This is a charming story with easy-to-read conversation bubble dialogue and playful comic illustrations!
Baseball Buzz by CC Joven Sports Illustrated Kids Level 1 Readers In this simple story with one sentence per page, Jackson likes baseball. He plays in a game. All is going well until a bee comes along! If your kids like this book, there are more early reader books in the Sports Illustrated series.
We Are Growing by Laurie Keller Excitement abounds as the stalks realize that they are growing. But the excitement turns into comparisons (who is the crunchiest & pointiest). Just as they're brainstorming, a lawn mower arrives and mows them down. Gasp! Now, what will they do? Funny and sweet!
Hi, Jack! (A Jack Book) by Mac Barnett & Greg Pizzoli I LOVE the Jack easy reader books. They're easy, fun, and funny. In this story, read all about mischievous Jack who lives with Lady. Jack gets into trouble over and over again,… and it's hilarious.
Jack Blasts Off! (A Jack Book) by Mac Barnett & Greg Pizzoli Lady sends Jack and his friend Rex on a one-way ticket to space, where they crash land on an alien's spaceship. The alien gets angry, so Jack and Rex leave for the dark side of the moon where they encounter a big scary monster! But the alien will save them! It's a real, suspense-filled adventure in the packaging of an easy reader. Impressive!
Penny and Her Marble by Kevin Henkes I Can Read Level 1 When Penny takes her little sister for a walk, she sees a shiny blue marble on her neighbor's lawn and puts it in her pocket. But Penny feels bad that she keeps it because it isn't hers. Penny must make a decision about what to do — keep it or give the marble back.
Friends Do Not Eat Friends (Thunder and Cluck) by Jill Esbaum, illustrated by Miles Thompson Ready to Read Graphics 1 100% hilarious fun! When a grumpy and ferocious dinosaur, Thunder, meets a positive, unafraid bird named Cluck, Thunder can NOT believe that Cluck believes they should be friends. But Cluck is determined to help Thunder believe — and before he knows it, the two of them are friends!
Little Penguin and the Mysterious Object by Tadgh Bentley I Can Read Level 1 Penguin welcomes you to the book and shows you the found thing that no one can figure out. What will you think? The penguins love a mystery and there is lots of playful exploration, some deductive reasoning, and a hilarious ending.
Am I a Frog? by Lizzy Rockwell Don't miss this fantastic nonfiction easy reader ! The simple text narrates a conversation between a tadpole and the author. The author answers the tadpole's questions and explains to the tadpole about his characteristics now (gills like a fish, a tail that helps him swim) and the upcoming change into a grog (grow front legs, shorter tail, and jumping out of water).
See the Cat: Three Stories About a Dog by David LaRochelle, illustrated by Mike Wohnoutka Kids who like silly stories will want to read this story again and again! Read the story that the narrator tells then on the opposite page, read Dog's arguments disagreeing with the narrator's story. There is no " blue cat in a green dress " argues the dog! But maybe they both are right? The repetition of words and similar short text structure makes this an excellent choice for growing readers.
See the Dog: Three Stories About a Cat by David LaRochelle, illustrated by Mike Wohnoutka In three hilarious stories, Cat helps out with the story for Dog who is sick. But when the narrator writes that Dog digs a hole, Cat doesn't want to. And when the narrator writes that Dog fetches a stick in a lake, that doesn't go well for Cat either. Let's hope Dog feels better soon!
Your Friend Parker by Parker Curry & Jessica Curry, illustrated by Brittany Jackson and Tajae Keith Ready to Read Level 1 Parker goes on vacation and writes one big letter (this book) about her trip to her best friend.
Worm and Caterpillar Are Friends by Kaz Windness Ready to Read Graphics 1 Worm insists that he and Caterpillar are exactly alike. But Caterpillar knows they are different. Plus, he's going to change even more…His friend Worm waits and waits while Caterpillar transforms. These good friends discover they can still be friends even if they are different. Adorable with beautiful illustrations.
Nick and Nack Fly a Kite by Brandon Budzi, illustrated by Adam Record Highlights Puzzle Readers Level 1 Nick is a boy and Nack is a robot. After a windy day, they pick up sticks and use them to make a kite. But first, they need to find all the supplies. The best part of this story is that as you read, you'll get to help them find their supplies. Fun, right?
Peach and Plum Here We Come! by Tim McCanna (graphic novel) Excellent. I like how the rhyming supports the decoding of the text. In this book, two good fruit friends experience tasty adventures, such as riding bikes and going to the beach.
I Want to Be a Doctor by Laura Driscoll, illustrated by Catalina Echeverri I Can Read Level 1 A story filled with helpful information about doctors, this little boy and his family go to the hospital because his brother Jack hurt his foot. They'll learn about different doctors who can help fix Jack's foot.
What About Worms? by Ryan T. Higgins Tiger is big and brave but he's scared of worms. "Worms ruin everything ." The Worms love the apples and dirt and the books that Tiger leaves behind. They're so appreciative of his kind gifts, they rush off to give Tiger a big worm hug. Elephant and Piggie fans will laugh at this silly ending and Tiger's crazy antics.
Gran on a Fan by Kevin Bolger, illustrated by Ben Hodson What a fun easy reader book! Each page is like a cartoon with easy-to-read words and easy sentences using those words. Fantastic illustrations.
Ice Cream Soup by Ann Ingalls Penguin Level 1 A little boy makes an ice cream cake that turns into soup because of everything he adds. I like the rhyming text because it helps cue early readers.
May I Please Have a Cookie? by Jennifer Morris Level 1 Alfie really wants to eat the cookies, but his first attempts to get a cookie aren't very polite. His mom helps him figure out that he should ask nicely.
LEGO Star Wars: A New Hope by Emma Grange DK Readers 1 Read the exciting story of the original Star War (Episode IV ) movie retold using mini-figures and sets. These DK easy reader books are a favorite at my school library!
Caterpillar to Butterfly by Laura Marsh National Geographic Kids Level 1 I love the informational but simple text matching each beautiful photograph. These easy reader books are bright, colorful, and factual; perfect for any beginning reader.
Steve & Wessley in The Ice Cream Shop by J.E. Morris Scholastic Level 1 Reader Steve cannot get into that Ice Cream Shop. He pushes and pushes the door but it doesn't work. You'll laugh when you realize Steve's mistake. These simple stories are funny and perfect for beginning readers.
Jungle Animals by Camilla Gersh DK Level 1 This little nonfiction reader book packs a big punch with the perfect balance of colorful visuals (photographs) and informational text. Fantastic!
Acorn Scholastic Level 1
Princess Truly I Can Build It! by Kelly Greenawalt, illustrated by Amariah Rauscher In this positive, diverse, girl powered, STEM story, inventor Princess Truly loves to build. So when her dog Sir Noodles tells her that the animal shelter is out of treats, Princess Truly decides to invent a snack machine for the shelter.
Don't Worry, BEE Happy by Ross Burach Sure to give readers the giggles, this cute story in cartoon format is about two bees named Bumble and Bee and their grumpy frog friend and everything that happens in their day…told in short stories. From picture day to hiccups to a dance party, you'll love their unlikely friendship and entertaining antics.
Frog Meets Dog by Janee Trasler While this is not a phonics easy reader book but possibly controlled text, it's simple and cute. You'll find it reminiscent of Dick and Jane with very short sentences like, " Frogs jump. Can dog jump too? "
The Great Bunk Bed Battle ( An Acorn Book ) by Tina Kugler When fox siblings Fritz and Franny go to bed, they don't actually go to sleep. They compare which bunk bed is best and imagine adventures through a forest with a castle, a moat and a boat, a submarine, and a volcano on their beds. Simple text in speech bubbles and a relatable topic makes this a sure-fire hit with new readers.
Surf's Up (Moby Shinobi and Toby Too!) by Luke Flowers Moby the ninja and his dog go to the beach. In these short stories, they discover that no matter what they do like building a sandcastle, it's always better if they work together. Rhyming, easy-to-read text, adorable characters, and fun stories make this a popular book choice for beginning readers.
A Magic Spark by Jessica Young, illustrated by Marie Vanderbemden Readers who love magic and fairies will love these short stories about three fairies who become friends on the first day of fairy school . The new friends take a field trip to Crystal Pool to see what kind of magic they each have. After the fairies discover their special talents, they have more magic-filled adventures like baking a cake and planning a party.
Do You Like My Bike? (Hello, Hedgehog!) by Norm Feuti Not only is this written in comic panels, but the dialogue is in bubbles in colors unique to the character speaking, making this a supportive first graphic novel experience. Hedgehog can't wait to show his friend Harry his new bike. Darling stories of friendship and bike riding.
Sparkly New Friends (Unicorn and Yeti) by Heather Ayris Burnell, illustrated by Hazel Quintanilla Unicorn helps Yeti be grateful and confident about who he is and where he lives. Then Yeti helps Unicorn try new things like a snowball fight. Short stories of friendship between two mythical creatures, what could be better!?
Level 2 Easy Reader Books
Moving on to Level 2 readers or books that are a step up from level 1 readers with more sentences per page and multi-syllable words…Remember that every publishing company has different criteria for what makes a level 2 book, but these will be around the same level.
The Lost Kitten (Katie Fry, Private Eye) by Katherine Cox, illustrated by Vanessa Brantley Newton Level 2 Reader It's a good thing that Katie Fry solves mysteries because she needs to use her detective skills to help a lost kitty (whom she names Sherlock) find his home. would your readers love this darling, entertaining, and diverse book series for emergent readers?
Hi! Fy Guy by Tedd Arnold Fly and the boy meet in this first book of a super hilarious early reader books . Fly becomes the boy's pet and friend. In this story, the boy enters his fly in an amazing contest. All the books in the series are 100% entertaining!
Unlimited Squirrels in I Lost My Tooth! by Mo Willems Fans of Elephant and Piggie will recognize the familiar dialogue bubbles, quirky humor, and the many hilarious double meanings in this new, longer book about Zip Squirrel who has lost his tooth. Luckily his squirrel friends are there to help. Misunderstandings make this dramatic toothy adventure extra funny.
Even Robots Can Be Thankful! by Jan Thomas Comic-book format, you will love the lovable stories of Blue Robot and Red Robot who have big feelings like fear of robot-eating monsters and love for bolts. Together they spend time at home talking, sorting bolts, and planning for a trip.
Henry and Mudge by Cynthia Rylant, illustrations by Sucie Stevenson Level 2 Henry is lonely, so his parents allow him to get a dog. He picks a puppy named Mudge who becomes his best friend. Kids love reading the classic heartwarming easy reader books.
Reina Ramos Works it Out by Emma Otheguy, illustrated by Andres Landazabal I Can Read Level 2 Reina can't wait to be Frida Kahlo for her school's wax museum, but her friend Nora picks Frida first. Reina feels upset but works things out with Nora and chooses to be Celia Cruz instead. A story of kindness and Latinx heroes.
Kit and Kaboodle Go Camping by Michelle Portice, illustrated by Mitch Mortimer Highlights Puzzle Readers Level 2 Let's Read These two friends pack for a camping trip then set off on a hike into the forest. They play games, eat snacks, look at clouds, and set up their camp. Help them find what they need in their backpacks by searching for the hidden pictures. What a fun level 2 early reader book!
We Dig Worms! by Kevin McCloskey I love, love, love this early reader book with eye-popping illustrations and one sentence of text per page that explains something about the worm — sometimes he has kids asking questions which the worm answers. McCloskey painted on recycled grocery bags which makes for a gorgeous, earthy feeling. I can't say enough good things about this short little book!
Pass the Ball, Mo! by David A. Adler, illustrated by Sam Ricks Level 2 In a favorite early reader series about a boy who likes to try new sports, in this story, Mo is obsessed with basketball. Unfortunately, everyone on his team is taller and he's having trouble passing the ball high enough. His dad helps him practice passing higher and higher. Their practice pays off during the next basketball game.
Monkey and Elephant Get Better by Carole Lexa Schaefer, illustrated by Galia Bernstein Hooray, another early reader that doesn't stink! Clever adventures of friends, Monkey and Elephant, with bright, bold illustrations.
Guinness World Records Daring Dogs by Cari Meister I Can Read Level 2 Impressive dogs and their feats will grab animal lovers' attention and keep them reading this engaging early reader book.
Slow, Slow Sloths by Bonnie Bader Level 2 Penguin Young Reader I LOVE the photographs in this informational book for beginning readers. Your child will learn a lot while he or she is reading and viewing the photos. Highly recommended.
Scribbles and Ink Out of the Box by Ethan Long Scribbles and Ink (a cat and mouse) find that a box is a really cool thing to play with — it can become so many things (a race car, a mask, overalls). Unfortunately, the duo argue about who gets the box and the box rips in half. After working out their differences, they think of a boxtastic solution.
Emerson Is Mighty Girl! by Meredith Rusu Level 2 Reader Emerson and her WellieWisher friends are playing pretend in the garden, searching for The Wicked Wellie of the West . Emerson enthusiastically catches the Witch, but her behavior ruins their fun. She'll need to figure out how to fix things with her friends.
Fly Guy Presents Sharks by Ted Arnold (series) Visit the aquarium with Buzz and Fly Guy to learn about sharks in this terrific easy non-fiction reader. I LOVE how Arnold combines cartoons with photographs!
Ed and Ted and Ted's Dog Fred by Andy Griffiths, illustrated by Terry Denton Easy Reader Level 2 Kids will love this silly caper written in rhyme with simple words about Ed, Ted, a dog called Fred, and a whale named Ned — well done!
Mr. Putter & Tabby Drop the Ball by Cynthia Rylant and Arthur Howard (series) Would your 5- and 6- year olds enjoy this classic book? So many kids love these sweet stories about Mr. Putter and his " fine " cat named Tabby.
The Party and Other Stories (Fox and Chick) by Sergio Ruzzier Charming watercolor illustrations in comic panels accompany three stories of humorous friendship . I love how Ruzzier's artwork captures nuances of the characters' personalities. Sure to be a favorite easy reader book for 5- and 6-year-olds.
Aggie the Brave by Lori Ries, illustrated by Frank Dormer Aggie the dog who must go to the vet to get spayed, stay overnight, and heal at home. The story teaches about the process at the vet as well as what to expect – like the stitches and cone she must wear post-surgery. I love the way the little boy owner imagines that Aggie is not a cone-head but a LION.
Days with Frog and Toad by Arnold Lobel (series) Level 2 Giggle and share in the daily life of two best but very different friends. An enchanting classic and best selling favorite early reader book seriies!
Snails Are Just My Speed! by Kevin McCloskey McCloskey begins this book with interesting factual information about snails. If you're looking for a high-quality nonfiction easy reader book, this is an excellent choice.
Lunch, or WHAT'S THAT? Freckleface Strawberry by Julianne Moore, illustrated by LeUyen Pham Step Into Reading Level 2 Kids will easily relate to this book about the curious (gross, terrifying) foods served in the school cafeteria. Funny!
Level 3 Readers
Level 3 easy reader books give readers paragraphs of writing to read, sometimes two paragraphs or more on each page. Just like the other levels of early readers for kindergartners, 1st graders, and 2nd graders, the level 3 difficulty varies by the publishing company.
CeCe Loves Science: Push and Pull by Kimberly Derting and Shelli R. Johannes, illustrated by Vashti Harrison I Can Read Level 3 Cece's teacher, Miss Curie, explains to the class about the opposing forces of push and pull. She divides the class into two teams. The teams are tasked with making a dog treat dispenser using either pushing or pulling forces. Readers will appreciate the diversity, the STEM themes, and the growth mindset.
Yin-Yang Sisters and the Dragon Frightful by Nancy Tupper Ling, illustrated by Andrea Offermann Destined to fight the dragon, twins Mei and Wei each have their own ideas of how to thwart the dragon when he attacks. Nothing works until they learn to work together…and that kindness wins.
Hamster Chase by Anastasia Suen, illustrated by Allan Elzen Oh, no! Peter takes the class hamster out of the cage and it scurries away. He and his friends try to capture it but every time they get close, it escapes again. Will they ever get it back in its cage?
Ling and Ting: Not Exactly the Same by Grace Lin Six short stories about twins, Ling and Ting, show their unique personalities. From getting their hair cut or making dumplings, kids will find their daily adventures to be funny, sweet, and relatable. This diverse easy readers series is a favorite with many kindergarten and 1st-grade students.
Twinky: The Dinky Dog by Kate Klimo, illustrated by Michael Fleming A darling rhyming story about Twinky, a dog who dislikes that his owner carries him around in a purse and dresses him up. How will Twinky show his owner (and the world) that he's really a big, brave dog?
Rafi and Rosi Pirates! by Lulu Delacre Level 3, early fluent Set in Puerto Rico with Spanish words mixed into the text, tree frogs and siblings Rafi and Rosi with big imaginations . These three stories take place at Morro Fort in San Juan. The children explore and play — pretending to be pirates, finding real gold coins, and imagining a sea monster attack.
Mythical Beasts: 100 Fun Facts About Real Animals and the Myths They Inspire by Stephanie Warren Drimmer National Geographic Kids Level 3 Learn about unique real creatures like giant squids who were mistaken for mythical creatures, such as a kracken. Fascinating facts and photographs plus imaginative stories and illustrations will keep readers enthralled.
Gigi and Ojiji by Melissa Iwai Level 3 Gigi is excited to play with her grandfather Ojiisan who is visiting from Japan. Onc they meet, she feels concerned that he's too old to play tag and feels hurt that he was laughing at her. Gigi's mom helps her understand their cultural differences, and they find a way to connect.
The Outside Dog by Charlotte Pomerantz, illustrated by Jennifer Plecas Level 3 Marisol lives a quiet life with her grandfather in Puerto Rico. One day, she finds a stray dog near her house and names it Pancho. Like the other stray dogs she sees, Marisol wants to keep Pancho. However, her Grandfather worries about fleas and ticks.
Bling! 100 Fun Facts About Rocks and Gems National Geographic Kids Level 3 The writers pick interesting, readable information about rocks and gems that will fascinate readers along with the full-color photos and appealing graphic design.
More Book Lists By Age: Books for 2nd graders Books for 3rd graders Books for 4th graders Books for 5th graders Books for 6th graders Books for 7th Graders YA Books
Melissa Taylor, MA, is the creator of Imagination Soup. She's a mother, teacher, author, and freelance writer. She writes Imagination Soup and freelances for publications online and in print, including Brightly for Penguin Random House, USA Today Health, Colorado Parent, and Parenting.
Similar Posts
8 New Graphic Novels, October 2022
2018 Newbery and Caldecott Awards
25 Amazing Read Aloud Books for Grade 2
Best New Middle Grade Books Out in February 2023
Thrifty Guides (for Time Travelers) Make History Irresistible to Kids
Best Preschool Activity Books For Ages 3 – 5
Leave a reply cancel reply.
Your email address will not be published. Required fields are marked *
10 Comments
Thank you so much for putting this together and sharing it! : )
Hi, Is there a PDF of this list? I cannot seem to find it. Thanks! ellen
Here you go — https://imaginationsoup.net/wp-content/uploads/2022/05/Books-for-5-and-6-Year-Olds.pdf
I worked in a very busy children's dept. in a large diverse library. This selection of kindergarten age books are excellent. In the past nine years I've read most of the books you've listed, to the children during a storytime program or for my own enjoyment. Well done!
thank you! 🙂 And bless you for your great work with children!!
hooray, thanks!
Hi Melissa, I was really impressed to see these fabulous books for five to six years old kids. It helps to build their literacy foundations and keep them engaged with reading. I really appreciate bob books. My First Bob Books: Pre-Reading Skills are fun and simple books you read to your child. Each story contains important foundation skills as part of the plot. Inside the front cover you ll discover games to play with your child, discussion ideas and other simple ways to enjoy each story. As always, signature Bob Books quirky humour and silly illustrations mean fun for all. My best wishes for fun, joy and success as your family enter the wonderful world of reading.
My daughter and I love the Mr. Putter and Tabby series, especially the ones with their wacky neighbor. Very sweet stories; not for kids who need action-packed books, but enjoyable.
If she likes Mr. Putter, she may also like all the Henry and Mudge books by Cynthia Rylant, the same author as the Mr. Putter books. Children love series, because they get to know the characters. 🙂 Happy reading.
18 best books for 5 year olds
This is the age and the stage to show them the beautiful world around them and these books help do just that.
By Amber Guetebier Updated December 16, 2022
@KonstantinAksenov/Twenty20
We independently select and share the products we love—and may receive a commission if you choose to buy.
Five. It's a big age. For many children they are transitioning from their small preschool classroom to a bigger elementary school. They are old enough to comprehend so much more than toddlers, and yet they still have all those big feelings. Children are reading more independently, practicing vocabulary and writing letters. Reading can have a big impact on their wellbeing, and using books to facilitate that is a win-win for parents and caregivers and kids alike.
The best children's books are the perfect avenue for helping our not-so-little but not-so-big kids explore the world, expand their own imaginations, hone their critical thinking skills, and—of course—feed their love for reading. Five-year-olds are about to embark on a whole new world called kindergarten (if they haven't already) and that experience can be very exciting, or it can be very scary. But thankfully, books can offer comfort and even a chance to escape, which might be just what an overwhelmed little mind needs after a long day at school.
Related: 23 great books every toddler will adore
How do you choose the best kids books for 5 year olds?
A good book for the incoming or current kindergartener might present them with a problem to solve alongside the characters in the book. It might teach them a valuable lesson about friendship , bullying or loyalty. Or it might be an adventure-packed journey where the reader is inspired by a character who has to be very, very brave.
There is no special formula to follow for choosing the best books for 5 year olds, but this age is undoubtedly one where reading can have a tremendous impact on children's growth, school engagement, and mental health. The key is to find books that hook them in—whether they're about trucks or tiaras, human children or baby bear cubs. Fill their bookshelves with wonder, and watch them soar.
As five-year-old minds open up to a bigger world around them, this age offers a great opportunity to spark meaningful discussions about topics relevant to their expanding view. Starting school, learning about new people and places, celebrating families, understanding friendships, and having a good laugh—these books are here to help parents facilitate what will no doubt be longer talks about all of these things and more. Here are our current 18 favorite books for five-year-olds.
Related: 25+ holiday gifts to delight any 5-year-old
Best books for five-year-olds
All Are Welcome by Alexandra Penfold, illustrated by Suzanne Kaufman
Whether they are starting kindergarten this year or early next, get them pumped for school with this book that has a simple, effective message: All are welcome! The rhyming book follows a group of schoolchildren through their day, showing diverse students from all backgrounds. Modeling a classroom and a school environment that not only welcomes everyone but celebrates those differences with respect is just the kind of mindset every five-year-old can get behind. Gift this one to an early-elementary classroom teacher! 
Miguel's Community Garden by JaNay-Brown Wood, illustrated by Samara Hardy
This delightfully illustrated book takes children into the heart of a local community garden on the hunt for sunflowers. In the process, Miguel, and young readers, learn all about several other plants, including artichokes, apricots, mulberries and spinach. The book teaches children that their food comes from a garden, not just the supermarket and introduces kids to a variety of healthy foods beyond the usual. And as an added bonus, Miguel has two dads, making this book another excellent addition to a diverse library that normalizes all kinds of family structures (hooray!)
Book of Questions by Pablo Neruda, illustrated by Paloma Valdivia
Based on Pablo Neruda's original poem "The Book of Questions" this selection of 70 questions will resonate with your curious questioners. A bilingual book in both Spanish and English (English translation by Sara Lissa Paulson), children will love the unanswerable questions presented here in the great poet's absurd, magical, and mysterious words. Both an excellent introduction to Neruda and a reminder that not all things need answers. 
Frog & Toad: The Complete Collection by Arnold Lobel
At age five, friendships (best! friends!) can be a big part of the everyday vernacular, especially once school starts. Celebrate friendship and all of its ups and downs with the timeless Frog & Toad classics by Arnold Lobel. They're also very early chapter books, a segway into the world of reading longer books, and make great bedtime stories, too. 
The Not-So-Friendly Friend: How To Set Boundaries for Healthy Friendships by Christina Furnival, illustrated by Katie Dwyer
Speaking of friendships, part of discovering what friendship means is learning what isn't okay to tolerate and this early reader book is an excellent introduction to the topic. Follow one little girl as she begins to understand what boundaries are. Young kids will see a positive example of what friendship is, and what friendship shouldn't be, a first step in learning to cultivate healthy friendships. To be honest, some of us grown-ups need this book, too! 
The Name Jar by Yangsook Choi
As children enter kindergarten and early elementary years, even more than preschool, their name, and name pride become a big deal. Not only are your cubbies, backpacks, scissors, etc., all associated with your name, but children are learning all of their new friends' names, too. That makes this book by Yangsook Choi a perfectly timed read. In " The Name Jar ," we meet the new kid in school, a young girl named Unhei who has just moved from Korea. She's nervous about introducing herself on the first day because no one seems to be able to pronounce her name right. So instead, she announces to her new classmates that the following week she'll choose an "American" name from a glass jar. Her new friend and her new community encourage her to pick the truly perfect name: her own! A great book to remind children that everyone has different names, and that is a good and beautiful thing. 
Red, A Crayon's Story by Michael C. Hall
Crayons might be among a five-year-old's most important possessions, so kids this age will relate to the story immediately because it involves all of the crayons in the box. But the deeper meaning of this funny, sweet story will not be lost on them, either. 
What happens when you just aren't the thing everyone says you are? This is the case for Red, a crayon who cannot seem to color anything "right" because everything Red colors is blue. Even though his teacher and parents all try to help him, he just can't get the color right, until one day a new friend offers a brand new point of view. 
Bindiya in India written by Monique Kamaria Chheda, MD, Illustrated by Debasmita Dasgupta
A winner of numerous awards and honors for both the words and illustrations, celebrate Indian culture with this book that follows Bindiya, a young Indian American girl, who travels to India for a traditional Indian wedding. Using Hindi and English, explore 1990s India with the family. One glance at the artwork for this book and you'll see exactly why it's gotten so many accolades. A truly joyous book.  
The Berenstain Bears and Truth by Stan and Jan Berenstain
A great lesson for kids of this age, in this classic Berenstain Bears book we find Brother and Sister Bear having broken a lamp and then lying about it. When they are found out, they learn a valuable lesson that breaking trust is worse than breaking a lamp. This book invites discussions about telling the truth even when you are worried you'll get in trouble. This one will resonate with younger readers, too. 
The Proudest Blue: A Story of Hijab and Family by Ibtihaj Muhammad and S. K. Ali, illustrated by Hatem Aly
" The Proudest Blue" tells the story of two sisters on the first day of school. Faizah is excited for a new school year to start, and her sister Asiya is not only having her first day of school, but it's also Asiya's first day of hijab. That means she'll be wearing a beautiful new blue hijab to school, one Faizah admires. But unfortunately, wearing the hijab is met with hurtful words and misunderstanding. Luckily, this leads the sisters to remember to be proud of exactly who they are. Muslim children will love seeing themselves represented in this gorgeously illustrated book, and non-Muslim children will gain knowledge and understanding of what the hijab represents and why it's important to be open and kind.
Islandborn by Junot Díaz, illustrated by Leo Espinosa
Another great story for young kids starting school , Pulitzer Prize winner Junot Díaz brings a story of immigration, memory, and the magic of place. For Lola, her school is full of children from other places. Lola's teacher asks her to draw a picture of the place she is from, but the trouble is, Lola doesn't remember. She was just a baby when she and her family left The Island. And Lola is heartbroken when she is the only one who seems to not know what to draw. But together with the help of her abuela's wisdom, Lola learns that even if you don't remember a place, it is still part of you. Leo Espinosa's drawings made this a 2019 Pura Belpré Honor Book for Illustration.
Maddi's Fridge by Lois Brandt, illustrated by Vin Vogel
With warmth and relatability, this book introduces children to the idea of poverty, raising awareness that not all children have adequate food and face food insecurity every day. An important topic as children share more lunches together, best friends Sofia and Maddi go to the same school and live in the same part of town. But, as young readers will see, while Sofia has a stocked refrigerator, the fridge at Maddi's house is empty. Sofia promises to not tell anyone because Maddi is ashamed, but Sofia wants to help her. The book includes a call-to-action section for kids to help others. 
Meeting Mimi: A Story About Different Abilities by Francie Dolan, illustrated by Wendy Leach
Join Mimi and her classmates as they learn about Mimi's disability in clear language that teaches children an inclusive vocabulary. Kids will relate to the classroom setting, the feeling of being the new kid, and what it means to appreciate one another's diverse and different abilities. Children with a disability will love seeing themselves represented in a positive book that aims to educate children, teachers, and adults alike. The book includes vocabulary, reading tips and post-reading activities. And at just $4, consider purchasing one for your school library, too. 
Fry Bread: A Native American Family Story by Kevin Noble Maillard, illustrated by Juana Martinez-Neal
In a book that reads like poetry, author Kevin Noble Malliard tells children the story of fry bread, a food that Native American communities from coast to coast identify with. Because fry bread is more than just something delicious to eat, it is a symbol of community, identity, memory, time, family and nation. This book received numerous awards including winning both the 2020 Robert F. Sibert Informational Book Medal and the 2020 American Indian Youth Literature Picture Book Honor. Read it, and you'll see, and feel, exactly why.  
What Makes A Family? Paperback by Hannah Bruner, illustrated by Sandie Sonke
As children begin to experience more of the world outside their home and immediate family, they start to see unfamiliar things. This might be food, the way another family plays a game, how many siblings there are in one family vs. their own. Give them a foundation of understanding and appreciation for all kinds of family units by using this book as a conversation starter. In it, we meet families that look very different but all have a common thread: love! Foster families, blended families, families with two moms, or two dads, all are represented here.
Nothing Stays the Same, but That's Okay: A Book to Read When Everything (or Anything) Changes by Sara Olsher
We all want to raise resilient children but that doesn't mean we know exactly how to do that. Sara Olsher has written numerous children's books aimed at helping families thrive through difficult times, whether that's divorce, cancer, or another major upset. In Nothing Stays the Same, she reaches out to children going through a broad array of changes: a new house, a new sibling, a parent who leaves, a new school…and using clear, relatable language and bright illustrations, she arms them with the knowledge they need to know everything will be okay. Read this together to help reassure your children that it's okay to feel scared and anxious when there are big changes, whether that's a new school or a pandemic closure or anything else.
Dragons Love Tacos by Adam Rubin, illustrated by Daniel Salmieri
This hilarious story by the dynamic Rubin-Salmieri duo is one of those books that's just silly and really fun to read out loud together. It's also a great one for them to practice reading on repeat. Find out what happens when dragons eat tacos with spicy salsa (spoiler alert: things burn.)
What Should Danny Do?
Danny and his "Power to Choose" series is a hit with little kids for several reasons. First of all, this is a choose your own adventure style book, which means your little reader gets to decide how the story goes. Secondly, his predicaments (through which he tries to make good choices, but doesn't always) are relatable—having to share with an annoying little brother, having to do chores he doesn't want to do, etc. And, if your child loves "What Should Danny Do?" as we think they will, try out the other books in this series too and help Danny make good choices in school, on vacation, and meet Darla, who uses her power to choose as well!
A version of this article was originally published May 25, 2022. It has been updated.
Posted on July 18, 2017 by: Beth 2 Comments
5 Best Free Kids Books for 9-12 Year Olds
Filed Under: Fun Things for Kids , Summer Reading 2 Comments

Looking for summer reading ideas for your tweenager? These popular books will get them hooked on reading this summer. The best part? They are FREE to download on Amazon!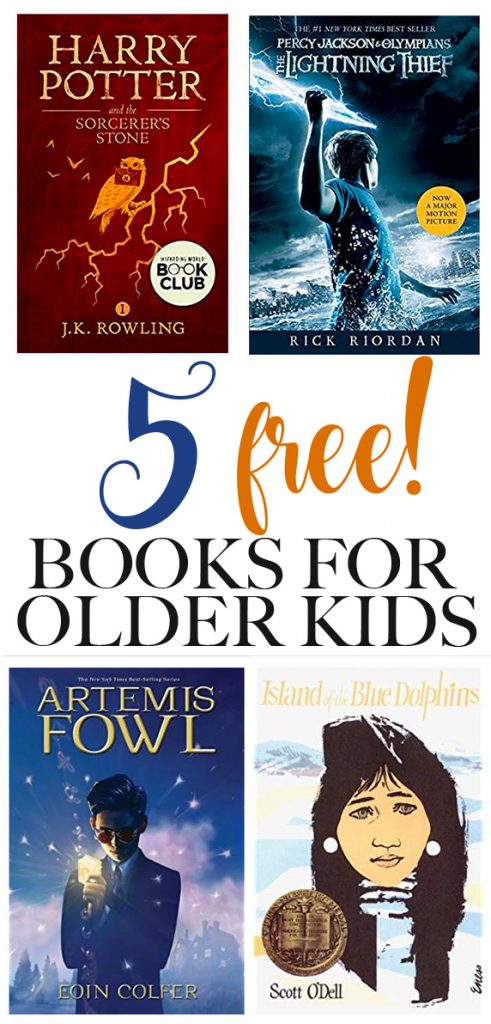 We are coming into the last lazy days of summer before school starts back which means I'm hearing a lot of "Moooom… I'm BORED." from my 9 year old son.
He is exhausted when he gets home from summer camp and just wants to veg out on the couch, so I let him do just that most nights. The Kindle app on the iPad has been a lifesaver because it's a way to keep him occupied that doesn't include mindless hours of playing Roblox or watching tv.
Thankfully he is an avid reader, so I started searching for really good books to keep him occupied. I stumbled upon a treasure trove of free kids books offered by Amazon Prime, so I thought I would share them with you guys in case you're searching for free books, too! A little disclaimer: This post contains affiliate links.
You'll need Amazon Prime along with the FREE Kindle Reading App to read these books, but both of those are totally worth having if you don't already!
Here are my top five book recommendations from the many that I saw:
Harry Potter and the Sorcerer's Stone
We listened to the entire Harry Potter series on Audible during our commute last school year, and it was the greatest way to spend time stuck in traffic. Most days he was begging me to slow down so he could listen longer. I have to confess that I had never picked up a single book in the Harry Potter series until I started listening with my son, but I'm so very glad that I did. I was instantly hooked.
There is a reason Harry Potter books are the bestselling books of our time. If you have not read them with your kids or grandkids yet, DO. The Sorcerer's Stone is the first book in the series, and it's completely free on Amazon.
CLICK HERE TO DOWNLOAD HARRY POTTER FOR FREE
The Lightning Thief, Percy Jackson and the Olympians
I have heard so many great reviews about this book so I decided to buy the Audible version for our car. We are not all the way through it yet, but so far it's been highly entertaining for both of us. Garrett is getting a thorough lesson on all the Greek gods and mythology and doesn't even realize he's learning because it's so entertaining.
This is also the first book in the Percy Jackson series, so if we like this one we still have plenty more to read after this. It's might be a little bit mature for a 9 year old, but that depends on your kid. Read the reviews and you decide .
CLICK HERE TO DOWNLOAD THE LIGHTING THIEF FOR FREE
Artemis Fowl
He is a 12 year old criminal mastermind who takes on the challenge to steal some fairy's gold. This book is exciting and witty, and will keep your kids entertained for hours. Plenty of action and adventure. There are a few mature themes mentioned like cigar smoking and drinking, but think of them as a teachable moment.
CLICK HERE TO DOWNLOAD ARTEMIS FOWL FOR FREE
Diary of a Wimpy Kid
This book made my son and I both LOL for real a few times when we read it together. This entire series is definitely a must-read if you haven't already checked it out. We are big Wimpy Kid fans at our house!
CLICK HERE TO DOWNLOAD DIARY OF A WIMPY KID FOR FREE
Island of the Blue Dolphins
I remember reading this book as a child and being captivated by this brave girl. The scene where she clings to a cliff face to survive a tsunami is still vivid in my mind. If your kid likes survival stories as much as mine does, this one is a great read.
CLICK HERE TO DOWNLOAD ISLAND OF THE BLUE DOLPHINS FOR FREE
What are your older kids or grandkids reading right now? I'd love to hear in the comments!
Click here to try Amazon Prime 30-Day Free Trial Join Amazon Kindle Unlimited 30-Day Free Trial
Want to browse all the free Children's books that Amazon Prime offers? There are lots more. Here ya go! BROWSE ALL FREE CHILDREN'S BOOKS HERE
If you like this post, don't miss 7 Free or Cheap Ways to Read Books this Summer: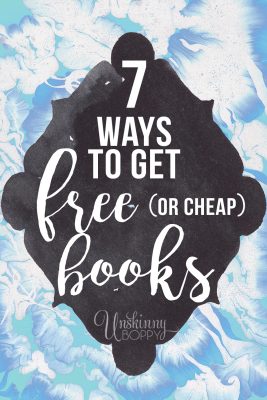 This post contains affiliate links.
July 18, 2017 at 11:49 am
Hi Beth! I also have a 9 year old and we listen to audio books in the car. I just checked out "Island of the Blue Dolphins" out from BPL on Overdrive. We recently listened to "The Cay" and she was absolutely wrapped up in it, speaking of survival stories. Also, for a change of pace, we listened to "The Terrible Two," a story about some kid pranksters in a small town. It was funny and not mature subject matter. We're currently listening to "The Best Man" by Richard Peck, which is a story about a kid in a Chicago suburb. It is probably too mature of content for age 9 but she's really enjoying it – read a review before downloading. We listened to "Fortunately, the Milk" by Neil Gaiman and it was almost the perfect length for a drive between Birmingham and Atlanta. We've done the first Harry Potter book and will dive into the next one soon.
July 19, 2017 at 12:43 pm
Great post! It looks like your Blue Dolphin link isn't working. Thanks for sharing!
Leave a Reply Cancel reply
Your email address will not be published. Required fields are marked *
Save my name, email, and website in this browser for the next time I comment.
Search the blog…
Follow me on….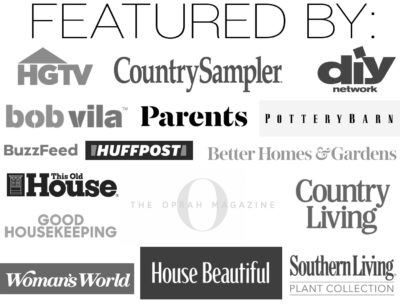 bethbryandesigns