Resume Templates
Resume Examples
How to Write a Resume
Resume Format
Resume Packs
Cover Letter Templates
Cover Letter Examples
How To Write a Cover Letter
CV Templates
CV Examples
Resume Help
Cover Letter Help
Job Interview
Career Advice
A Compelling Cover Letter Example for Engineering Roles
Your resume is obviously the detailed summary of all of your engineering skills, projects, and accomplishments. If you have crafted a well-written, compelling resume, it will certainly deserve a good look from HR managers or recruiters.
To get that good look, however, you will need an equally as compelling cover letter that will persuade the reviewer to move on to your resume.
Your cover letter should provide highlights of your technical skills, as well as your major achievements, and even soft skills (e.g., leadership, interpersonal relationships), and even your education if you have earned degrees from well-known universities.
Some Key Tips For Crafting an Engineering Cover Letter
As you think about what to include in your cover letter, here are a few tips that should help.
Highlight your niche-related skills . And you might consider using bullet points to point out those that directly relate to the position opening. This will allow a reader to quickly see that you meet the skill set requirements. And be specific here, instead of listing just the basic categories e.g. databases.  Instead, go broader and provide a quick self-assessment of your proficiency. For example:
Programming:
            Proficient: Java, C#, C++, HTML, CSS SQL, Matlab.             Familiar with: MongoDB, Hadoop, Haskel, Perl.
Keywords are not just for digital scanning of resumes. They are important for cover letters too, especially if you are speaking to skills and accomplishments. Using such words as launched, directed, structured, trained, solved, and lead can be used to introduce experience and accomplishments in your bullet points. These are "power" words that grab attention and position you as a strong candidate.
Format of the cover letter. Use professional formal language, and think introduction, body, and conclusion.
Your introduction should include such things as the job title for which you are applying, a statement that you hold the necessary qualifications and expertise, and perhaps make a complimentary comment about the company as one reason you want to apply.
Your body should not be longer than two relatively short paragraphs. Here you want to speak to your achievements, any major projects, and technical skills. You can use bullet points to list these things. If you are an entry-level candidate without job experience, highlight such things as skills acquired during an internship, relevant coursework and other education details.
The conclusion is brief but very important. The best way to close a cover letter is by including a "call to action" – a persuasive statement encouraging the reader to take further action.
"I look forward to receiving an update from you concerning my application as I strongly believe that my skills and past experience can bring massive value to your company."
Use simple, straightforward language in a standard font. Too "creative" fonts are harder to read and may not be properly rendered by the recipient's email software. However, this doesn't mean that you should file a "plain" letter just like anyone else. Using a professionally designed cover letter template can make a huge difference – your application instantly commands more attention when you file a matching cover letter/resume. See for yourself here .
Be certain to proofread it carefully . Most of your cover letter is in prose, not like your resume, and both sentence structure and punctuation are important. If you have any concerns about grammar or punctuation, run your copy through a tool like Grammarly (affiliate link) or ask a friend to proofread it.
Finally, here's what you came for! Below is a sample cover letter for an engineering position. Obviously, you will want to tweak it to fit the specifics of the position and your unique skills and qualifications.
Cover Letter for Engineering (Word version)
Download cover letter (.docx)
Cover Letter Example for Engineering Positions (text version)
Dear Mr. Schwartz,
In reference to your posting on Monster.com, requesting applications for an Electrical Engineer, I am attaching my resume for your review.
With 7 years of experience in the field, I possess the exact skill sets which are listed as requirements and specification in your posting:
Profound knowledge in inter-module communications protocols like SM bus and I2C.
5-year experience in launching consumer electronic products to the market (at Siemens).
Deep familiarity with embedded software development tools and best practices: C# and C++; Keil & Reid 7 compilers; Visual Studio Code; Eclipse and other tools.
I believe I am a solid fit for your opening and am ready to meet the challenges of the position, bringing value to your organization.
Previous work experience, for two major electrical engineering firms, have resulted in a high level of expertise in the design and maintenance of electrical instruments for industrial use. In one instance, I designed an improvement for an existing instrument which has become a permanent enhancement to that piece and received an annual recognition award for my work.
I am available for an interview at your convenience and would welcome the opportunity to discuss my experience and qualifications further as they relate to your needs.
I may be contacted as indicated above and look forward to hearing from you soon.
James R. Sherman
Attachment: Resume
Final Thoughts
As you can see this letter clearly communicates the candidate's tech skill set and experience and lists some solid achievements and "bragging" rights. It delivers that "hook" and entices the reader to go on and open up that attached resume to learn more about the candidate's experience.
Also, it includes a clear call-to-action, showing that the candidate is confident and motivated to pursue the announced position. It's a short and sweet example you can customize based on your work history.
Elena runs content operations at Freesumes since 2017. She works closely with copywriters, designers, and invited career experts to ensure that all content meets our highest editorial standards. Up to date, she wrote over 200 career-related pieces around resume writing, career advice... more
you might also like
Compelling Cover Letter For Research Internship: Example & Tips
Veterinarian Assistant Cover Letter Example & Writing Tips
Successful Store Manager Cover Letter Example (with Tips)
Construction Project Manager Cover Letter Example
Amazing Assistant Principal Cover Letter Example
This is such an amazing site helping many people with such great services and assistance. Fully satisfied with it. Thank You.
So glad to hear that Nishi, your feedback is much appreciated!
Thanks a lot for your assistance
Leave a Response Cancel reply
How to Write a Software Engineer Cover Letter w/ Sample Template & Tips
Don't neglect your software engineer cover letter! Here's how to write one right, including a tips and a sample cover letter you can copy.
Ah, the cover letter for software engineer jobs .
Unfortunately, these documents remain a crucial part of any development team job application — especially if you're applying for remote jobs.
Along with your software developer resume , a cover letter provides space for you to tell the recruiter a little more about yourself: not just about your technical skills and engineering team experience, but also about how you will contribute to the company. If used right, your cover letter should be able to show some of your true self and your personality — something a resume really can't do.
For developers, writing a cover letter can be a challenge, especially as the work you do can be quite technical. How do you describe your duties and responsibilities to a non-technical hiring manager or recruiter in a compelling, understandable way? And, at the same time, how to still showcase your technical skills for any engineering leads or CTOs who might pick up your cover letter next?
Don't you worry! We'll break down what to include in a cover letter for a software developer, as well as some tips and advice for how to stand out among the sea of developer candidates you're competing against.
But, before we get to the step-by-step guide, have a look just below for our example cover letter for software developers — a little extra inspiration to get you started!
Sample Software Engineer Cover Letter (for Reference)
Here is a cover letter example for software development jobs. Feel free to copy and use as you wish, but make sure you tailor the content for each company to which you apply!
How to Write a Software Engineer Cover Letter
Software development, and IT jobs generally, are pretty technical in nature. You'd probably rather write code than write a resume cover letter!
But, luckily, the best cover letters are relatively short and sweet. Stick to three to four paragraphs and focus on explaining how your past experience is going to help the new company succeed.
These days, most cover letters are sent in the email body as text, rather than as a separate attachment. Include the job that you're applying for as the subject line of the letter and email to make it clear to the recruiter what your intent is. And, don't forget to attach your resume to the email, too.
Here's a quick guide on how to write a cover letter for a job in software engineering:
1. Before you begin writing…
Don't just start writing, even with the help of our software engineer cover letter sample above.
First, you need to get the original job description out and open in front of you. Keep it there as a reference to help you write your cover letter in a way that is tailored to this specific job.
Next, research the company a bit, what they do in general, projects they've done in the past, and where they hope to be heading in the future. This will help you further customize your cover letter for this particular software engineer job position.
Finally, remember what the cover letter is for. It's not meant to repeat the information that already exists in your resume — that'll just waste both your time and theirs. Instead, use your software engineering cover letter to highlight particular accomplishments in more detail and/or to speak about any items you might have left off.
Read More : 8 Best Resume Makers for Software Engineers in 2022
2. The cover letter header
Include your contact information first, at the very top of the page. For your personal information details, you can follow the standard business letter formatting (like in our cover letter example above), or you can use the same template as your resume to deliver a cohesive package.
Start by listing your name, branding statement or title, address, and one or two other important details, like your GitHub, StackOverflow, or LinkedIn profile. You don't need to include everything, as your resume has more of this same information.
After your contact information, leave a line break and add today's date. Follow that with another line break and then include the addressee's details. These are, line by line: the person's name, their title, the company name, and the company's address.
3. Salutations & the introductory paragraph
After the heading of the cover letter, open the written portion with a salutation. Use "Dear Jeremy:" if you can find a name, and do try to find their name! This is much more compelling than other generic options (e.g., "To whom it may concern:").
Now, use the introduction paragraph in your software engineering cover letter draft to accomplish a few things:
Draw the reader in and make them want to continue reading and learning more about you.
Introduce yourself as a candidate, and explain why you are writing to them.
Answer to yourself: What about this particular job compelled me to apply?
Read More : How to Build a Software Engineer Portfolio Website to Showcase Your Projects
4. The body of software engineering cover Letters
The body portion of your cover letter for software engineering positions should give them some career highlights.
What makes you an outstanding candidate for this position?
What qualifications do you have that meet or exceed their expectations?
What are some related accomplishments you can share to prove you have what it takes?
Use numbers (e.g., percentages, dollar amounts) to make those achievements stand out!
Share an engineering project you've worked on and how you went about it. Help the reader understand why you'd make a great engineer at their company by connecting your previous experience and achievements back with their software engineering job description.
5. Ending the cover letter
End your cover letter by thanking the recruiter for their consideration. Ask them to reach out to you with questions and next steps.
To wrap it up, leave a "Sincerely," and your full name. That's all there is to it!
Read More : 5 Great Ways to Get Your Profile Noticed as a Software Engineer
Top Software Engineer Cover Letter Tips to Remember
As you can see from the software developer cover letter example and guide above, it's all pretty straightforward.
There are, however, a few best practices that can make your cover letter really pop.
1. Don't repeat your software engineering resume
We said this before, and we'll say it again — don't repeat your resume!
Virtually every job seeker experiences some confusion over what should go in a cover letter vs resume. A resume skills section outlines most of the reasons why you're qualified to do the job: what more is there to say, right?
Ideally, a resume should be one to two pages. The goal of a resume is to get you to the next stage of the hiring process: not tell your entire life story. However, your software engineering cover letter offers extra space to talk about particular experience or accomplishments outside of the resume layout related to this job.
2. Use keywords to give them what they're looking for
Sprinkle in a few keywords found in the job description throughout your cover letter. When the job description specifically mentions Python and has no mention of Java, you might want to do the same! Also, address the hiring manager directly, if possible, and use the company's name in your cover letter, as well.
Read More : Developer Job Boards: 15+ Best Job Sites for Software Engineers
3. Prove you actually did what you say you did
Quantify your results as much as possible. Instead of writing "On my last project, I led a small team of developers to overhaul the website's database," write something like "On my last project, I led a team of 5 developers to overhaul the website's database, which led to a 25% increase in site speed and a 10% reduction in bounced visits."
As you can see, numbers sound impressive! They prove you did a particularly good job, rather than just saying that the job was one of your responsibilities. It's similar to software developer skill assessments; hiring managers always hear candidates say they have a certain skill or experience, but skills assessment tests — and numbered achievements on a cover letter — verify that fact to them.
4. Do your research
Show them you did your homework on the company, meaning you know what they do, their obstacles and opportunities, and who they are. Then, tie this information in with who you are. Explain how their goals and yours align, how you're the best possible candidate to solve their current problems, and why you'd simply be the greatest software engineer they've ever set eyes on.
5. Don't neglect your soft skills
Lastly, don't forget to highlight your soft skills , too. These often get lost in a standard resume layout; but, soft skills are crucial, especially for senior software developers who will be taking on more management responsibilities. These include time management, great communication, quick thinking, problem solving skills, and adaptability, among others.
Read More : Common Interview Questions for Software Engineering Jobs
That's all for our post today, and we hope you now understand how to write a cover letter for software engineer jobs efficiently and effectively!
If you have any questions about writing software developer cover letters or have further tips or stories to share about software engineering cover letters, we'd love to hear them. Leave us a comment below, and we'll get back to you shortly. Thanks for reading, and we wish you the best of luck!
Christian Eilers
HR & Career Expert
Christian Eilers is a career expert specializing in resumes, cover letters, the employment process, and life on the job. At Arc, Christian enjoys helping software engineers and developers find amazing work opportunities through the Arc platform and blog. He's been featured as an expert on HR and talent acquisition in publications such as Business Insider, Upskilled, Databox, and HR Technologist. A native of New York City, Christian currently lives in and works from Kyiv, Ukraine.
Join the discussion Cancel reply
Save my name, email, and website in this browser for the next time I comment.
Further reading
How to Build a Powerful Web Developer Portfolio (With Examples!)
How to Build a Software Engineer Portfolio (With Examples & Tips)
10+ Important LinkedIn Best Practices for Remote Software Developers
How To Write a Full Stack Developer Resume (Step-by-Step With Tips)
10 Hard and Soft Skills to Put On a Resume for Software Developer Jobs
What to Include on a Resume for Software Developer Jobs (w/ Examples!)
Professional Electrical Engineering Cover Letter Example for 2023
Read for inspiration or use it as a base to improve your own Electrical Engineering cover letter. Just replace personal information, company application data and achievements with your own.
Have an electrical engineering cover letter that tells your story
According to some experts, finding exciting job adverts is one of the most challenging problems job-seekers need to deal with.
But according to our own research, conveying your enthusiasm to a one-page cover letter might prove to be even more challenging.
After all, you don't want a bland and boring cover letter to represent you, we get it.
But how can you make a strong first impression in just a few lines?
Below, you'll find the best Electrical Engineering cover letter tips and examples that will help you find out.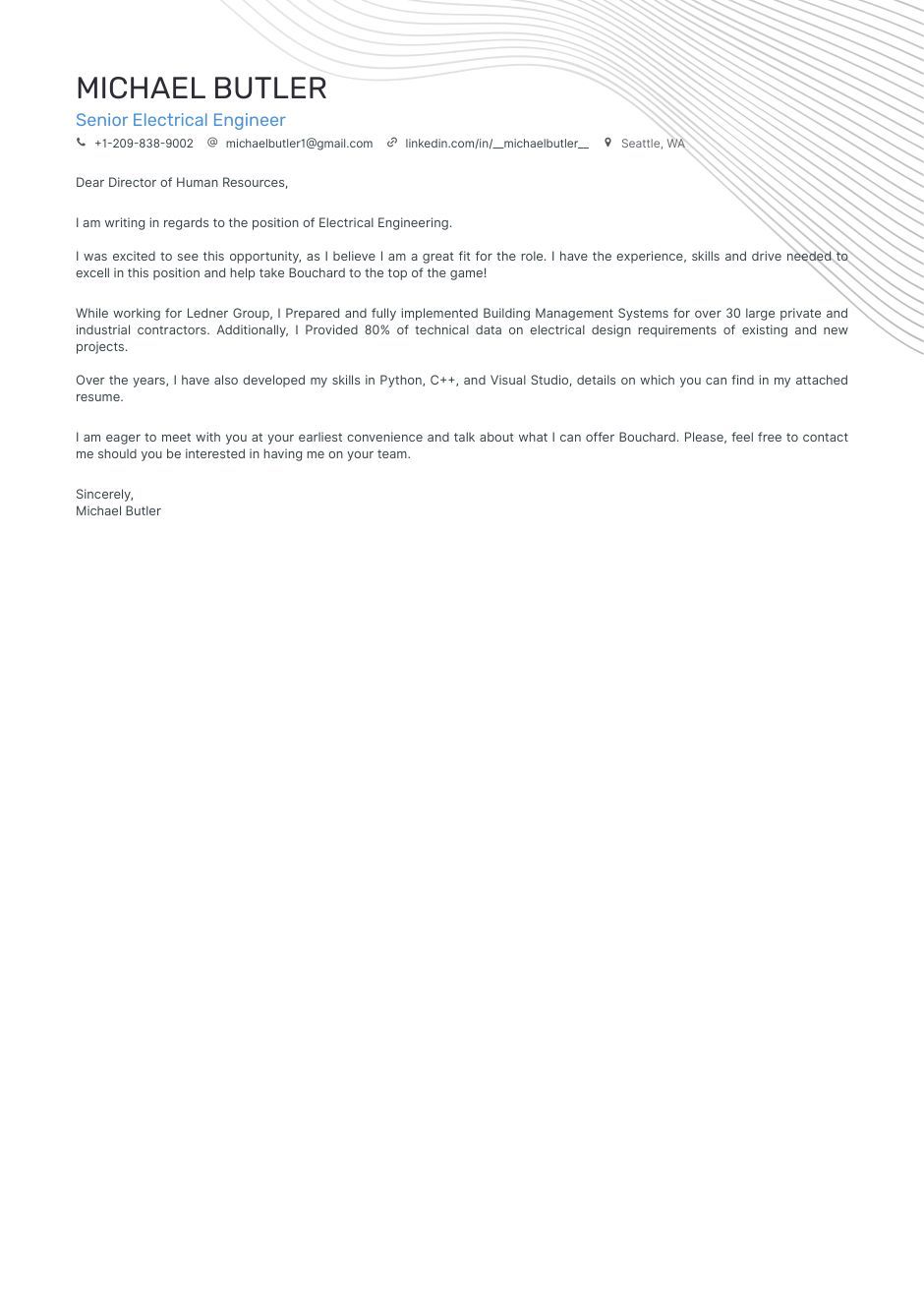 First off, you need to remember that a cover letter should build upon the information in your resume, rather than just repeat it.
Second, make sure that the tone of voice you use matches the company culture.
And last but not least, try to convey your enthusiasm for the position and the field. This will give your text a personal touch.
But how can you make your cover letter grab every hiring manager's attention? Let's see…
Choose the right salutation and craft a strong introduction
We advise you to address the cover letter directly to the person responsible for the recruitment process. If you don't know their name, take some time to research it.
This will show that you're attentive to detail and are willing to go the extra mile when necessary.
Here's a list of salutations you can never go wrong with. Note that some of them can be used even if you don't know who the hiring manager is.
Dear Hiring Manager,
Dear Head of [team you're applying for],
Dear [company name] Recruiter,
Dear Alex Johnson
The introduction of your cover letter is the first thing the hiring manager will read. Logically, having a strong introduction is your chance of getting their attention.
In order to do that, you need to get creative. Don't just do what everyone else's been doing for years, i.e. writing "I found this job opening on that website and decided to apply".
Rather, show that you are genuinely excited about the position and the company. You could do that by mentioning your love for the industry or what you can bring to the table.
Don't skip on your Electrical Engineering soft and hard skills
When it comes to listing skills on a cover letter, there's only one thing that could be said about it – do it in a well thought out way!
We mean, don't just plainly list all your skills on your cover letter. Instead, link them to achievements and goals. Share how your expertise can add value to the team. Maybe even tell a personal story. It's up to you.
Just make sure to include both soft and hard skills – especially the ones listed in the requirements section of the job advert. This will help you pass applicant tracking systems that screen documents for certain keywords.
Prove that you've researched the company and are aware of industry problems
How can you prove your excitement about the company? By showing that you've taken the time to research its issues, goals, and plans. You can also link them to your skills and experience if you want to show that you're really a strong candidate.
In addition to making a great impression, researching the company will help you find out if you really want to be part of this team or not. After all, interviewing is a two-way process.
End with a call to action
Ending your Electrical Engineering cover letter in a suitable way can help you land an interview. Why? Because strong endings portray applicants as considerate and, what's even more important – passionate about the job.
Just make sure that your ending (just like your cover letter's body) matches the company culture. If you prefer to be on the safe side, go for traditional closing lines such as "Looking forward to hearing from you".
Cover letter examples by industry
Systems Engineer
Civil Engineer
Mechanical Engineer
Engineering Intern
Entry Level Engineering
Engineering
Engineering Manager
Mechanical Design Engineer
Biomedical Engineer
Product Engineer
Manufacturing Engineer
Process Engineer
Chemical Engineer
Industrial Engineer
Research Assistant
Entry Level Civil Engineer
Entry Level Mechanical Engineer
Cover letters helped people get noticed
Updated for today's recruitment standards
Worried your cover letter design is past the expiration date? We'll help you craft a new one that leaves an impression and beats luck.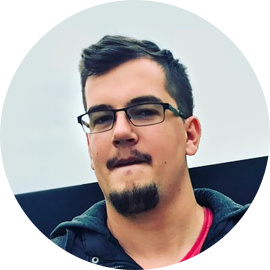 Daniel Pietersen
Senior customer support engineer.
" Enhancv gave me a sense of relief and a feeling of confidence when passing it along to a potential employer. "
Daniel Pietersen on using Enhancv
Check out more winning cover letter examples for inspiration
Learn from people who have succeeded in their job hunt.
Telemarketing Cover Letter
Call Center Representative Cover Letter
School Bus Driver Cover Letter
Coaching Cover Letter
Federal Cover Letter
Medical Assistant Cover Letter
Pilot Cover Letter
Academic Cover Letter
Program Manager Cover Letter
Food Service Cover Letter
Audit Manager Cover Letter
Marketing Assistant Cover Letter
Pair your cover letter with an equally good Electrical Engineering resume
If you want to leave a long-lasting impression, pair your cover letter with an equally good resume.
Check out our Electrical Engineering resume examples or hire an expert to help you .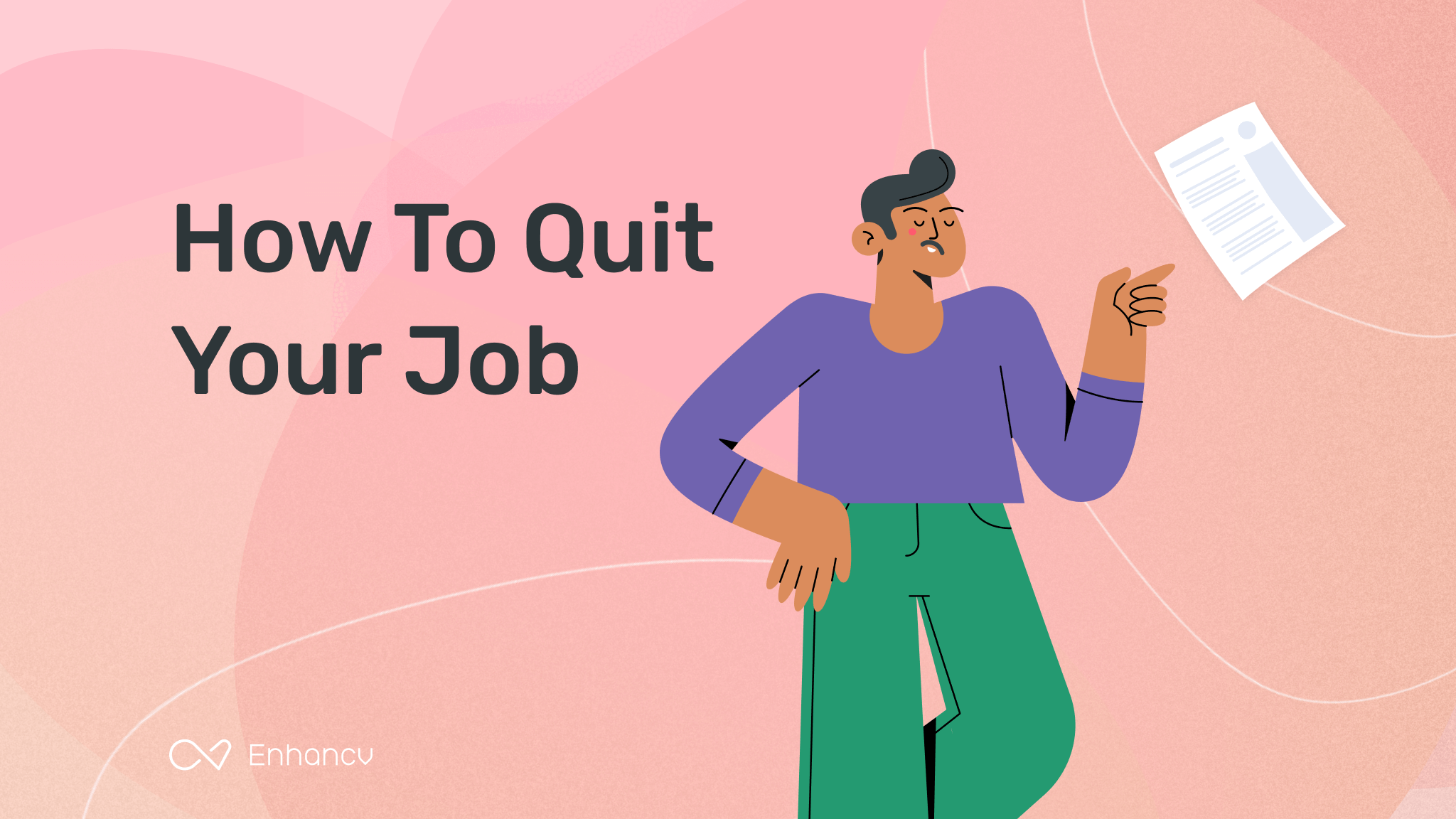 A Guide to Leaving Your Job on Your Terms

How, When, and Why You Can Use a Two-Page Resume?

How to Film a Video Resume

Changing Job Title On Resume

How Do You End A Resume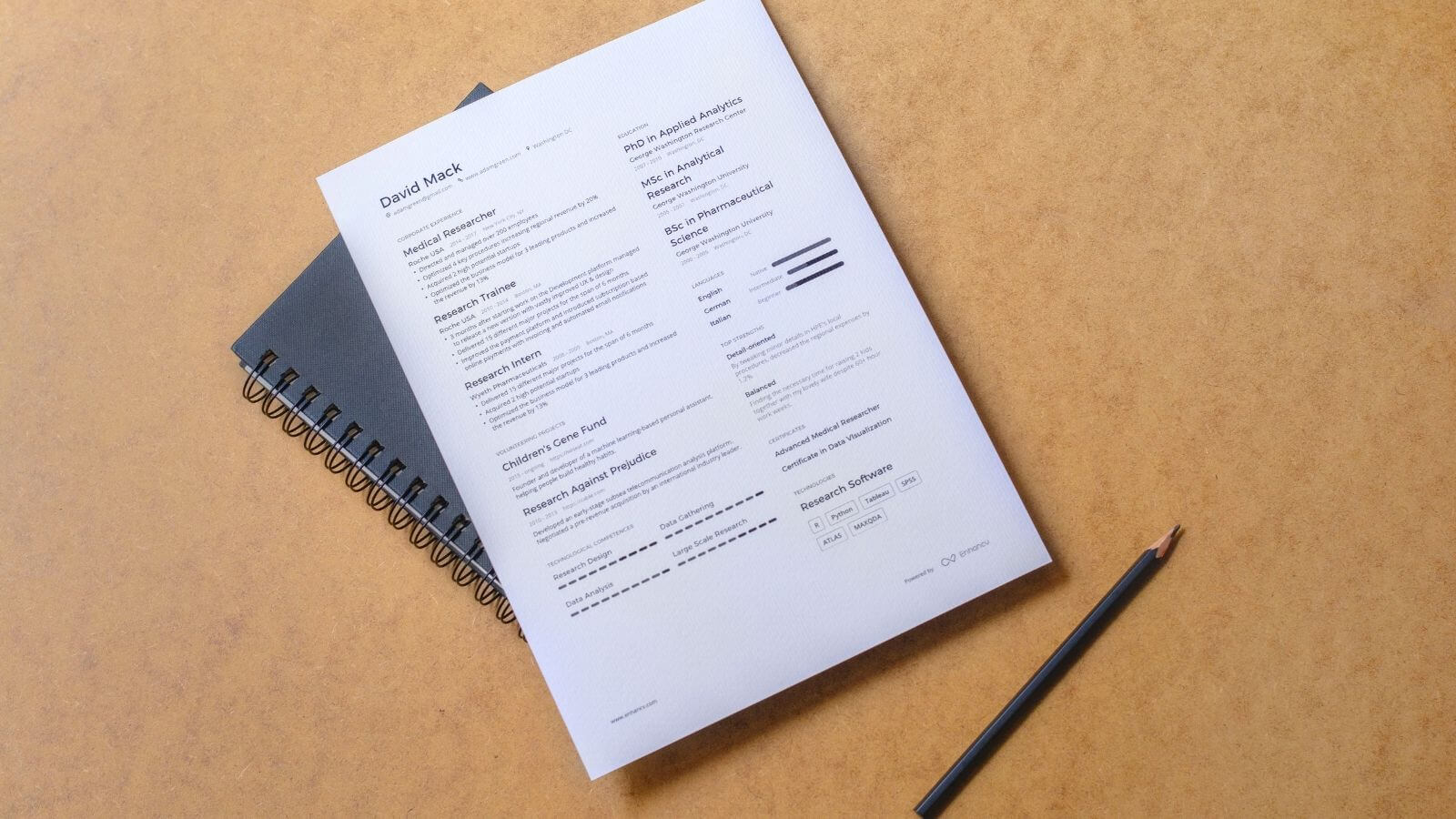 Targeted Resume: 3-Step Process to Win Any Recruiter Over
Create Resume
Terms of Service
Privacy Policy
HTML Sitemap
Resume Examples
Resume Templates
Resume Formats
Resume Checker
Resume Skills
How to Write a Resume
Modern Resume Templates
Simple Resume Templates
CV Examples
CV Templates
How to Write a CV
Cover Letter Builder
Cover Letter Examples
Cover Letter Templates
Cover Letter Formats
How to Write a Cover Letter
Resume Guides
Cover Letter Guides
Job Interview Guides
Job Interview Questions
Career Resources
Meet our customers
Career resources
French (FR)
Swedish (SE)
© 2023 . All rights reserved.
Made with love by people who care.
CVs and covering letters: convince engineering recruiters you're perfect for their graduate job
Use our engineering CV and covering letter examples and our advice to help you fine tune your own CVs and covering letters.
Use active verbs in your CV to reflect what you would bring to the job and what you can do already: eg designed, developed, devised, analysed, optimised, solved, supervised, presented.
A CV should be no more than two pages of A4, and a covering letter just one page – but how do you fit in all the information you've been collecting? By researching the skills sought by the employers you're targeting and then matching your experience to these. Our sample CV and covering letter are annotated to show you how.
Annotated template engineering graduate CV
Annotated template engineering graduate cover letter
The golden rules for engineering CVs
Tailor your CV to each employer. Keep a master copy and tweak it for each application.
Make sure your CV is easy to read: choose a clear font in a reasonable size, word your headings clearly and consider using bullet points to break up the text.
Use a skills-focused or chronological format for your CV, depending on what sells you best.
The most common CV format is the reverse-chronological CV, which focuses primarily on work history and education. If you follow this approach, make sure the chronology is clear and there are no major time gaps to confuse or worry employers.
Do graduate engineering CVs need personal statements?
Many students start with a brief personal statement outlining their abilities and aspirations. 'I would encourage every graduate engineer to include a short profile in their CV,' says Nims Mepani, the graduate recruitment and programme manager at Bechtel. 'Your profile should show your motivations for applying and why you would be a good fit with the company.'
Be specific and keep it relevant to the engineering job in question. It's a waste of space to say 'Student with great teamworking skills seeks challenging job.' Far better to say 'Final-year mechanical engineering student with particular interest in aerodynamics seeks graduate role in the defence industry.'
Educational history – how much detail do engineering companies want?
Your educational history from your university years should include your predicted or actual degree class, information on group projects and your dissertation, any modules relevant to the job, and relevant academic awards. Engineering employers don't need to know the specifics of modules that don't relate to them.
Include your A level (or equivalent) subjects and grades. Give GCSE/standard grade results, but don't waste space listing each one individually.
Top tip If you have studied for a general engineering degree, remember to list the modules you have taken that are most relevant to the role you are applying to.
Engineering work experience
Outline engineering work experience in you CV, judging how much detail to give by how closely it relates to the specific job you are applying to. Nims recommends: 'Start by summarising the main things you did during your work experience. Then identify your key achievements. How did you help the business? What did you learn from it? What skills did you develop?' Explain how these skills can be transferred to the position in question.
If your internship or industrial placement doesn't link closely, it's likely that these will be 'higher level' competences such as 'prioritisation', 'explaining technical information to non-technical colleagues' or 'communicating with suppliers', rather than specific technical skills.
Should I include non-engineering experience in my CV?
Many engineering employers look very favourably on achievements and experiences outside engineering. For example, one major engineering recruiter comments that it awards extra points at the applications stage for 'life experience'. This can be a real boost if you haven't been able to secure engineering work experience – and can give you an extra edge if you have. Examples worth mentioning include fundraising, voluntary work, organising independent overseas travel, sporting achievements or taking a leading role in a university society. Don't go into detail: summarise your achievements and any transferable skills developed.
Likewise, part-time work or summer jobs are worth a brief mention, but focus on the transferable skills you developed that will be useful in your engineering career, rather than listing your responsibilities at length.
Top tips Attainment of academic qualifications is always impressive but, as all other graduates will also have these, it tends to be the extras that make candidates stand out: work experience, voluntary work or extra-curricular activities.
Most graduate programmes look to identify future business leaders, so being able to demonstrate leadership skills through extra-curricular activities is beneficial.
What's the point of a covering letter?
Most engineering graduates have a fairly wide range of career options open to them. Outside the engineering sector, graduate engineers are sought after for their numerical skills and problem-solving mentality; inside, there's a wide range of industries and job types that engineers of most disciplines can choose from.
Your covering letter, therefore, is a chance to convince the engineering employer in question that you want to work in their industry, for their specific organisation, and in the job role advertised. For example, why do you want to use your mechanical engineering degree in the rail industry specifically? What's the appeal of following a commercial route rather than a more technical one?
The trick is to have a clear idea as to what the company does and what the job entails, then draw out evidence of your own skills, interests and experience that relate to this. 'I'm applying to you because you are a vibrant, international company that is a market leader in the automotive industry' (flattery) won't get you anywhere. A much better approach is:
Clearly state your career aim
Say specifically what attracts you about that particular employer (eg you could mention a couple of projects it has been involved in that interest you)
Mention a work placement, project or module you have enjoyed that relates to the role in question.
Keep your covering letter succinct – it should be no longer than one side of A4.
Top tip Showing an understanding of the company in your letter will illustrate that you've done your research. Pick out the key bits that fit with your application and relate them to yourself.
Get the insights and skills you need to shape your career journey with Pathways. We'll show you exactly what goes into a convincing cover letter, so you can give yourself the best chance of getting to the next stage of the application process.
Accuracy and professionalism – vital for graduate engineers
Careers in engineering demand professionalism and accuracy, whether for communicating effectively with clients, suppliers or non-technical colleagues, or for ensuring that calculations are correct. Make sure that your use of written English in your CV and covering letter reassures recruiters that you have these qualities. If written communication isn't your strong point, refresh your knowledge of punctuation and grammar before you start, and run draft copies of your CVs and covering letters past trusted friends or careers advisers.
Top tip Spelling, punctuation and grammar in CVs and covering letters are very important as this is the first the organisation is seeing of you and first impressions do count. It is worth getting someone else to check with fresh eyes before hitting send.
Next: search graduate jobs
View our Graduate engineering jobs
Related careers advice
How do you answer job application questions?
CVs and covering letters for work experience
Cherry picked for you
How To Write an Engineering Cover Letter?
Engineering is a field that encompasses a vast array of specialties, and individuals within the area may be called upon to write various types of correspondence, including reports , proposals , and cover letters . A well-crafted engineering cover letter can be the key to securing a job interview, and this type of correspondence must be approached with care and attention to detail.
We will provide tips and guidance on how to write an effective engineering cover letter that showcases your skills and experience while capturing the attention of potential employers.
Whether a recent graduate or a seasoned professional, these strategies will help you craft a cover letter that stands out in a competitive job market. You can always turn to professional writers and order a quality cover letter to increase your chances significantly.
Engineering Cover Letter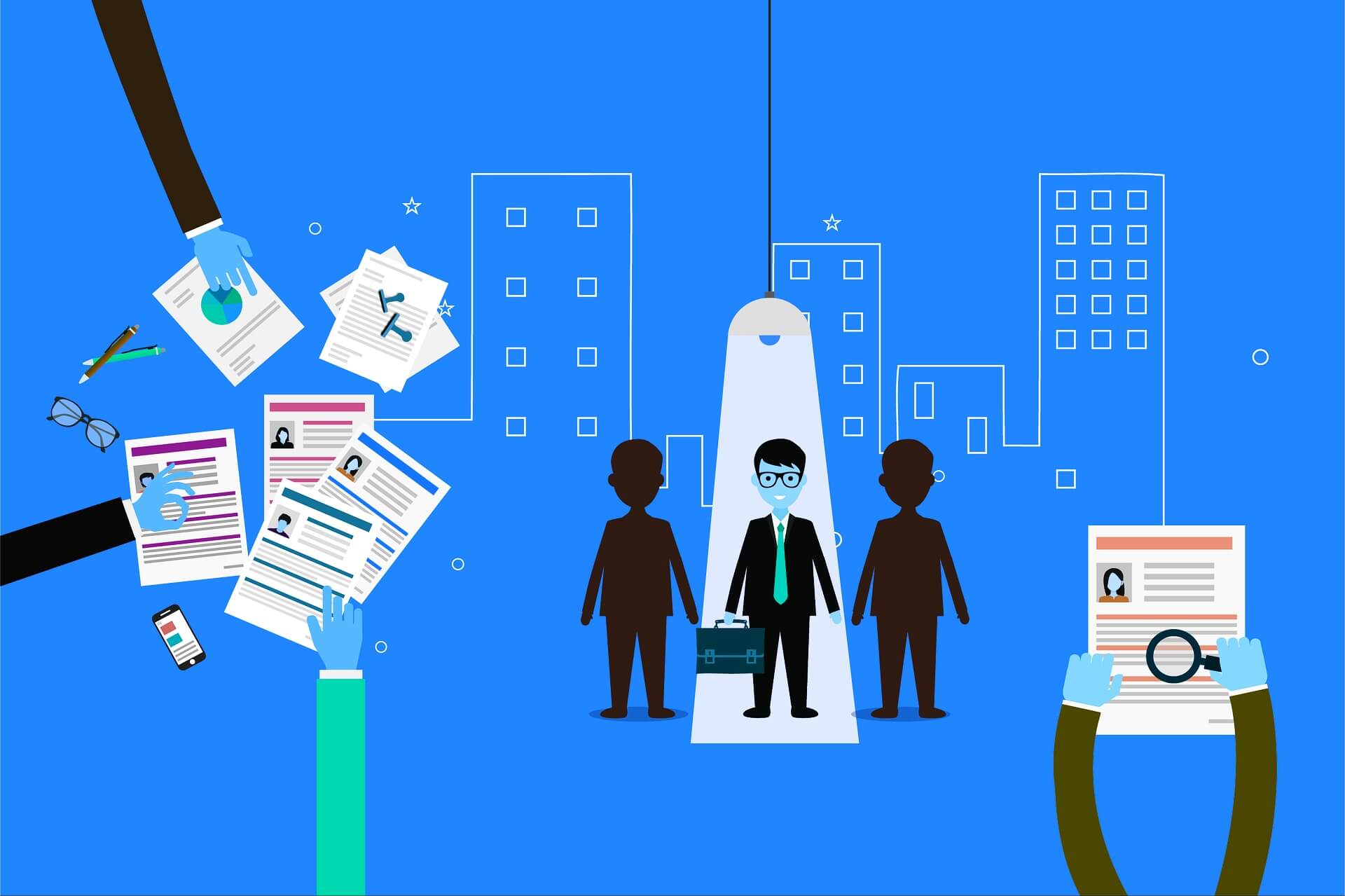 Writing a cover letter for an engineering position is crucial because it is your chance to make a great first impression on potential employers. We've prepared some practical tips on how to write an effective engineering cover letter.
General Tips to Prepare Your Cover Letter
Remember that your engineering cover letter should be tailored to the specific position and company you are applying to.
By following these tips, you can write an effective cover letter that showcases your engineering skills and experience and helps you stand out from other candidates.
Address the hiring manager: Address the hiring manager by name rather than generic greetings like "To Whom It May Concern. It shows that you have done your research and are genuinely interested in the position.
Start with a strong opening: Your opening paragraph should grab the reader's attention and explain why you are the best candidate for the position. Start with a sentence highlighting your qualifications and experience, such as "As a highly experienced mechanical engineer with over ten years of experience, I am excited to apply for the open position at your company."
Highlight your skills and experience: In the body of your cover letter, use specific examples of your engineering skills and expertise to show how you can add value to the company. Use bullet points to highlight your achievements and skills in a concise way.
Explain why you are interested in the position: Explain why you are interested in the engineering position and the company. Research the company and mention specific projects or initiatives that you find interesting.
Close with a solid call to action: In your closing paragraph, express your interest in an interview and provide your contact information. Use a strong call to action, such as "I look forward to the opportunity to discuss my qualifications further in an interview," to show your enthusiasm for the position.
Proofread and edit: Make sure to proofread and edit your cover letter carefully. Check for spelling and grammar errors, and ensure your writing is clear.
Additional Recommendations to Make Your Letter More Convincing
In addition to the essential elements of a well-crafted engineering cover letter, several additional recommendations can help make your letter more convincing and effective in communicating your qualifications and interest in the position.
Here are some key points to consider:
Letter format: An engineering cover letter must be in an official format. At the top of the page, you should indicate the name of the company or organization, the name of the document and its number, the date of compilation, and the address.
Brevity and Clarity: An engineering cover letter should be short and precise. It should not contain long sentences and technical terms that may be incomprehensible to the addressee. The letter's purpose is to familiarize the reader with the document's content and interest him.
Letter Completion: The end of the letter should contain information about how you expect to receive a response to the submitted document. For example, you may ask for the opportunity to hold a meeting to discuss the information presented or request a written response.
Tailor the cover letter to the job description and company culture: Research the company and the specific job posting to understand their values and priorities, and incorporate relevant keywords and phrases that demonstrate your fit with the organization.
Highlight your achievements and specific contributions: Use concrete examples to showcase your skills and accomplishments, and quantify results wherever possible. This will demonstrate your ability to deliver tangible results and make a meaningful impact in the role.
Emphasize your relevant skills and experience: Make sure to highlight the skills and experiences that are most relevant to the job and provide specific examples of how you have applied these skills in previous roles or projects. This will help the employer see how you can add value to their organization.
Demonstrate your passion for engineering: Showcase your enthusiasm for the field and commitment to ongoing learning and professional development. This will help the employer see that you are a dedicated and engaged candidate who is passionate about their work.
Use a professional tone and format: Make sure to use a professional and business-like manner throughout the letter, and use a clear format that is easy to read and understand. Pay attention to spelling and grammar, and avoid overly technical or jargon-filled language that may be difficult for non-engineers to understand.
By incorporating these additional recommendations into your engineering cover letter , you can create a more convincing and compelling document that showcases your skills and experience while capturing the attention of potential employers.
Remember to take the time to craft a letter that is tailored to the job and company, and don't be afraid to showcase your enthusiasm for the field and your commitment to ongoing learning and professional development. With these strategies, you can create a compelling cover letter that helps you stand out in a competitive job market.
Recommended Articles
What is Cable Drum Handling? – Transportation & Storage
Benefits of Pursuing a Degree in Engineering
How to Begin Learning Programming and Succeed?
What is Cobot? – Collaborative Robot
Difference between Anode and Cathode
Difference between Force and Power
Pilot Valves and Pneumatic Amplifying Relays
Electronic Diagrams, Prints and Schematics
How to Use a Paint Thickness Gauge?
How does the IIoT work? – Industrial Internet of Things
Leave a Comment Cancel reply
More articles.
Heat Transfer Loops in HVAC System
All About Electric Motors and Universal Motors
Range Finders – Ultrasonic, Light, & Global Positioning Systems
Custom CNC Machining – A Complete Guide You Cannot Miss
D.C Tachogenerator Principle
Difference Between HDD and SSD
7 Marketing Strategies for Engineering Companies
Why do Teenagers want to be Entrepreneurs?
What is a Photoelectric Sensor?
How to Test a Battery using a Multimeter?